Welcome to the NOFO of  L.I., N.Y., USA!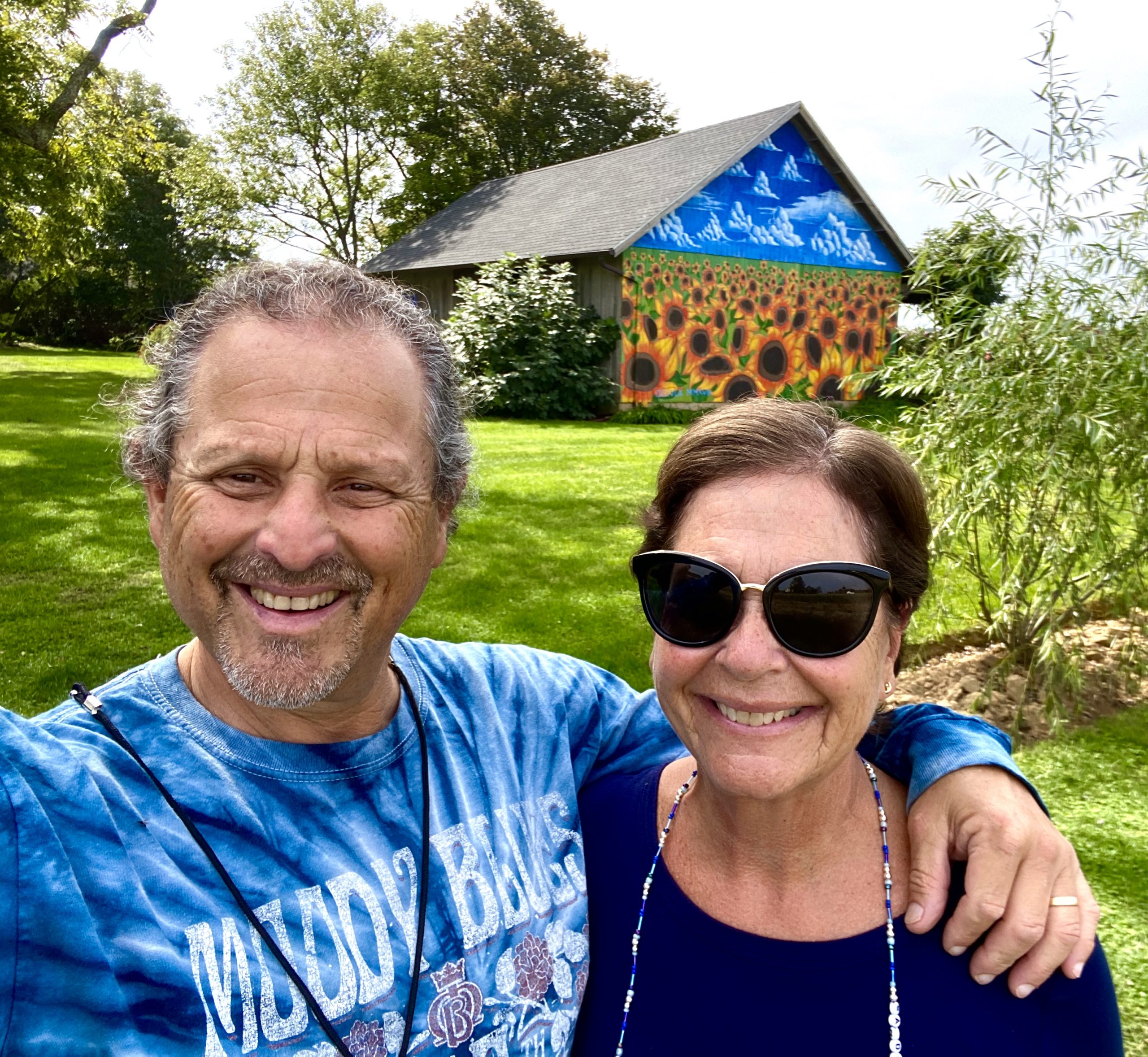 With the exception of January into the beginning of April, there is nothing as corking, peachy and as sparkling…ie…wonderful…as the North Fork of Long-Island. In April and through the end of December this world is filled with endless destinations and an ever evolving landscape.
In March and April, we start picking out our purposeful plants and flowers with Bill @ Hidden Ridge Plants in Ridge, L.I., N.Y. (https://www.facebook.com/hiddenridgeplants/), with Cris @ Peconic River Herb Farm https://www.prherbfarm.com/  and with Helen's Greenhouses and Flower Farm on Union Avenue in Riverhead.  Besides our purposeful bumble bee, hummingbird and butterfly magnet plants, we like to balance out our aesthetics with our fave mandevillas…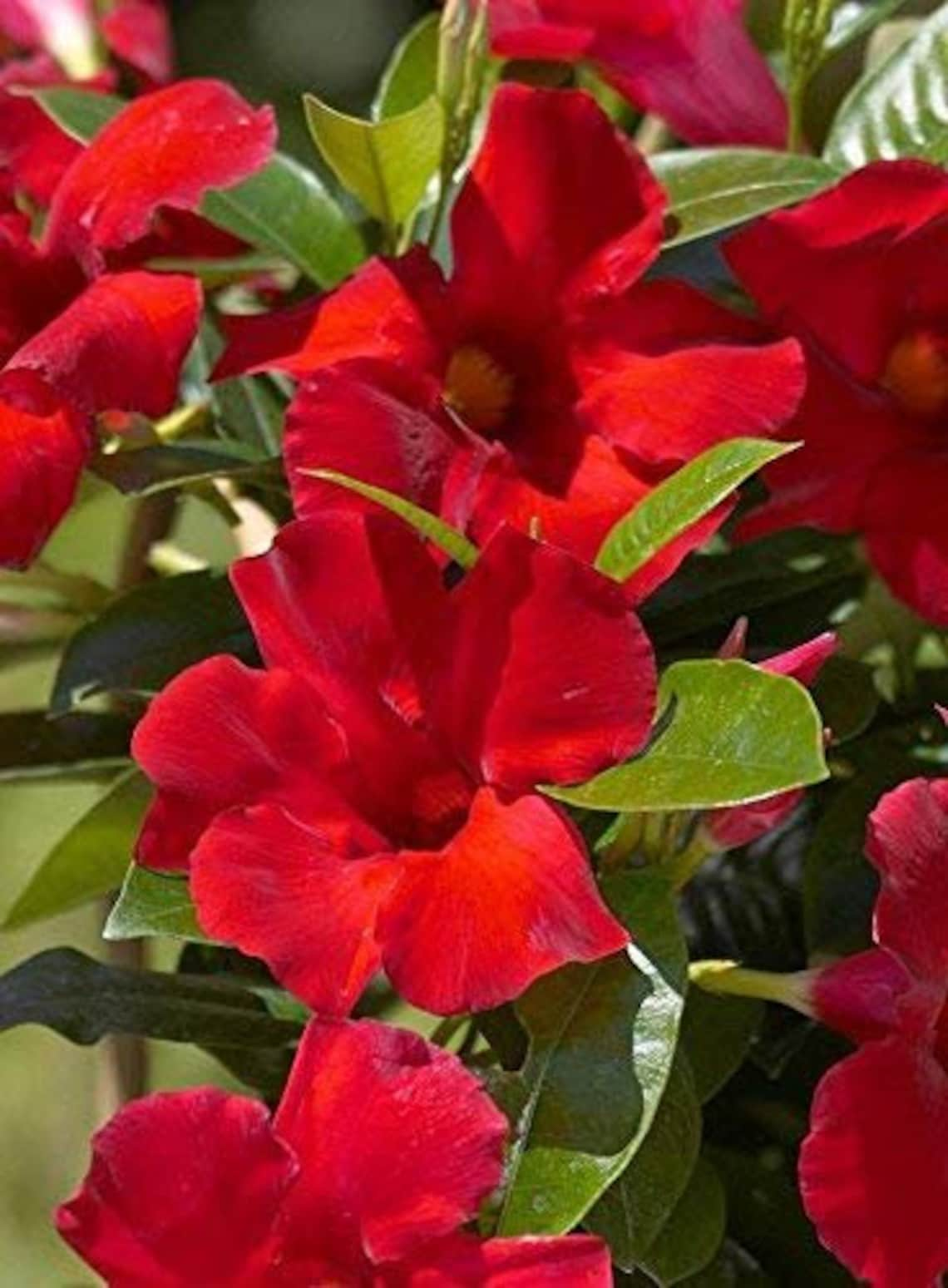 and hibiscus!
https://www.thefarmersweb.com/helens_greenhouses.html
OK…so let's begin our "Eternity Road"  journey!
April is National Gardening Month  as plants come out of dormancy and the colors start to take over the landscape. May brings in full bloom flowers and folks are getting psyched for the Memorial Day holiday. You know the story…how does it go for June? 
June is bustin' out all over
All over the meadow and the hill
Buds're bustin' outa bushes
And the rompin' river pushes
Ev'ry little wheel that wheels beside the mill…
…and that includes a ride out to the Carousel in Greenport!
I don't have to spell out the summer on the north fork. It's a destination 24/7 and many of those destinations reside right here in my https://www.phoodographsandfinds.com blog.
There is absolutely something to be said for the ever expanding bounty of local ingredients and food technology that exists right here on the NOFO. Being literally surrounded by the fishing and  farming and the new and existing wineries and breweries, the North Fork has evolved into a foodie paradise. With an emphasis on the 'local seasonal cornucopia that is available, restaurants have become world class bastions of freshness'.  White, rose' and blush wines are excellent and red wines are steadily improving from year to year, especially in the world of Bordeaux style red blends. Of course it's always a matter of taste what is excellent and when you have been coming here as long as we have, you get a pretty accurate sense of excellence.
July, August and September is harvest time for unbounded fresh fruits and vegetables. The end of September and  October continues the major harvesting adventure with apple picking along with pumpkins and gourds coming into Halloween. November has Thanksgiving and the farms are still open along with the restaurants and vineyards. Around Thanksgiving, many of the farms close up for the winter…however the anticipation of the holiday leaves excitement in the air and that keeps the fun state o mind wide open along with the wineries, breweries and hard cider mills.
Now that we've set the calendar scene, a typical day trip can include many NOFO destinations that would be impossible to list in this single entry.  Thus…we will take you on a typical day trip starting with our favorite spots and along the way we'll stick in some more website favorites that will offer you the ability to choose from so many more destinations.
What you will experience in this particular entry is one of many possible days in the life and Sandy and me with some of our friends on the North Fork. In 2020, We do have to come out in separate cars and respect the rules of safety by wearing our masks and remaining 'socially distant'.  Still, however, a great time is had by all.
In between the featured spots I picked for this entry, you will find phoodographsandfinds links interspersed within for other local destinations that I've written about from past visits over the years. Feel free to guide yourself accordingly and check ahead of time…especially in these times…the hours of operation of your choices.
More entries with more NOFO destinations will be forthcoming in future entries…so please stay tuned!
First and foremost and starting off RIGHT NOW in September and October you can get out for peak apple orchard picking. Try, however, to avoid weekends if you can as the wait for entry and traffic can become a bit frustrating. Either that or go very early after checking the hours of operations from any of your choices. Among the choices, our first pick (pun intended) was Woodside Apple Orchards in Jamesport and we had a phabulous time picking fresh apples right off the trees!
Woodside Orchards
729 Main Rd, Aquebogue, NY 11931/Cider Tasting Room
116 Manor Ln, Jamesport, NY 11901/Apple Orchard 
Ya think?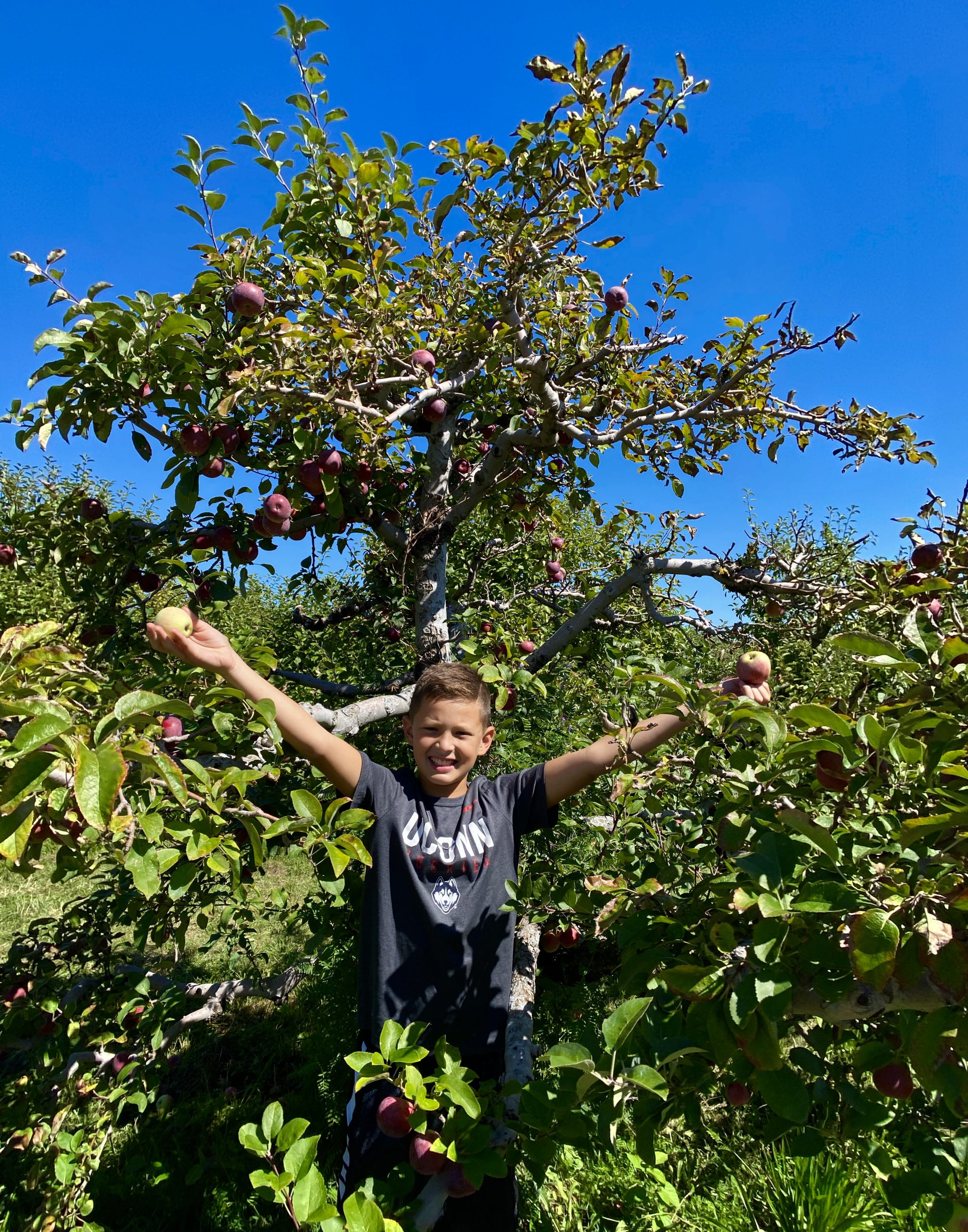 BTW…here's a list of cider mills on the NOFO. Peak hour is now through Thanksgiving and besides this Woodside Orchards and other soft apple cider destinations…there's also the hard cider on tap throughout. Oh yeah…Woodside has some powerful nut free chocolate chip cookies too! They're as good as mine with or without nuts  🙂
My recipe from the NOFO!
Truly Soft, Chubby & Chewy Chocolate Chip Cookies With Chopped Walnuts = Yum Again!
Check out some of these locations if hard apple cider is on your 'to do' list.
Woodside Orchards
Farm-grown hard cider on tap
729 Main Rd., Aquebogue, (631) 722-5770
Rumor Mill
Hard cider made with North Fork apples is available at both Bridge Lane, 35 Cox Neck Rd., Mattituck, and Lieb Cellars, 13050 Oregon Rd., Cutchogue.
(631) 734-1100
Riverhead Ciderhouse
Hard cider made with New York State apples in flavors like Captain Cook's Razz Ma Tazz and Benjamin's Best.
2711 Sound Ave., Calverton, (631) 591-0217
Bedell Cellars
You may find cider made by Bedell winemaker Rich Olsen-Harbich on tap at the winery's sister location, Bedell Cellars Tap Room at Corey Creek. Call ahead.
45470 Main Rd., Southold, (631) 765-4168
OK…Are YOU ready?!
Since most of us come from the west on the Long Island Expressway, we'll make stops on the way out and then continue all the way out to Orient Point. If things aren't in perfect order and you miss something on the way out, you can certainly hit 'em on the way home!
So…back in July of this year while 'traveling eternity road' (our name for the vast eternity of farmland going east on Sound Avenue), we discovered for the very first time what some say is the "Best Kept Secret On The North Fork of Long Island"…
The Andrews Family Farm
1038 Sound Ave, Calverton, NY 11933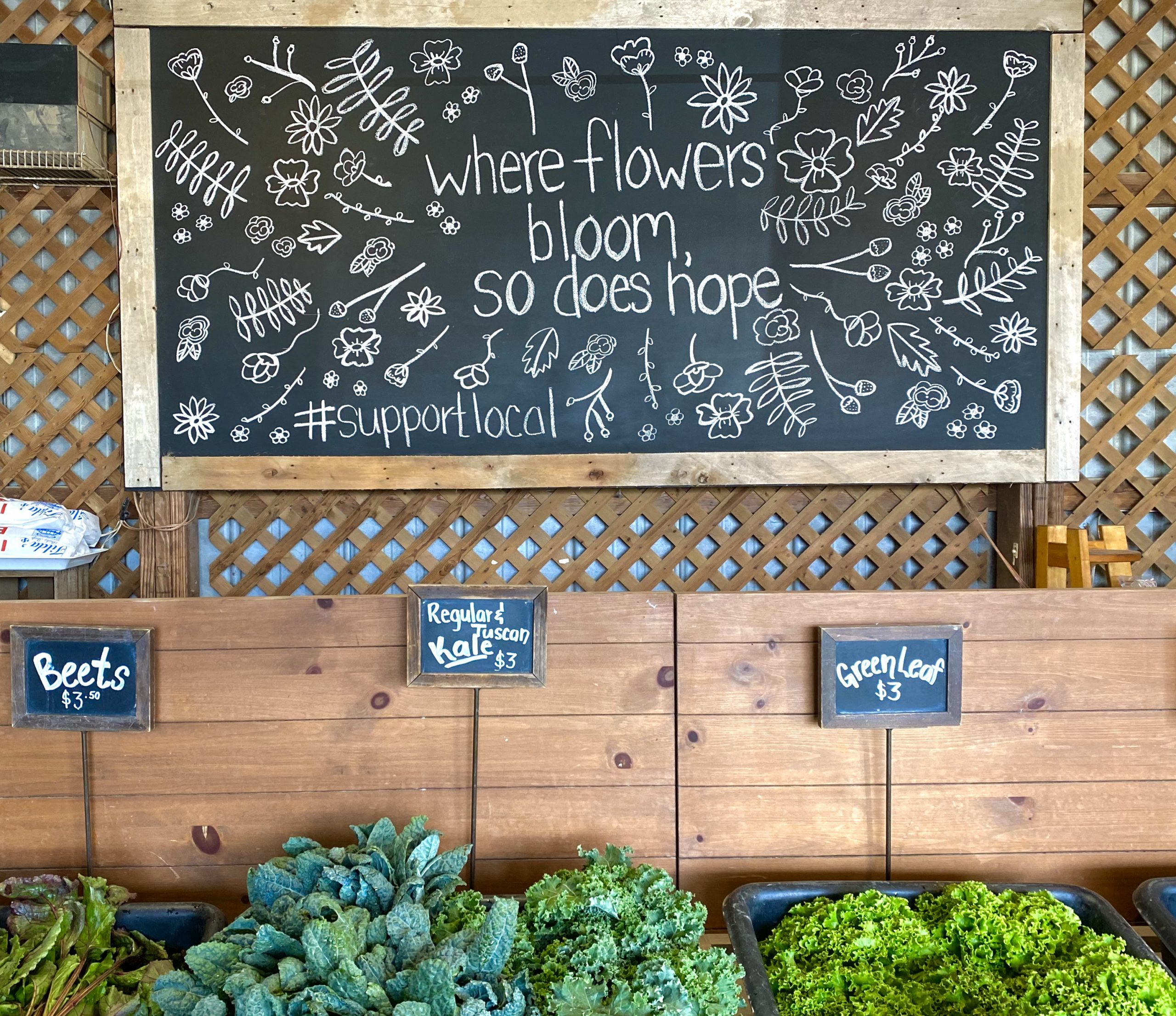 On the way out again just last week, we planned another Andrews stop and discovered their "Fall Harvest". Something to be said for timing!
Starting Labor Day through Late October is FALL HARVEST … Featuring…
Fresh-Picked Herbs & Vegetables  
Take a look at all those unique green leafy vegetables in the back!
Fresh Cut Bouquets & Sunflowers 
Their sunflowers that eve…
Mums & Montauk Daisies
Heirloom Pumpkins & Fall Squash
Phabulous Gourds & Indian Corn
Ornamental Kale & Cabbage
Roasted Corn on Weekends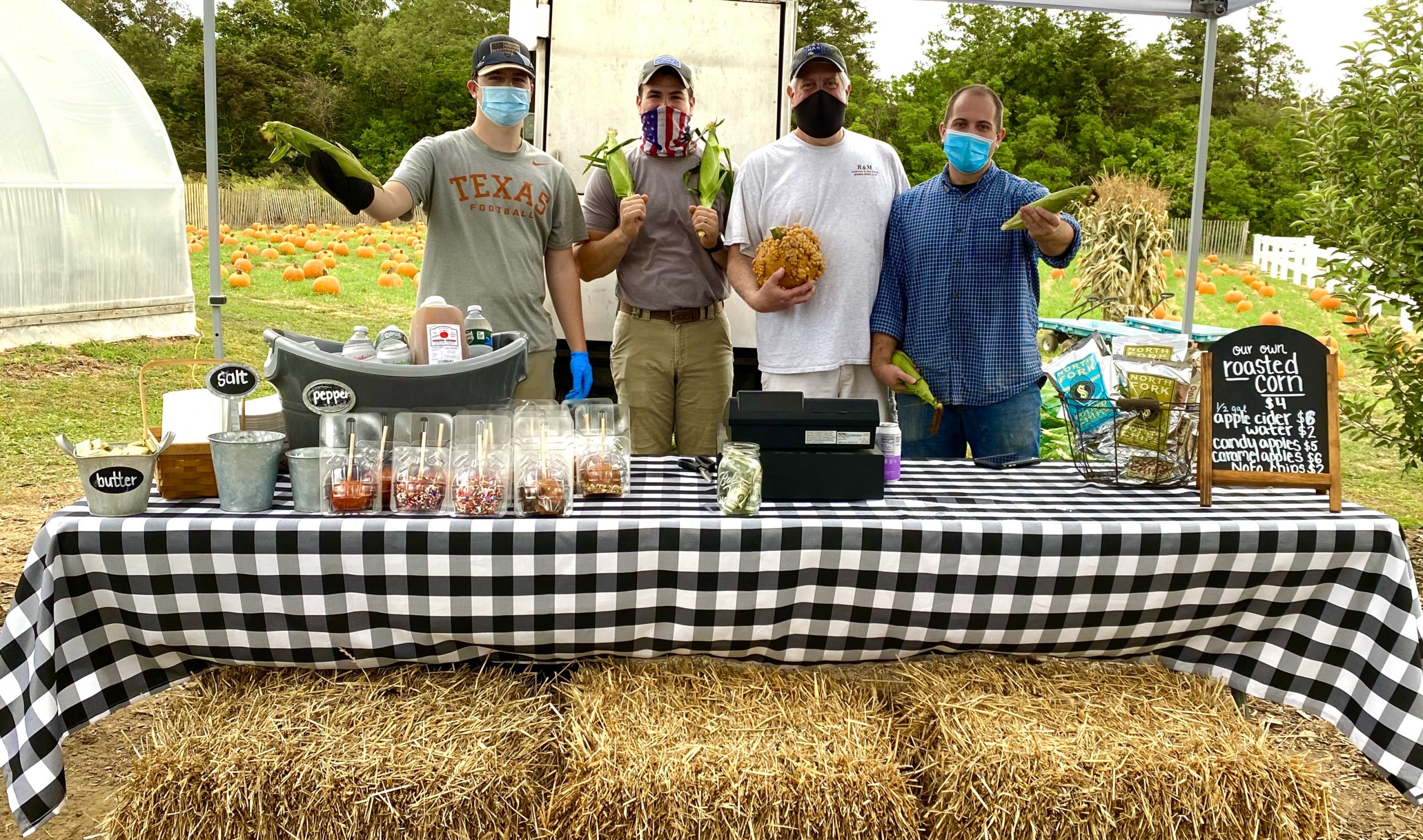 Say Hey to Trenton, Dillon, Ed & Cole. Promise! They were absolutely smiling 🙂
 Also featured…
Corn Stalks & Straw…Seasoned Firewood …Fresh Baked Pies…&…
Fresh Local Eggs & Honey 
Friday through Sunday – call to pre-order!
While we were there last week, Sandy decided to inquire about a tie-dye hibiscus plant she spotted being used for display in a planter with other flowers.
Unfortunately it wasn't for sale, but you can bet we'll be back there next year for one or two of these.  As it turned out, the lady Sandy approached to inquire happened to be the proprietor of Andrews and at that point we could see where all the social graces came from…not to mention the overall beauty of this farm.
With that, let me introduce you to our proprietor Denise …who was gracious enough to let me take this pic of her with daughter Rose.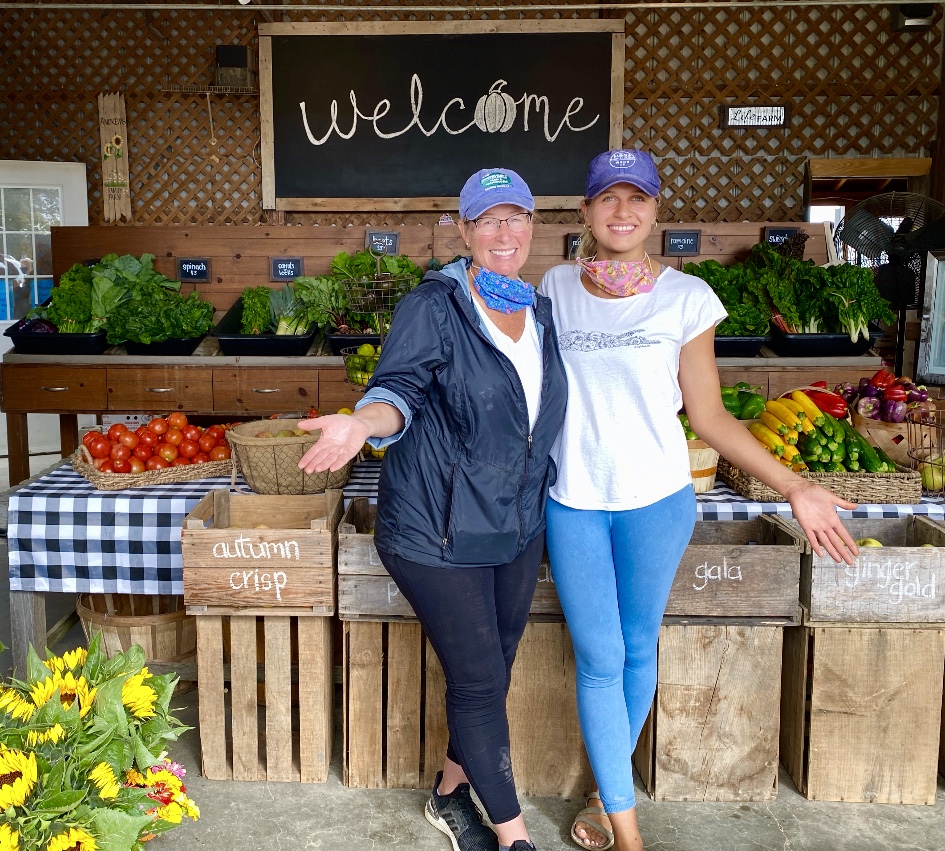 You know what they say about happy people!
Oh yes…saving the best for last…or should I say the last of the best!
Still comes from the top…
Meet Sage…creating smiles for all the customers as he frolics about 🙂
Want more info…just click their link…
https://www.andrewsfamilyfarm.com/
Moving right along…
The Peconic River Herb Farm
2749 River Rd, Calverton, NY 11933
For flowers, herbs,  peace and so much more in their "Outside In" garden shop…here is a destination that will excite you and calm you all in the same visit.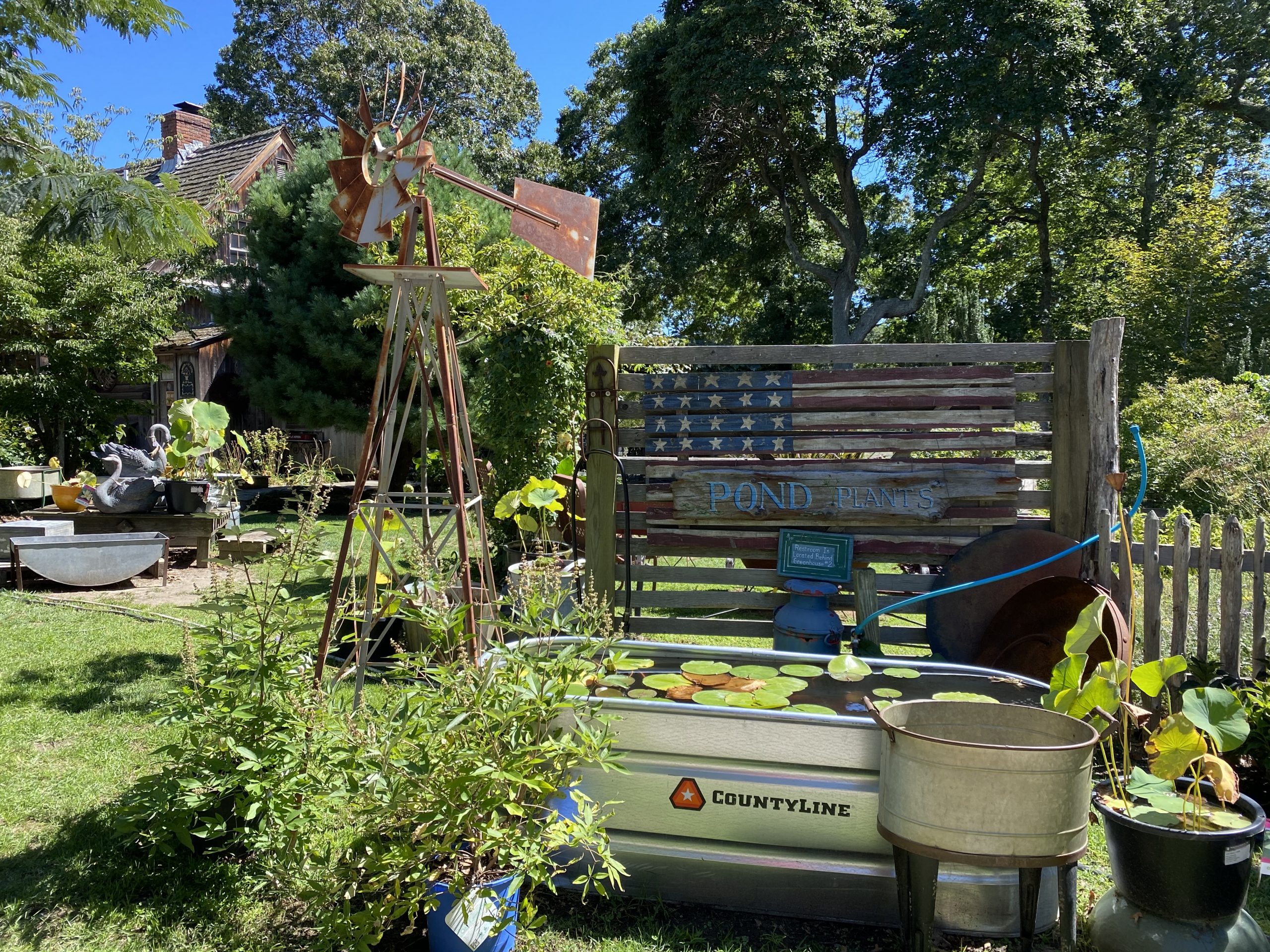 For flowers and herbs, their Nursery Mission says it all.
-To enable and encourage people to experience the peace and joy of gardening by providing a wide variety of healthy, reasonably priced plants that are garden worthy and will do well in our climate. (USDA zone 7)
-To encourage experimentation and exploration in the field of gardening by supplying a large diversity of plants and seeds.
-To provide through our display gardens, experienced staff, signage, online and printed materials and gardening consultations as much assistance, information and inspiration as possible.
-To encourage, both by example and education, ecologically responsible gardening practices such as:
Biological and cultural controls of insects, diseases or weeds
Decreased water use with xeriscape*** planting
***a style of landscape design requiring little or no irrigation or other maintenance, used in arid regions
Soil improvement through composting, organic soil amendments and mulch
Ecologically balanced  landscapes; increased biodiversity and preservation of native and heirloom plant varieties
-By helping, however modestly, to increase the number of gardeners and land given over to garden plots, and the diversity within these plots, we hope to contribute to a healthier, happier and more beautiful Long Island environment.
For 'so much more', just walk right into their "Outside In" Garden shop with local spices, honey and vintage goods for garden and home.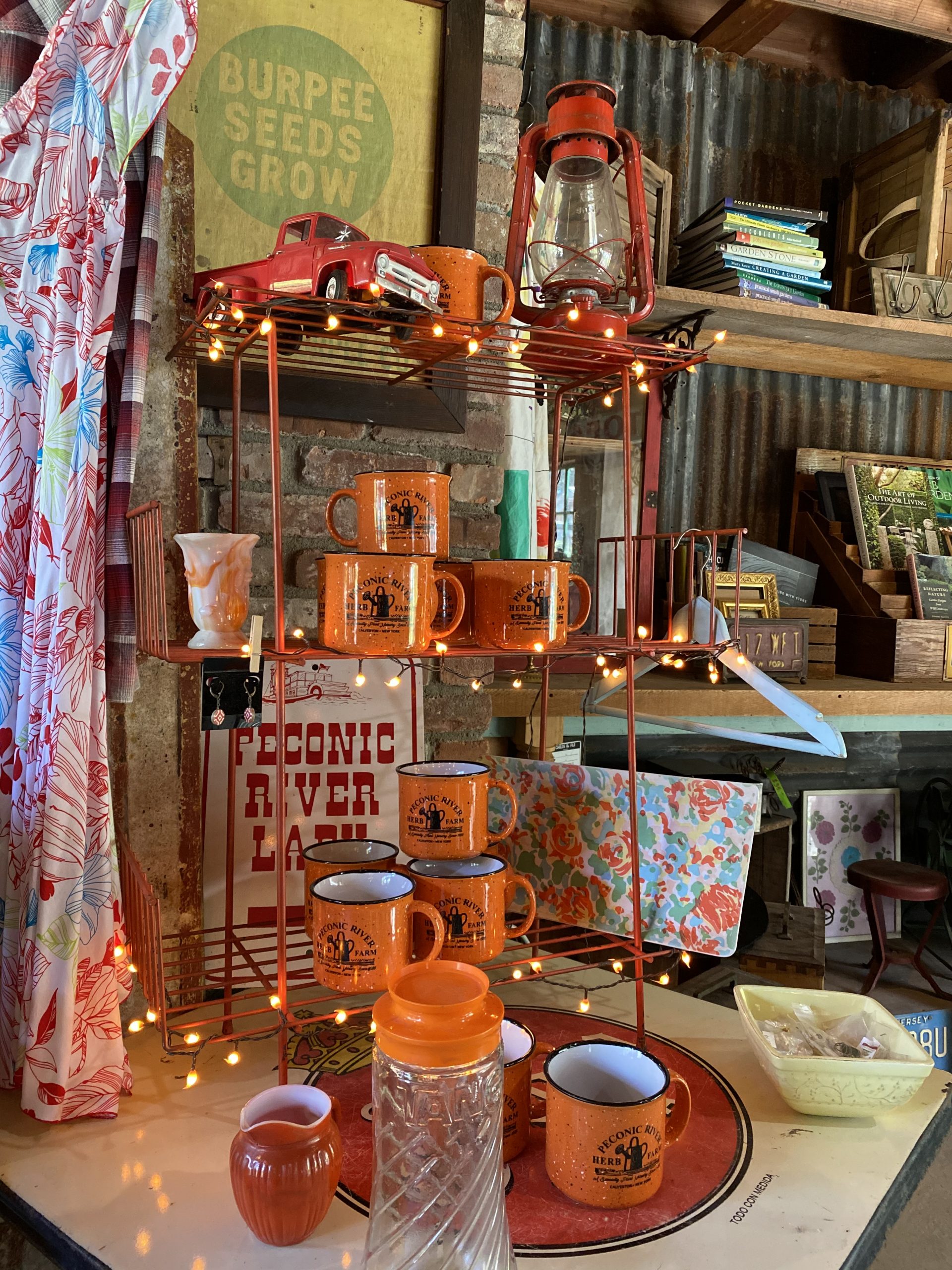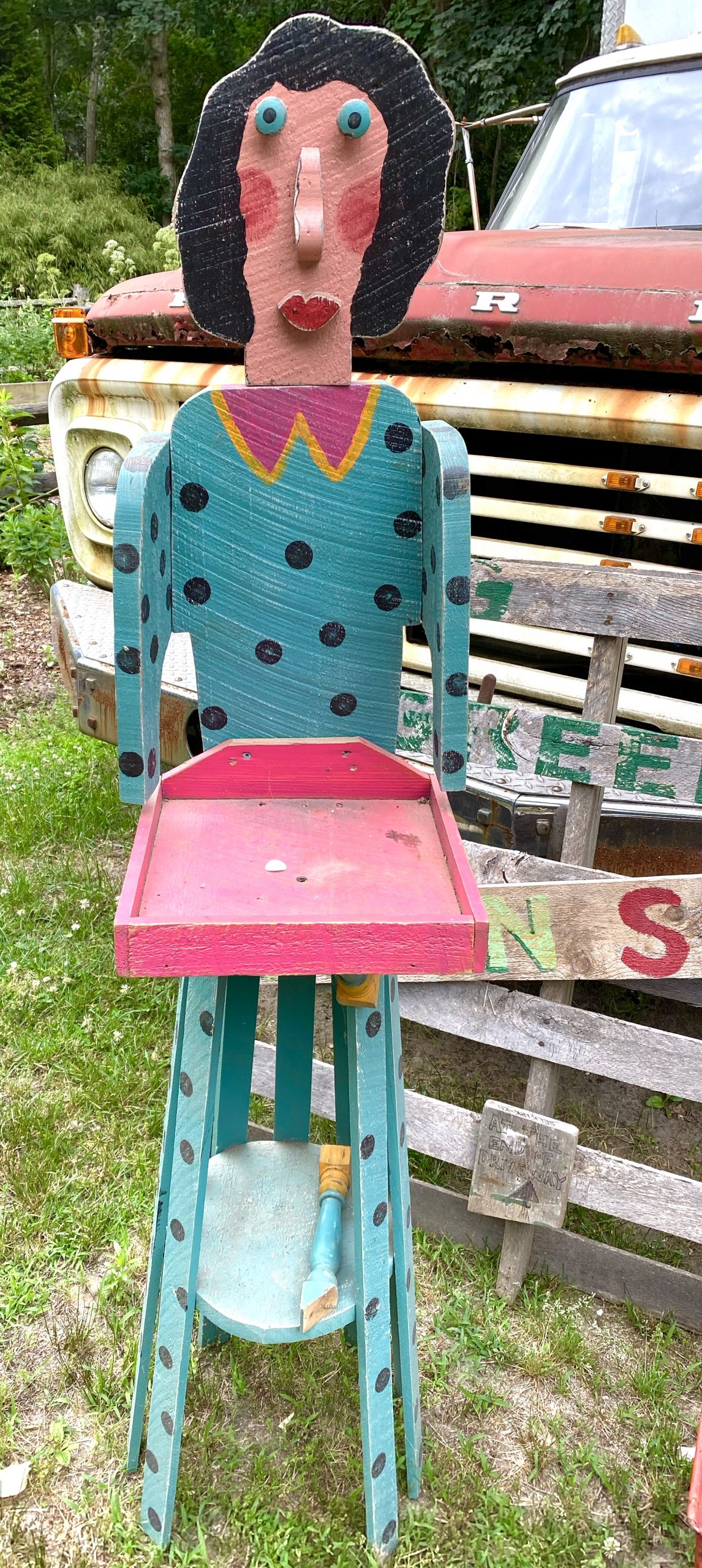 Meet Lois…first introduced to us at the PHF Vintage Market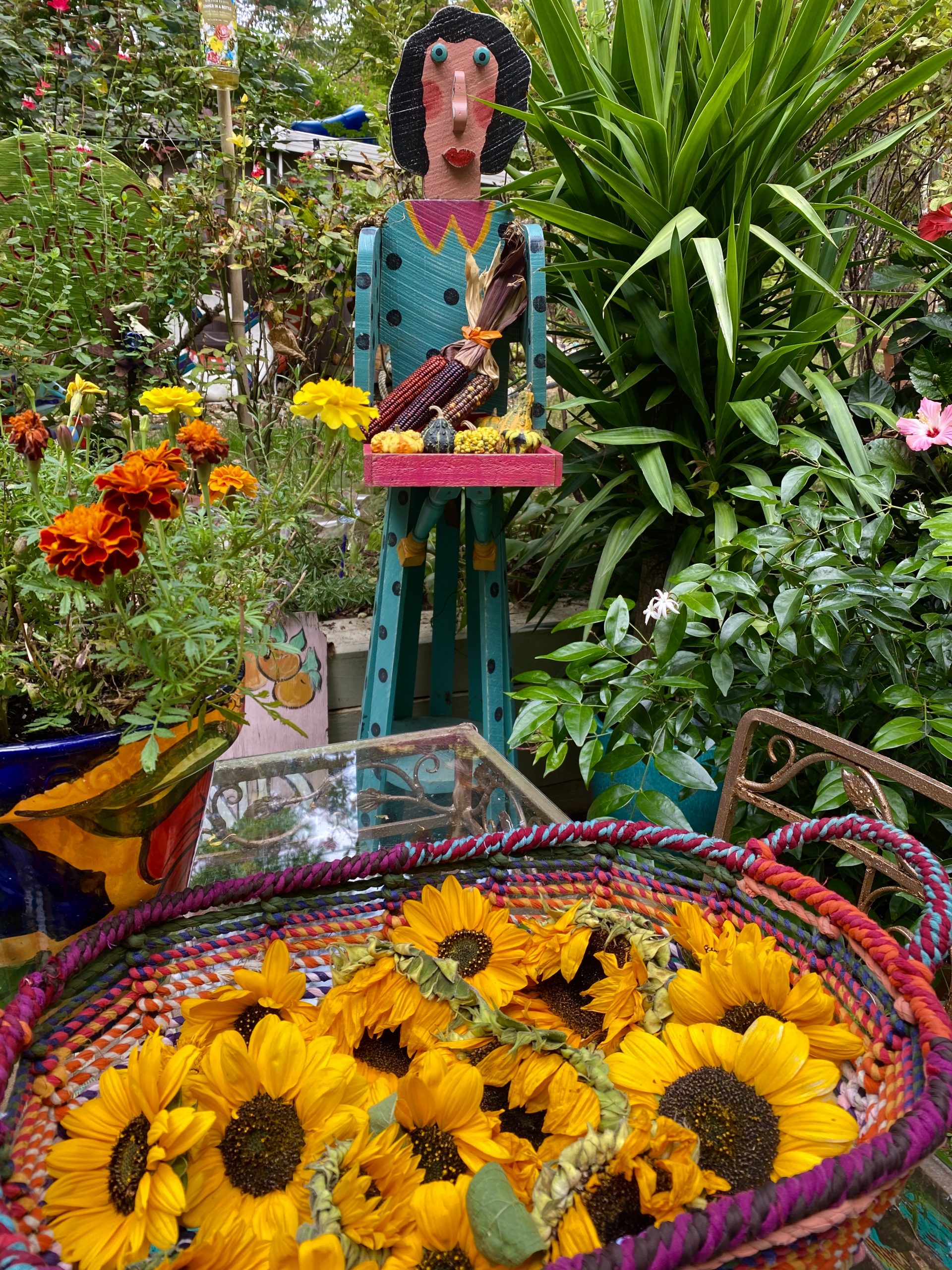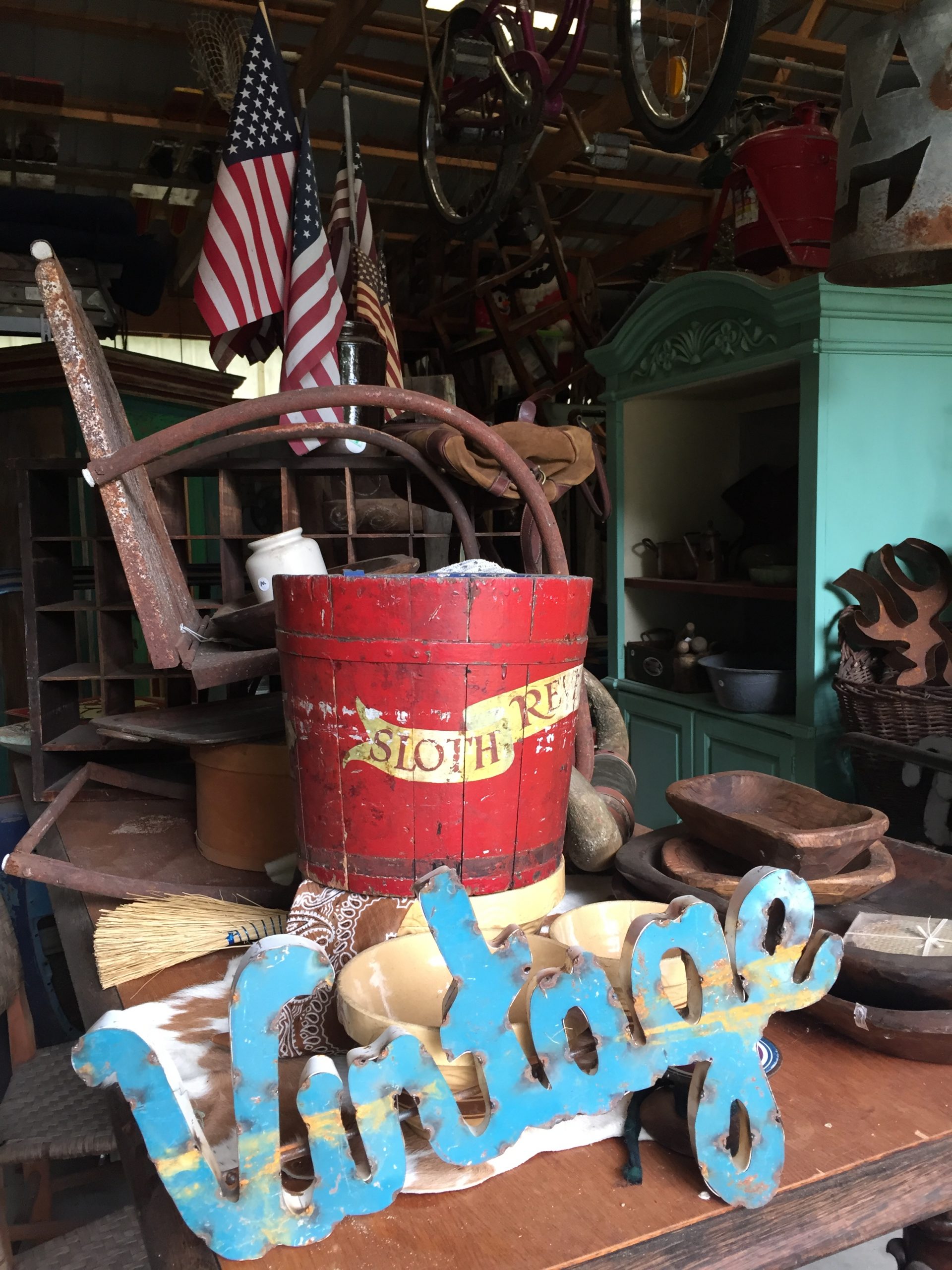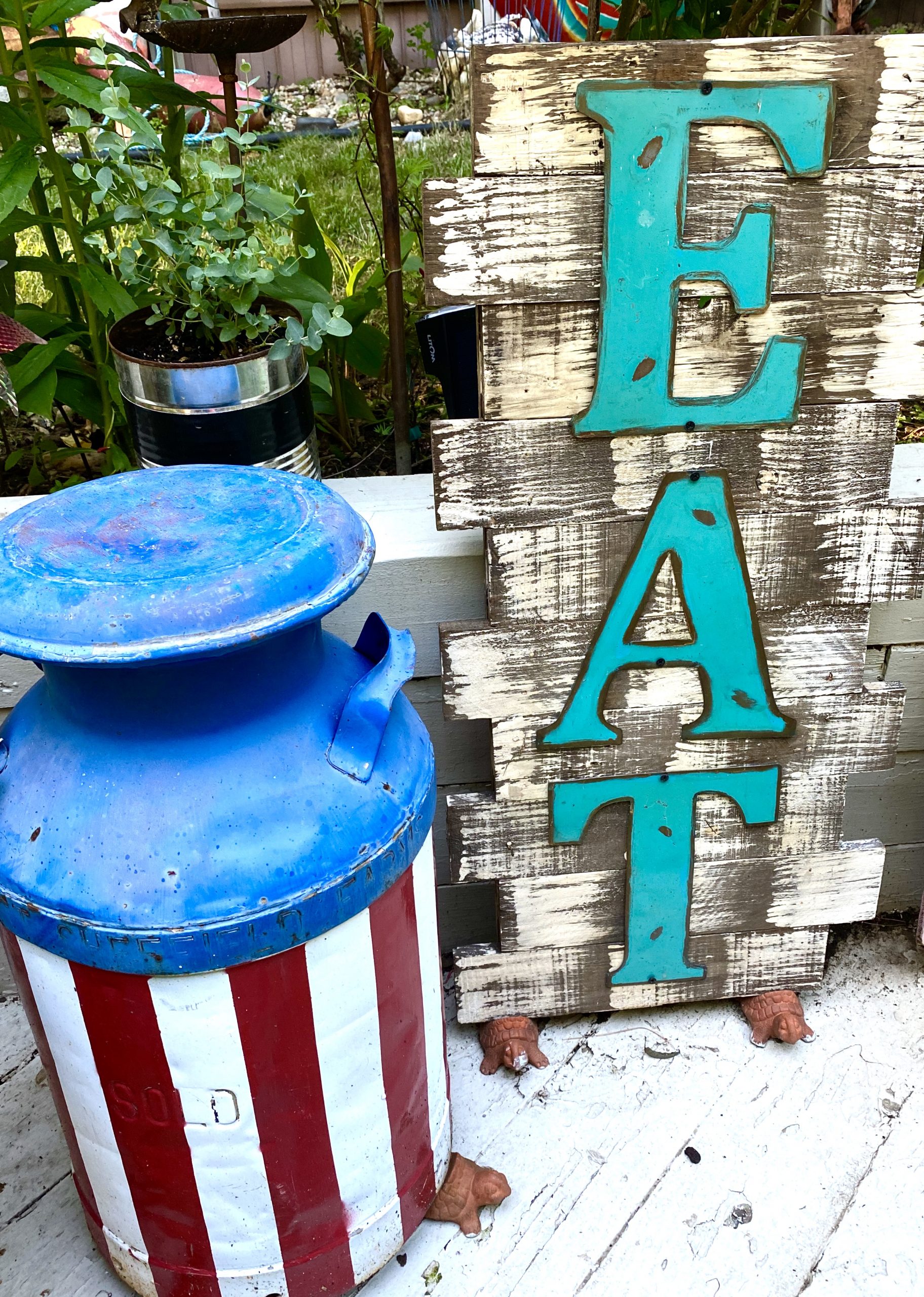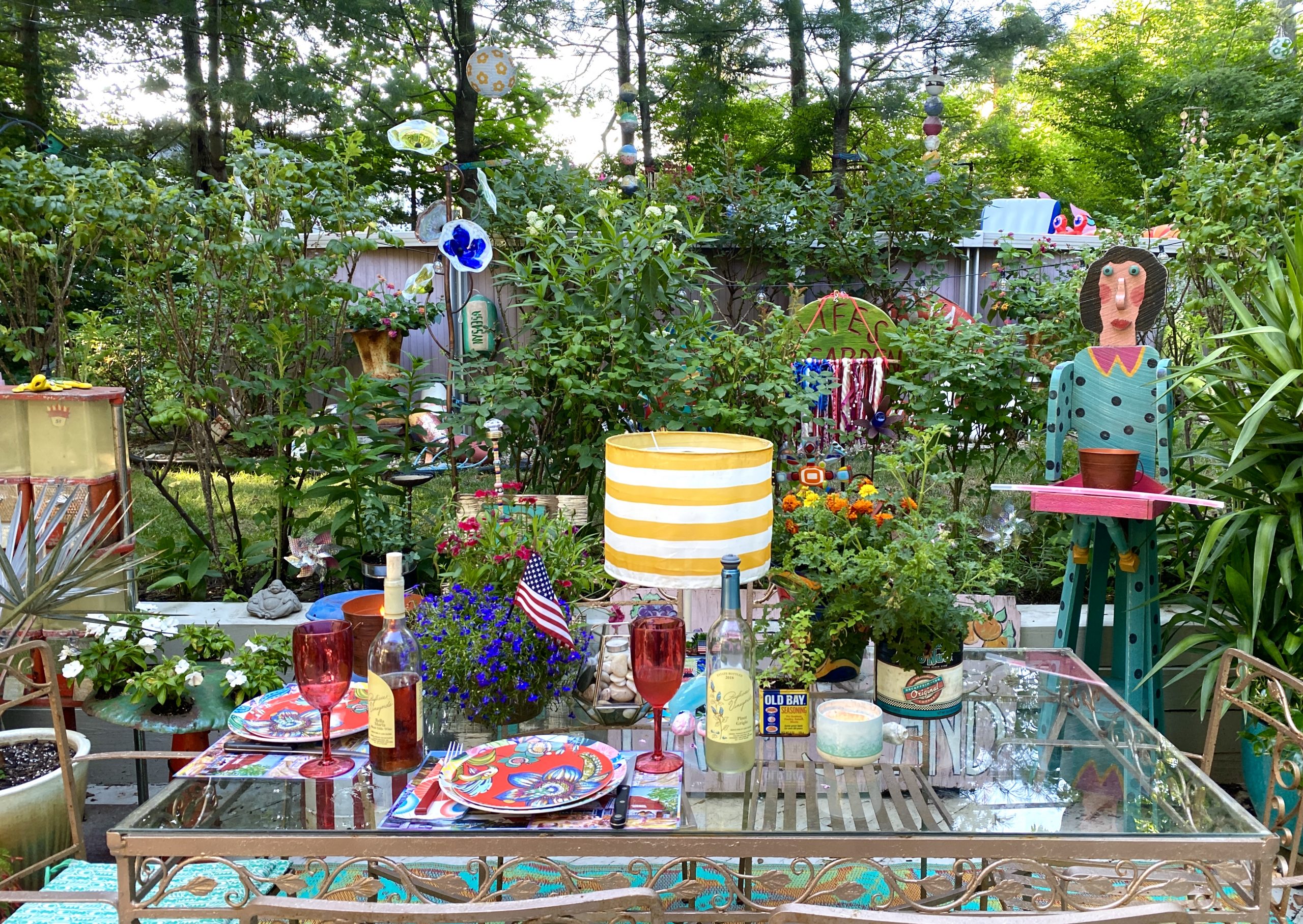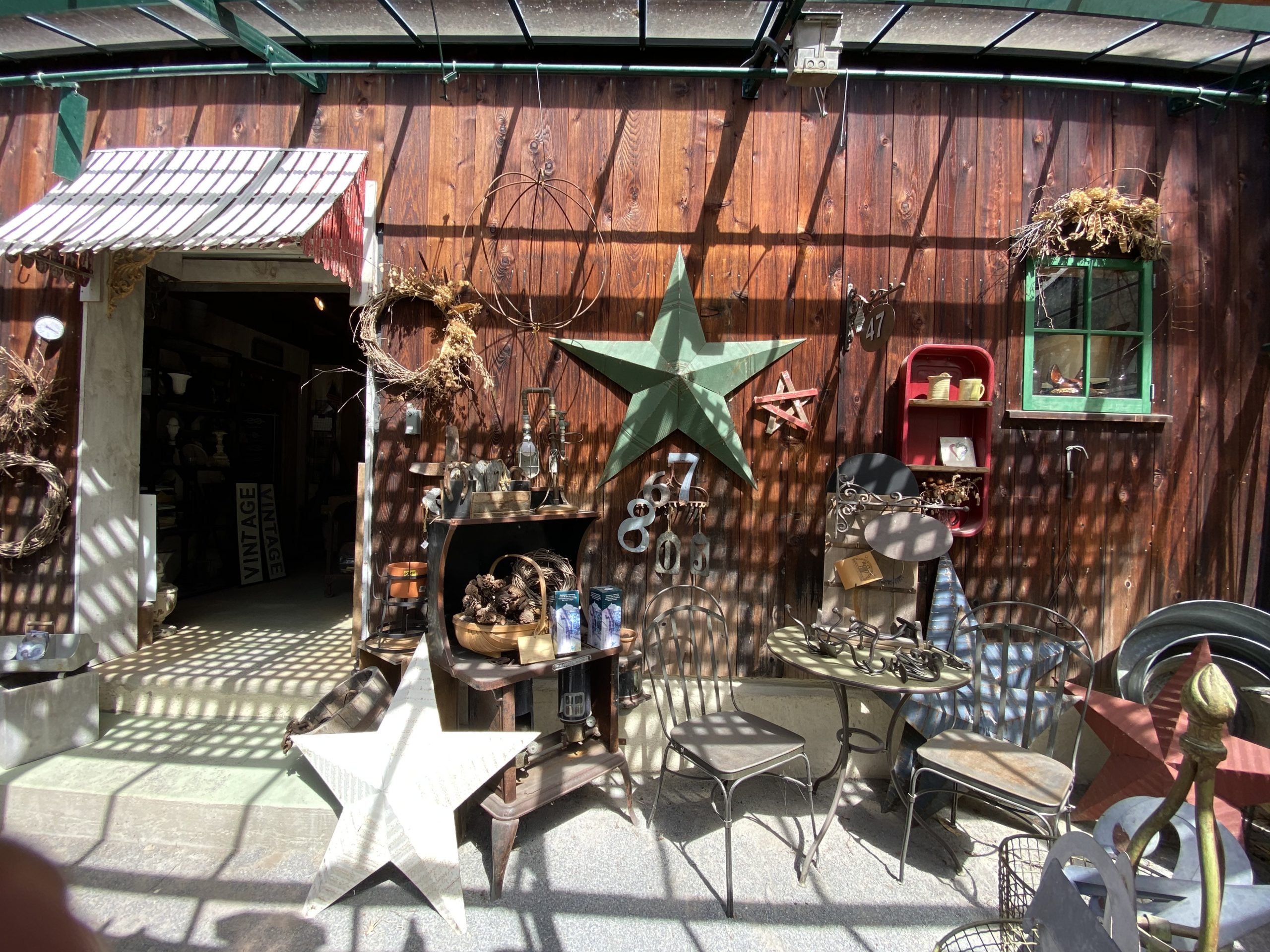 For peace, it's just a short walk to the edge of the Peconic River with picnic benches and comfortable arm chairs that will give you the opportunity to sit back, relax, take in the view (birds and all)… and BREATHE!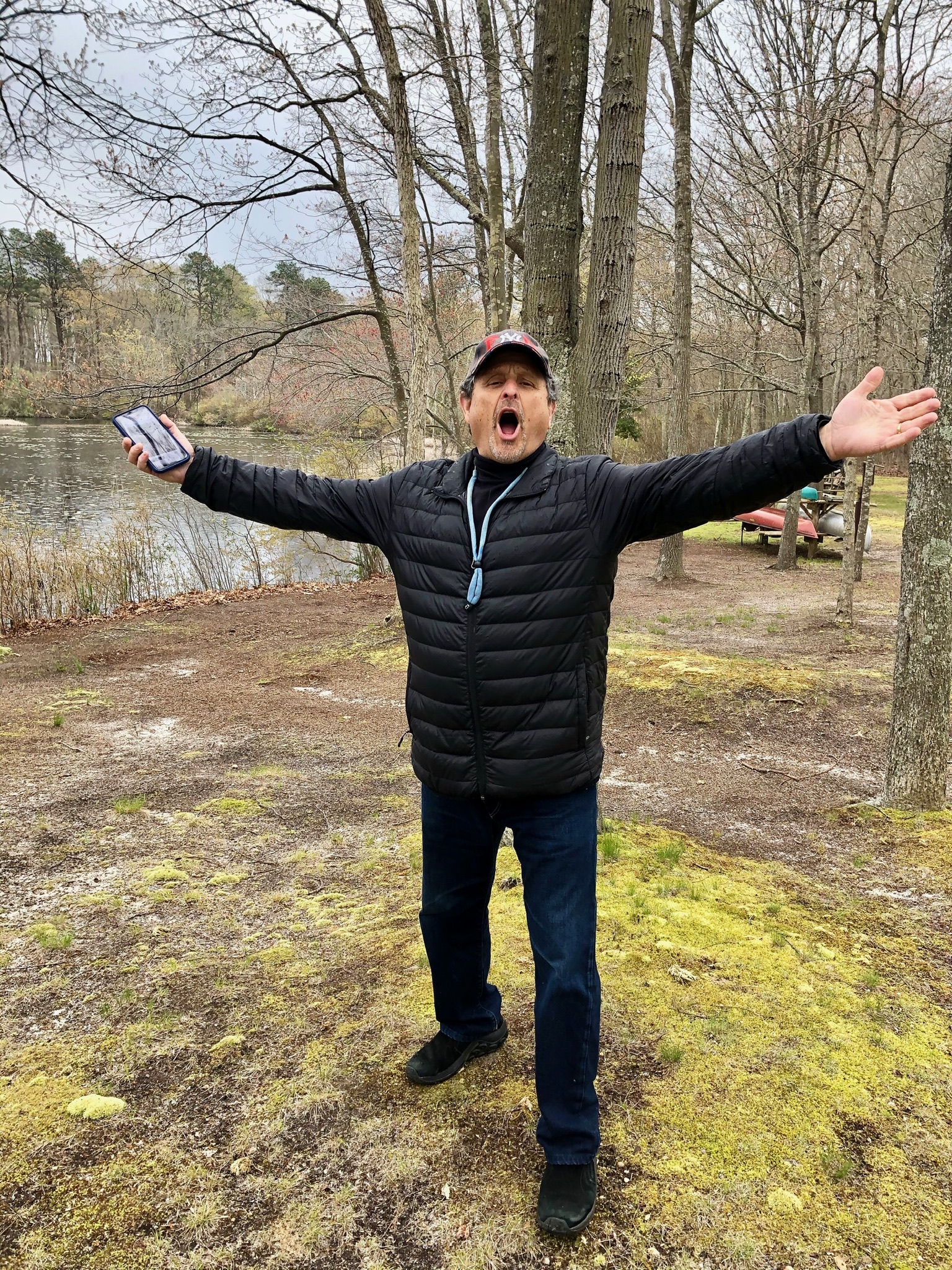 …Early April…Very early in the season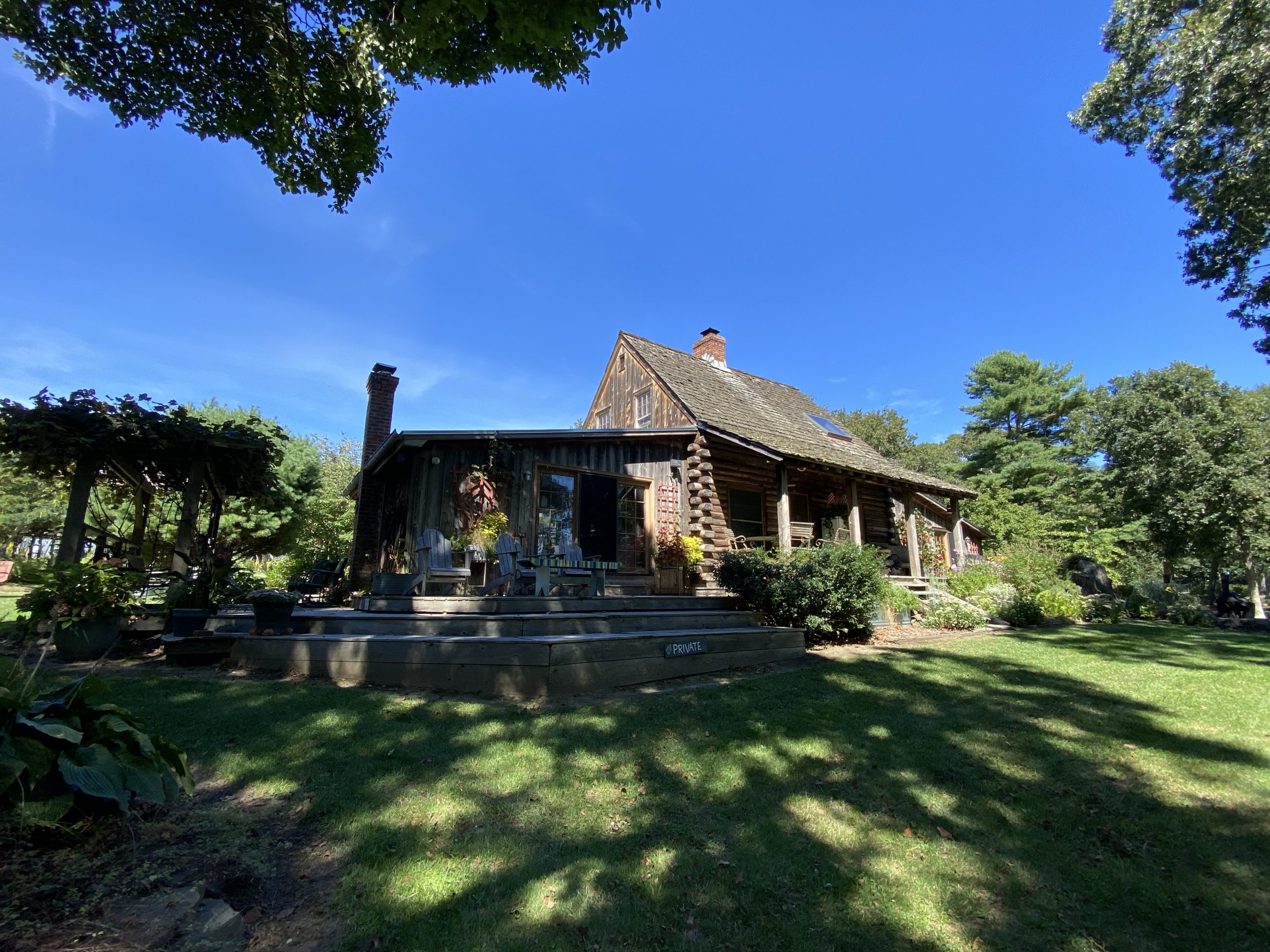 Wanna meet the owner? Just ask for Cris and tell her Sandy sent you!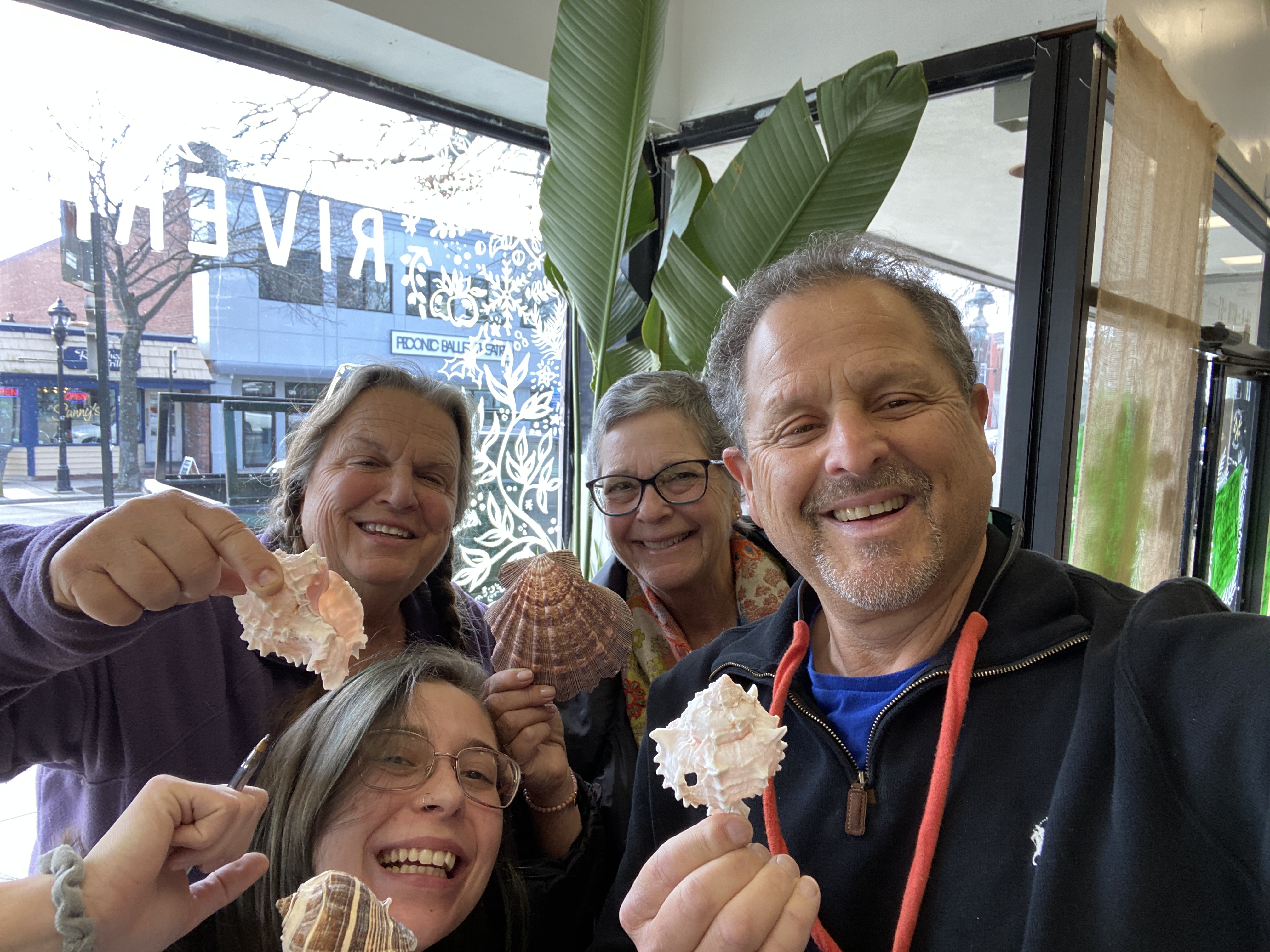 Pre-Covid 2019/Shell-fie Time at the Winter Riverhead Indoor Market with Cris & Audrey.
You know what they say about Happy People…yes?
Onward to…
Hubbard's Farm Stand
Meeting House Creek Rd.
Riverhead
Lovin' the Pumpkin Sheddy!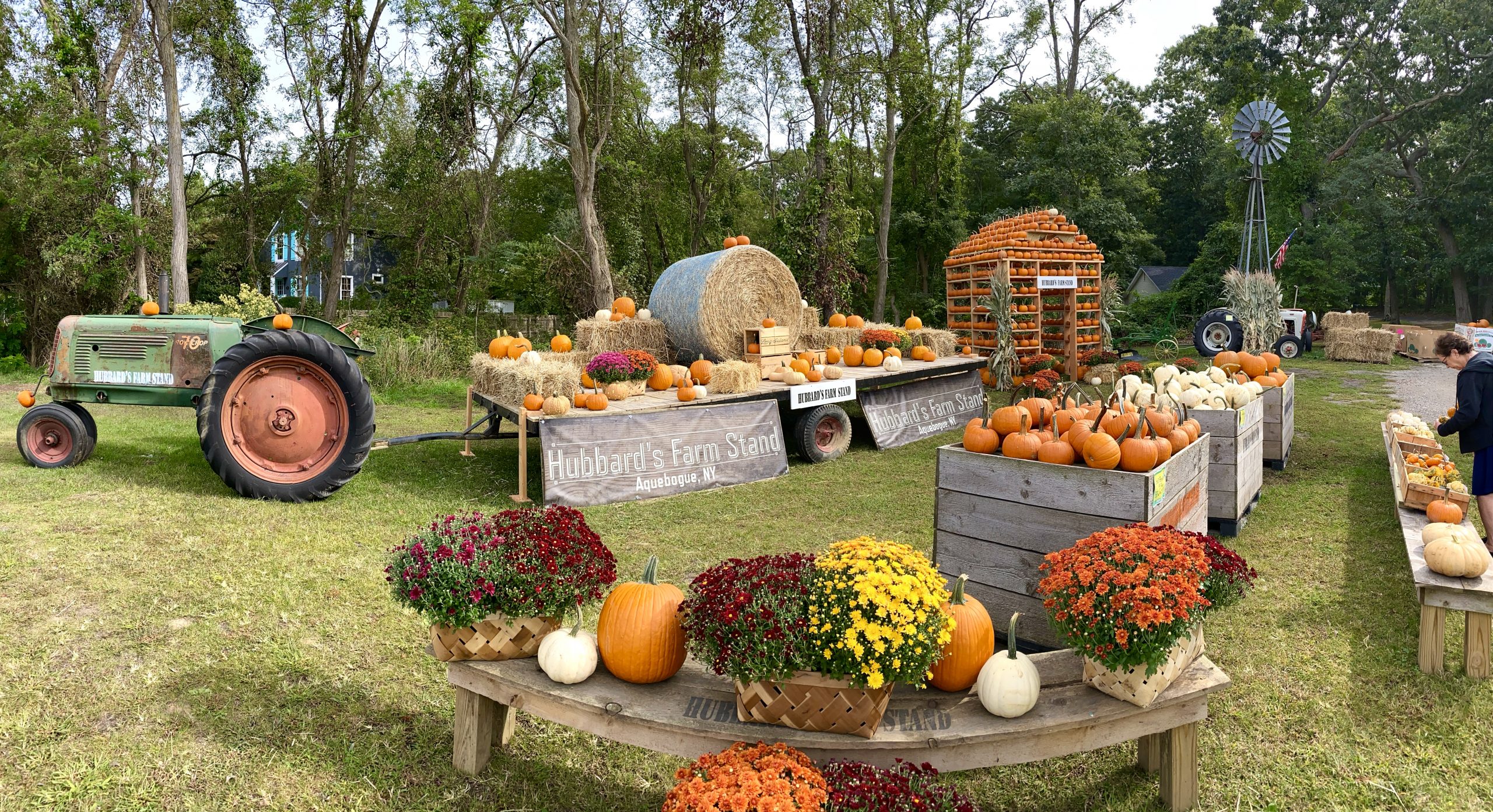 https://www.facebook.com/pages/category/Farmers-Market/Hubbards-Farm-Stand-100294074982282/
Next Stop…Pie Central USA!  BRIERMERE FARMS
4414 Sound Ave, Riverhead, NY 11901
I'm really not a pie person, however if one is going to start loving pies…here is your starting point!
Briermere Farms is a fruit farm and bakery on the North Fork of Long Island. All of their pies, bread, muffins, cookies, cakes, jam, and jelly are made right on their farm from scratch. There are no pre-prepared ingredients or fillings bought for use. Most of the fresh fruit used in their bakery is grown right there on their farm. Fresh veggies in the summer make this a definite stop all year round except for January and February when they are closed.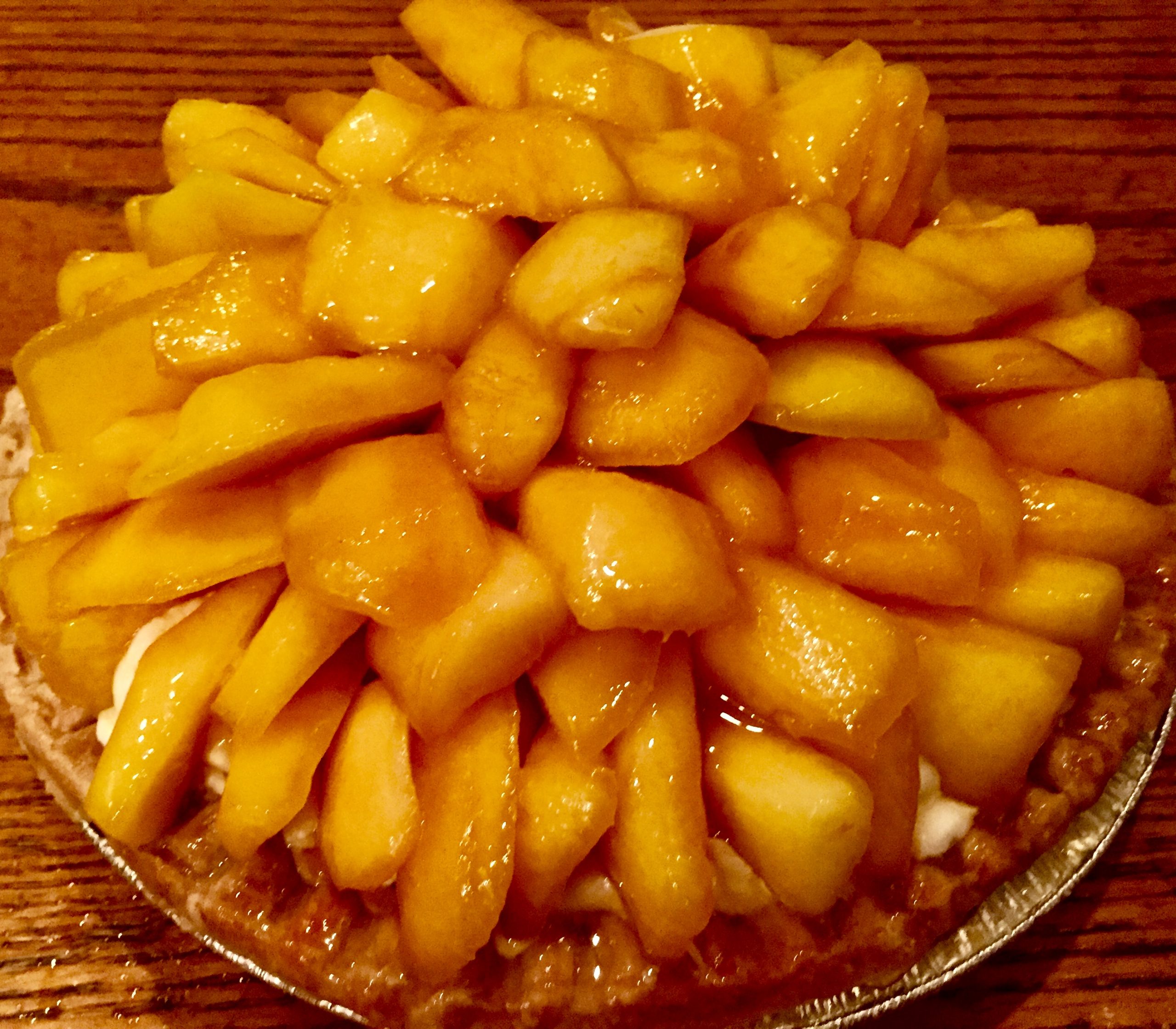 Peach Cream Pie…Simply The Best!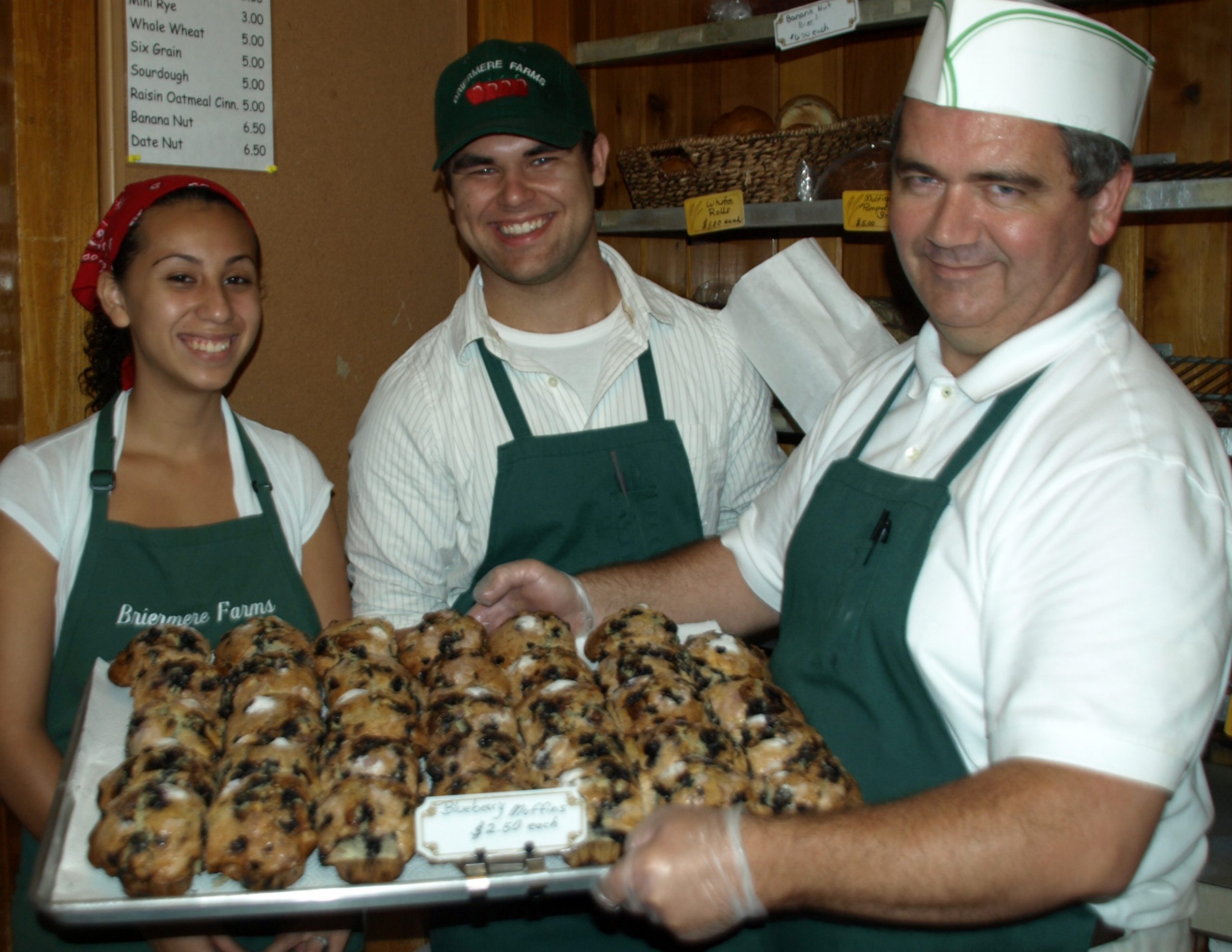 You know what they say about Happy People…Phab & Phamous Blueberry Muffins!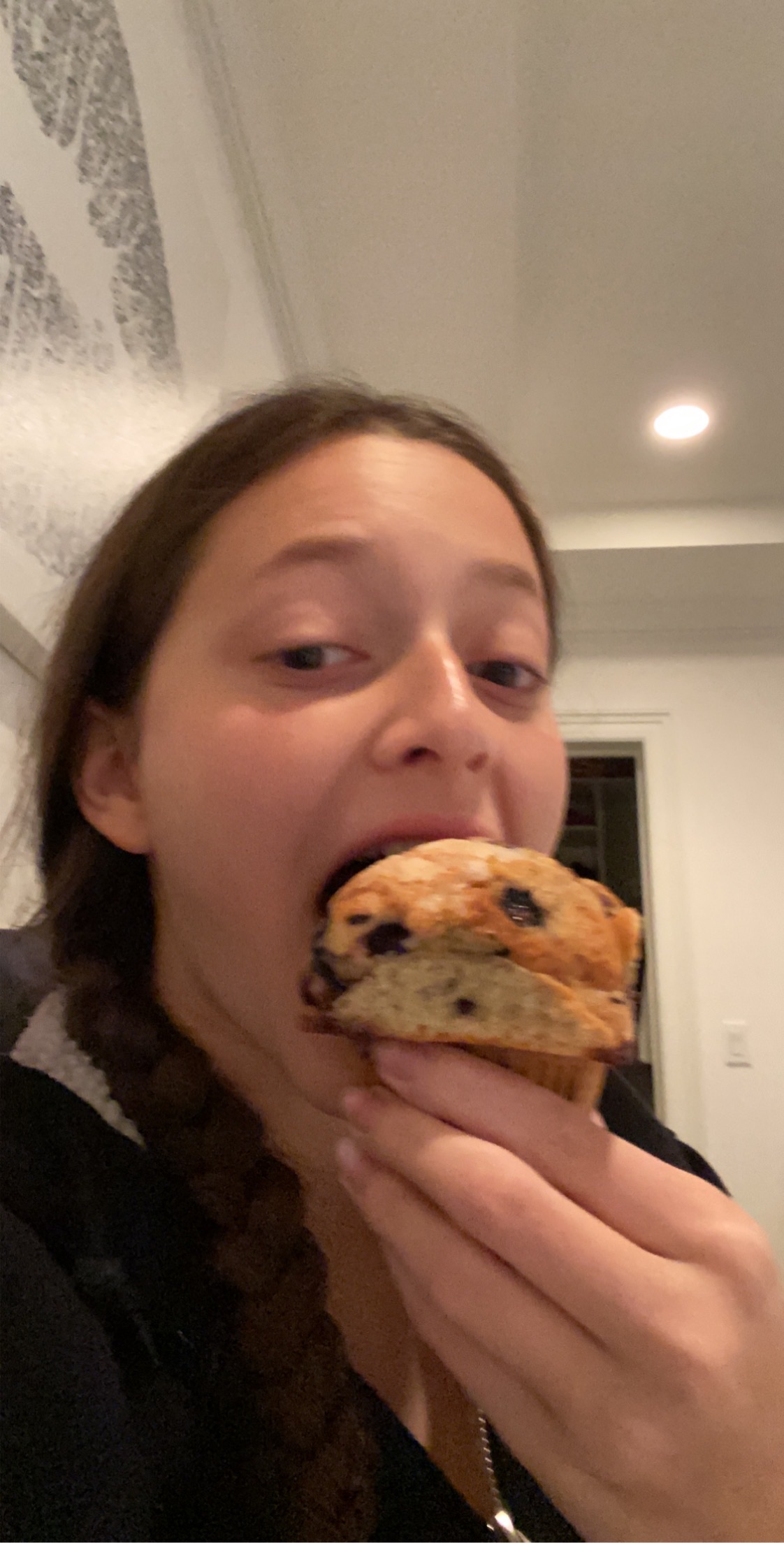 Sandy & Kathleen
Uh-Oh! Covid-19 comes to Briermere in 2020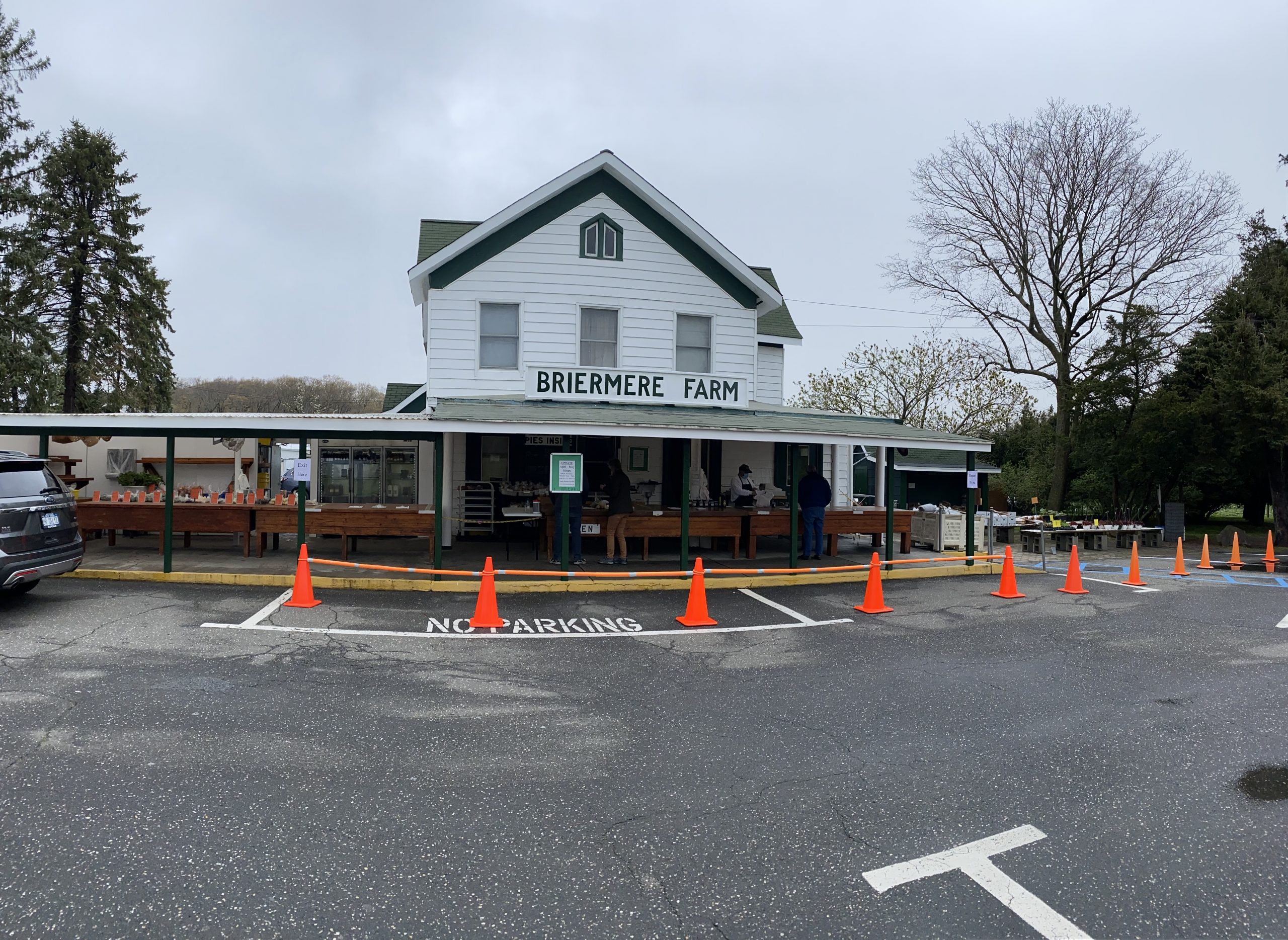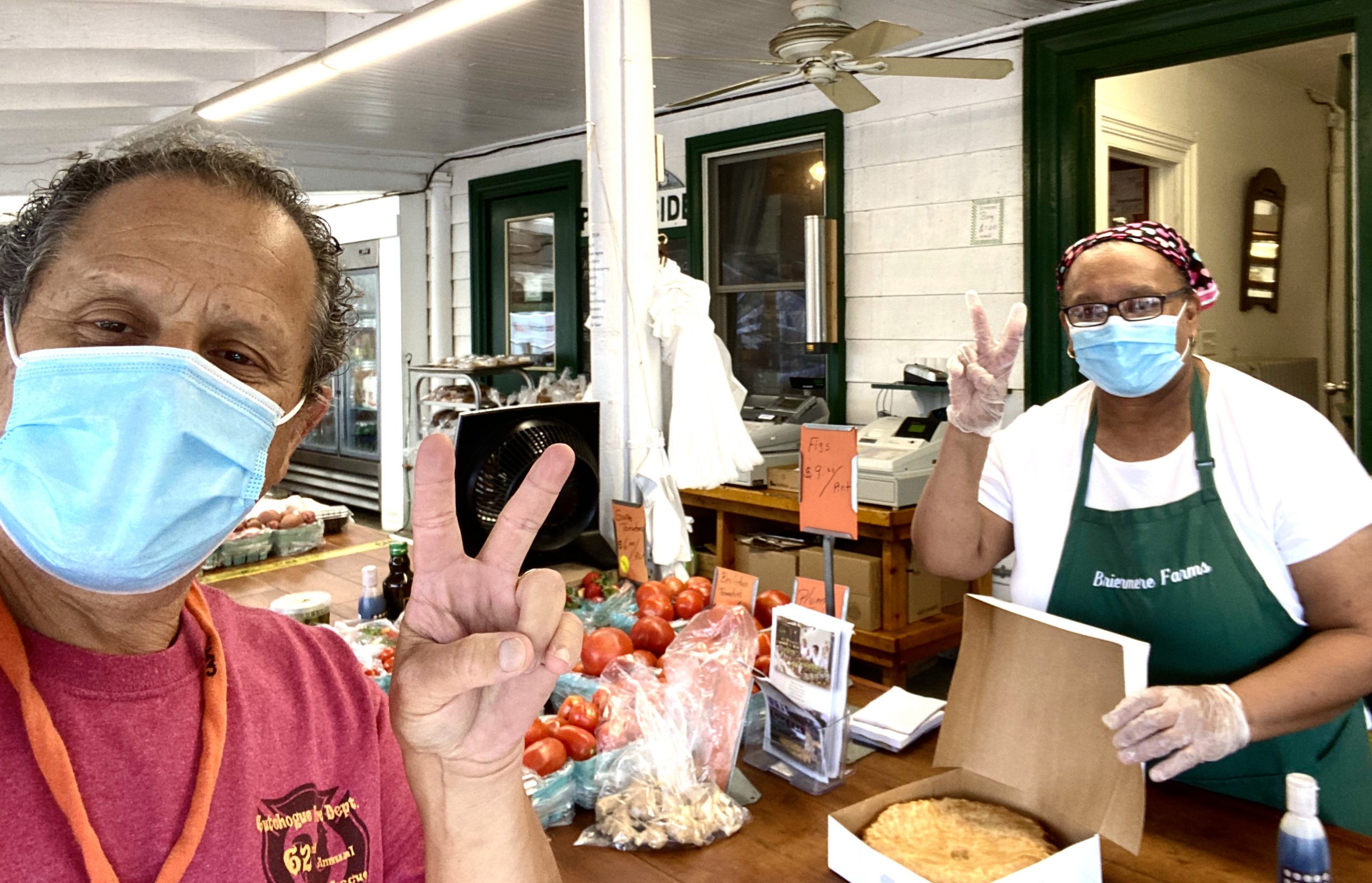 Diana with another winner…Blueberry Crumb Pie!

Safety First during Covid! Say Hi Sharyn 🙂
Next Up…Small Holdings Farm
965 Main Road, Aquebogue, NY, 11931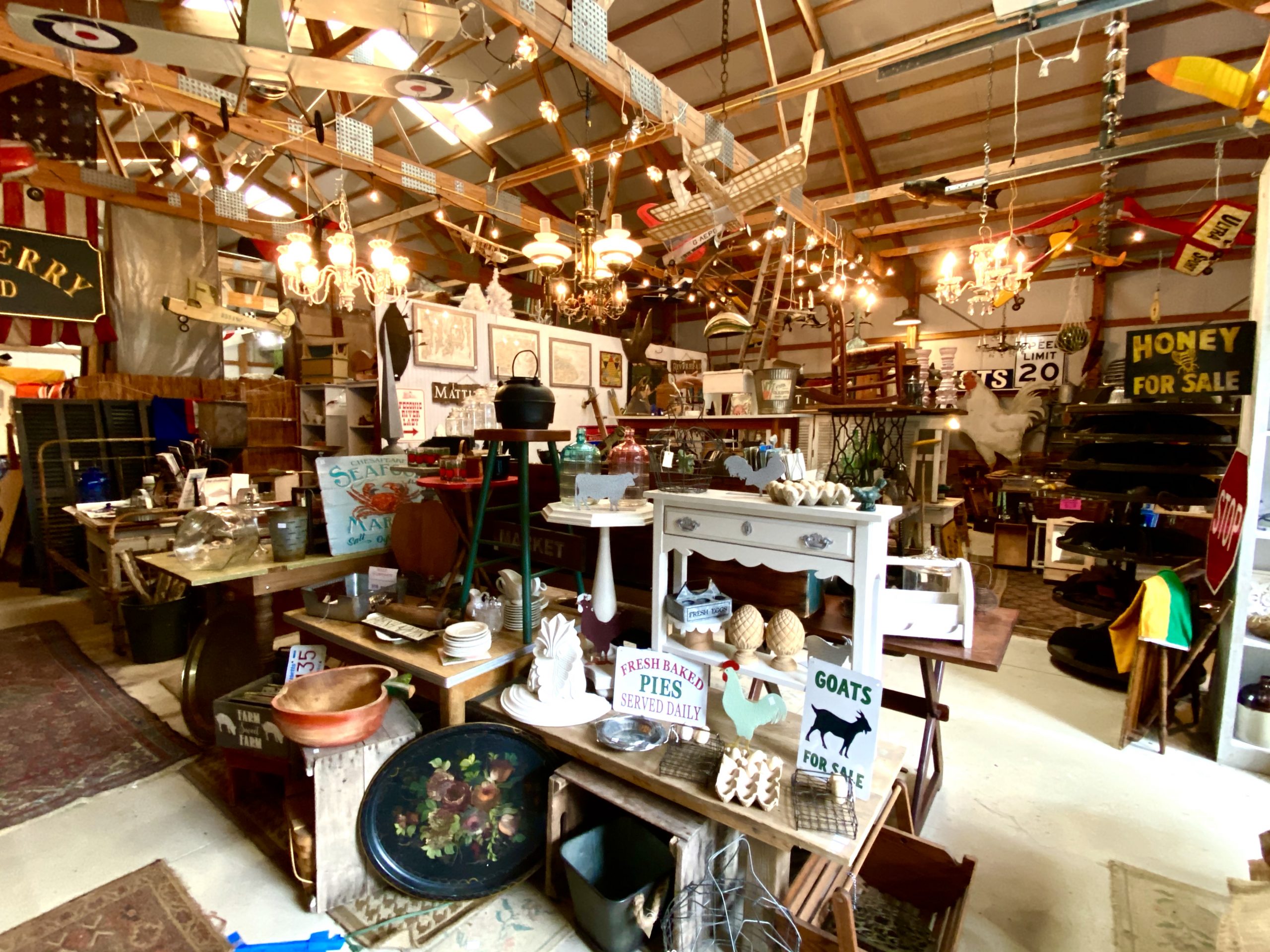 So check this out. This place is like a mini-museum of one-of-a-kind "country cottage antiques" for inside and outside of your home.
On the North Fork, the "Finds" keep coming at Croteaux Vineyard, Rafael Vineyard & Grana Trattoria Antica
-Jedediah Hawkins Inn & Restaurant 
400 S Jamesport Ave, Riverhead, NY 11901
A little background…
When Sandy and I discovered this restaurant in 2012 inside the Jedediah Hawkins Inn, it was named after the Chef (& Co-owner) Keith Luce and billed as Luce Hawkins. Each time we went it was terrific! Keith ultimately left to open up restaurants down the road in Greenport, LI., N.Y.  and the last I heard he is in the restaurant business in Canada.
Either way, Jedediah Hawkins in Jamesport is still a food destination and is widely  known for wonderful food and service!
-Clovis Point Vineyard 
1935 NY-25, Laurel, NY 11948 (Main Road in Jamesport)  https://www.clovispointwines.com/
Just Say YES…and you get Clovis Point, Potato Leek Soup and Keith Luce
Braun Fish Market & Seafood Grill
 30840 Main Rd, Cutchogue, NY 11935
At this time their seafood grill is closed because of the Covid pandemic…thus no more crab cakes for now. The seafood shop, however, is open and a definite stop for exceptional fresh seafood!
Just ask for Cathy and tell her Bert sent ya for some of these Jumbo Wild Shrimp!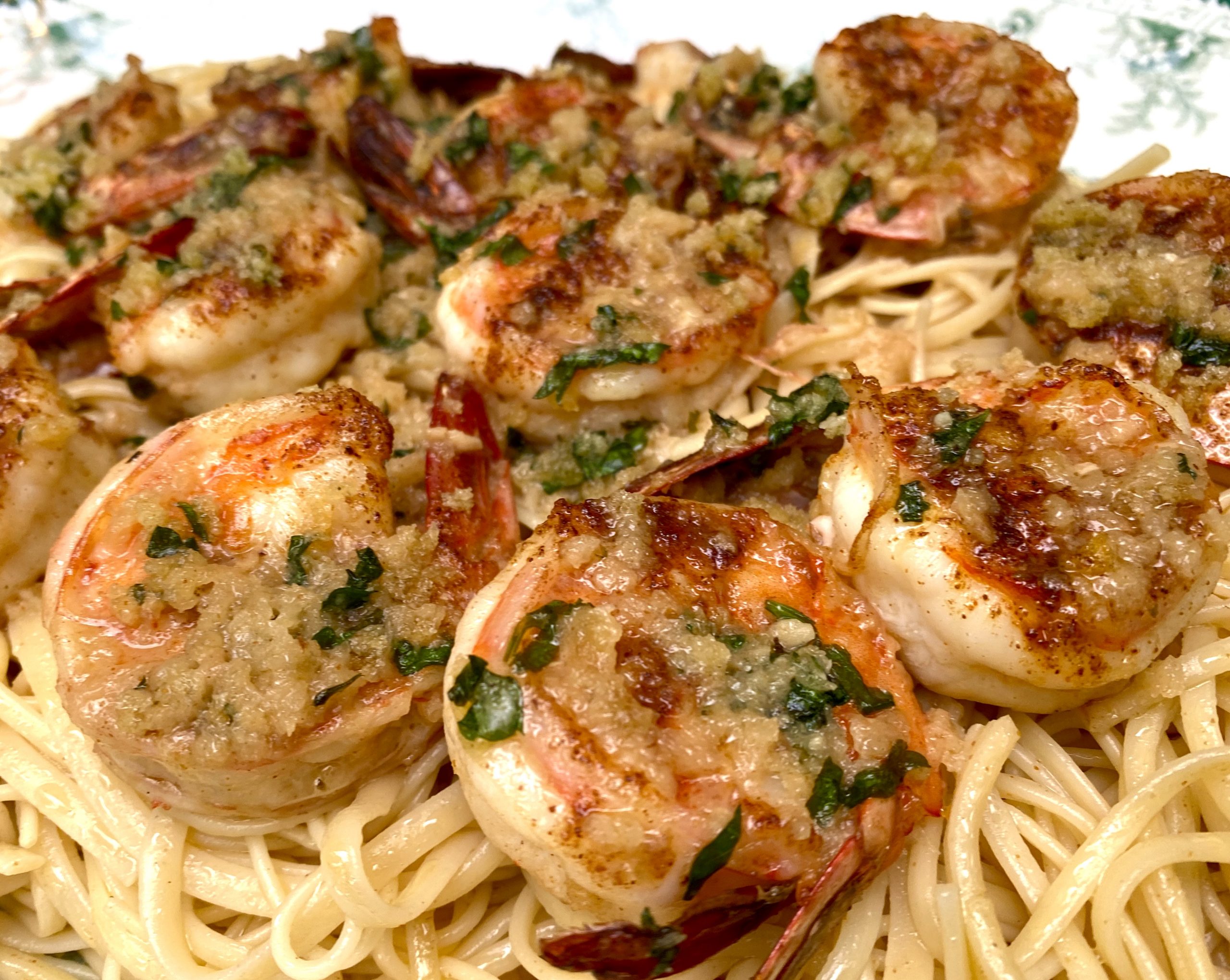 BetsaPasta Shrimp Scampi With Patsy's Inspired Seasoned Breadcrumbs. Thanks Sal!
Crab-cakes & More at Braun's Seafood Grill in Cutchogue, L.I., N.Y, USA
Cutchogue Village Farms 
31025 Main Rd
Cutchogue, NY 11935
A quick stop at Cutchogue Village Farms for simply phab artisan…yes…artisan pickles! Simple!!
No Website…Drive too fast and you'll miss it.
Tip: It's virtually across the street from Braun Seafood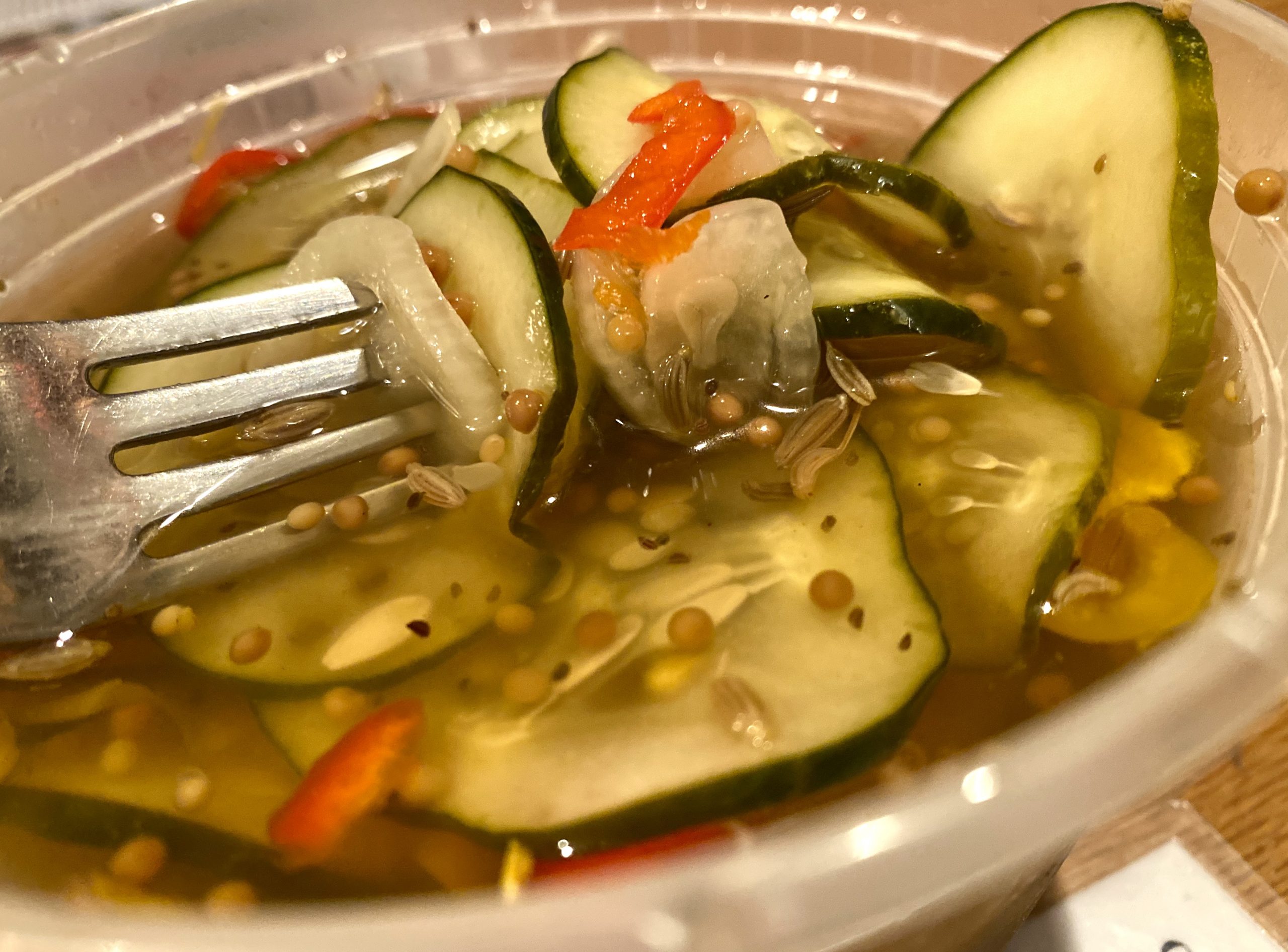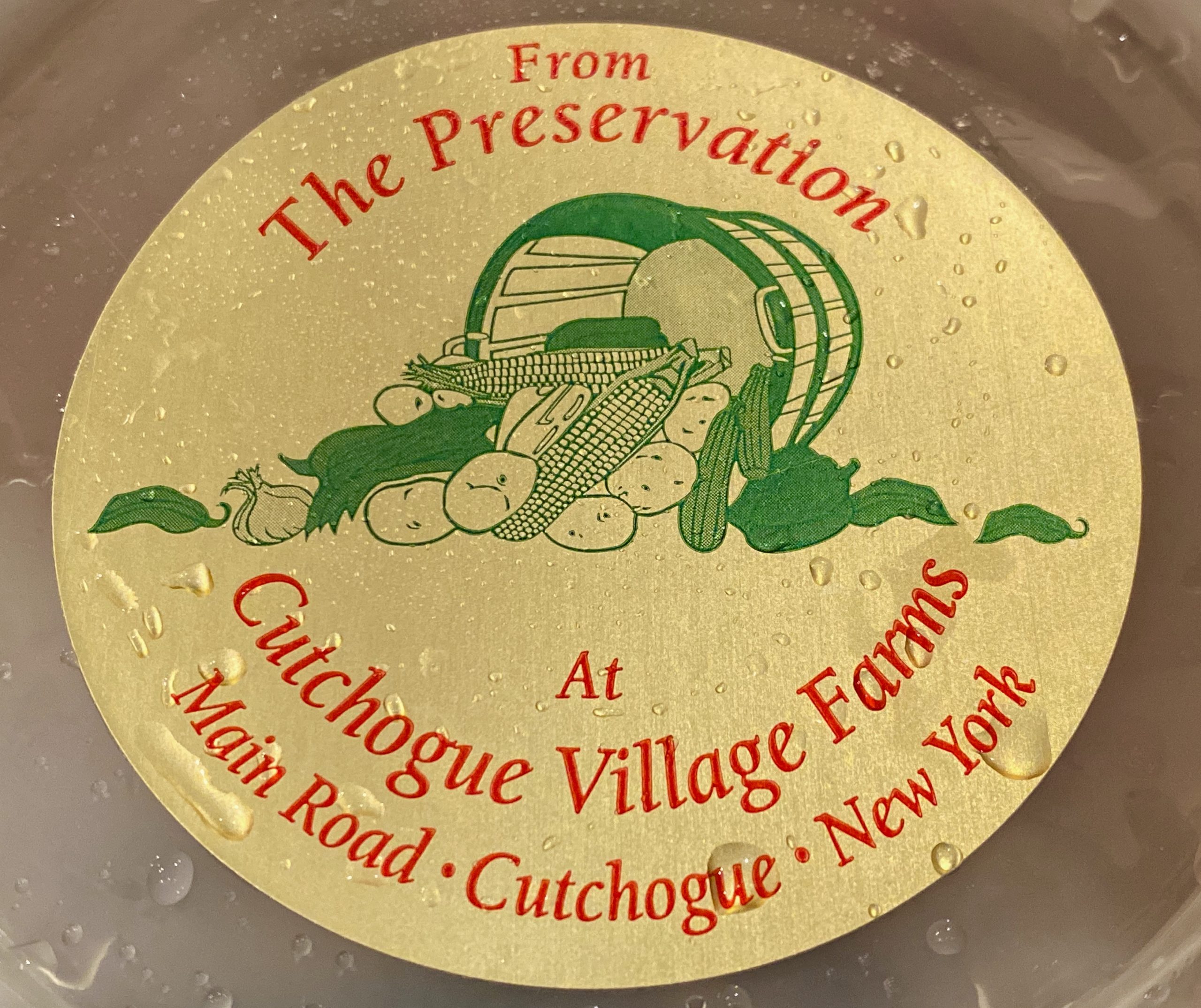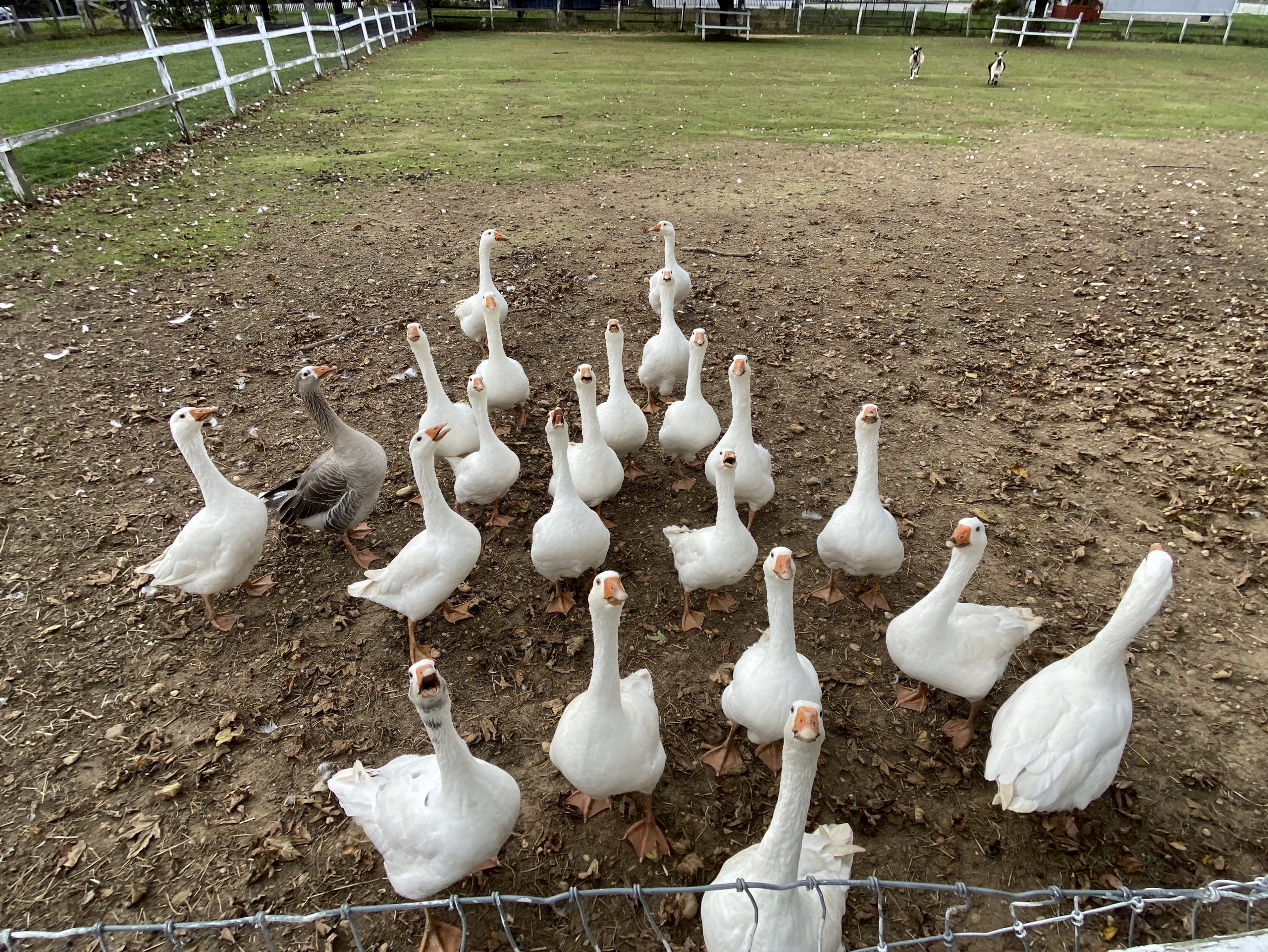 You know what they say about happy Cutchogue Village Farms geese…Yes?
Blissful Biscuits at Main Road Biscuit 
Yup…it's in this blog entry 🙂
New "Anniversary Shrimp & Clams Scampi" & Touring on The NOFO Election Day November 8, 2016
Pugleisi Vineyard 
While we're on the subject of Pugliese Vineyard…Say Helloooo to the Pugleisi Clan…producers of one of our favorite bottle's of wine…Bella Maria Blush!
Meet Mrs. Pugleisi…The Queen of Wine on the NOFO!
Buongiorno Mrs. P and Domenica!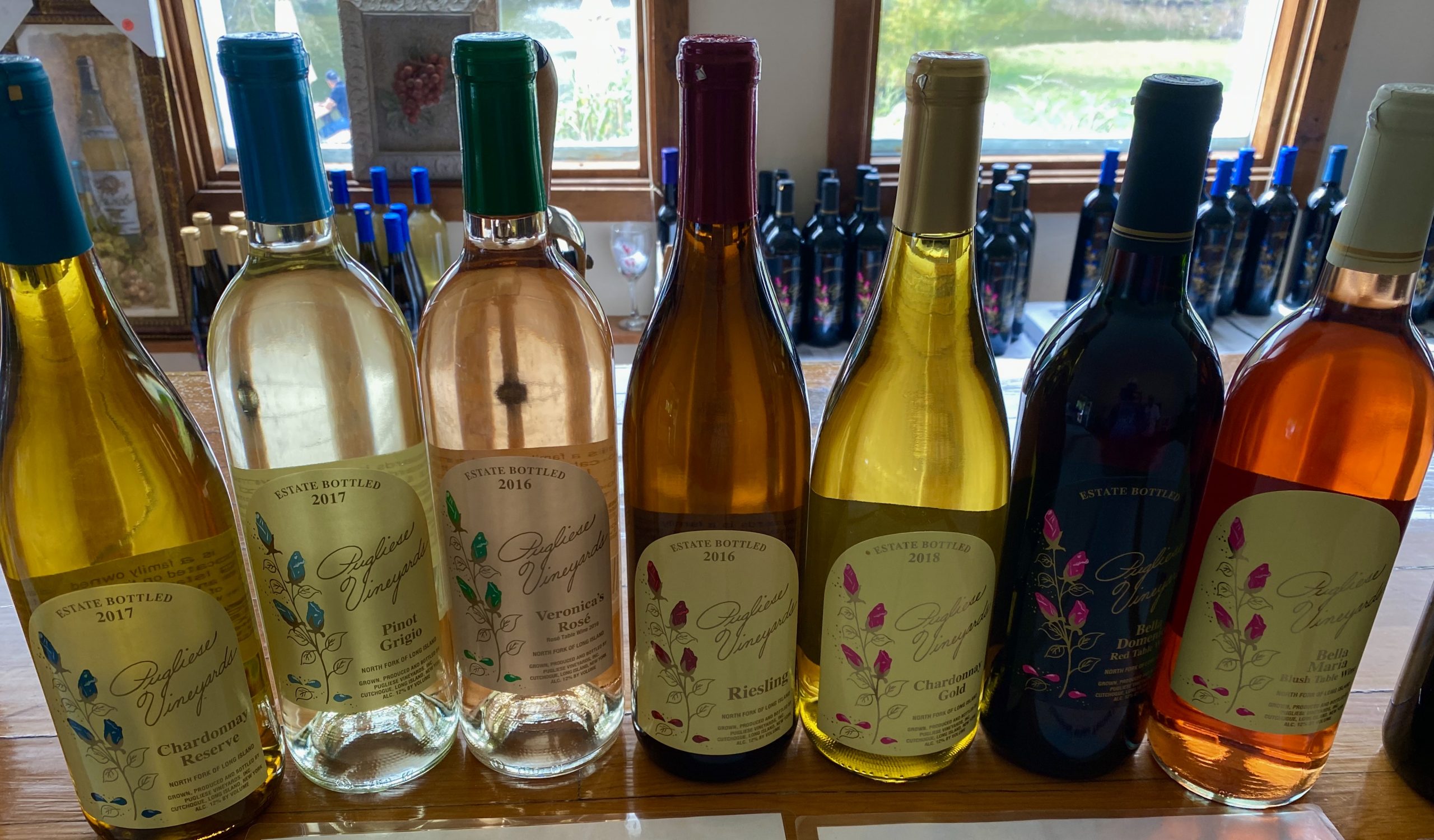 There's Bella Maria Blush on the right!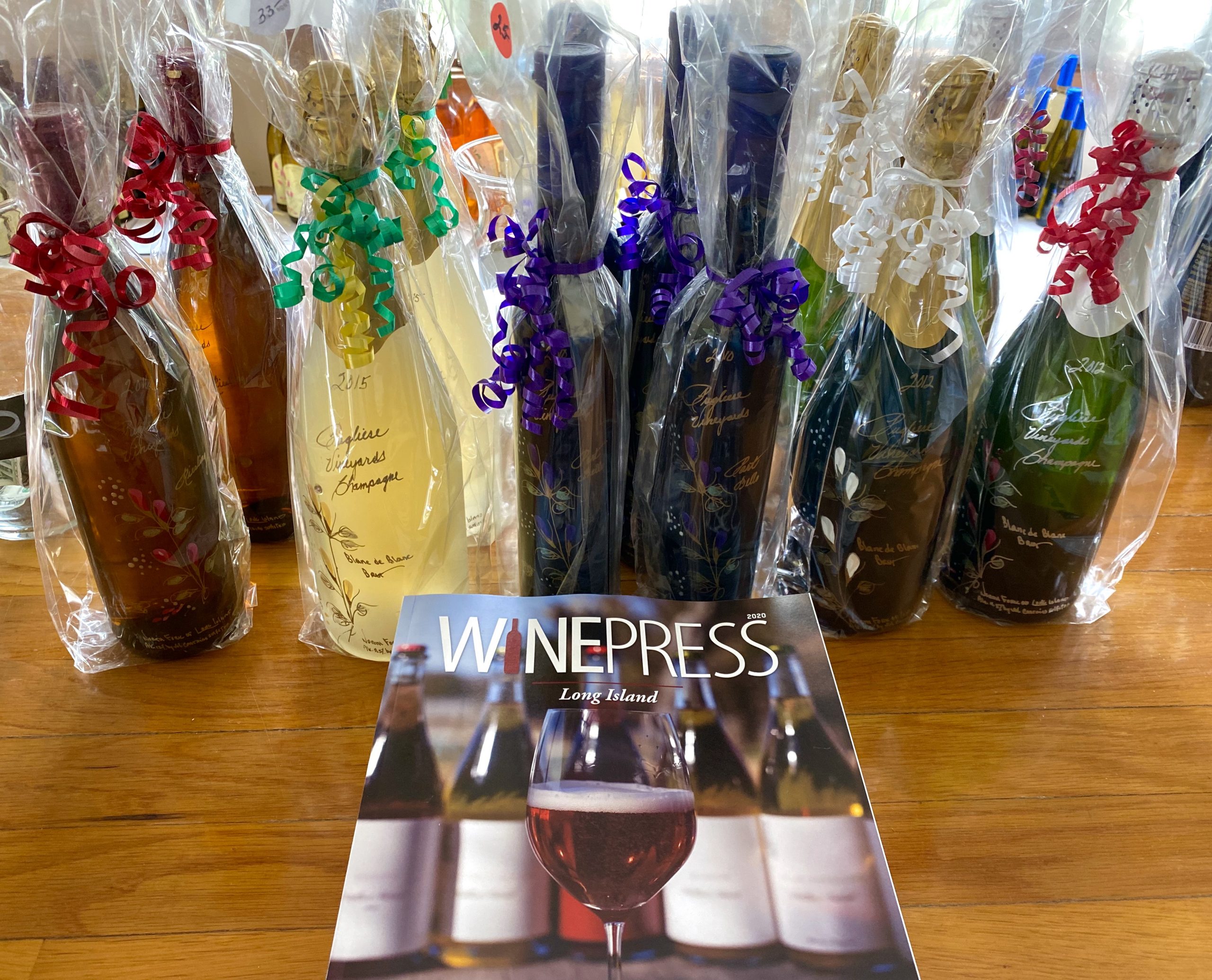 Check out Mrs. Pugleisi's artwork on these bottles!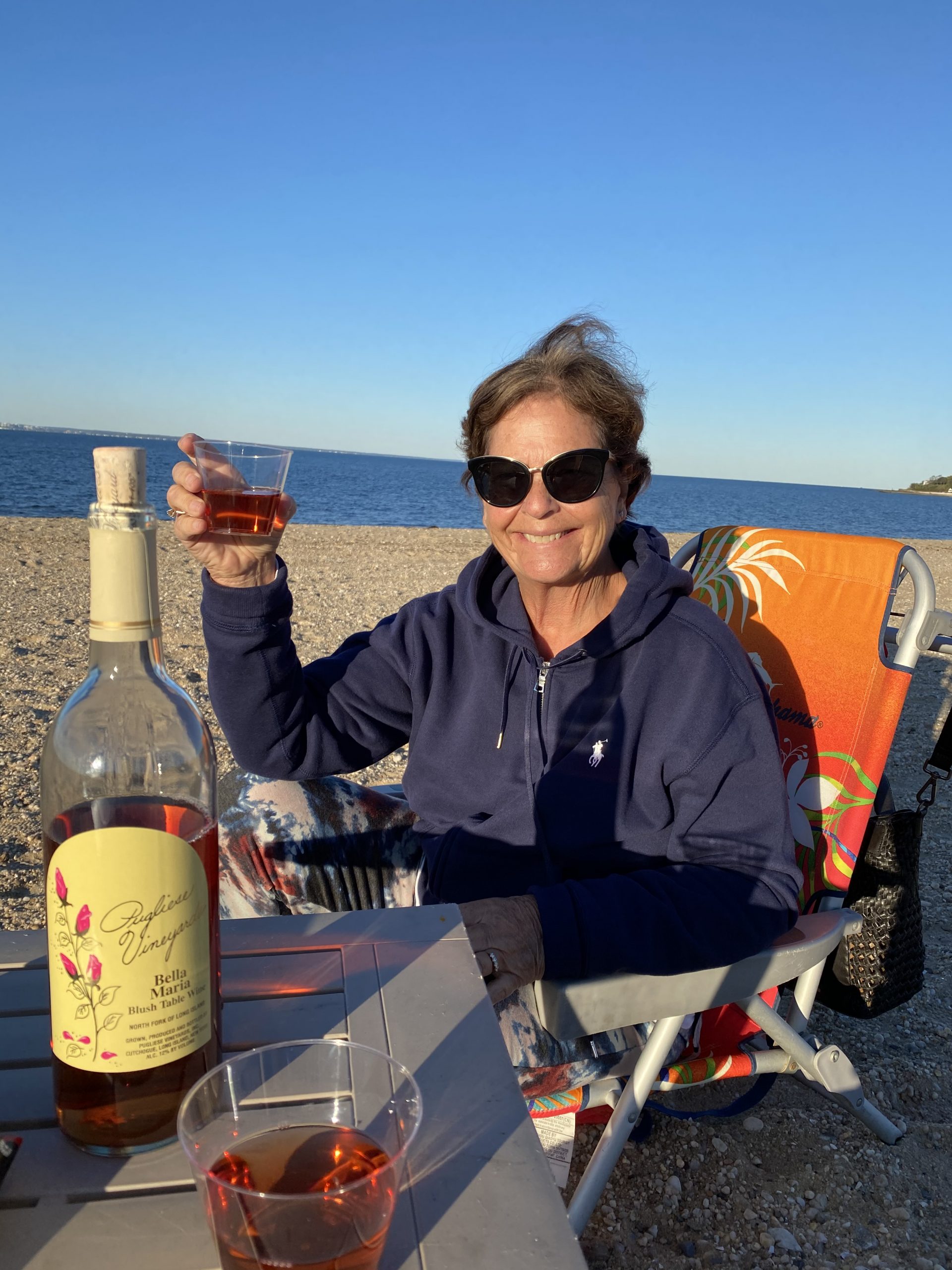 https://www.pugliesevineyards.com/meet-the-family
The North Fork Shack
Outstanding Burger & Shallot-Dusted Fries at The North Fork Shack in Southold, L.I. N,Y., USA
The North Fork Shack Mahi-Mahi Fish Sandwich…just Phab!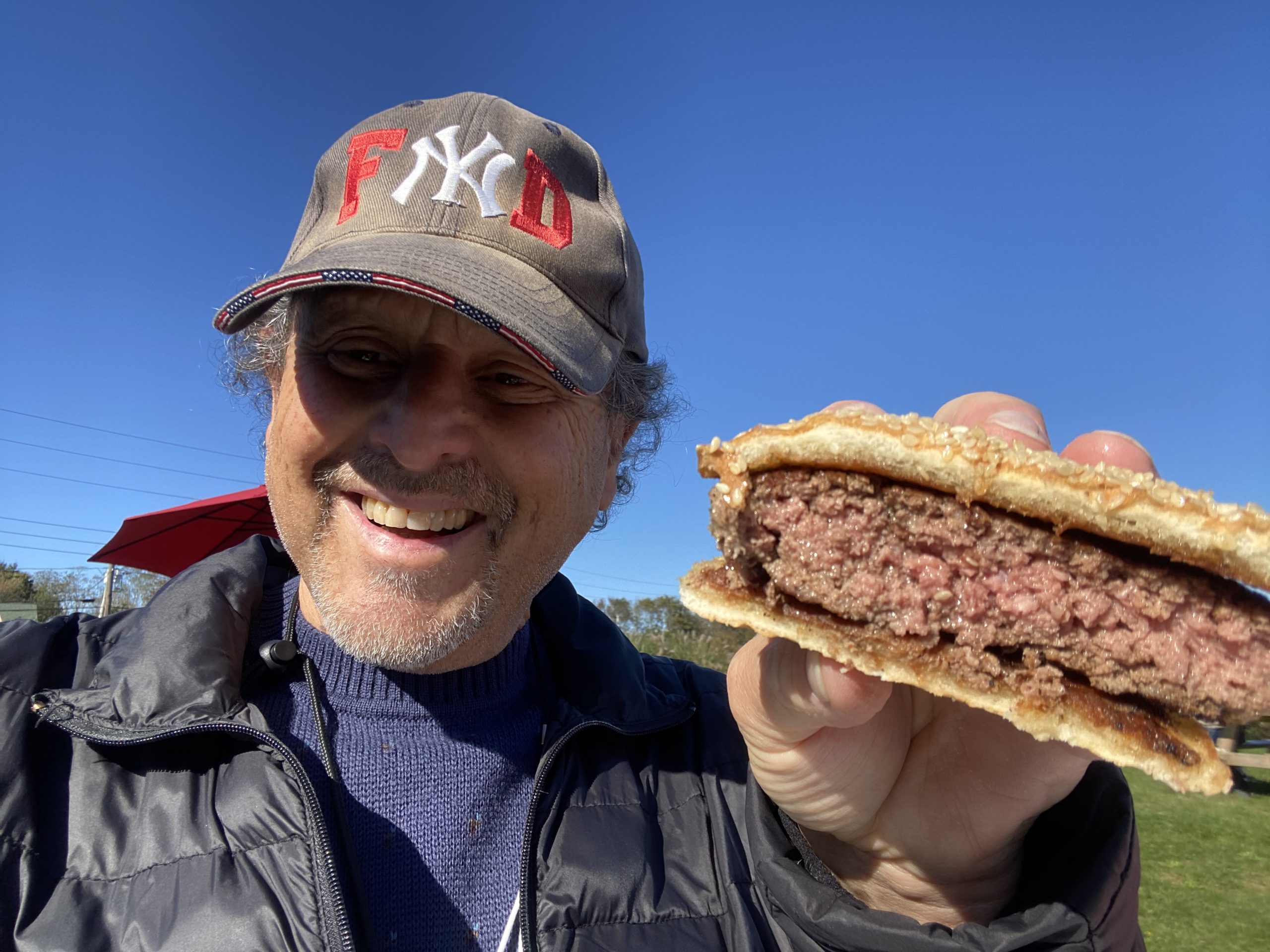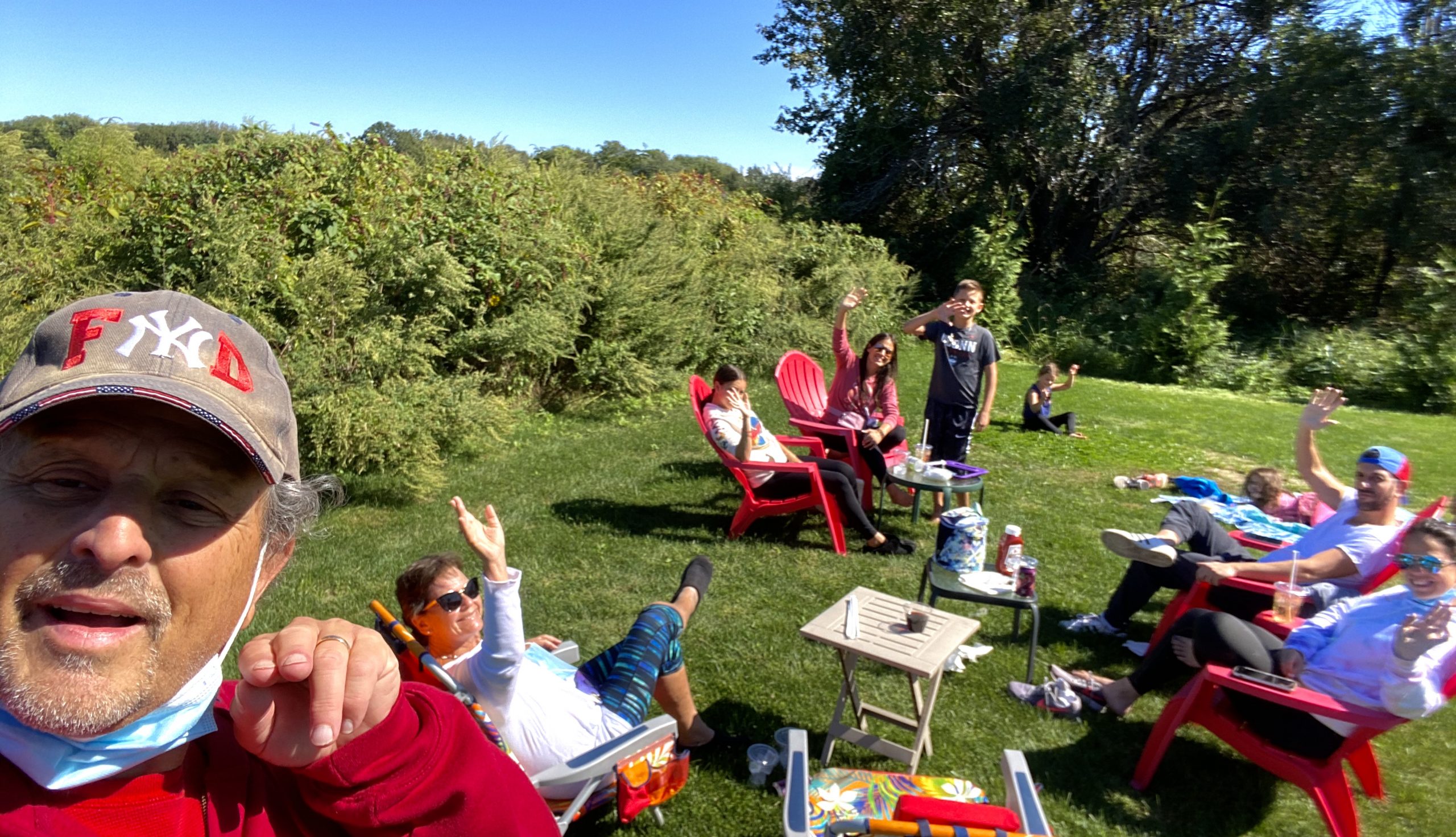 Lunch outside at the NOFO Shack! They have tables with umbrellas, however we spread out with their lounge chairs…and, of course, my own bottle of Simply Heinz Ketchup!
While your in this area…it's just about a 3 minute ride to our favorite specialty foodie emporium…ie…
About Food
53975 Main Rd, Southold, NY 11971
You really have to get in and see all the unique food and drink offered that you will not find elsewhere, and many of them locally made.
Meet "GP"…proprietor of an artisanal and organic food museum like no other…and right smack dab in the middle of downtown Southold 🙂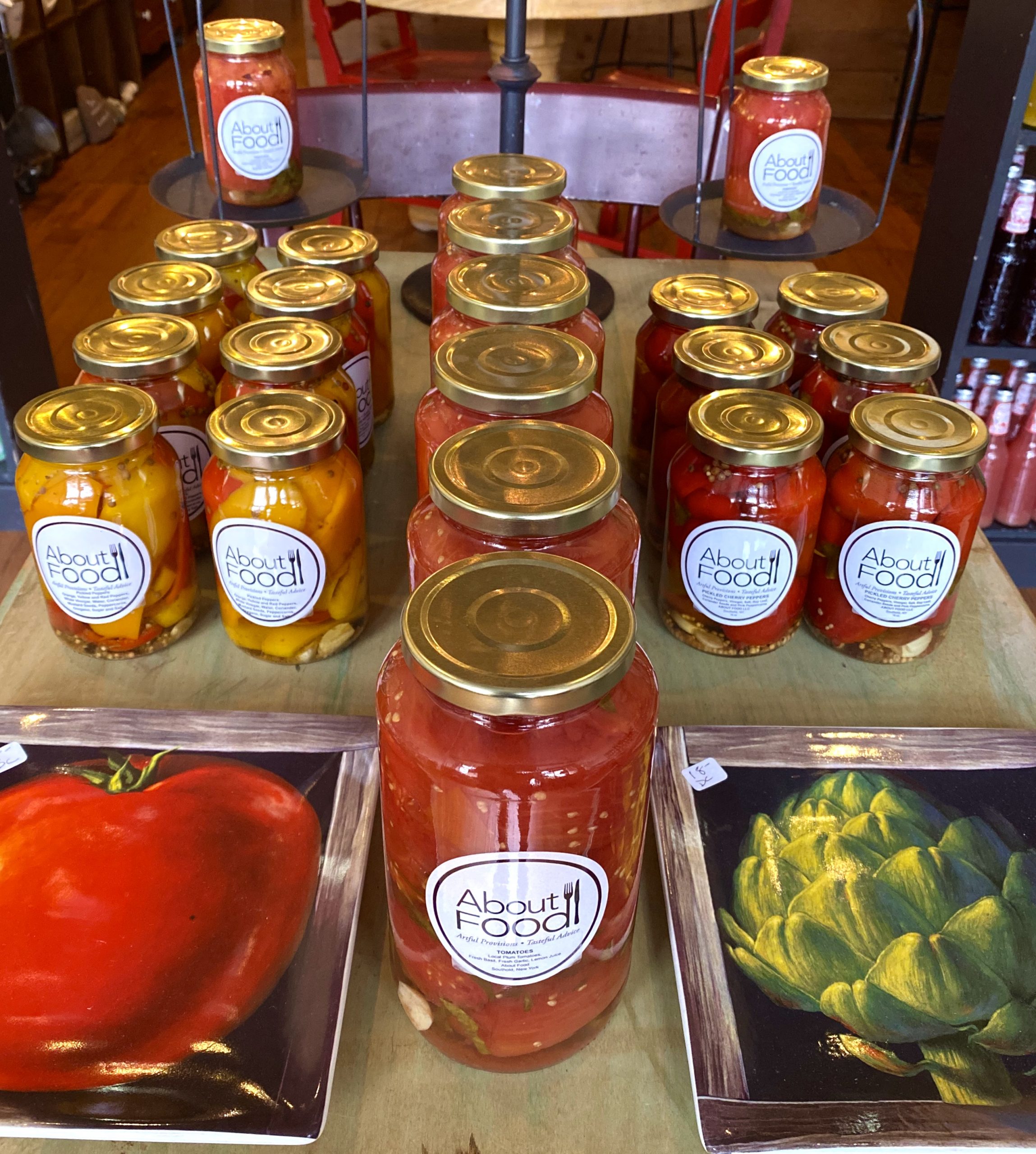 Talk about unique "GP" delicacies…check out this PICKLED PINK line…



Bert with GP and his first ever "Shell-fie"!
Did somebody say Goat Cheese?
Right here on the NOFO you will find two of the best anywhere!
Catapano Dairy Farm & Goodale Farms…Both Participants in The North Fork Foodie Tour!
33705 County Rd 48, Peconic, NY 11958
Let's start with how the Catapanos won first place for their fresh unripened goat cheese at the American Cheese Society's annual conference and competition in Louisville, Ky. The society's members are more than 1,000 farmstead, artisanal and specialty cheese-makers and 1st place is an honor reserved for the best cow, sheep and goat cheeses in the United States. Yup…the whole US of A.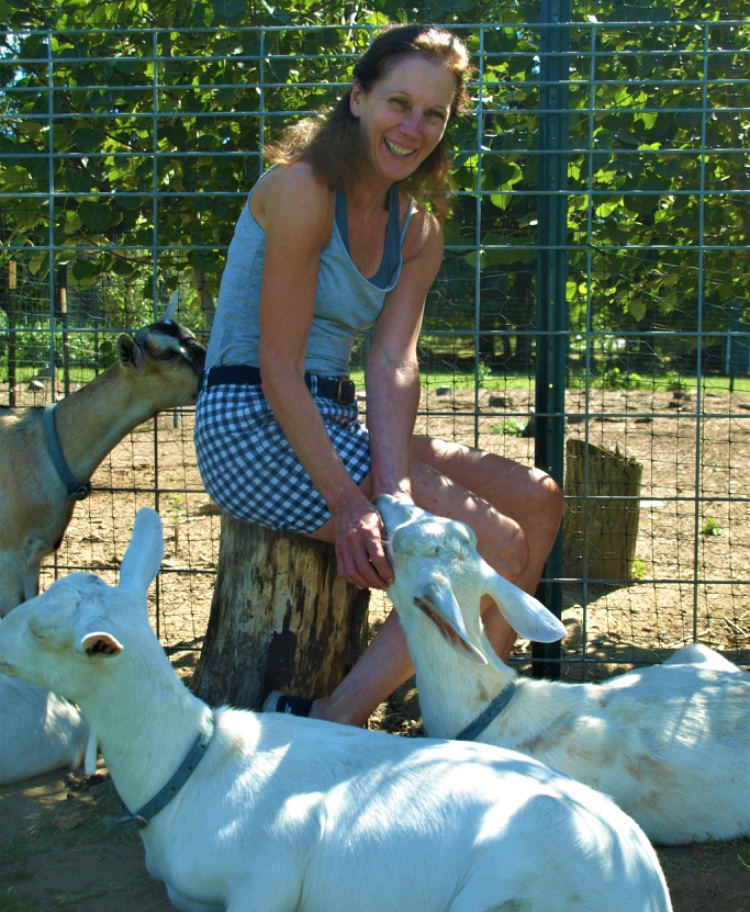 Meet Karen Catapano…Cheese maker extraordinaire! You know what they say about happy people…and happy goats 🙂 They make happy customers…just like these folks who visited Catapano during last years North Fork Foodie Tour!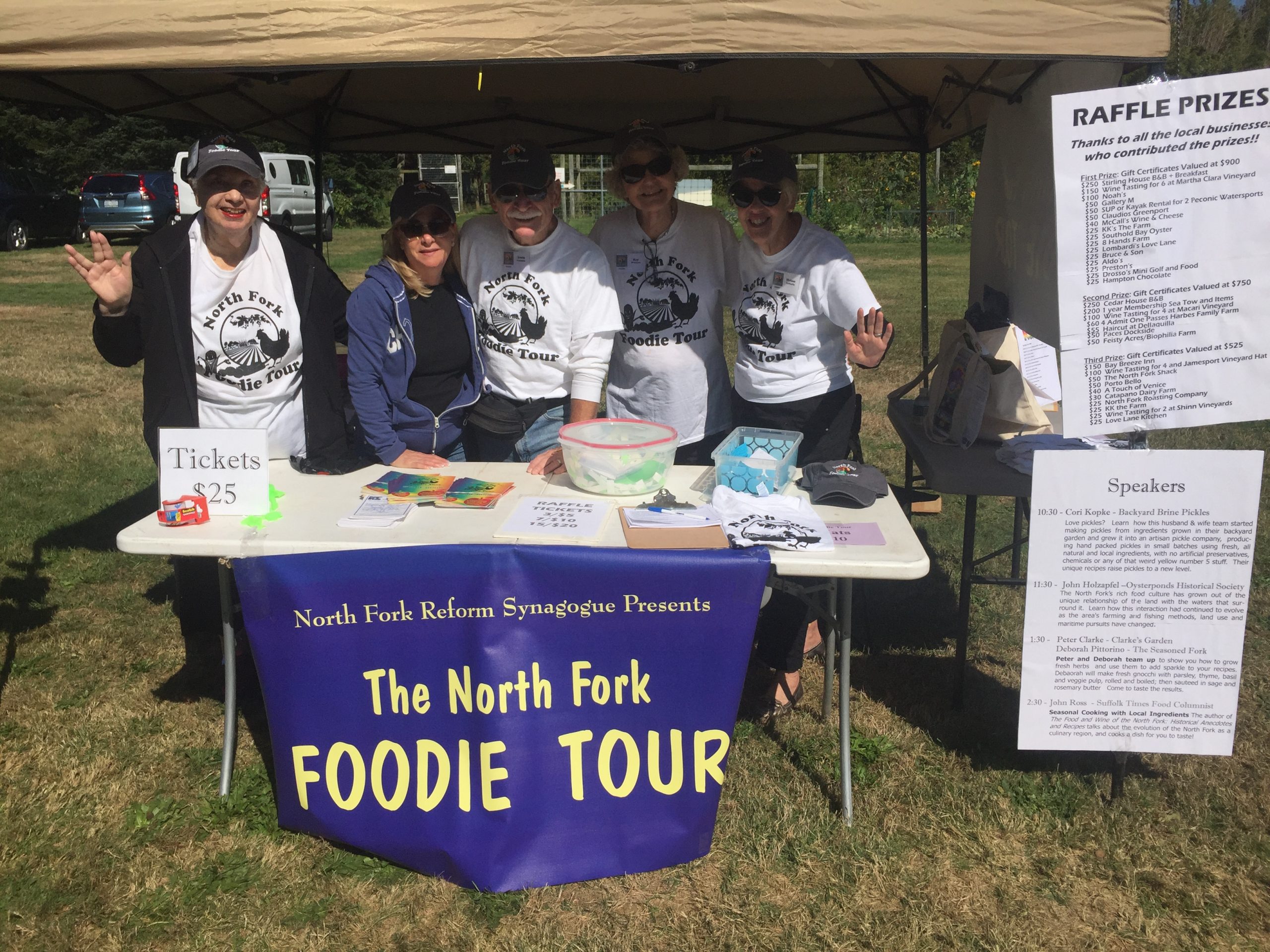 Introducing you to the folks from the North fork Reform Synagogue  that make the North Fork Foodie Tour possible!
Click here…our first Foodie Tour in 2010!
http://phoodographsandfinds.blogspot.com/2010/09/
In the event you are interested in joining us for our annual September event, here's the website. Maybe we'll see you next year!
https://northforkfoodietour.com/

The formula at Catapano remains a success and it starts right here with happy goats just like this cutie!
Catapano has also developed a reputation and a solid following for producing a goats milk in their "Delicate Doe" skin care line made with natural skin loving botanicals, and, of course, their fresh (not powdered) goat milk.
The face products contain kukui*** & macadamia nut oils in addition to shea butter, evening primrose and vitamin E which combine with the goat milk to give the most luxurious glow while gently cleansing and moisturizing. The body products contain shea, mango and kokum*** butters, grapeseed oils and extra virgin olive oils in addition to fresh goat milk that will leave your skin nourished and silky smooth. We know….we've been using them for years and we love their body 'creme' and cuticle butter made with mango butter and goat milk and lighly scented with lavender.
***Kukui nut oil is absorbed by the deepest layers of the skin and forms a protective barrier which will protect against environmental damage. It is used to treat sunburns, wind burn, eczema, psoriasis, dry skin, acne, scars, stretch marks and maturing skin.
***Kokum butter is a type of plant-based oil that comes from the seeds of the kokum tree. It's frequently used in the production of topical cosmetic and pharmaceutical products like lotions, salves, and balms. Kokum butter has powerful moisturizing properties and won't clog pores.
lhttp://www.catapanodairyfarm.com/cream.html
So here's the Goodale story from one of my first blog entry's back in 2011 🙂
Hello Goodale!
250 Main Rd, Riverhead, NY 11901
Absolutely Wonderful: Goodale Farms Goat Cheese on the NOFO in Aquebogue, L.I., N.Y
You'll love feeding these cuties!
Love Lane Sweet Shoppe…My Fave Destination for Chocolates!
Love Lane in Mattituck has been a destination for us on virtually every visit to our NOFO.
There are sooo many stops here on Love Lane…ie…the fabulous specialty supermarket owned and operated by Mama Lombardi's Restaurant in Holbrook, the Love Lane Kitchen restaurant and  the Village Cheese Shop are my favorite destinations since I'm all about the food.
Situated next door to the Village Cheese Shop is my favorite destination for chocolates anywhere! Short and sweet quite literally, let me introduce you to the proprietors of my old fashioned in a sweet sense favorite chocolate 'shoppe'…Chelsea and Ashley.
Say Hellooooo to Chelsea & Ashley (and their little green bag full of phab chocolates)
OK folks…I'm a big dark chocolate fan…so check out my faves!
Hands down…the best chocolate truffle!
Dark Chocolate Peanut Butter Cups
Dark Chocolate Raisin Clusters
Seriously PHAB Dark Chocolate & Milk Chocolate Cherry Filled Cordials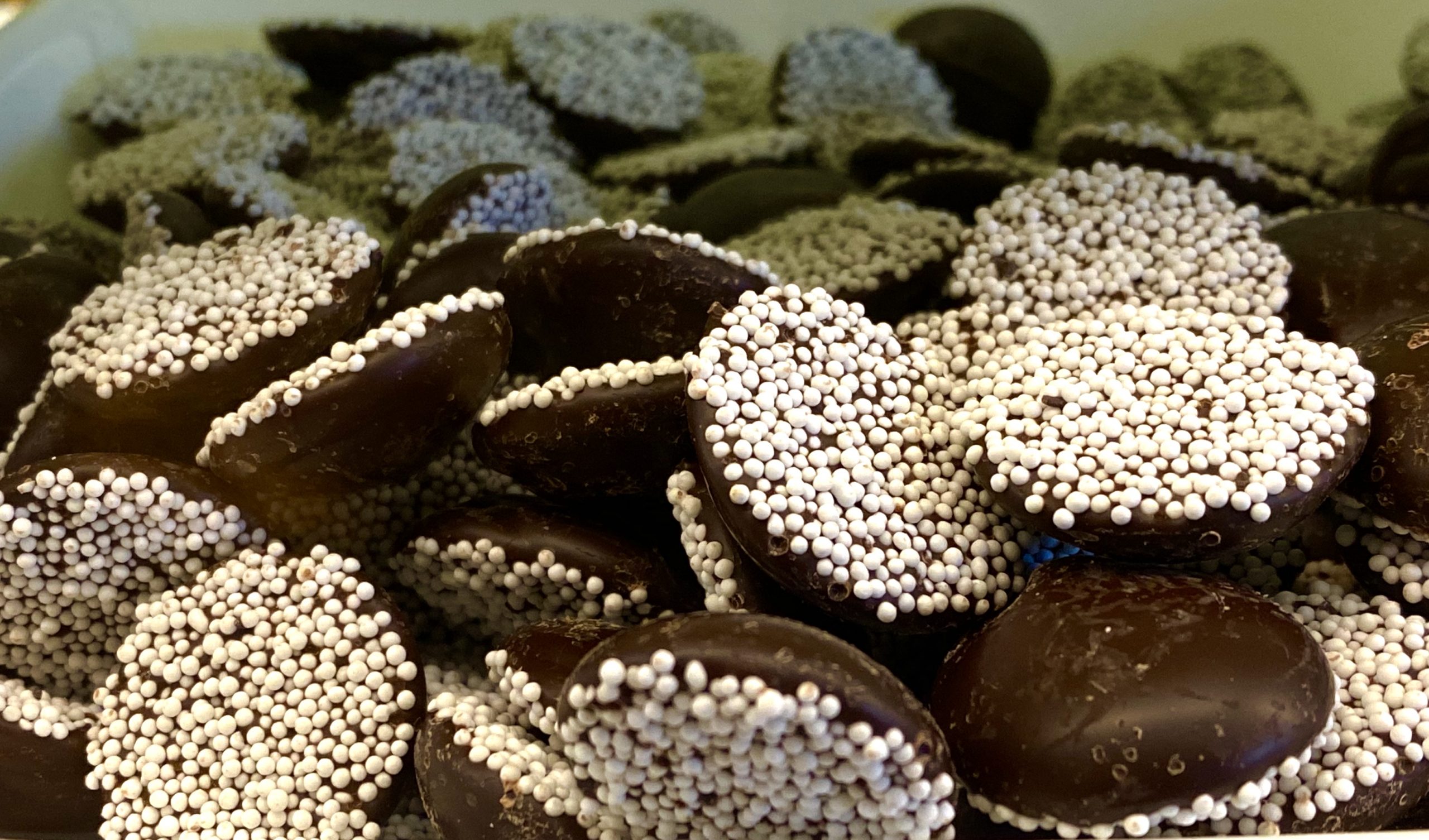 Above and below…Dark Chocolate Nonpareils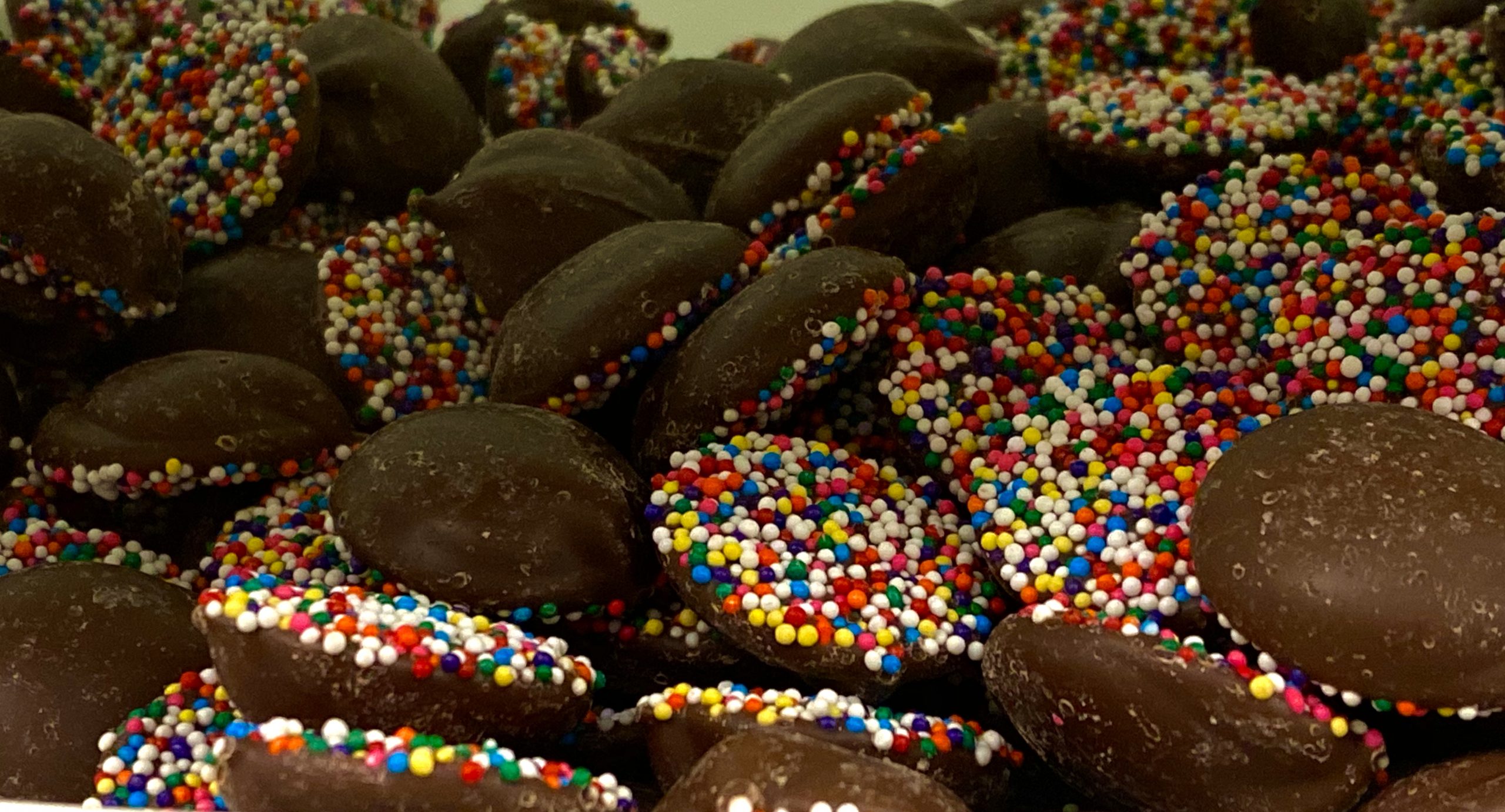 …and of course…so many more choices for you!
Confession time: I have to say I simply haven't gotten past the chocolate bar. I will, however, post this review by one of their customers to give you an idea of what is in store for you, besides their phab chocolates, should you decide to make it part of your next trip to the north fork!
"Love this place! The best place to find the best dark chocolate covered cherries. I love getting "the little green bag" as a gift too, I always know its going to be something good inside. The staff is very nice and there is a lot of selection for all different occasions in their gift shop. I love their personalized wedding gifts"
Enjoy!
https://www.facebook.com/Lovelanesweets/
Next up…
Krupski Farms
A must stop for us on our NOFO is Krupski Farms. The truly fabulous selection of gourds and pumpkins makes them a go-to destination in September and October for soooo many…however for Sandy and I…it's also the wonderful selection of their fruits and vegetables that make it a go-to destination all summer long.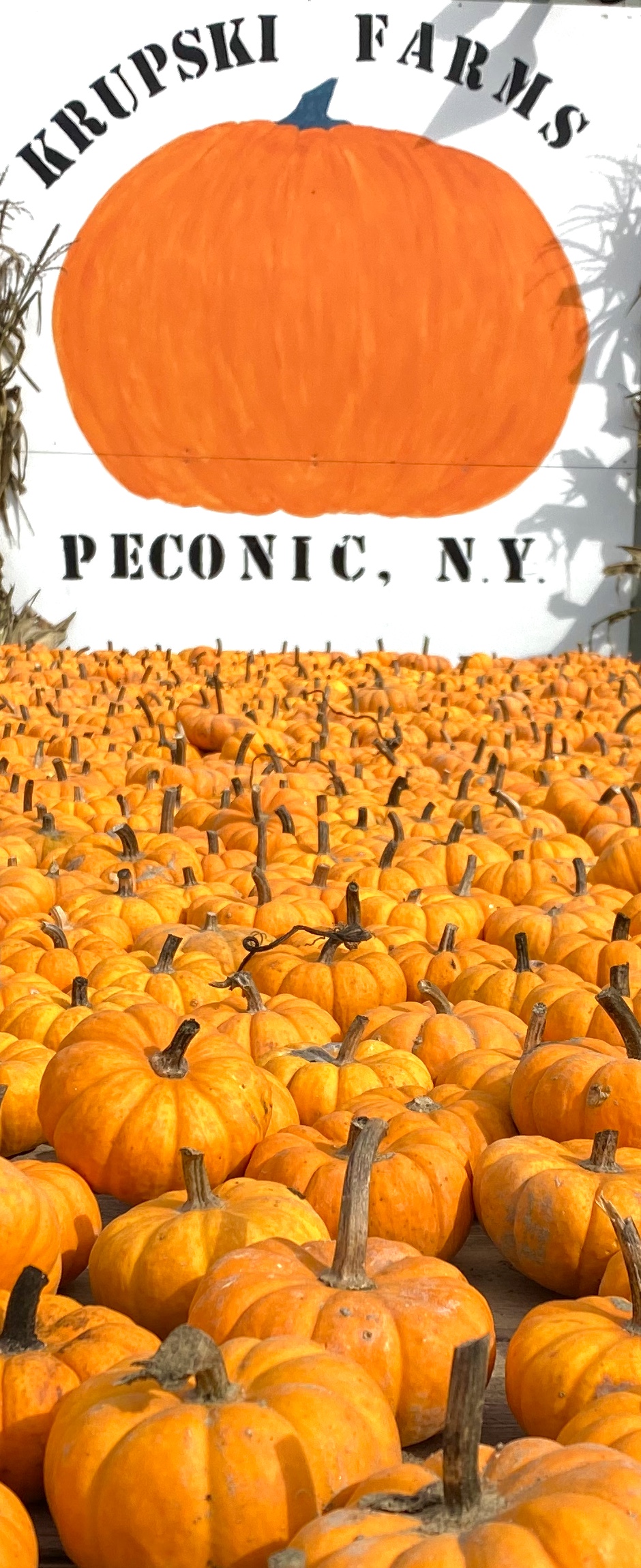 It's crazy sometimes how many pounds of fresh fruit and vegetables we procure during the summer months, Even though we have a local farm in our back yard in Woodbury on Long Island, it's the folks at Krupski we also look forward to seeing for the fresh fruits and veggies they produce.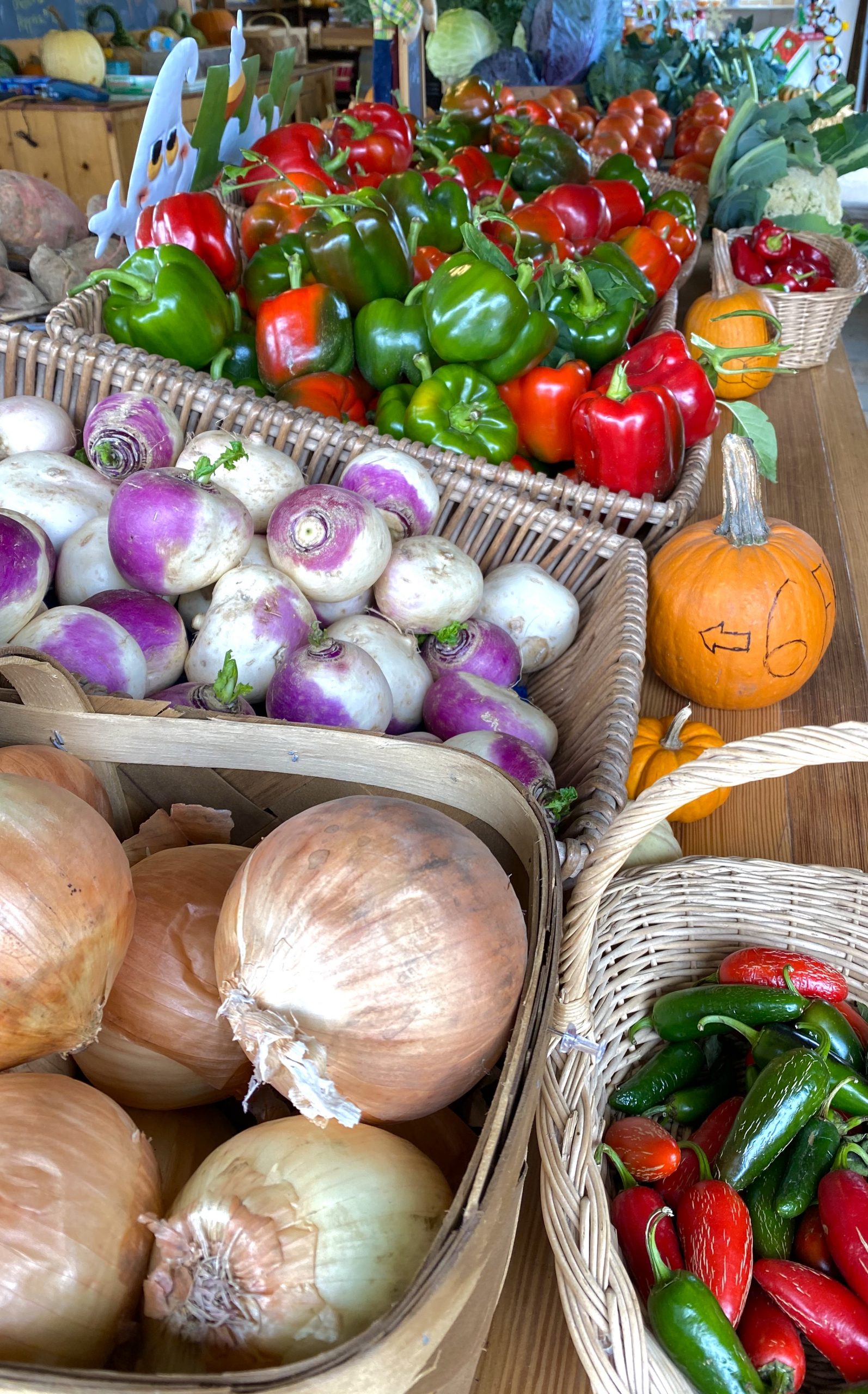 Since I'm writing this in October, many fruit pics were not available. That will be updated!
There's also something to be said for the personality at Krupski. The folks are gracious and always have a smile. Back a few years ago, I met Kim and her sister Colleen who were gracious enough to pose for pictures for my, at the time, first Krupski blog post. Someway, somehow, that entry and a few others were lost on my website…thus my desire to replace it this year. Talk of grace, I was able to secure the blessings for this post along with a pic of mom and dad…ie…Mary and Albert.
Additionally, since Colleen was not available, brother Nick was gracious enough to stand in her place. So say Hellooo to Kim & Nick!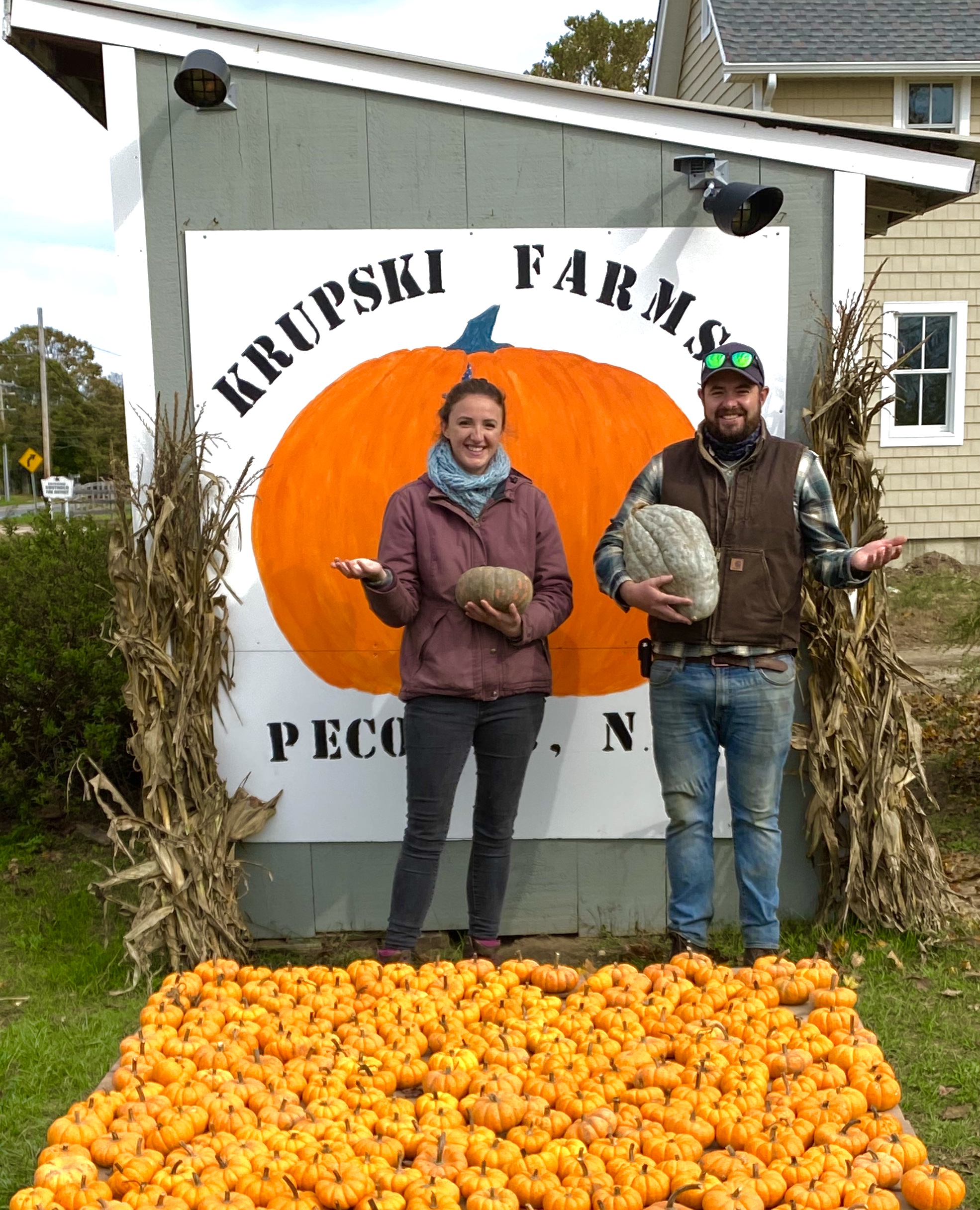 So…to Nick, Mom & Dad, I say thank you for wanting to be a part of this blog entry. Stay safe…cos we really want & need ya!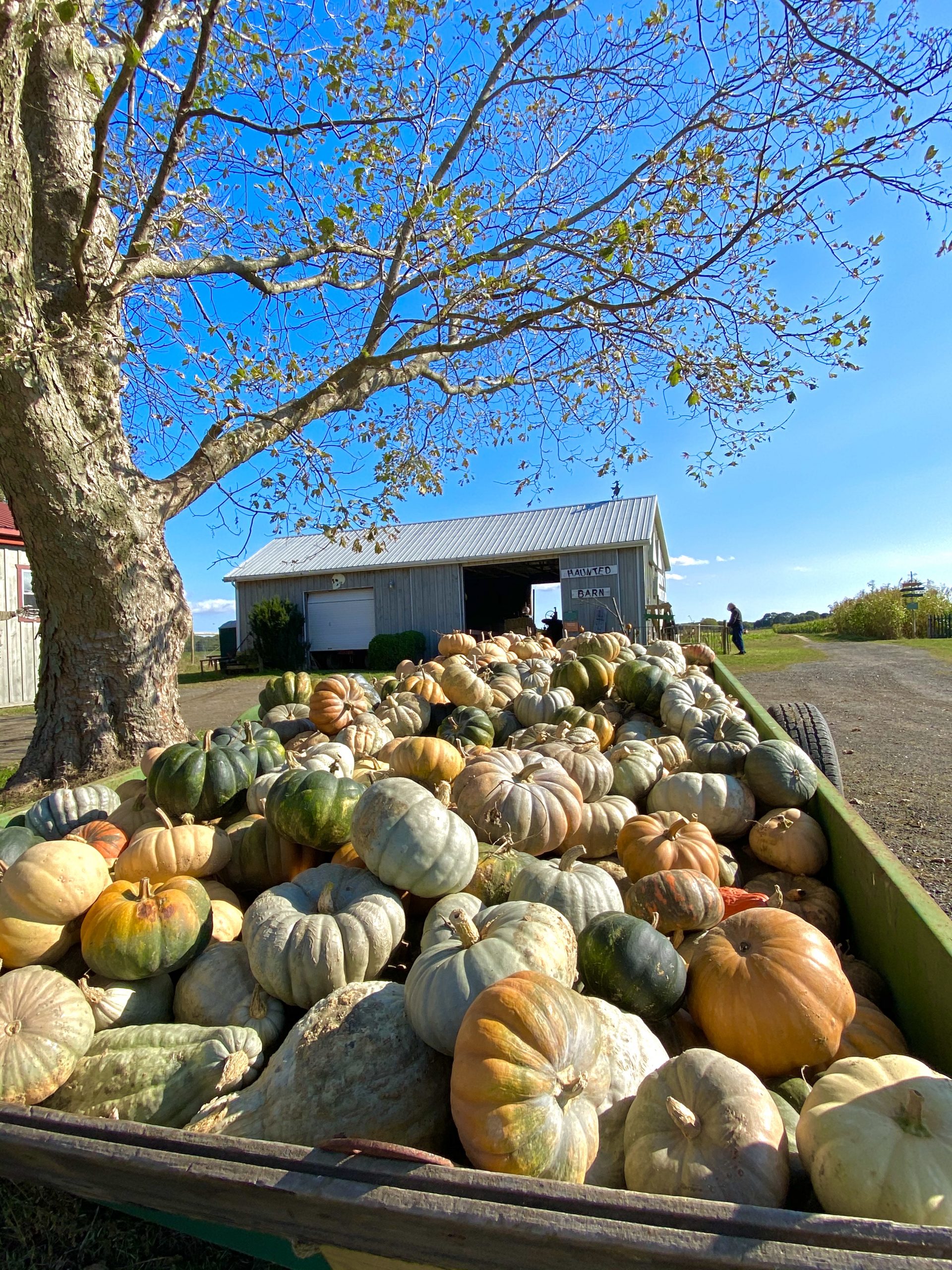 Trust me folks, this is a phabulous destination and even though in these times of Covid…social distancing and social graces abound (with sincere smiles underneath those masks) at Krupski's Farm!
See the latest and greatest in Krupski Kreativity 🙂     OHHH…and it's Cauliflower time!
Let's see if I can work out a night shot! Stay tuned…
Ok…Got the nighttime pics from Kim.
Ready to :-)?
Smilin'?
The Santorini Tomato Queen 
You're gonna love this next visit. Flora…The Santorini Tomato Queen on the NOFO is directly across the street from Catapano and like many food finds and destination…if you go too fast you just might miss them.
Flora in her Fig Garden…and her FAB Figs!

Helen's Farm Stand 
What's truly unique about Helen's is that it just about the only place that has everything you would need or want for your garden starting in March and then your kitchens food pantry all the way through the summer and into Thanksgiving.
Let me explain:
We come to Helen's, we come to pick out flowers of all kinds along with some new flower pots as the season starts to open in March through May.
When June and July approach and the farm stand opens up, it's visits almost weekly throughout the summer and as I just said… into Halloween and Thanksgiving.
I'm usually pretty good at writing about our destinations, however in this case I will have to yield to a customers review I spotted on one of the websites where customers can post their reviews. It's also rather timely that Halloween is approaching and pumpkins and gourds are currently the focus. So…to this nameless person I thank you for your input!

Across the street from the fresh fruits, vegetables and food emporium facility seen right here is a field filled with thousands of pumpkins ready for you to traipse in and find that perfect one to bring home and display on your front doorstep or fireplace mantle.


There are also dozens of varieties of winter squashes and gourds, with and without those yucky warts to add to your Thanksgiving festivities. 
Their own fresh produce, including anise (fennel) bulbs, with their attached feathery greens (great for soup) and Tuscan Kale, and tomatoes, and corn, and everything else you'd expect, including "Lions and Tigers and Bears….. Oh My"!.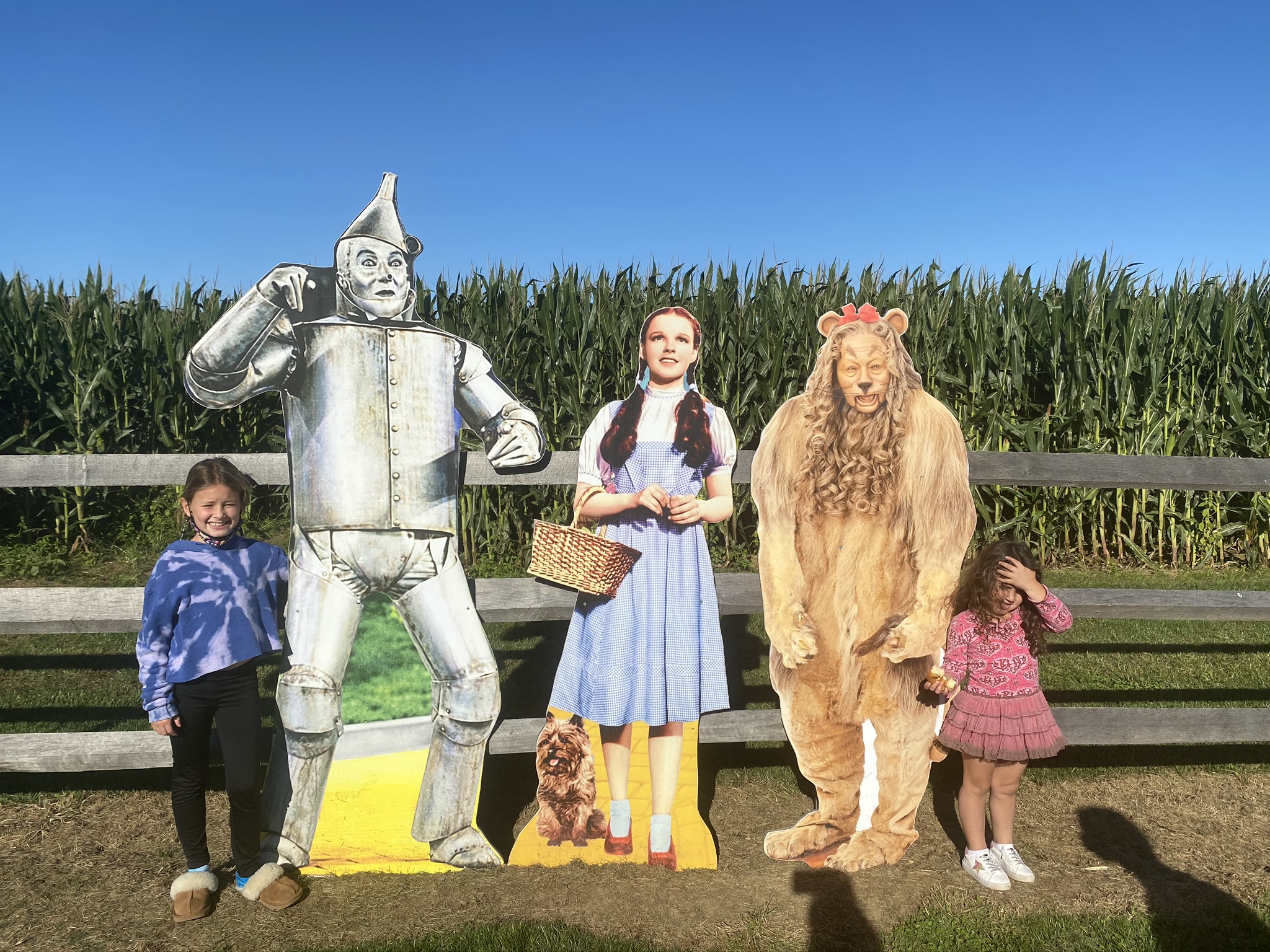 This place is great, and how do they keep it so clean and everything so orderly (including their fields and ¼ mile long hedge of Montauk Daisies out front, flanking the road into the horizon. They've got thousands of mums, hundreds of freshly baked yummies and play areas for the kids and benches and I could go on and on. My go-to place for vegetables…. for sure.


Say Hey Don!
Now…all that said, it's time to meet Mycki (the hardest working 'hostess with the mostess') with her outstretched welcoming arms and a smile to match.
Trust me…it's there! Thank you Mycki!!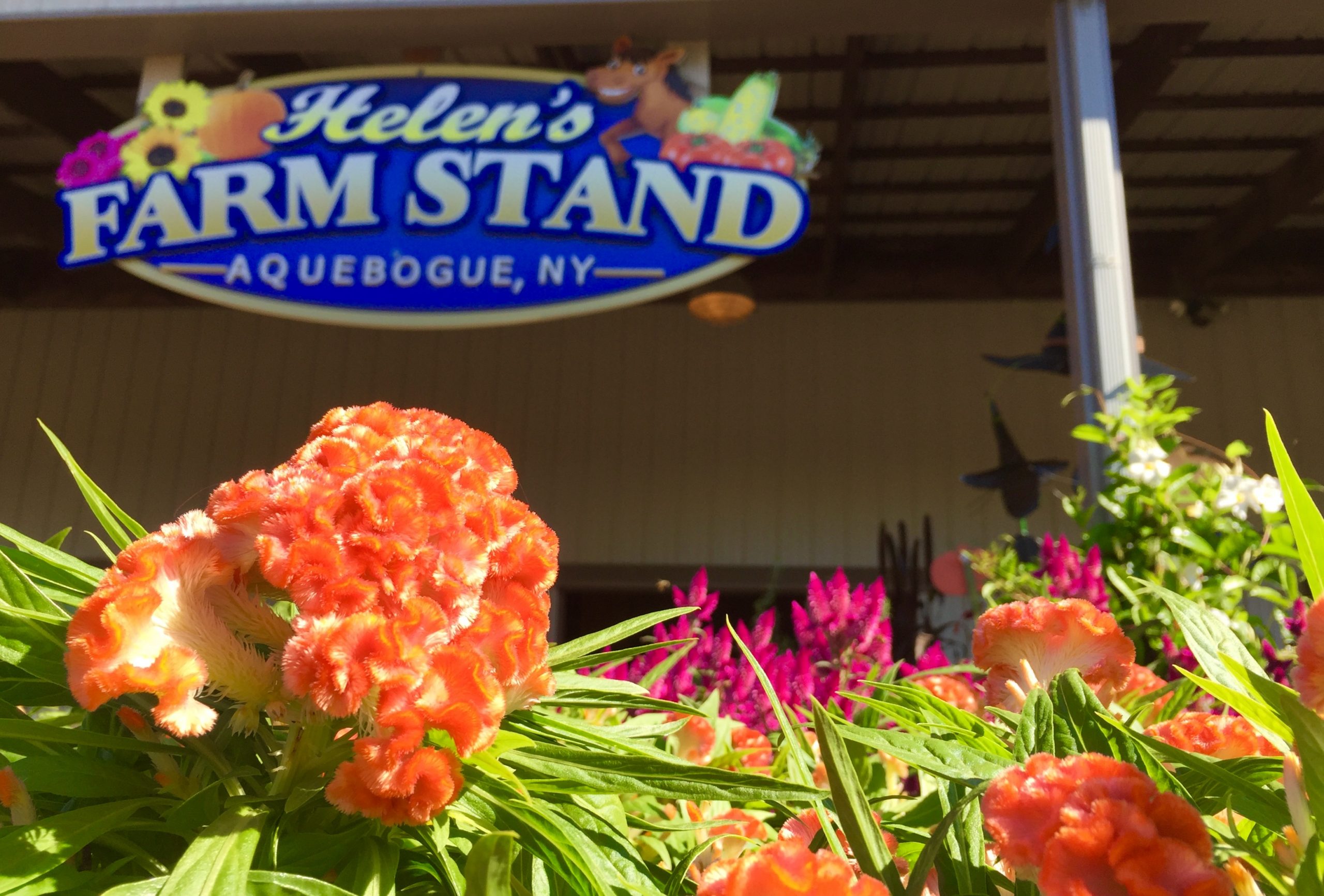 My buddy Joel insisted on this pic!

…and last but not least…Guess where my potatoes come from for my Famous
Memorial Day Potato Salad With Fresh East Norwichian Dill…
You guessed it! Helen's!
So folks…there you go! Get to Helen's and tell her Bert sent ya! Enjoy 🙂
Here's a quickie!
Red Wine Find @ Suhru Vineyards! 
Let me say that despite not always being on the top of wine enthusiasts destinations for great red wine, Long Island still has some amazing experiences to choose from. Of course, it's all relative depending on your own taste. I actually find that Long Island has some wonderful red wines when the grapes are blended. Yup…red blends on Long Island do it for me and it all started years ago with an Osprey's Dominion Meritage.
Next up…
-Duckwalk Vineyard
-Pindar Vineyard
Going back about 25 years we discovered Duck Walk Vineyards in Water Mill on the SOUTH Fork of Long Island.
The Famous Bob-O and Sandy about 25 years ago!
We met a fellow by the name of Alex who was always gracious and was always there to make suggestions. I thought he was the manager all this time and only found out through meeting his brother Pindar this last February, 2020 (just prior to the breakout of the Covid virus) at a visit to the beautiful Pindar tasting room on the NOFO, that these fellas were brothers!

Speaking of the tasting room…indoor ambiance is defined when the sun comes shining through this stunning stained glass window!
A little Pindar sidebar: It happened to be quite crowded that day back in February and as we were looking for place to sit, this totally unassuming fellow walks up to us…graciously greets us and helps us find seating. Are you putting this together now? Gracious? Hint: Alex's brother Pindar 🙂
So folks…with that I say…Meet gracious proprietor Pindar and his sunny & smiling son Andrew with Sandy & me 🙂
Among the sparkling wines and some red blends, our taste buds always gravitated to the blush style wines.. Sometimes known as white zinfandel, we can only say the ones we liked were not at all reminiscent of any white zinfandel we've ever tasted. These were not cloyingly sweet and to us quite enjoyable. One of our favorites for many years at Duckwalk…Windmill Blush! When we discovered Pindar years back…it became Summer Blush. They were quite similar, yet we had no idea they were literally related.
Specifically…"A "blush" wine refers to the sweet 1980's Californian creation known as "White Zinfandel". Blush wines are actually made by using dark-skinned grapes, a little bit of skin contact for color, and then fermenting that juice without skins just like a Vin Gris". Vin gris is simply a term for a very light pale pink rosé wine made from red grapes. 
So you know…the difference between blush and a rosé  is the style of the wine. Blush infers a jammy, fruit-forward and fairly sweet pink wine, while a rosé presumes that wine has a dry, fresh palate with as well as delicate aromatics and  flavors. Landing right in the middle, it's like a semi-dry rose' with just the right amount of sweetness.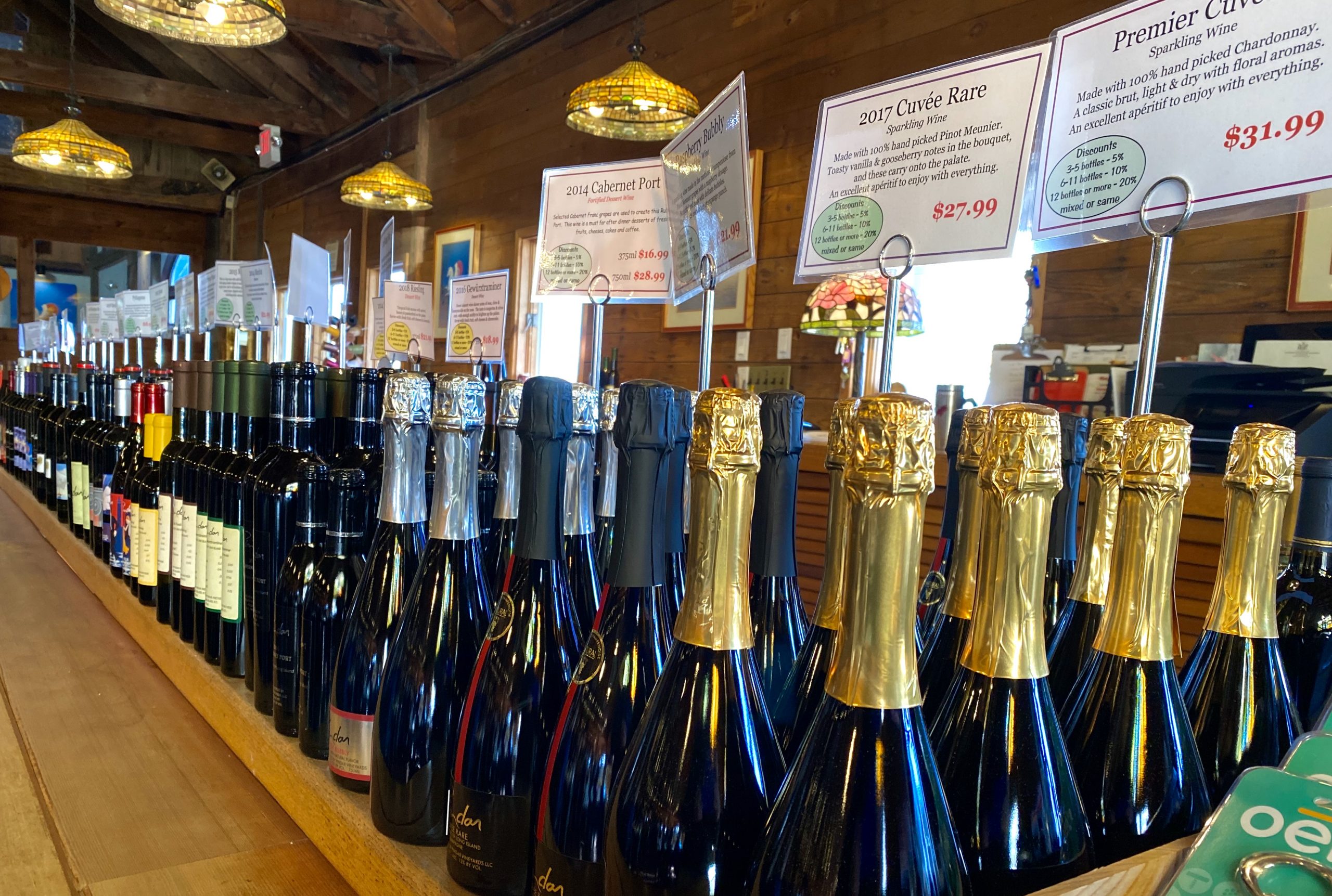 The Pindar Wine Selection
Pindar's Summer Blush…and now…check out the phabulous new 'Wines in a Can'


Really nice sparkling wine choices too!
Ok! R U Ready? Another red wine blend find Sandy and I just fell in love with!
'This is a very special red wine crafted geometrically (wines that are grown naturally—without the use of synthetic pesticides—and bottled consciously—without added sugars or non-organic chemicals to modify texture, flavor, color or aroma) by their master winemaker for the expressed use of their proprietor…ie…Pindar… to celebrate their 20th anniversary. A non vintage rich blend of Cabernet Sauvignon, Cabernet Franc, Merlot, Petit Verdot and Malbec.' A dry, complex, and subtle fruity bouquet dominates the palate and nicknamed Pindars "Mini-Mythology".  The result is wine that is natural, delicious and provides an all-around better wine experience —just like nature intended!
I'm sure the name is inspired by the ancient Ionian Greek philosopher…Meet Pythagoras!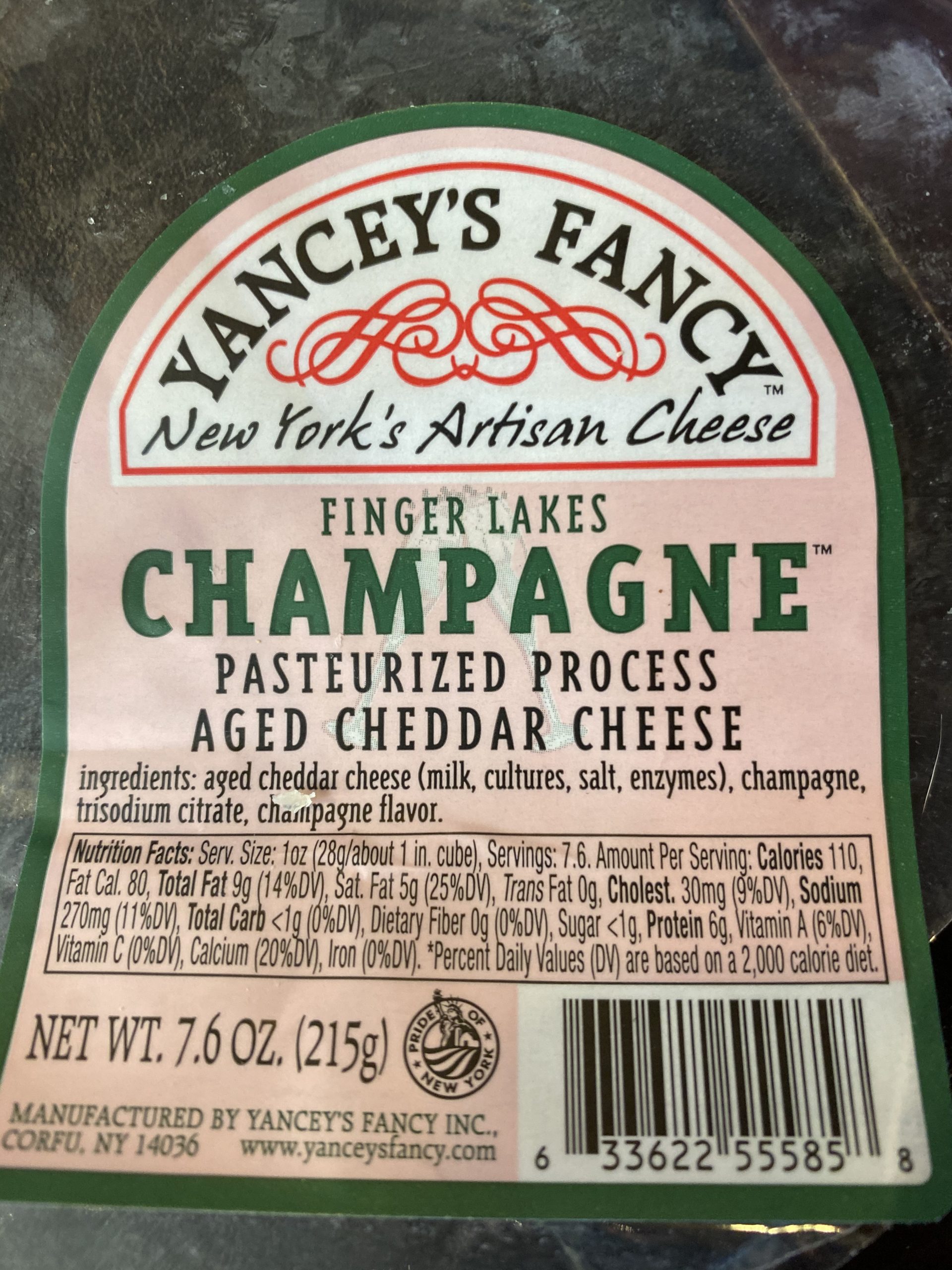 Really nice cheese choice with crackers and wine when the tasting room gets going again!
Keep up the good work Damianos Brothers! See you again soon 🙂
https://duckwalk.com/about/history/
One of the most…if not the most, popular destination on the NOFO happens to be
LAVENDER BY THE BAY…
Rated by Country Living as one of the top six stunning lavender farms to visit in America!
You can go into the fields and cut your own of you can simply visit their farm shop of already cut and ready to go fresh lavender and handcrafted gifts.
Ask for Serge or Sue and tell 'em Bert the Blogger sent you! 
Just click here and the fun begins 🙂
Perfect Time for Lavender By The Bay in East Marion, L.I, N.Y.
Orient Point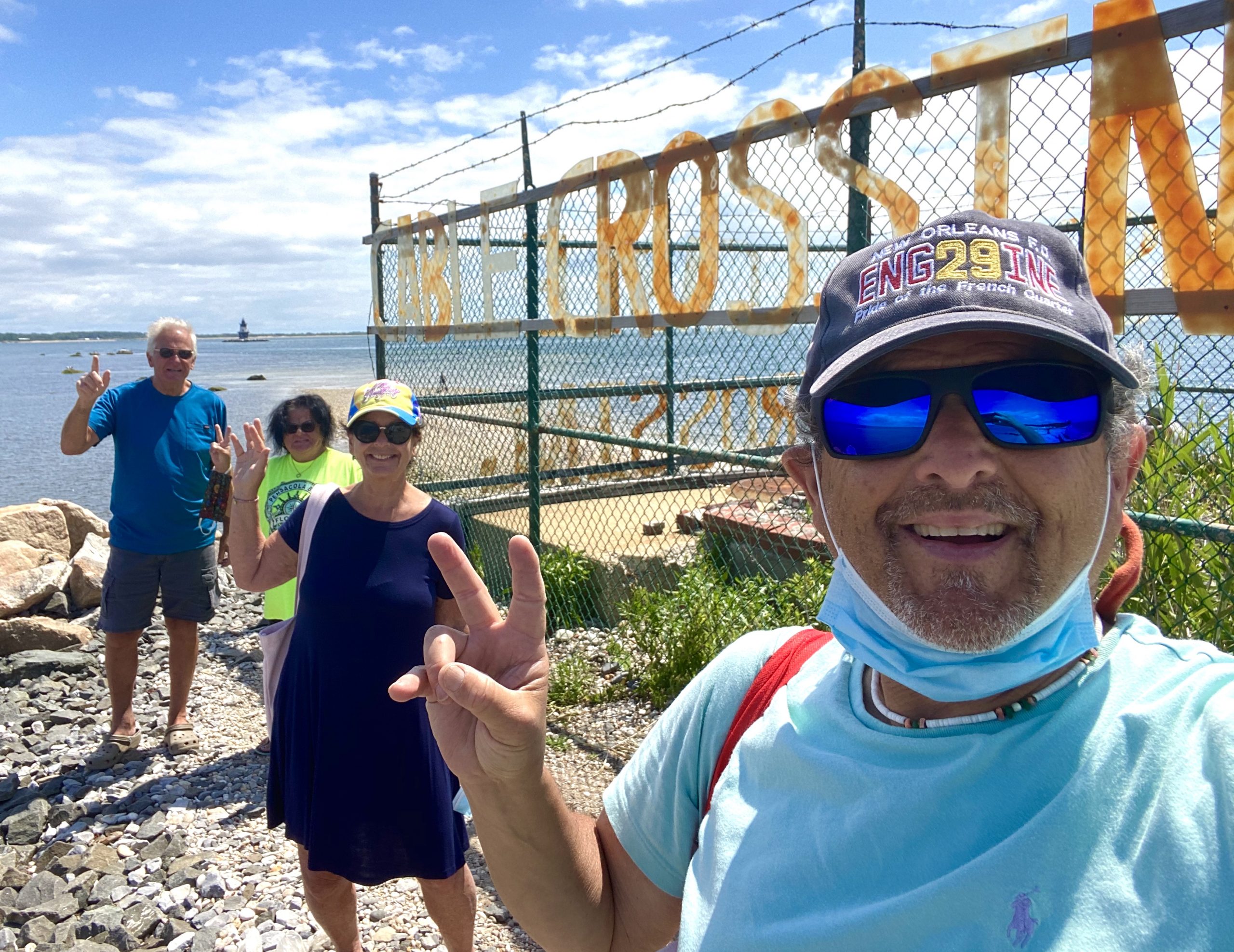 The Buscemi's, Sandy and Me!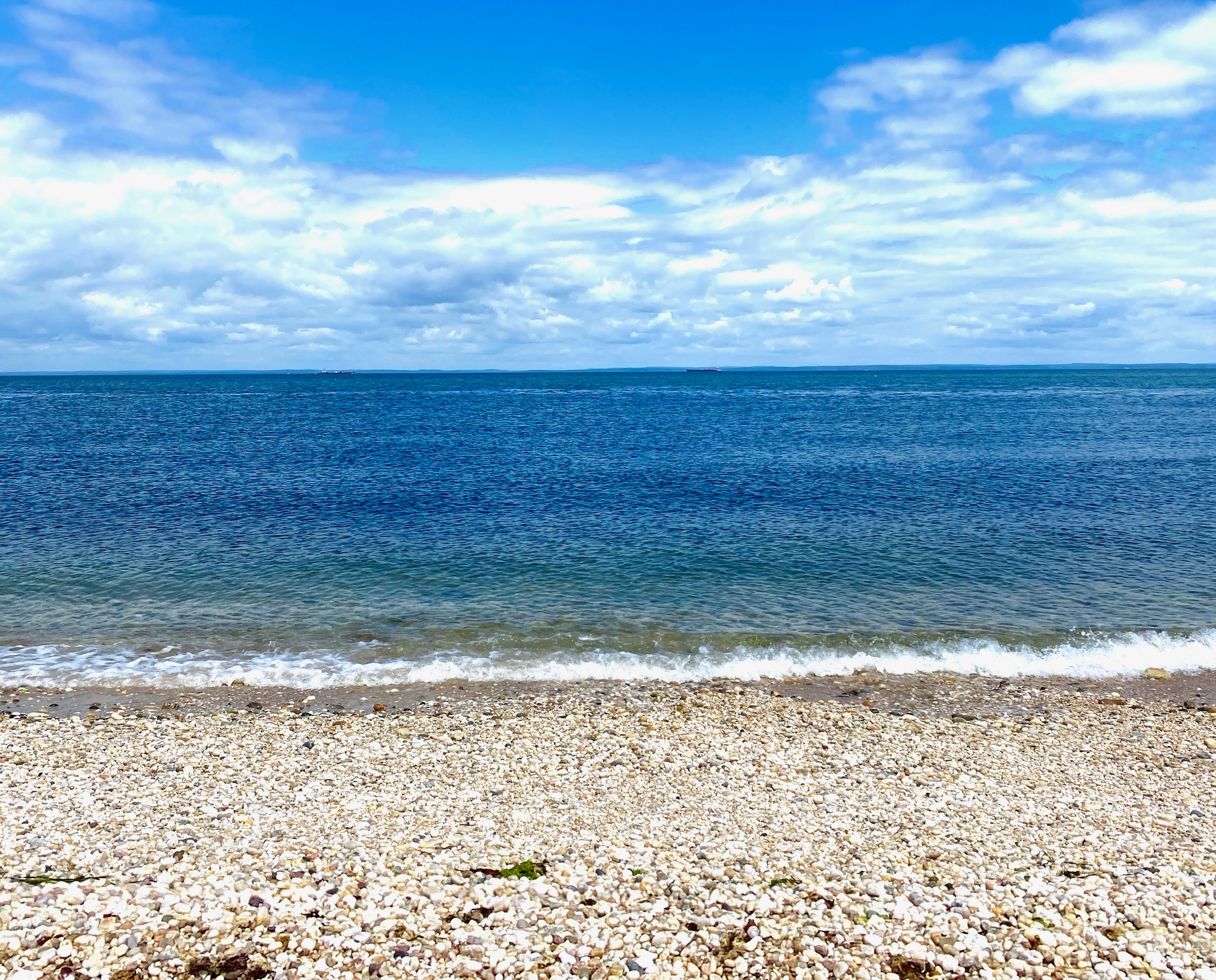 Definition of "Rule of Thirds" huh huh!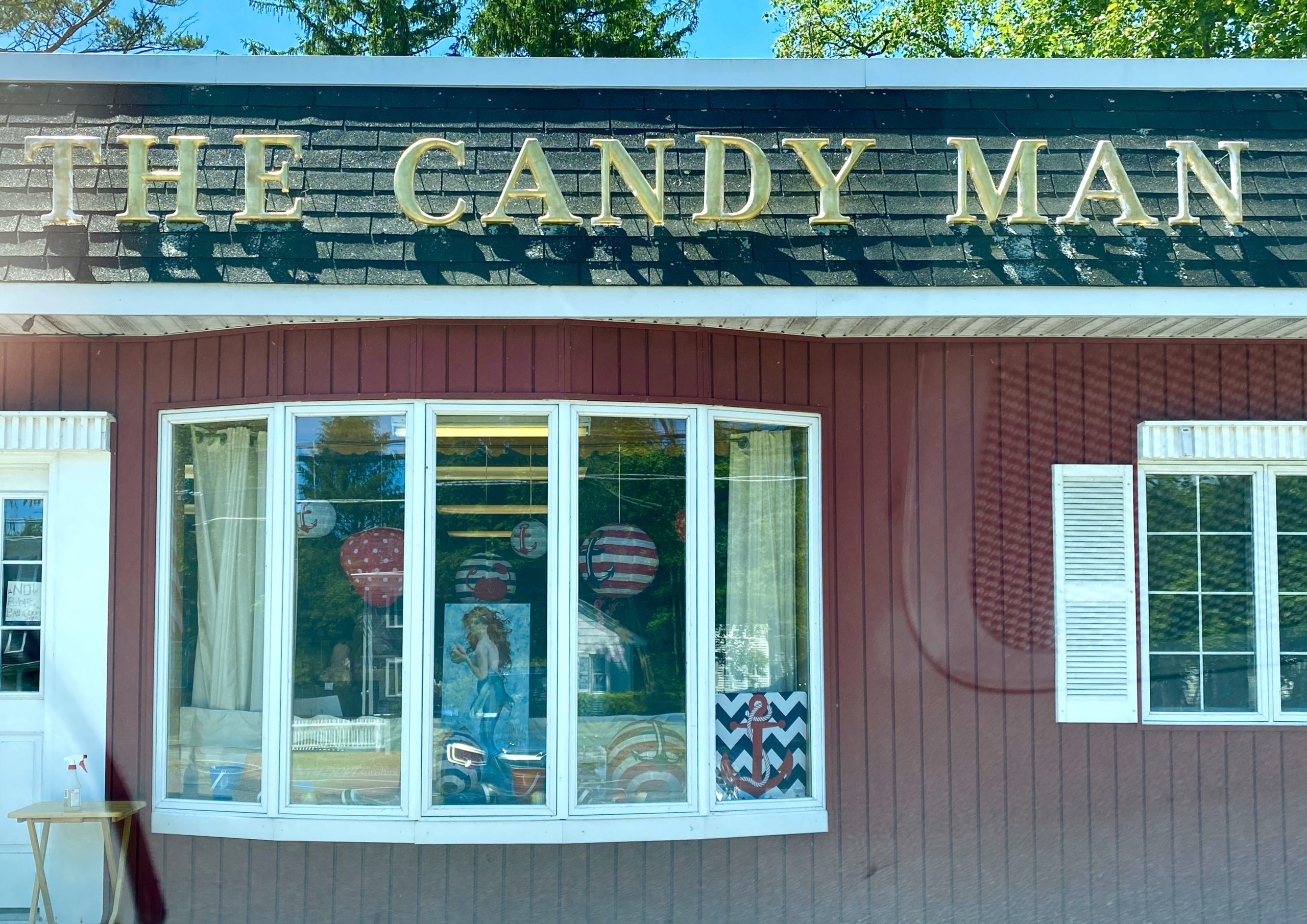 Phab Candy at The Candy Man in Orient Point
Not finished yet…
More to come…stay tuned!
Cooper's Farm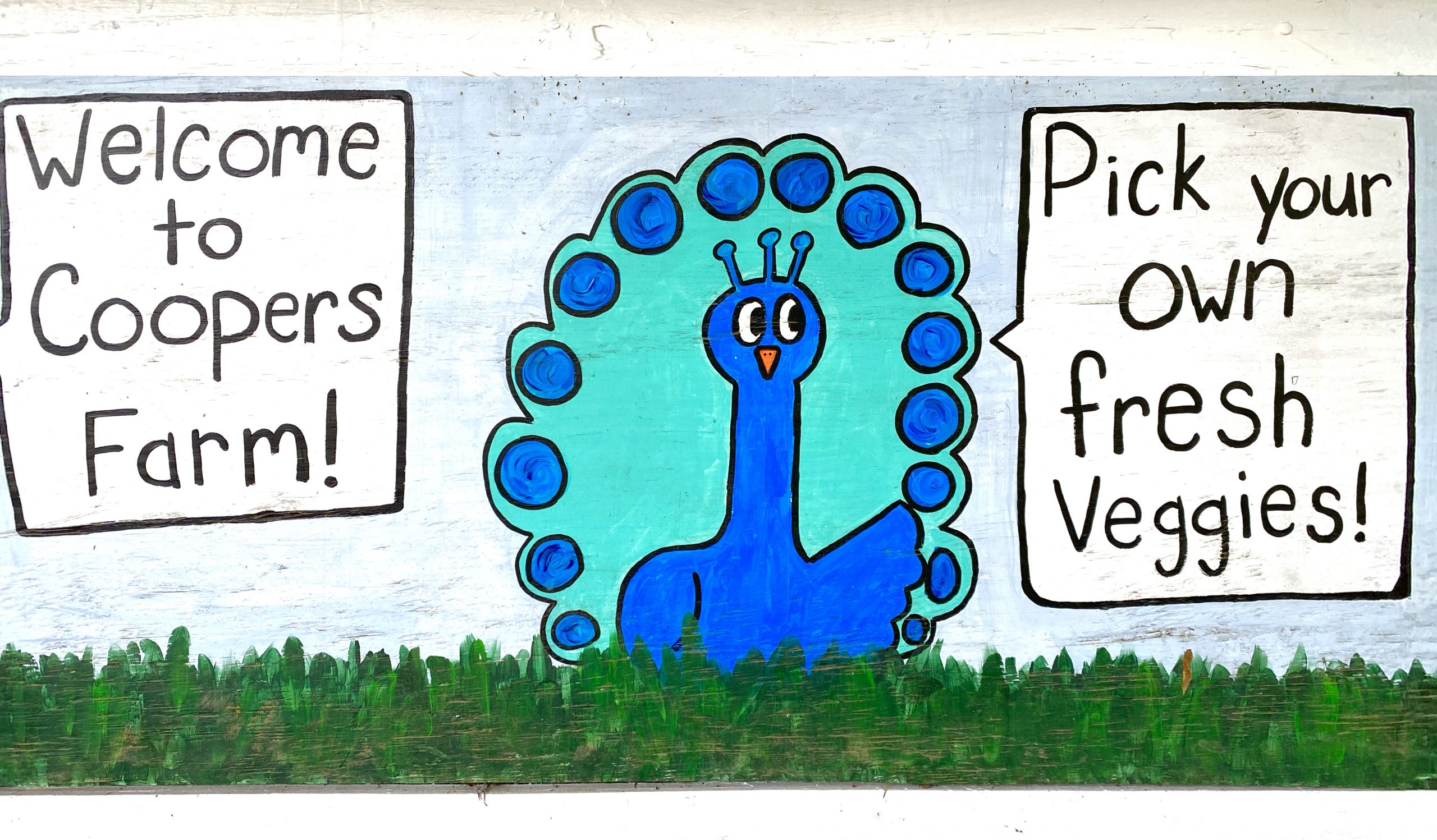 Fabulous Pick-your-own Tomatoes!