Our favorite vacation destination in the USA is Captiva Island, Florida. We stay with the friendly folks at the South Seas Plantation and always look forward to the ambience set for dinner at their premier restaurant…the Harbourside.
Of course good weather always plays a part in assessing most any destination or a nice table outdoors. On our most recent visit, we lucked out with a nice breeze, no humidity and a phabulous Italian waiter by the name of Christian.
After just a minute or two, we knew we were in good hands (he passed the test with a firm grip on the definition of al dente') and we went along with his suggestions for dinner starting with a Champagne sangria. Wow! Sooooo good.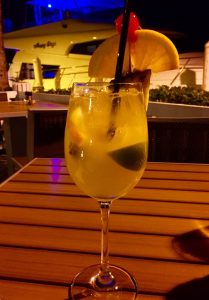 Christian started us off with  their Florida Citrus Caprese salad with a really nice EVOO, a balsamic reduction that tasted quite similar to my fave Massimo Buttura "Manodori" balsamico and some phabulous heirloom tomatoes. The addition of a nice slice of orange and/or grapefruit is something I will be contemplating as an addition to my menu. 


After a few questions regarding the preparation of some of the main dishes, Christian suggested for me the barrel cut filet mignon prepared with a mushroom ragout (not ragu') and a California cabernet.
The difference between ragu' and ragout: A ragu is a class of Italian pasta sauce made with ground meat, vegetables and sometimes tomatoes…and… a ragout is a slow-cooked French style stew in this case made with mushrooms.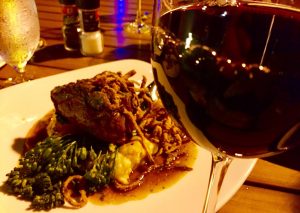 Additionally for Sandy, the "Finally a Maryland Crab Cake in Florida" served with a semi-sweet Riesling.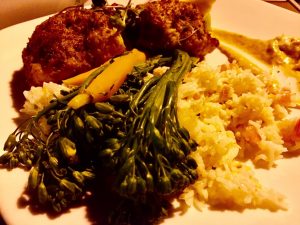 The filet was phabulous and Sandy and I both agreed the crab cake(s) were among the best we've ever tasted. As they say nowadays…"seriously"!
For dessert, what else by Florida key lime pie. Another social success!
We were so impressed by the service and the meal, we asked to see the manager.
Thus…let me introduce Sasha…a sincere fellow doing the best he can to make the Harbourside a special place on your trip to South Seas Plantation.
You know what they say about happy people…Yes?
And it filters down to the servers and the phood.
Fellas, we'll be back!
Bert…Sasha…Christian
Oh yes…one more thing. I have a menu suggestion. A super deluxe burger made with a blend of beef and short ribs or brisket…or…hmmmmm…both!
As always, please feel free to comment below. Always love hearing from you.
Until the next entry…
Mangia Baby!
Chef Bert