Hey it's good to be back home again! I took some time off from writing because of a needed knee operation and then took an extended trip to England and Italy. I'm back now and ready to share some wonderful phood and wine phinds we experienced while traveling. We had never been to the world of Valpolicella and Bardolino wine in Verona. We originally wanted to seek out the Friulano grape in the northeast region of Friuli, however it was way too far from other destinations we wanted to see, so we wound up a bit further southwest in the world of Valpolicella and Bardolino.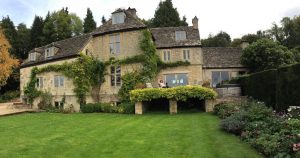 Looking Out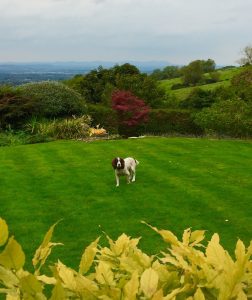 Looking In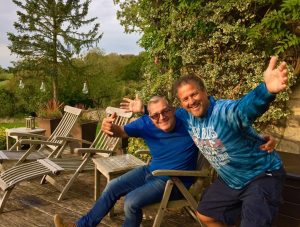 Looking Fine
At the suggestion of our friends Lesley & Nigel Rowley of Dryhill Farm fame, who drove down from their home in Cheltenham, UK (See Sandy in top pic waving?) to meet us in Italy, reservations were made at Agriturismo Dimora del Bugiardo because of its central location to Verona and Lake Garda.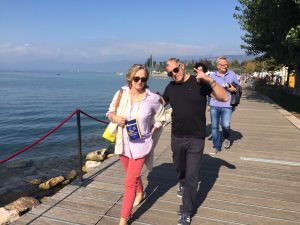 Lesley & Nigel walk Lake Garda
Wait a moment…let me not get ahead of myself here. Bardolino and Valpolicella coming right up…but first….
There were sooo many nice stops and photos as we traveled, however this is primarily about the food and wine (and finds too). So…before I get to Italy, I'd like to focus on what I felt were food highlights in England.
First and foremost, there was an evening pizza party at the famous Dryhill Farms. We all had the opportunity to make our own pizza with Lesley's home made pizza dough and in The Rowley's imported Italian Valoriani wood burning oven.
valoriani.it/en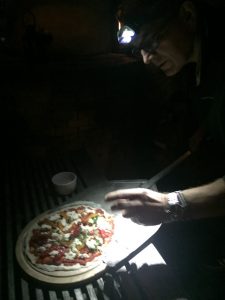 Nigel The Pizza Maven
Guess who?
For dessert…
Homemade Nigello Pie, Biscotti, English Tea and Dryhill Espresso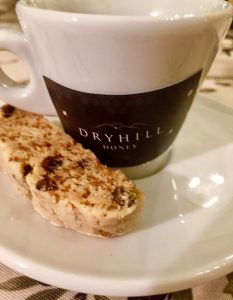 http://www.dryhill.co.uk/
I must say that there is just something very special about the desserts and bakeries in Europe that, in my opinion, are the best anywhere! This included Nigel's 30 minute much sought after Nigello Pie.
I would have to say the superior and more healthful end results of baked goods in Europe have a lot to do with the healthful unbromated flour used in all their baked goods. Other reasons why…butter with more fat, how the wheat is processed and no high fructose corn syrup.
HOW ABOUT TRADITIONAL 'AFTERNOON TEA' IN ENGLAND
  There is a certain civility that one experiences with afternoon tea…a British tradition that I look forward to when visiting England. English tea traditionally served with sugar  and milk along with all these goodies seen in my pics below is, for me, another rai.son d'e.tre.
  It also helps immensely when you have that other worldly English Clotted Cream and/or Lemon Curd along with their specialty strawberry jam to spread over your biscuits and scones.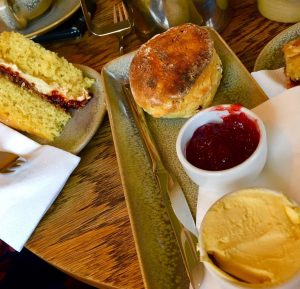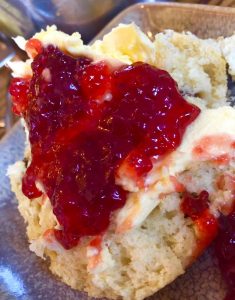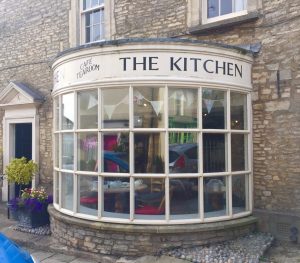 More Afternoon Tea at The Kitchen in Minchinhampton…yes Minchinhampton!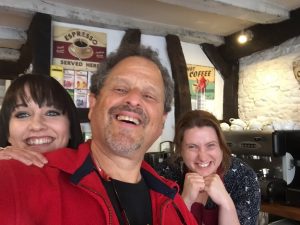 Say hello to Izzie & Laura. You know what they say about happy people!
Next time…Alfresco 'Afternoon Tea' at Buckland Manor in the Cotswolds, a beautiful manor house unmarked by the passing of time.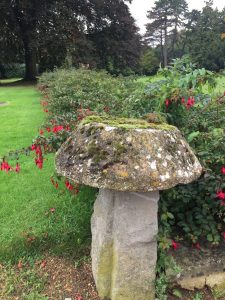 BTW… English Clotted Cream IS available here in the USA. Look carefully and you'll find it.
If you're in NYC, Meyer's of Keswick on Hudson Street is where I go or in my own area in East Norwich it's Christina's Epicure. Yum City Dudes!
Google "Clotted Cream in NYC" and Voila (Voi.La)!!
Oh yeah…one more entry…
One of the best no lettuce salads I have ever eaten comes from a restaurant in Cirencester, UK named "Made By Bob". Check this out…Major Yum City!
Next up…Venice…Ahhhhh Venezia!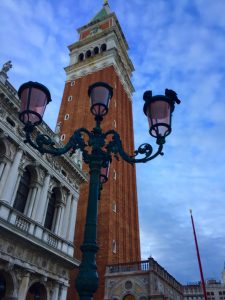 Short & Sweet. I don't have to sell you on Venice. We love Venice…renewed our vows in The Ghetto…and simply love walking through this city.
We stay at Locanda Orseolo (a stone's throw from San Marco Plaza) with some of the most cordial and sincere people in the land and wouldn't have it any other way. Phenomenal breakfast and hands down best Cappucino in Italy!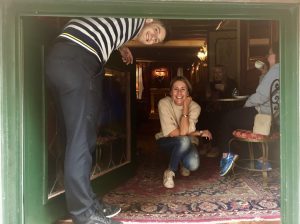 Hey…You know what they say about happy people. These guys and gals are beyond happy…ie…another level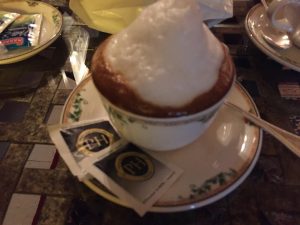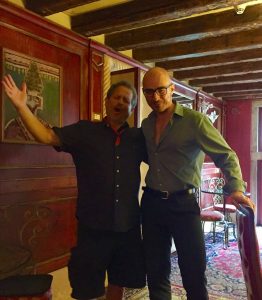 The audition went quite well. You should hear this modest fellow play guitar!
The featured restaurant on this trip to Venice was Trattoria Vini Da Arturo with hosts Ernesto and Benjamin.We were quite full from a day of eating, but we wanted to experience what many call the best restaurant in Venice.
Bottom line: I still can't figure out how they do this to an artichoke. My favorite part of an artichoke is the bottom. It looks like 3 bottoms from the largest artichokes on the planet. The pasta was perfetto.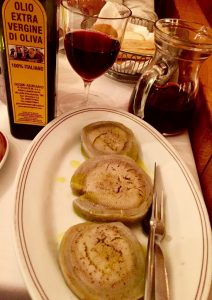 The personalities: Gracious!
Thank you Ernesto and Benjamin
Want old world class and charm?  Music, food and wine in San Marco Plaza always does it for us.
These environs enhance whatever you are experiencing and enjoying.
It's a must at any cost…at least once!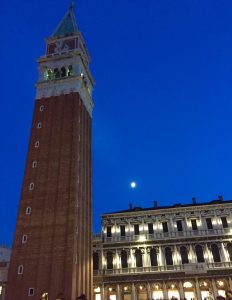 Spritz's with the Spitz's…or…er…Spitz's with Spritz's
How about Murano?
Where do you think Dale Chihuly got his inspiration?
A short boat ride away from Venice is Murano. We were there to secure a chandelier for Alison and did so with the help of these fellas…names to be…mmmm… added later.
So awe inspiring…ie…brilliant…is the process they use to make glass in all colors, shapes and sizes.
Another world! Another find and a must see if you have never been there.
In the end, the chandelier was secured and Sandy wound up with a horse…yup!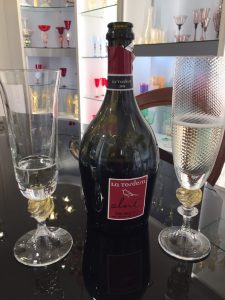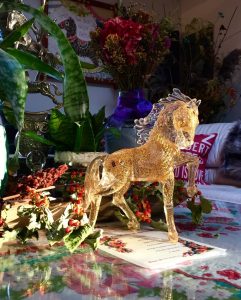 …and then Burano…for its famed lacework and brightly colored homes…Not to mention a great restaurant that was handpicked for us by the folks in Murano
Our host family in Burano…and owners of the beautiful La Perla Lace Gallery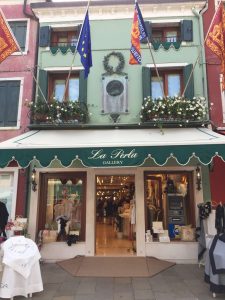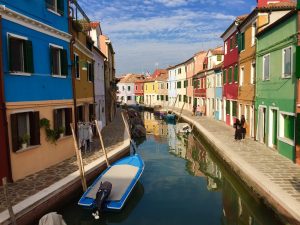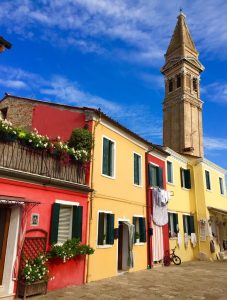 Next stop…The Wine Country of Verona
Sandy and I happened to arrive at our destination about an hour or so prior to the Rowley's.
We wanted a cup of coffee or espresso somewhere and it kind of reminded us of Arthur Avenue in the Bronx, N.Y. insofar as nothing was open on a Sunday afternoon…nothing.
Lucky for us, however, we found this wonderful oasis of gelateria that was open and these folks could not have been more gracious.
You know what they say about happy people…yes!?
Maria and Bruno?
We sat outside, they put on some music and made us feel quite welcomed after our ride in from Venice.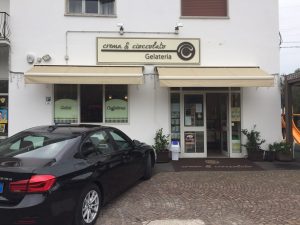 Look at this snack!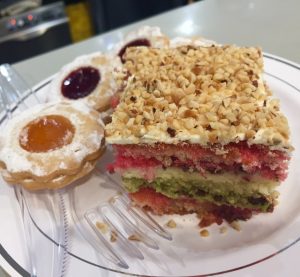 How the heck do you make a biscotti that is crisp and soft at the same time?
Besides their Gelato (Italian Ice Cream made with milk, cream & sugar and flavored with fruit and nut purees and many other flavorings), they also served baked goods from the Michelin Guide Verona Ristorante' Perbellini
Who knows if you'll ever get there…but IF YOU DO…trust me!
Look at the gorgeous espresso!
Onward…
      Bottom Line: What we found at Agriturismo Dimora del Bugiardo was a top shelf gourmet restaurant.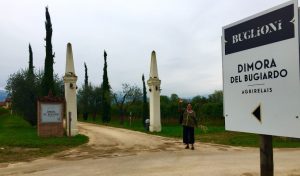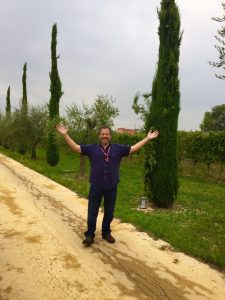 Surrounded by vineyards!
The only thing I can say is if you should travel to this region and happen to be in the Lake Garda environs, this is a true phood phind. What made Locanda del Bugiardo Ristorante' a smashing success was a perfect combination of food, service with a sincere smile and ambiance second to none.
Chateaubriand was the standout dish and we ordered virtually the same menu each of the two nights we stayed…and with no red sauce. Sincerely!!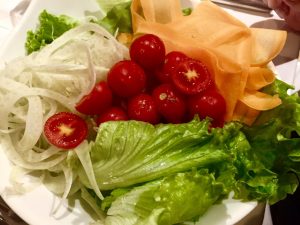 For sure the most important part of what put this meal together in the most tasteful way was the wine! I'm not sure why, but the Valpolicellas we tasted on this trip were worlds apart from what we used to drink many years ago in the ole Bolla days.
After being able to taste many of the wines at the dinner table offered by our gracious waiter, we decided on  a simple Valpolicella. Well…really not such a simple wine.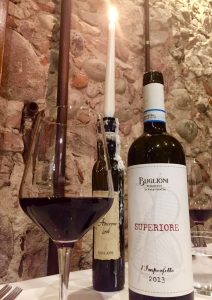 2013 Buglioni "Superiore l'Imperfetto Viticoltori in Valpolicella
It was more like a truly knock your socks off red wine that had as much finesse and bold flavor as the Amarone. True! Ladies and gentlemen…let me introduce you to wine find number one.
When I got this wine home, I let it 'breathe'  simply out of habit.
One bottle open and left in a carafe was consumed in 2-3 days it got better day by day.
Wine aficionados may cringe at room temperature wine, however you can trust my taste.
Just Phab!
Our Choices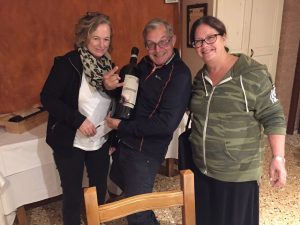 Nothing like Nigello humor…nothing!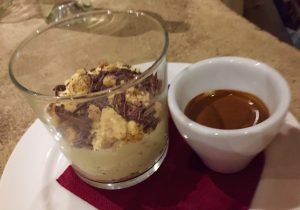 Onward to the Lake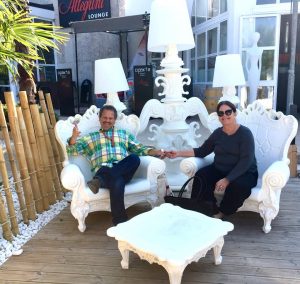 Garda lakeside
Pizza in Verona…huh huh?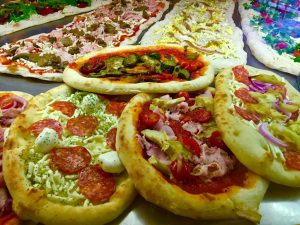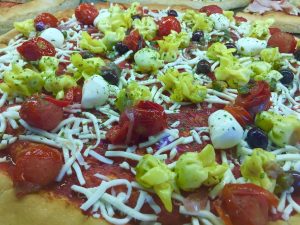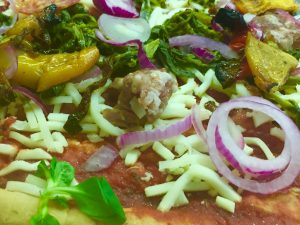 Get this one…
On the way out of Verona, we walk into a salumeria (Italian Deli) and there is a sitting room attached for espressos & cappuccinos.
There was this fellow sitting there with a small sign that said "Meat The Mortadella Man"
Fun and funny was this fellow as he touted the taste of their mortadella.
Who thinks up these promos?
Smiling!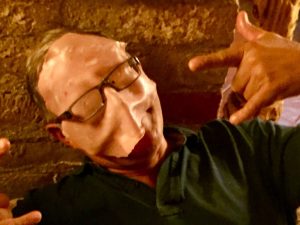 Next Stop: La Volpaia/Tuscany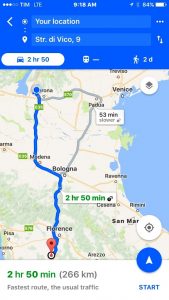 Whenever we go to Italy, there is always a stay at La Volpaia with host and hostess Andrea & Silvia Taliaco.
Sunset and Andrea's Sculpture at
La Volpaia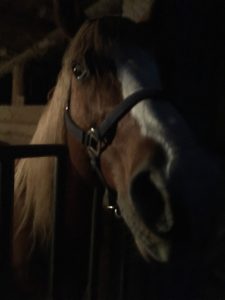 Consistently fabulous and innovative dishes are prepared by Silvia and on the weekend Andrea prepares his famous Bistecca Fiorentina.
Check out these home made culinary delights prepared daily!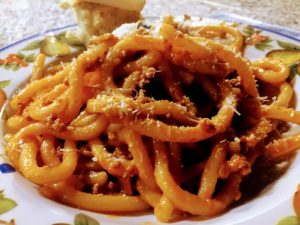 Pici Bolognese
Fresh made Zuchinni Flower Bread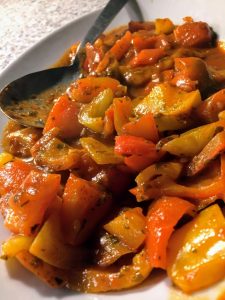 Sauteed Red, Yellow & Gold Peppers
Bistecca Fiorintina
Ravioli with Butter, Sage and Nutmeg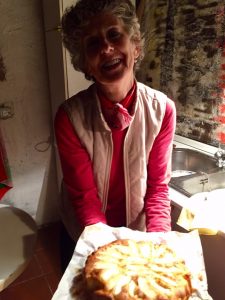 It's Gracious Silvia!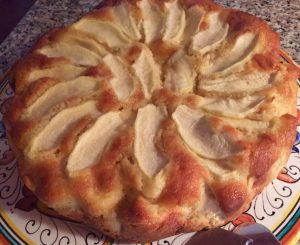 Apple Cake for Breakfast
Tiramisu
Coming Home to Cafe Bijou and Chef Giulio
For all the years we have visited Tuscany and La Volpaia, we always wound up staying with Silvia and Andrea for dinner. We loved the food and at the same time just didn't want to venture out in the mountains at night. Traveling the hills of Chianti with the winding roads kept us close to home…so to speak.
Since we were with Nigel and Lesley on this particular trip, we all decided to venture out to find a local spot close enough for us to get us back to La Volpaia without any issues. It just so happened that a few short and sharp turns down the road in the township of Barberino stands a phood phind with everything wonderful!
The most enjoyable part of dinner, besides the creativity that came out of the kitchen, was meeting the owner and gracious host Chef Giulio, an Italian Bert. Yup…Same zest, enthusiasm and sincere desire to meet and greet. I was looking at me if I was the one who owned a restaurant.
Check out these pics for a simple pizza and pasta dinner.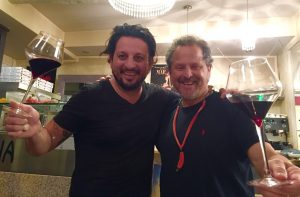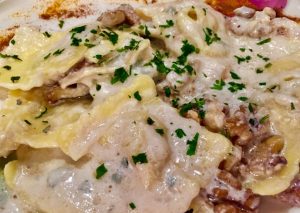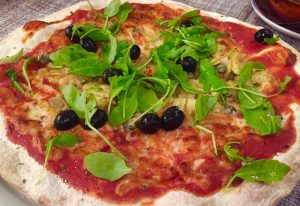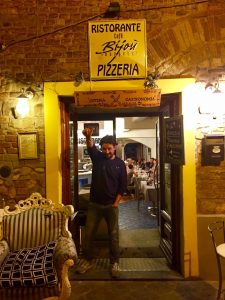 Cosi tanto tempo per ora, Giulio…Un giorno ci rivedremo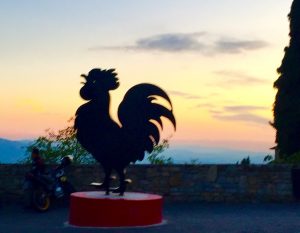 The Black Rooster…Logo of Chianti Classico Wine
What the?
Beyond making food with flavor and flair, there is a personality in there that would make anyone feel at home. Coming out from behind the counter where he exhibits his extraordinary flair for pizza making to have a sip of wine with his guests is something I would do in a second. Of course there aren't many customers like me who would make a personality like Chef Giulio ask himself why he shouldn't come out and say hello in his own inimitable way.
His efficient and smiling (you know what they say about happy people) staff make it feasible for this creative chef to come out to welcome his guests and nothing is sacrificed in his food world.
To Chef Giulio…I say thank you for being you and thank you for the wonderful time we had while dining at your restaurant.
We don't know when we will return, however you can count on the fact that we will be back!!! Keep on creating and if you should ever come to New York…Please let us know.
chefbert1@aol.com
Next up…Arrezzo
Sitting atop of the Piazza Grande are two restaurants owned by a pair of brothers. So which one do we choose?
 I knew that either one of them would have worked since I walked into the gelateria in the middle of both restaurants to get a local opinion as to which one was 'best' and was told both were great and owned by two brothers. So…how different could they be when both have an expert pasta maker like Gina outside making fresh pasta for all to see?
We chose Ristorante' Logge Vasari (on the left) which was run by brother Andrea. We even sat at a table out front and watched a lady who worked for the restaurant make fresh ravioli pasta. I'd say that's pretty authentic and cool. Nice touch Andrea…and thanks for personally making us feel welcome.
  Ristorante' Logge Vasari happened to have been the exception to the rule as most restaurants in similar environs prove to be average as a tourist destination if you know what I mean.
No tourist trap here. Everything we ordered was semplicemente fovoloso…ie…simply fabulous!  
So…should you find yourself in Arrezzo, I would recommend Logge Vasari.
Amazing photo of the Piazza Grande! How is this possible?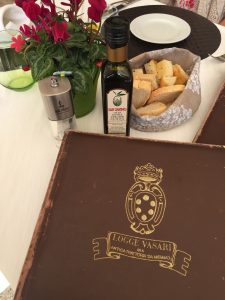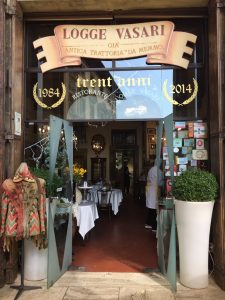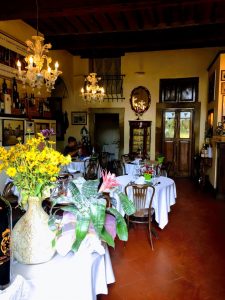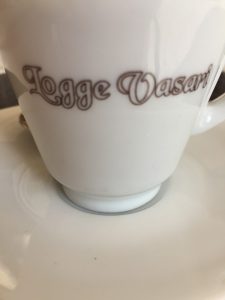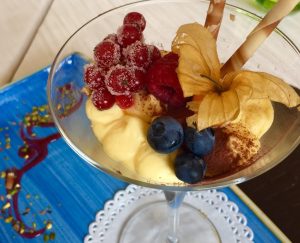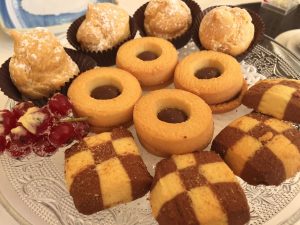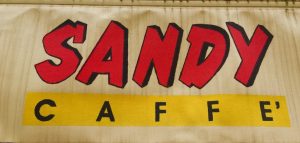 The coffee of choice in Arrezzo
Our table…under the umbrella on the end.
To Andrea…ben fatto e molte grazie per il tazzina e piattino per caffè espresso che ora vengono esposti nella mia cucina accanto al nostro De'Longhi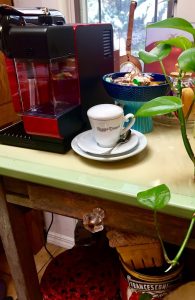 A relatively quick stop in Sienna as we had been there a couple or times previously. No phood find this trip…however a photo op in front of the Pubblico Palace!
Nigello & Berto
Next up…
A wine find where ALL the wines were quite enjoyable…not to mention organic extra virgin olive oils.
It's not easy to taste wine after wine and be able to truly define the nuances of each on the spot.  How you attain smooth in a bottle just opened is what I strive to find and there was a certain smoothness about these wines that I found enjoyable sip after sip.
As is there nature, many bottles of Italian Chianti red wine can be tannic when they are first opened and although there is a place for tannin's that winemakers love for their antioxidant benefits in helping wine age nicely, it's not primarily what I enjoy.
Even though taste and characteristics  of these wines just opened will improve if left to 'breathe' and smooth out the tannins, the organic wines we tasted at Manucci Droandi genuinely hit the spot and, to me, seemed less tannic than most that I have tasted.
Note I especially enjoyed their 2016 Rose' Rossinello Rosato with it's nice fruit. In most cases when you can taste the fruit, you taste smooth.
As relatively young as it is was, the 2015 Ceppeto Chianti Classico was my favorite. Although the tannins were there, I could tell this one would smooth out nicely.
Please note this is all subjective, however my taste buds approved!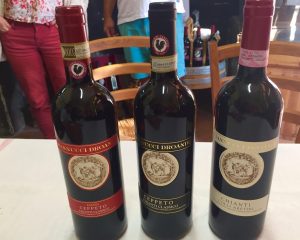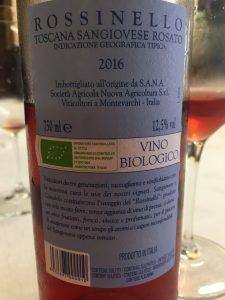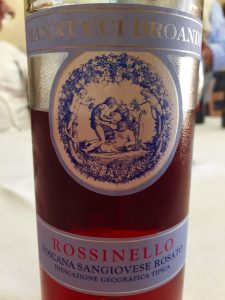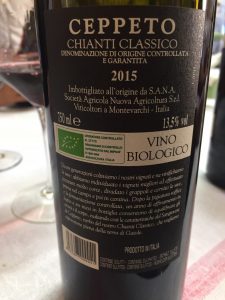 This day we were fortunate enough to find ourselves in the middle of a wine tasting with some gracious folks from Hong Kong by the name of Max and Yoyo and one other fellow with a unique sense of humor whose name I do not recall. In the end, I think we all shared the same sense with the wines served personally by the proprietor, wine master and owner…none other than Mr. Roberto Droandi himself. A social success!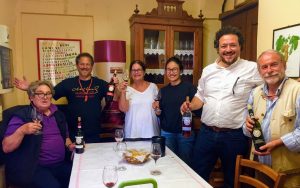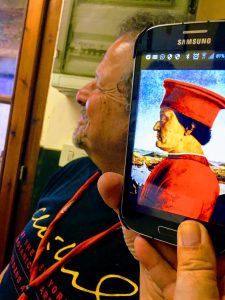 Here was the humor from this gentleman sitting on the left that I alluded to above…
Bert and the great Renaissance warlord Federico da Montefeltro 
Roberto…We will be seeking out your wines back here is the USA.
Mille grazie per la vostra bella accoglienza e di sicuro diffonderemo la parola Manucci Droandi!
Ciao per ora …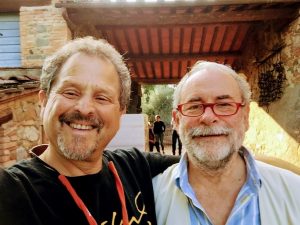 I'm not sure all of these locations were done in the exact order they appeared, however it was time for Lesley and Nigel to make their trip home to Cheltenham. Here they are on the last eve sitting at the dinner table at La Volpaia when modest and gift to gab master artist Andrea (seen with me in the pic just below) breaks out one of his paintings and presents it to them.
Just phab!!
I think by now you know what they say about happy people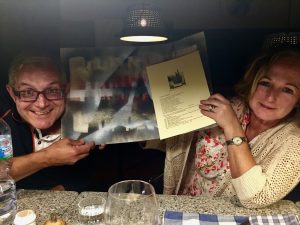 On our last couple of days we cruised in between Sienna and Florence with no particular destination simply to find places we've not seen in the past. Makes perfect sense since that's basically the  premise of www.phoodographsandfinds.com (…"cool" places to visit and more effective ways to navigate them for optimum enjoyment"…).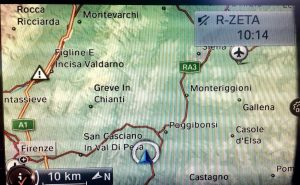 Venturing out we wound up at a food market in the mountaintop city of Certaldo.
Yum City for a day…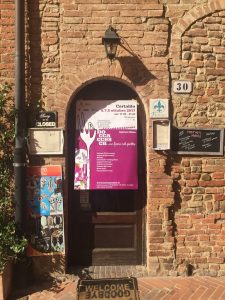 Saffron Honey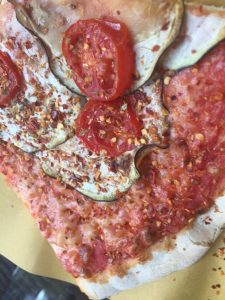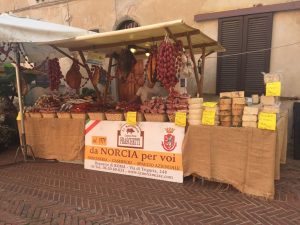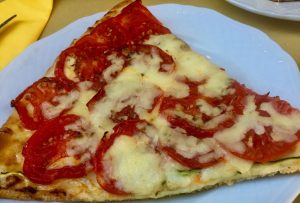 Just loved the cherry tomatoes on everything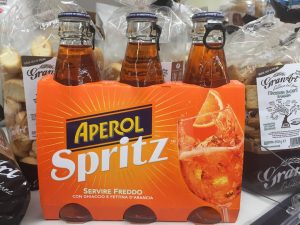 On the way out on the main level in town a little grafitti art attached to the local dance school . Nice!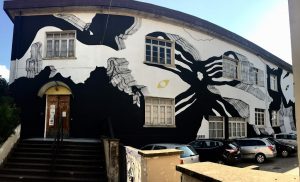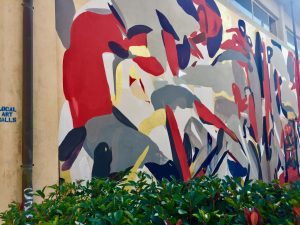 …and then Ceramics ground zero in Montelupo Fiorintina and their beautiful and new "Ceramics Museum of Montelupo Fiorintina"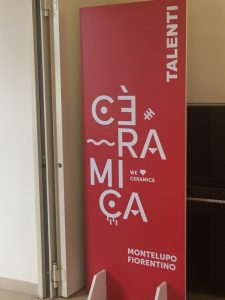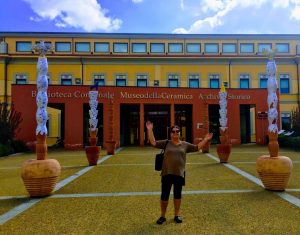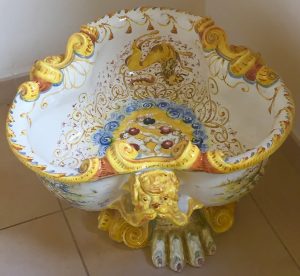 Town Center…and really so much more to see in the individual ceramic shops.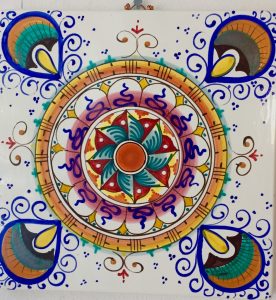 …and falling into the category of true "Phinds"…
Translations:
Ai Suoi Figli Caduti Per La Patria
"To His Sons He Falls For His Country"
Deportati Caduti Nei Campi Di Sterminio Nazisti
"Deported Dead in Nazi Death Camps"
I thought it was important to know and understand there was an Italian Resistance who fought against Fascism.
Never Forget!
For sure San Gimignano is as true tourist destination and some avoid it. I, however, simply had to get back to San Gimignano for not only more of my mini round Tuscan bowls…but the best gelato in Tuscany at Gelateria Dondoli.
 Fortunately, the line for us was 30+ and not the almost 100 you see on this line…and it's not even high tourist season. Can you imagine?
PS: Worth the wait!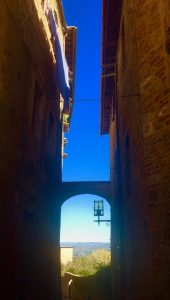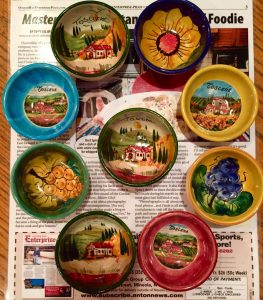 Of course we just needed to pull over for a a few photos anywhere we could for a leisurely cappuccino.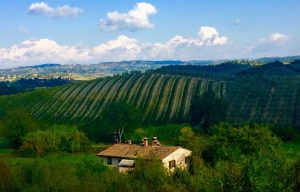 Sandy Coffee
In the end, for me, traveling to any destination means the food needs to be great. England has taken the proverbial cake in the pastry department…however in my humble opinion, there is no better overall food destination anywhere in the world (not that I've been all over the world) that compares to Italy.
LOVE coming here, however also LOVE coming home!
Sure hope you enjoyed the read. Please always feel free to comment below with your additions,  opinions or validations!
Next up very soon a hidden gem of a pizza restaurant right here in NYC.
Mangia Baby!
Chef Bert-O