There are many different choices of bread and several ways to finesse flavors to suit your palate when it comes to making French toast. Popular additions are vanilla extract, cinnamon, sugar, and/or confectioners sugar, honey, and I've seen Triple Sec, Grand Marnier and Baileys Irish Cream added to the standard milk and egg mix.
This Particular French toast recipe is inspired by my favorite pancake in the whole wide world for the last 65 years…yes… 65 years and as seen here…
http://phoodographsandsandfinds.blogspot.com/2012/10/du-pars-pancakessimply-best.html
For a long time, a blend of maple syrup and boysenberry syrup was my favorite on pancakes and when I made French toast it was usually just maple syrup. Seedless boysenberry preserves were not easy to secure back In New York and so I found myself starting to enjoy much more easily obtainable seedless black raspberry preserves. Bottom line:  Blending these preserves with maple syrup then became my go-to topping for both pancakes and French toast.
What bread I choose to make the absolute best French Toast is Challah bread and here is the recipe for 2 without all the possible additions…ie…SIMPLE!
Ingredients:
-Challah bread (2 center cuts 3/4″ thick). The pieces get smaller as you get towards the ends of the loaf, thus you have to compensate for the size. Thus, try to have any slices you use be similar in overall size to the original two center cuts of bread.
-1 extra large or jumbo egg
-1/4 cup milk
-Sweet unsalted butter
-Cinnamon
-Your favorite maple syrup
-Seedless black raspberry preserves
Process:
-Beat the egg and milk together with a few shakes of cinnamon (to your taste)
-Dip & flip both pieces of bread into egg/milk mixture to absorb most, if not all, of the liquid blend. While doing this, set your frying pan to medium low  and coat with melted butter.
-When the butter is hot, add the liquid absorbed challah bread to the hot pan and cook approximately 2 1/2 to 3 minutes. Lift bread to see the color matches what you see directly below in this pic.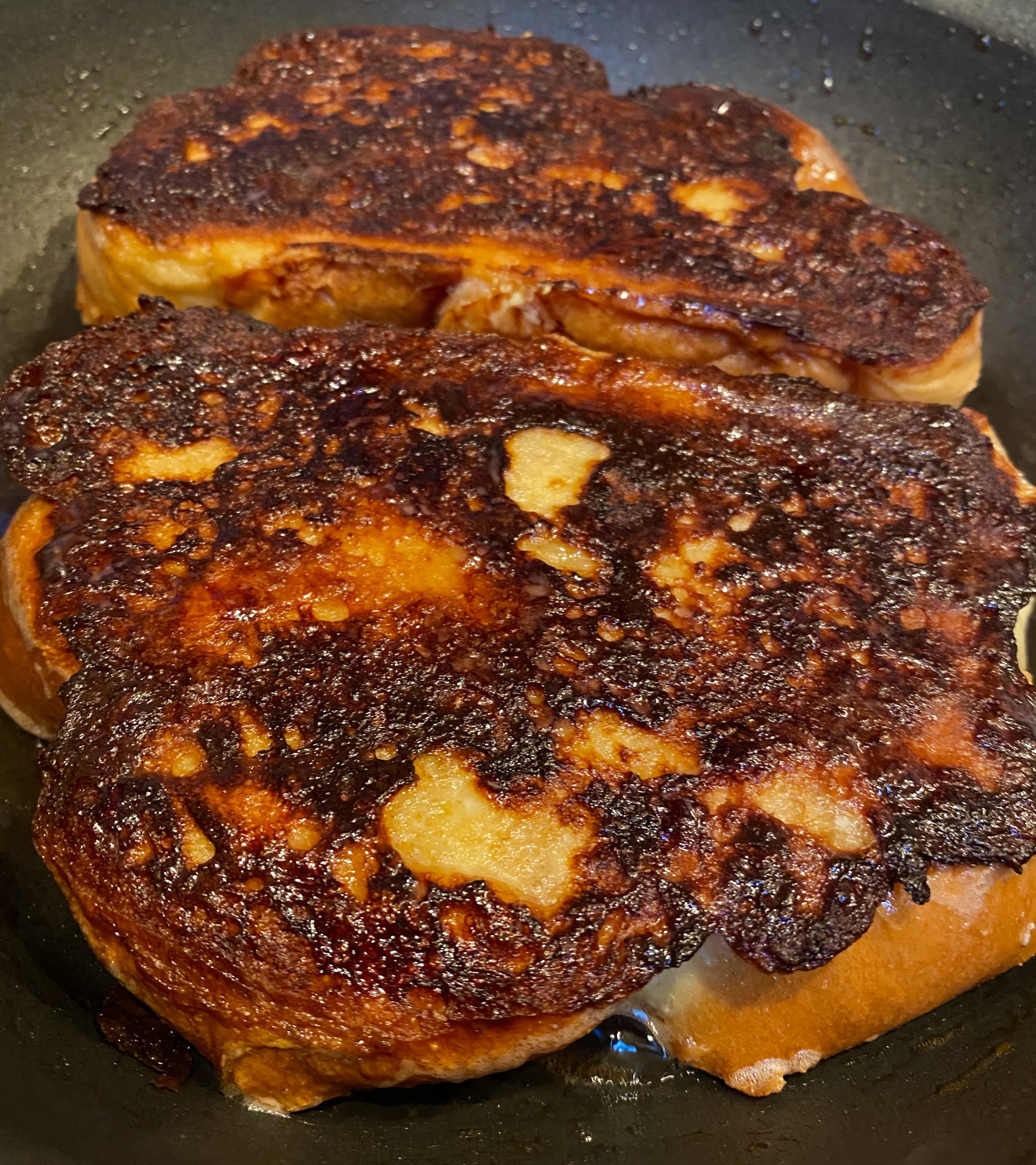 Flip and immediately add more butter (I use a stick of butter and rub into the frying pan) and swirl the challah to quickly coat the bottom with the butter. Cook for another 2 minutes and if it looks done, remove and place on a plate.
-Add a bit more butter and the blueberries and swirl around for just about one minute until they look like this.
-NOTE: When making one slice for 1 serving as seen directly below, follow the same process as above OR add the blueberries (and butter) at the same time you flip your toasted challah bread.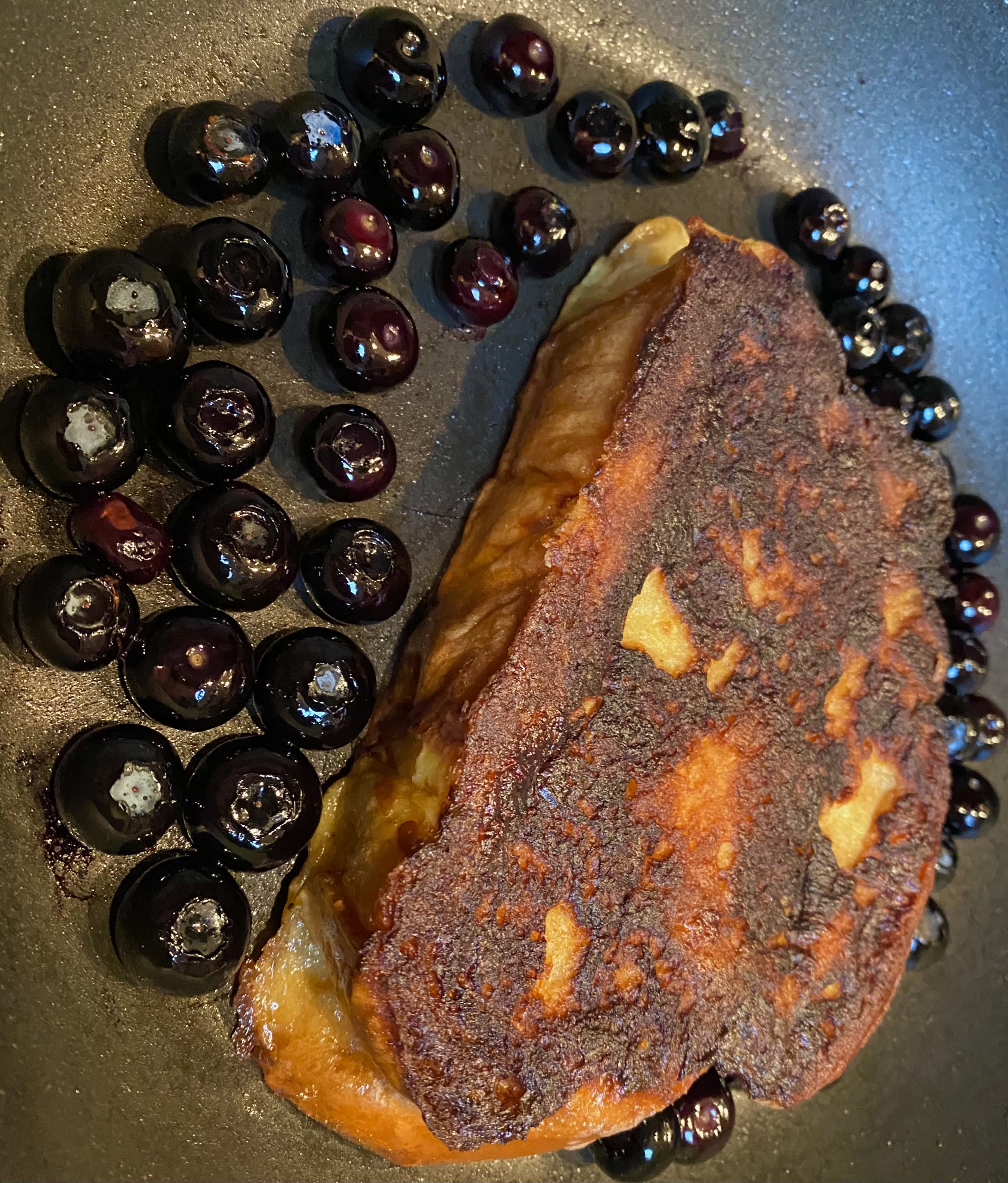 -Add your maple syrup or maple syrup and preserve blend and serve.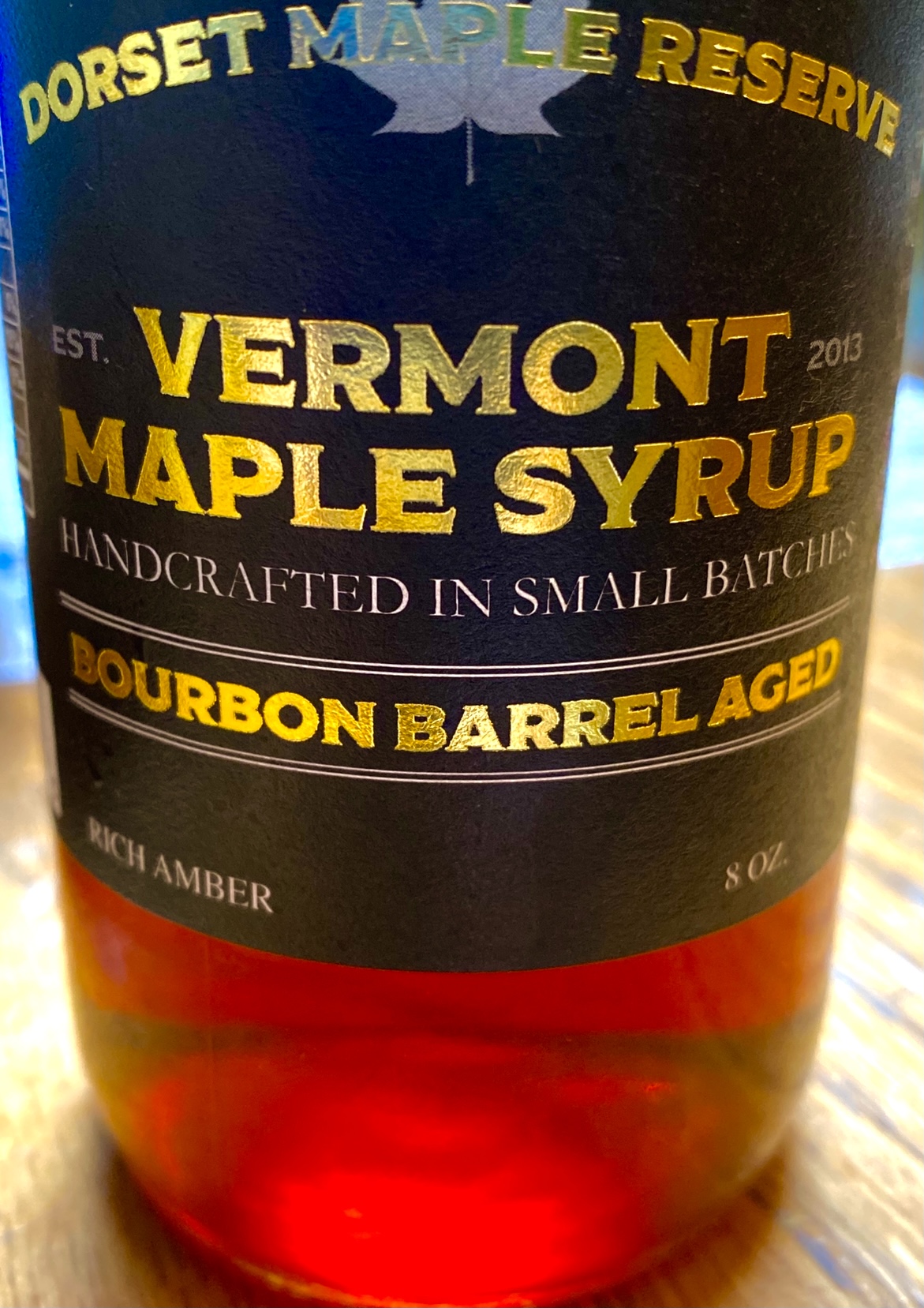 These next two pics represent a 14″ x 17″ poster plaque I purchased from the DuPars, Studio City, Los Angeles (home of my fave pancakes!!!) location back in 2000 as I just really needed some mementos of my fave pancakes ever with boysenberry syrup to take back home with me to New York.