It may be a relish…but no matter what they call it…peach and raspberry always go well together and you simply can't go wrong with onion or a bit of onion flavor in virtually any salad. Maybe that's why some salad dressing recipes similar to this one see fit to use onion powder. As I've said before and as it is with any new recipe, you need to try different ingredients to help finesse the flavors to reach a certain level of individuality that sets your recipes apart from others.
Until now, I was simply enjoying a couple of teaspoons of this relish now and then that I had discovered at About Food, my favorite mini-museum of unique foods out in Southold on our phab NOFO.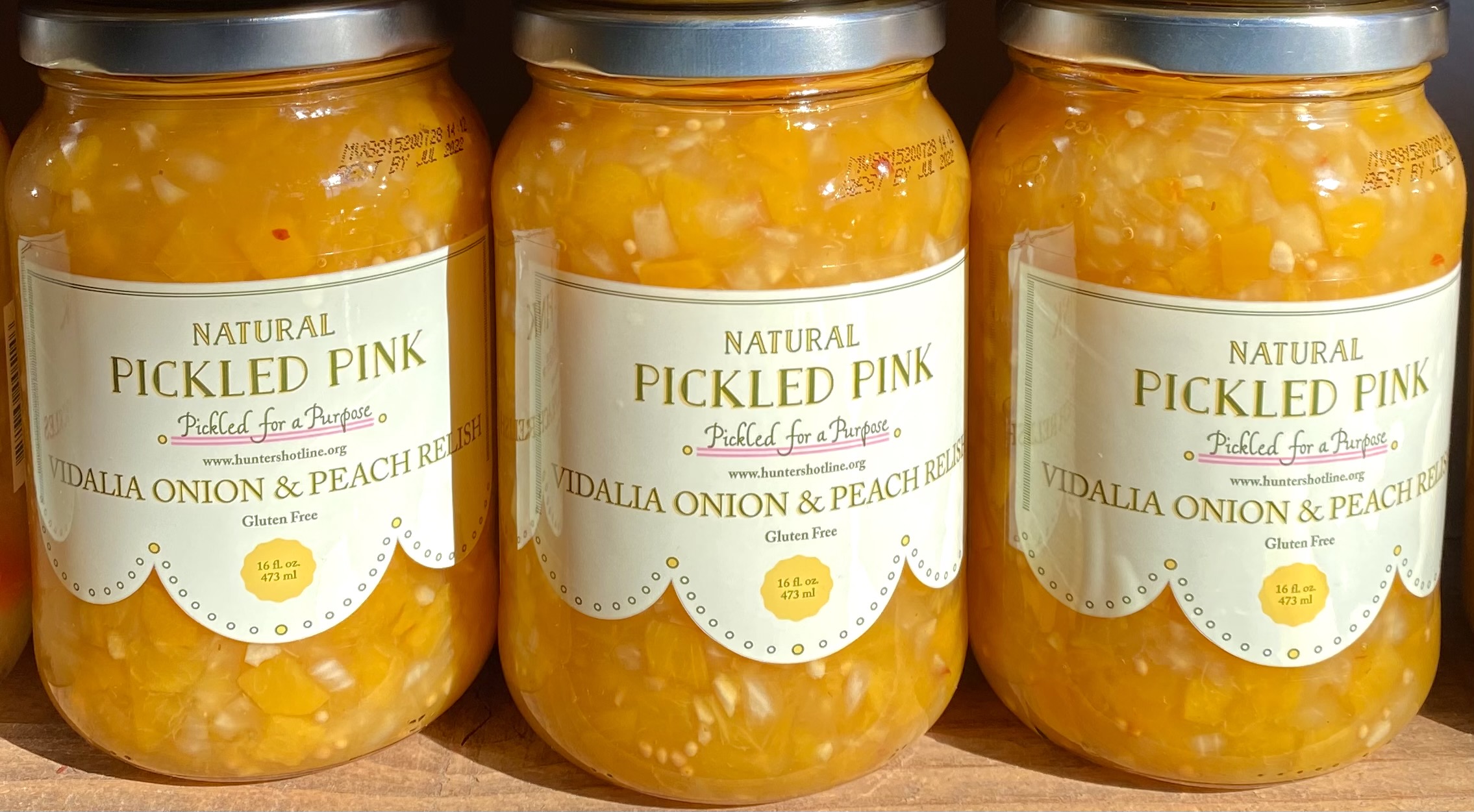 All the while, I'm trying to figure out where to apply this tasty blend in a recipe and then, after thinking about the ingredients, it hit me today to try it in this particular salad. Guess what? It worked!
That said, here's my recipe for 2 servings. I had romaine in the house, so that's where we'll leave it for now cos I enjoy the crunch of romaine in virtually any salad. In summertime, perhaps we'll give other lettuces a try.
Ingredients:
-6 oz. grilled chicken
-1 small head organic romaine
-1/4 cup of EVOO (Extra Virgin Olive Oil)
-2 tsp. raspberry infused white balsamic reduction
-1 tsp. my fave Manodori balsamic vinegar. Use your favorite, but it must be a good  balsamic!
-Pinch of Kosher salt and a couple/few grinds from a fresh pepper mill
-2-3 oz. fresh mozzarella
-1/2 cup roasted peppers
-6-8 cherry tomatoes
-2 heaping Tbsp. Vidalia Onion & Peach Relish (slightly drained of the liquid it sits in)
Simple technique:
In a small bowl, whip up the oil, vinegar's, salt & pepper. Because the balsamic glaze is so thick, it helps emulsify the blend.
-To the cleaned and dried lettuce leaves, toss in 1/2 the dressing to coat…then add chicken, tomatoes, mozzarella, roasted peppers and top off with the vidalia onion and peach relish. Then, on top of the salad, drizzle in a circular motion the rest of the salad dressing…and serve!
Here's also a pretty quick and easy way to prepare roasted peppers. Btw…I like red as they are the sweetest. I also like color…thus the yellow/gold combo 🙂
-Preheat the oven to 450 degrees.
-Add thin sliced garlic to a 1/4 cup EVOO infusing the oil with the fresh garlic flavor
-Simply slice your peppers in half from top to bottom. Cut away the core and the membranes inside of the peppers and very easily wash out the seeds under the running water in the sink. This process takes just a few minutes.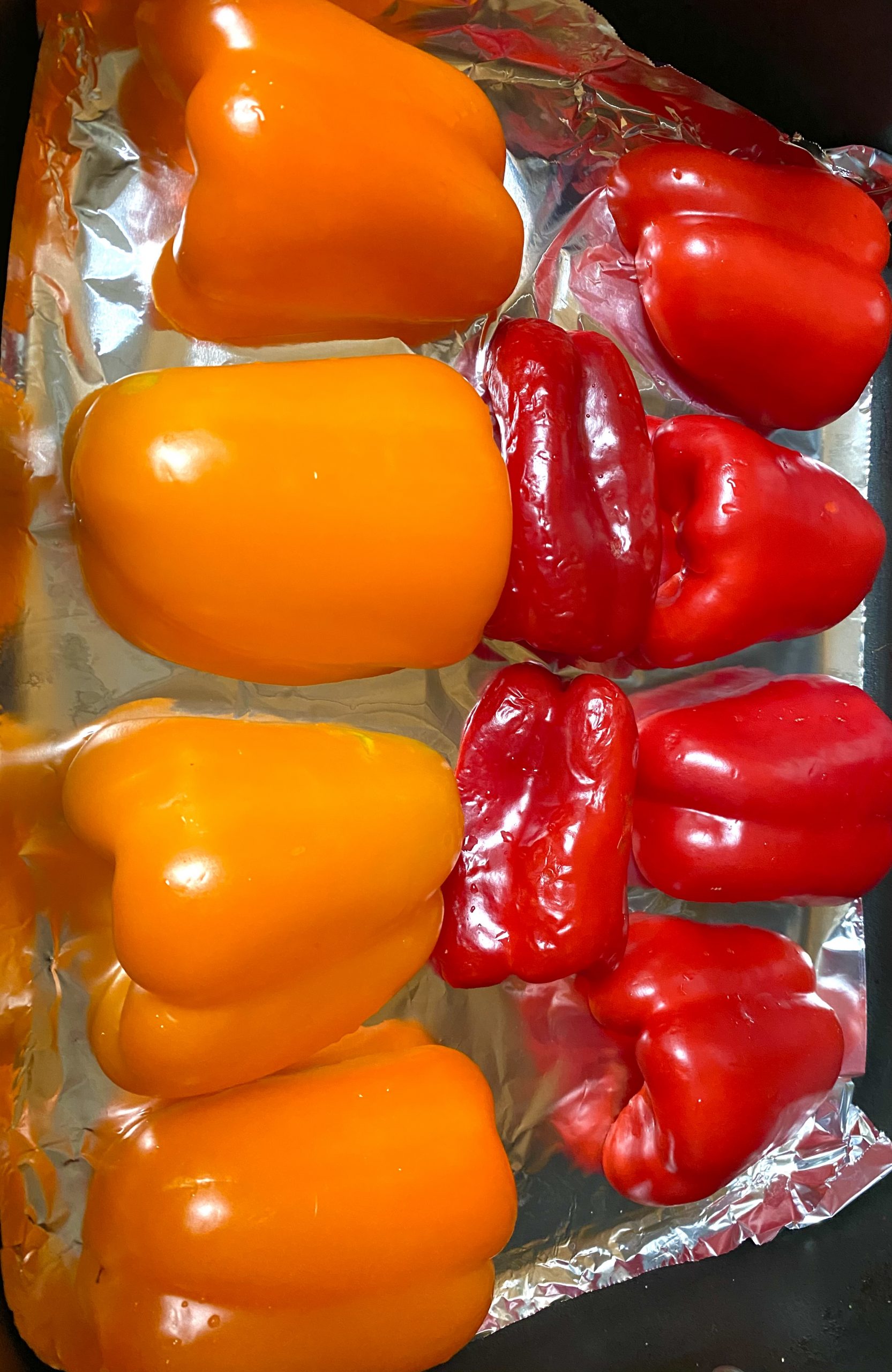 -In a roasting pan, place the peppers face down on foil or parchment paper and roast for at least 25 minutes (give or take a few minutes because all ovens are not the same) until you see the skins start to blacken like you see here in this pic. Make sure they blacken as they will peel easier.
-Remove from the oven and place in a sealed paper bag or a bowl sealed with plastic wrap for about 30-60 minutes. The size of your peppers will dictate time.
-Peel off the skins, place peeled peppers in a bowl and toss with the garlic EVOO. A pinch of Kosher salt and a couple turns from a fresh pepper mill will finish them off nicely.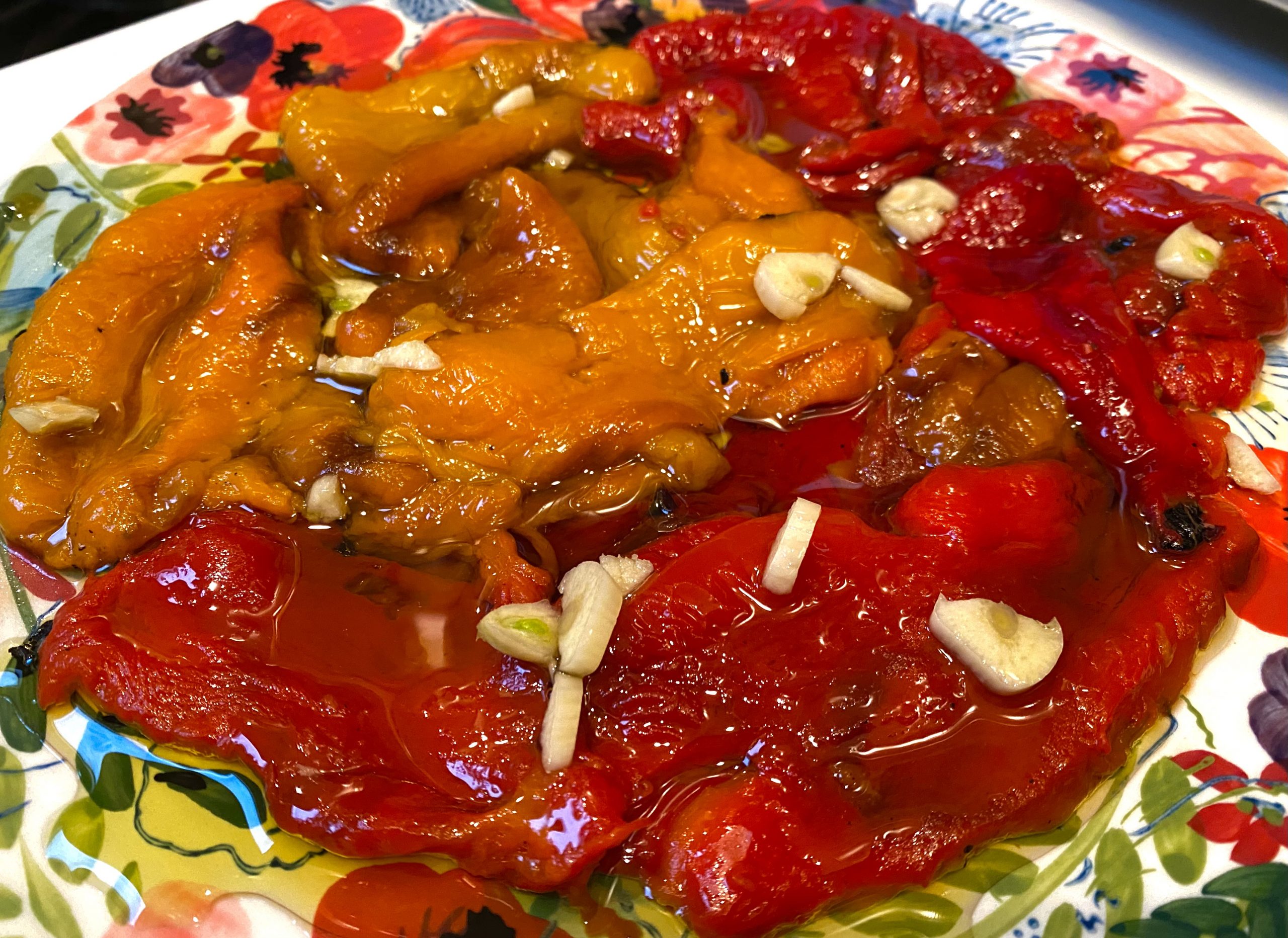 That's' about it folks…Comments are always appreciated in the COMMENTS box on the HOME page.
Mangia bene!
Chef Bert