I attended the Vino 2017 Grand Tasting wine event with 95 exhibitors in NYC a few weeks ago and would like to feature some of the wines I found truly 'extraordinary'. One of those is a wine called "Friulano".
Friulano, formerly known as Tocai Fiulano, is a white grape variety of Fruili-Venezia Giulia.
Although Fruili has a well regarded reputation for producing white wines from other varietals, it is the Friulano grape that is by far the most important to the region.
Friulano's smooth acidity and texture make it a versatile food wine, pairing well with antipasto, fish and poultry. I took a glass of this wine back and forth to the food bar just loving how it paired with prosciutto…ie…'salty ham flavor cleansed by tastes of apples', minerals and that smooth acidity alluded to above.
Of course, what one enjoys is subjective. Just like the restaurants I choose to include in my blog, not all pizza's or pasta's are created equal. I write about what I enjoy. If, however, you trust my taste in food, so it will be you will most likely enjoy my picks of  Friulano and a couple others from the varied wine regions of Italy.
And now, I'd like to introduce you to Bert's best!
Martina Moreale / Il Roncal Friulano / Friuli Venezia Giulia / info@ilroncal.it
Margherita Bidoli / Bidoli Vini Friulano / Friuli Venezia Giulia / bidolivini@bidolivini.com
Daniele Pasquali / Vespa / ordini@bvfutura14.it
www.bvfutura.it
Elena Gallo / Fattoria di Corsignano/ Tuscany/ info@tenutacorsignano.it
www.fattoriadicorsognano.it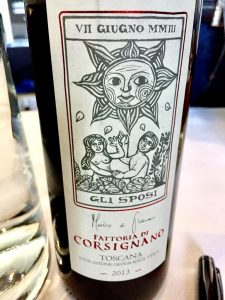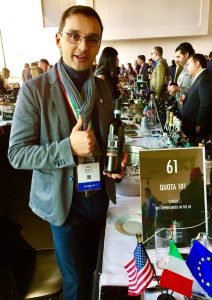 Erik Klein / Quota 101 Organic Wines / Veneto / info@quota101.com
www.quota101.com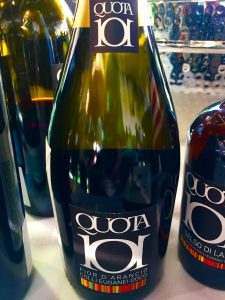 Some vineyards are not yet represented in the USA…ie…no distributor. That said, they will be here soon through the distributors that find them. Until then, seek out Friulano. You WILL love it!
*Wanna know more…just Google "Friulano, an Italian White Wine That Makes Friends Easily"
Next up…
Typically, at any wine event, I walk from table to table tasting and spitting out white wines and then follow it up doing the same route for the red wines, After that, it's the same route for dessert wines
With 95 tables to choose wines to taste, it was impossible to do them all.
After about 3 hours I was about to depart when I heard a voice call out "Bert"!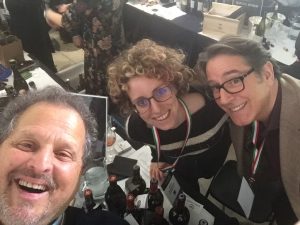 Bert with Sophia & Jonathan @ Pazzione Wine Imports
I turn around and there's Mr. Jonathan Warner of garment center fame. Jonathan bought hangers from B Free back in 2015 and when I went to drop off my Holiday Hanger at his office, he was gone and I never knew to where he had traversed…until now.
Guess what?
He's now a wine importer with great tasting portfol
io.
He works as the New York Director of Marketing (although how could it be work if you love it) with Mr. Andrea Posani at Pazzione Imports Wine Imports based out of Bradenton, Florida.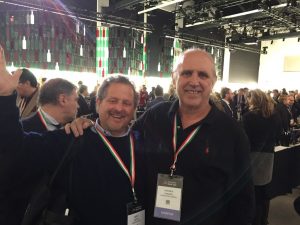 Bert with Andrea
 He and cast members then proceeded to offer me the deluxe wine tasting tour of wines that ARE available.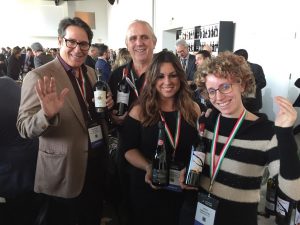 Jonathan, Andrea, Francesca & Sophia
You know what they say about happy people!
Wanna learn more?
Simply go to www.pazzione.com
Every wine tasted was impressive and that doesn't happen often.


That's all for now folks. Enjoy my picks!
As always, would love to hear from you with any comments or suggestions…or even reviews.
Remember, it's more fun NOT to be shy!
Mangia Baby!
Bert
BestaPasta
www.phoodographsandfinds.com
www.phoodographsandfinds.blogspot.com