How does one determine the best of the products  offered at one of the largest food shows in the world? The answer: It's simply a matter of your own taste and what you enjoy.
This year I attended with Chef Sharyn. Of all the products that are being written about in this entry, we were in agreement they were the best of what we tasted. So here goes…
Since the BetsaPasta menu is Italian/Mediterranean, most of what we found were products in Italy.
Something we have not seen before was Italian ketchup made with Italian yellow "Datterino" tomatoes by Grangusto (www.grangusto.it). We saw other products made with "Datterini" tomatoes, however at this writing I can only assume they are the same. Why the spelling is different, I'll have to see.
Bottom line…Yellow Ketchup. The taste: Sooooo smoooooth and so very tasteful!
Loved the products here…including the Cosi Com'e yellow datterino tomatoes in a jar.
You know what they say about happy people!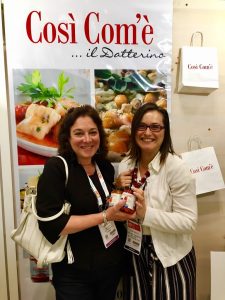 Sharyn & Martina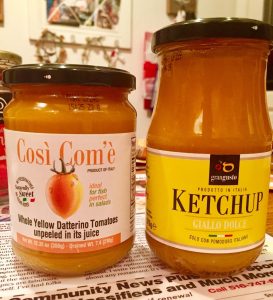 Happy Martina
Next up…
Sauce in a jar. For most chefs this is not an option. I feel, however, that if there is such a thing as a great sauce in a jar…it's worth a mention if only for the sake of convenience. In this world today where many moms and folks who work long hours and don't have the time to cook, a great jar of sauce can be quite helpful for a quick prep.
Let's start with Michael's of Brooklyn. Michaels is a restaurant in business since 1964 and they have always produced a really nice selection of jarred sauces. In my opinion, the best USA made sauce in a jar.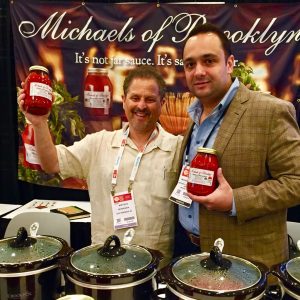 Michael and me!
From the state of South Carolina and the founder of the first pizzeria in Savannah , Georgia we enjoyed the 5th genertion Porzio's Pizza & Pasta sauce in the same jar…yes…in the same jar!
Daniel and his ladies show off their trademark
 My quest, however, at the Fancy food Show where foods of the world are presented is to find an Italian sauce in a jar that we loved…and we found one!
Folks, let me introduce to you Chiara Ercole and her family's products…a phabulous phood phind from the Piedmont region of Italy since 1923.
From Sacla Italia…a sauce made from Italian whole peeled cherry tomatoes, EVOO, onions, carrots, basil, sea salt, black pepper and lemon juice. I think it important to note that there is no oregano. I think oregano can overpower a mass produced sauce in a jar if not used prudently..
So I say…Yum City to Sacla and Chiara!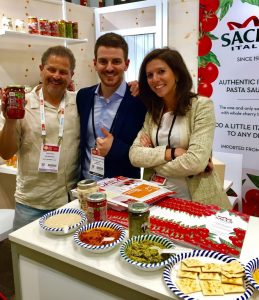 Bert, Giovanni, and Chiara Ercole
A quick aside…
A couple of weeks ago, Sandy and I were in Southold, L.I., New York visiting Mr. GP Lane at his
phabulous phood store…"About Food".
If you've never been there, trust me when I say it's a mini museum food show. You've gotta look carefully at all the new and unique products he offers, including his own artwork…or you just may miss the latest and greatest. His latest by coincidence happens to be one of my favorite picks from this year's summer Fancy Food Show.
Check this out!
Galvanina Italian Organic Sodas
There's those happy folks again!
Meet Melina, Andrea and Andrea
Wanna see more?
How about Galvanina Sorbetto-On-A-Stick…ie Lolly Fruit Bar… made with Italian organic fruit and mineral water.
No artificial flavors, colors or preservatives. Trust me again…they are as good as they look!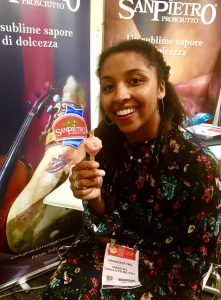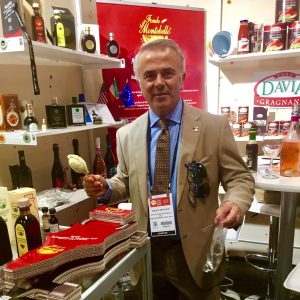 www.galvanina.com
Granarolo is a well regarded cheese company from Bologna, Italy. What impressed us was their baked Italian Grana Padano cheese crisps that can be eaten as a snack or applied to pizza in the baking process, providing a nice crunch and added flavor.
Meet Martina Tonelli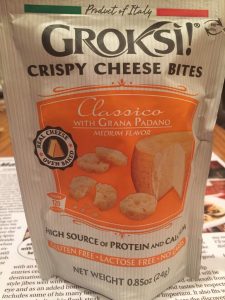 www.granarologroup.com
www.groksi.it
You know by now I'm a fan of Italian flour. This year we discovered Molino Dallagiovanna, a producer of Italian flour since 1832.
  What impressed us was the cleaning and washing procedure they implement to clean their flour, a process modern-day mills have largely abandoned for economic reasons.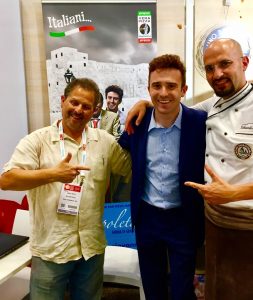 Bert, Paolo Dallagiovanna & Eduardo
 It sure would be nice to see this type of flour being used by more pizza restaurants and bakeries here in the USA! I've spoken to many Italian flour producers over the years at the Fancy Food Show and believe me when I say they are trying to educate our mainstream about the health and taste benefits of  Italian made flour.
So I say, next time you are in your favorite pizza restaurant, talk to them about the type of flour they are using and tell them you'd like to try a pizza made with Italian flour.
It worked for me. I spoke with Pietro at Pietro's Brick Oven Pizza in Oyster Bay, NY and now he'll be using Italian "00" flour in his new restaurant, Sorriso, opening soon.
The best that could happen for you is that you could have a taste of Italy in your own neighborhood.
www.dallagiovanna.it
Once again, in our top ten of all time and included in our top 15 at this show, we re-visit Colorado's Honey Smoked Fish Company.
It's always showtime for founder Kevin Mason. Watching and listening to him as he prepares his famous "Five Superfood Salad"
makes his audience smile. Tasting his Honey Smoked Salmons that are presented in 5 flavors keep those smiles alive.
 Of course you can use any salad dressing you like. Even though I haven't gotten the exact proportions that Kevin uses to make his salad dressing, I do know he blends a ranch dressing with an Italian style vinaigrette. Stay tuned…I'm working that one out.
His products are now available in most New York Costco locations…so trust me when I say you will love this product…No question! I have never enjoyed cooked salmon like this from any source.
How could you not with smiles like that?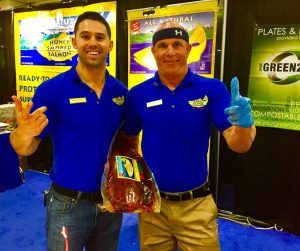 Spencer & Kevin
www.honeysmokedfish.com
Desserts…
Italian Gelato…the best we've tasted at any of the shows exists with L'Artigiano.
There are really soooo many great gelatos, however what impressed us the most was the consistency of a truly enjoyable taste in every flavor. Each one was a good as the next and made with the simplest and healthiest ingredients that we have seen.
Bravo!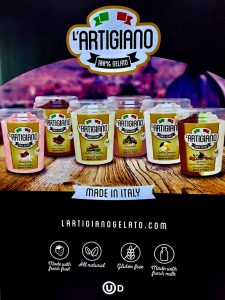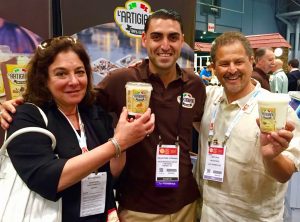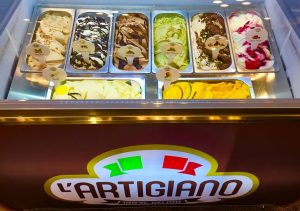 www.lartigianogelato.com
Proscuitto de Parma PDO**…Italian Meats…Butter…and more!
It's not easy to pick a particular proscuitto and label it the best. I'd also like to think that their booth location right next to Parmigiano Reggiano had nothing to do with our proscuitto kudos. Hmmmmm!
Naaaah…plain and simple…it was phabulous. If we had to pick the best at the show this year, the award would go to Ferrarini of Italy. We also found an Italian hard cheese we've not tasted before by the name of Monte Ricco which I will add to my next cheese platter.
A nice selection of Italian uncured salumes, prosciutto cotto and their famous Italian non-gmo butter rounded out the selections offered
PDO**
Along with Parmigiano Reggiano, Ferrarini Prosciutto is PDO designated. This acronym indicates these products are intrinsically linked to the geographical area from which they take their name.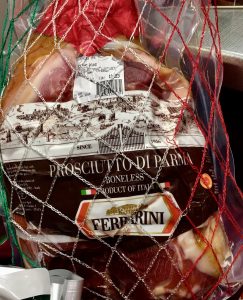 www.ferrarini.com
Where else to go from here but next door to my/our favorite cheese and cheese personality of all time.
Ladies and gentlemen, signore e signori, please let me re-introduce you to Nancy Radke, the Grande dama of Parmigiano Reggiano!
Over the years, I've gotten to know this gracious lady and it is a friendship borne out of a special affection for this can't live without (ca
n you imagine?) cheese and with a load of personality thrown into the mix.
We look forward to seeing Nancy and her wide smile more than anyone else and to her we say…
Grazie per la vostra accoglienza graziosa ogni volta che to vediamo…Mangia Baby!
Grande dama Radke with Sharyn & Bert
 Next up…My phabulous EVOO phind. Are you ready???
Meet Kostas Peimanidis…The God of Greek Olive Oil.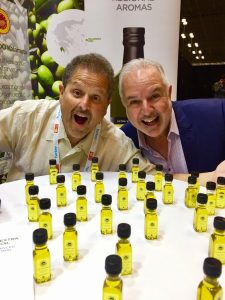 Kostas & Me with Little EVOO's
Quick story.
My friend Eva Rajwans owns a company by the name of DIGS in NYC.
It's a clothing company and they also love the B Free products. Had to stick that in.
Anyway, Eva knows I'm into the food and a couple of years ago she turned me onto a bottle of what she claims is her favorite EVOO.
Yup…Iliada!
A Wonderful Basil EVOO Spray, Signature EVOO & Olive Salad…YUM City!
Olive & Peppers Salad in EVOO /Muffalata anyone?
While walking the food show in 2016, Eva's Iliada introduction  made me take notice and stop to talk with the folks in the booth.
Can you imagine who greeted me with a big smile?
This year, the smile was bigger and as well got a big smile from Tony, the British connection to Iliada.  Sincere Smile City!
You know what they say about happy people…yes?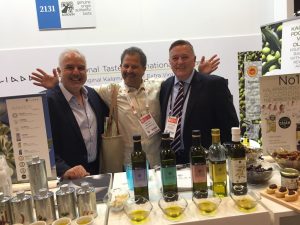 Kostas, Bert & Tony
 Kostas…You are the exception to the rule and I say thanks for being you!
Ladies & Gentlemen…this fellow is as genuine as his award winning products. Get in there and give them a try.
Trust me!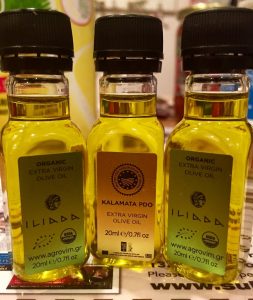 http://www.iliada.com/
Chocolate anyone?
Goodness…sooo many good chocolate companies. How the heck can you possible pick one? I remember about 4 or 5 years ago we (I say 'we' because I come with either Chef David or Chef Sharyn and together we agree) discovered "TCHO". What a great phind that was. It's been that long since we found a relatively new chocolate to write about and we found it at Fran's Chocolates.
Thank you Sharyn for stopping in to taste.
In business since 1982, this company is one of the best artisanal chocolate makers in America.
-Bobby Flay loves Fran's Chocolate Coconut Gold Bars.
-Food & Wine Magazine touts their chocolate as the "Best in America".
-One of  President -Obama's favorite indulgences is Fran's Smoked Salt Caramels.
Bert Spitz's mouth waters thinking about their dark chocolate sauce.
A phind? Id' say so.
Where have we been?
Almond Gold Bars…Winner of the 2017 New Product Sofi Award in the Chocolate Candy Category
Bert and a Bigelow
Sarabeth's Jams, Jellies and Preserves
Finally got around to tasting their products. You know what?
They're really good.
Plain and simple.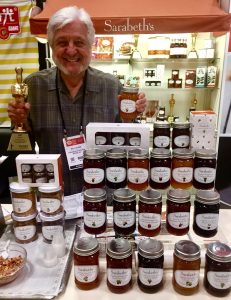 Thank you Bill Levine.
Next up: K O M B U C H A
The definition of kombucha is a beverage produced by fermenting sweet tea with a culture of yeast and bacteria. As strange and/or different as this may be to some, kombucha had gained quite a popular following and we are noticing more and more producers popping up at the food shows we attend. I even saw a kombucha producer at the Brooklyn Smorgasberg last December.
At this 2017 Fancy Food Show, we happened upon managing partner Mr. Zane Adams and the Buchi Kombucha Company out of Marshall, North Carolina. Frankly, what stopped me was the beautiful display of flowers associating itself with a drink I only knew as a bit vinegary tasting, however I also knew was loved by Sharyn's husband Joel.
It's taste is quite similar to Bragg's organic apple cider vinegar that I drink proactively every few days to help alleviate symptoms of acid reflux or indigestion. It's definitely an acquired taste and what keeps me intrigued about kombucha is my desire to find one with a taste I can really enjoy.
At Buchi I found one with a strawberry based flavor that wasn't released yet. What this means to me is  that if I can find one with an enjoyable and palatable flavor, so can I find another.
Bottom line: A good tasting kombucha with great health benefits makes it worth the time and effort to expose to you…my readers.
Meet cordial managing partner Zane Adams with Chef Sharyn
The health benefits that exist according to draxe.com (Doctor Axe) seen below one can only take at face value. Read up and learn about this drink and it's good bacteria for you that's been on the market for at least 8 years and has existed in some form for hundreds, if not, a couple of thousand years.
With all the positives, kombucha is not for everybody. I also suggest to keep an eye on the sugar content and, as well, alchohol content based on the fermenting process used.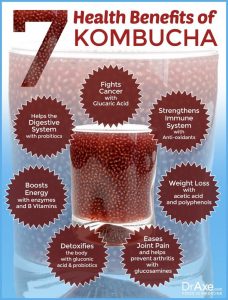 www.drinkbuchi.com
How about this one: Olive Oil based Skin Care Products
Sharyn and I looked at each other and said "wow"!
These products may have been at previous shows, however we never saw them.
Guess what? We liked them.
Unisex cologne and lip gloss were cool.
Gonna learn more and add to this.
Please stay tuned!
www.umbriaolii.com
 Short & Sweet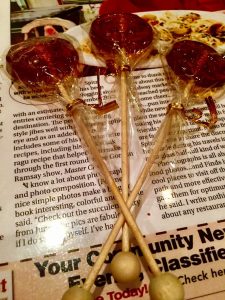 The kids loved them!
Well…that about does it for The Summer Fancy Food Show 2017 at The Jacob Javits Center in New York City.
There were so many wonderful food vendors we met. We would have included more of them, however they were still looking for distributors and their products were not easily or readily available. Maybe next year!
Thank you Fancy Food Show for being to me the greatest show on earth!
Thank you to all who were gracious enough to want to be a part of www.phoodographsandfinds.blogspot.com
Oh yeah…one more thing. Here is one dish I made using a few of the sources I found.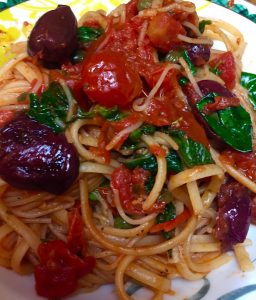 Pasta Puttanesca
Thank you again to: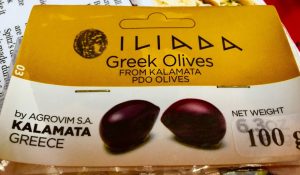 One more time…The Nancy Radke Show @ Parmigiano Reggiano!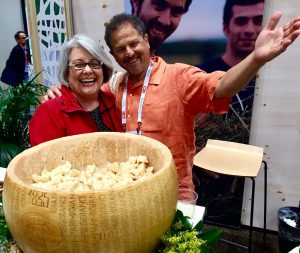 Mangia Baby!
As always, please feel free to comment just below. Love to hear from you!
Chef Bert, Sharyn & Dave