Let me start by saying after some research "sustainable meat" is safer meat. Consumer Reports tested 458 pounds of ground beef from all sorts of stores for bacteria. They defined "sustainable" on a scale starting with meat raised without hormones and leading up to the safest (grass-fed organic beef), which, for a whole variety of reasons including a longer time to maturation, is more expensive than conventionally raised beef. I might add that $4.99 lb. for 85/15 (fat content) is not really much more than prices anywhere else. And while Consumer Reports does not recommend any particular store, Whole Foods ticks most of the boxes for safer beef.
Bottom Line: I now use Whole Foods exclusively when it comes to buying ground beef (veal and pork as well) for my meatballs, beef burgers etc. because Consumer Reports says their "sustainable" meat tested for fewer harmful bacteria and E. coli, and as a baseline, Whole Foods promises to sell nothing that has been treated with hormones. It also tastes phab!
One more thing…I've found many folks are sensitive to garlic…so I decided to remove garlic from this recipe to see if it really makes a difference in the flavor and it doesn't. For sure if you want garlic in this recipe, simply use whatever amount you want and saute it in with the shallots.
Short and sweet…here is my new updated recipe showing all my chosen ingredients. BTW…since some Kosher  clients of mine can't eat the pork version, all beef would be the way to go.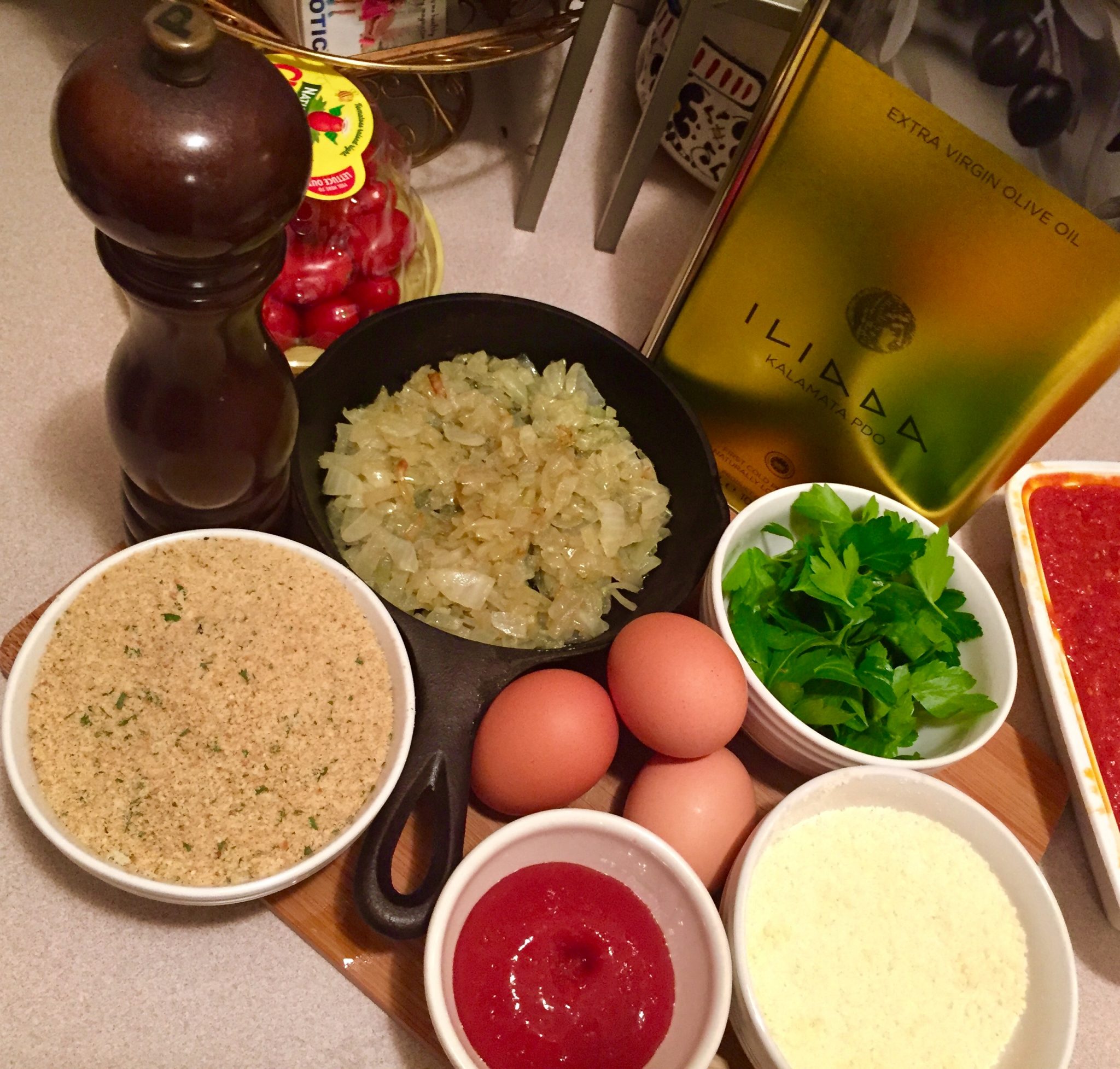 So…here goes…
Ingredients:
2 lbs beef, veal, pork blend in equal amounts…or just the 85/15 beef. The '15' represents the fat content and this choice for me takes into consideration the taste 15% fat gives the meatballs and also addresses the health issue to some degree. 80/20 blend for me is too much fat, especially when frying meatballs. 
2 whole eggs whisked
1 cup no trans-fat seasoned Panko bread crumbs
1/4 tsp. dried oregano 
1/2 cup chopped fresh flat leaf Italian parsley
1.5 cups grated Parmigiano Reggiano
2 cups EVOO (When I use olive oil, it's always extra virgin…ie…EVOO)
3 shallots / coarse chopped (Shallots have a sweet and mild (although pronounced) flavor with a hint of garlic)
2 tsp. kosher salt and 12 or so grinds fresh pepper
1/2 cup Heinz ketchup…that's right, ketchup (recommend Simply Heinz with no high fructose corn syrup)
Preparation:
*Saute' the shallots in 2 Tbsp. EVOO* until transparent. Set aside to cool.
*Place beef or beef blend in a bowl and add breadcrumbs, whisked eggs, Parmigiano Reggiano, cooled caramelized shallots, parsley, ketchup, oregano, salt and fresh ground pepper
*Blend with your hands until mixed well and shape into large golf ball size balls. Be gentle when rolling your meatballs…do not hard pack. 
*Using half of the EVOO, cook the first batch on both sides until brown…remove from the oil and lay on paper towels to absorb excess oil. Repeat this process for the second batch changing the oil once. In this manner, there will be no burnt meat attaching itself second batch and the flavor will be unaffected.
(Suggestion: you can use the wiped dry empty can of tomatoes used to make your sauce to carefully pour out first round of hot oil).
*I do not add meatballs to the sauce. I Serve along side or on top of the pasta dish ladling sauce at that time (see top pic)
*EVOO = Extra Virgin Olive Oil
Yield: About 30 meat balls
Please feel free to comment in the box below. I always love to hear your input or suggestions.
Mangia Baby!,
Bert