One thing I always look for in a restaurant is a certain level of creativity in the kitchen that stimulates and surprises patrons with recipes that manipulate and finesse ingredients to reach a level of individuality that sets them apart.
I recently discovered such a restaurant in Southold, N.Y. on the north fork of Long Island and I'd like to share this phood find with my readers. I had actually eaten there once before with my daughter and grandkids and we all enjoyed whatever we ordered. It was a quick taco and salads outside and I truly didn't have the opportunity to analyze each dish as it was such a quick "bite to eat"…and go.
This time was different. This was the first time I joined a group of gentlemen friends and neighbors who meet monthly under the name of ROMEO (Really Old Men Eating Out) and they find their way into the local restaurant scene for what will hopefully be a true dining experience. With that state of mind in play, we can all experience the potentially different levels of creativity that come out of the kitchen and, as it was at  Latin Fuzion, with dishes not even on the menu. It's worth noting that the word Fuzion in the name of Justo's restaurant as it relates to his ability to prepare so many different types of dishes embracing  "Tex-Mex, Latin American AND Mexican!
Such was the case with this dish that took the proverbial cake when it came to something I and many of my fellow foodies had never seen before.  And…in the words of my/our fellow foodie who placed this order,,,… "I ordered a plate not on the menu of my own design. Beans, shrimp, over-easy eggs and avocado accompanied by warm yellow corn tortillas. His own independent review…"Very enjoyable. Friendly and knowledgeable service. Great selection of food and choices."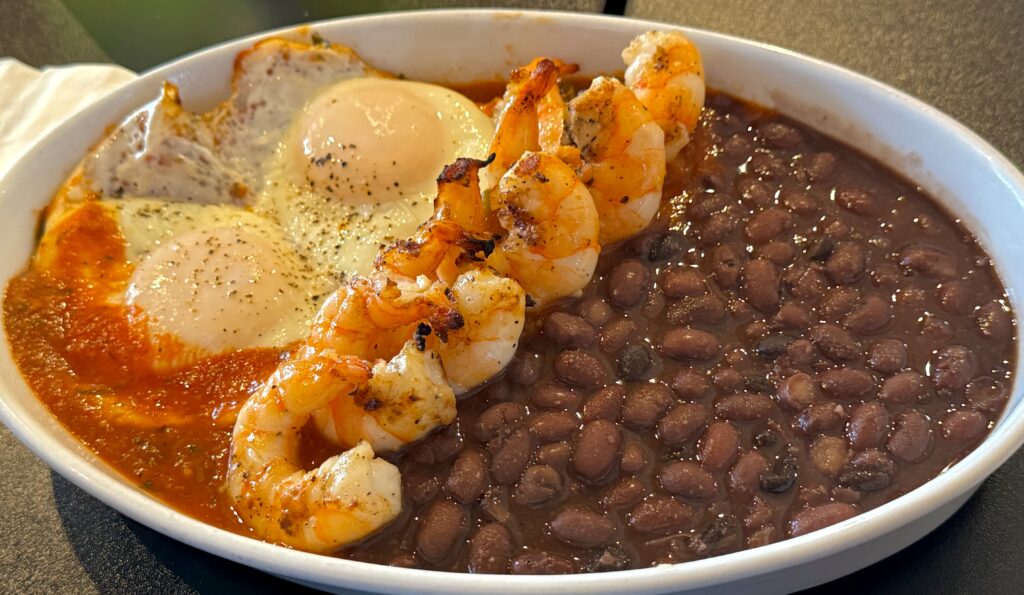 After checking out this dish, I could see very clearly Chef Justo's (in the red cap with wife Vicki) ability to manipulate and finesse his ingredients to create dishes that are not on the menu. The use of the word Fuzion (or Fusion…as it relates to food) is quite apropos here since fusion is simply a form of cooking that combines contrasting culinary traditions or techniques into a single dish! Thus…your grilled shrimp, egg and bean dish along with your Greek salad coming soon:)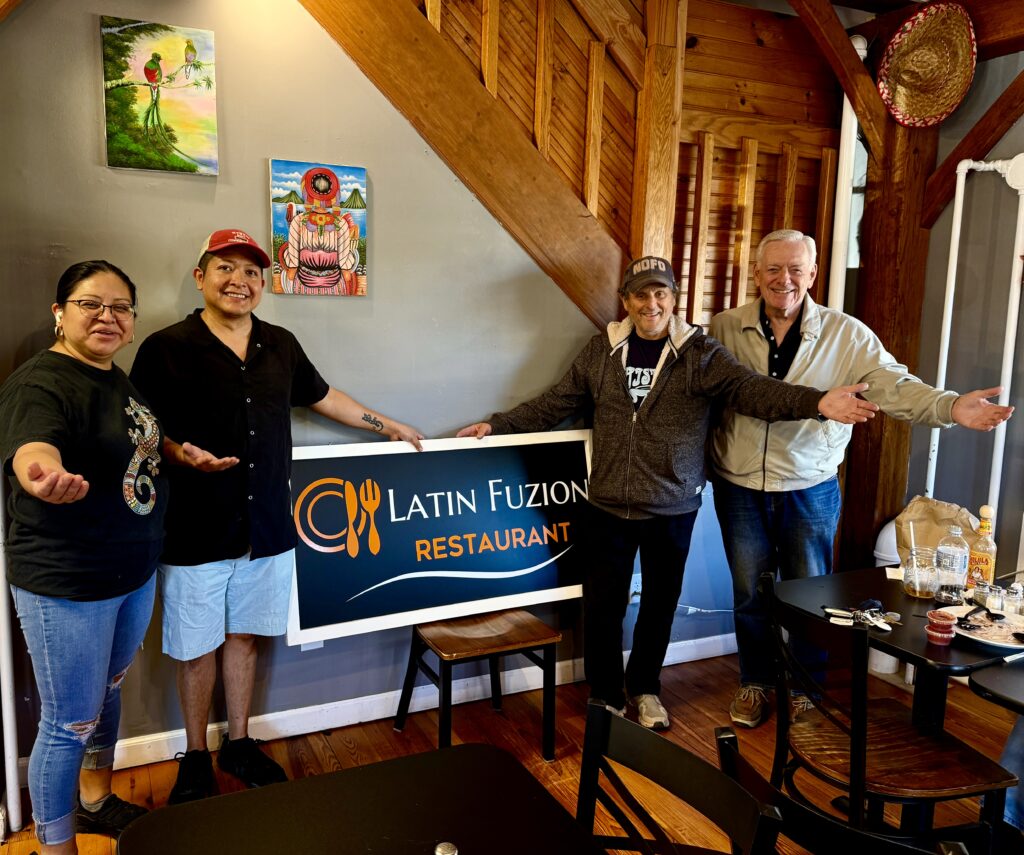 Meet Chef Justo & his wife Vicki. I could tell these folks are energized by the social world and from my point of view the #1 social occasion of the world is…You may have guessed it… FOOD! 🙂
I ordered a grilled vegetable burrito in a bowl and it was phriggin' phabulous!  I'll take the rap for my abundant use of Cholula hot sauce 🙂
Some dishes were just what you would expect and want to see…however what was unanimous was the most positive feedback from my fellow  'Really Old Men' diners.  Everyone enjoyed what they ordered.
When was the last time you saw a Greek Salad in a "Latin" restaurant? Chef Justo also serves Caesar and Cobb salads!
A wonderful Greek Salad!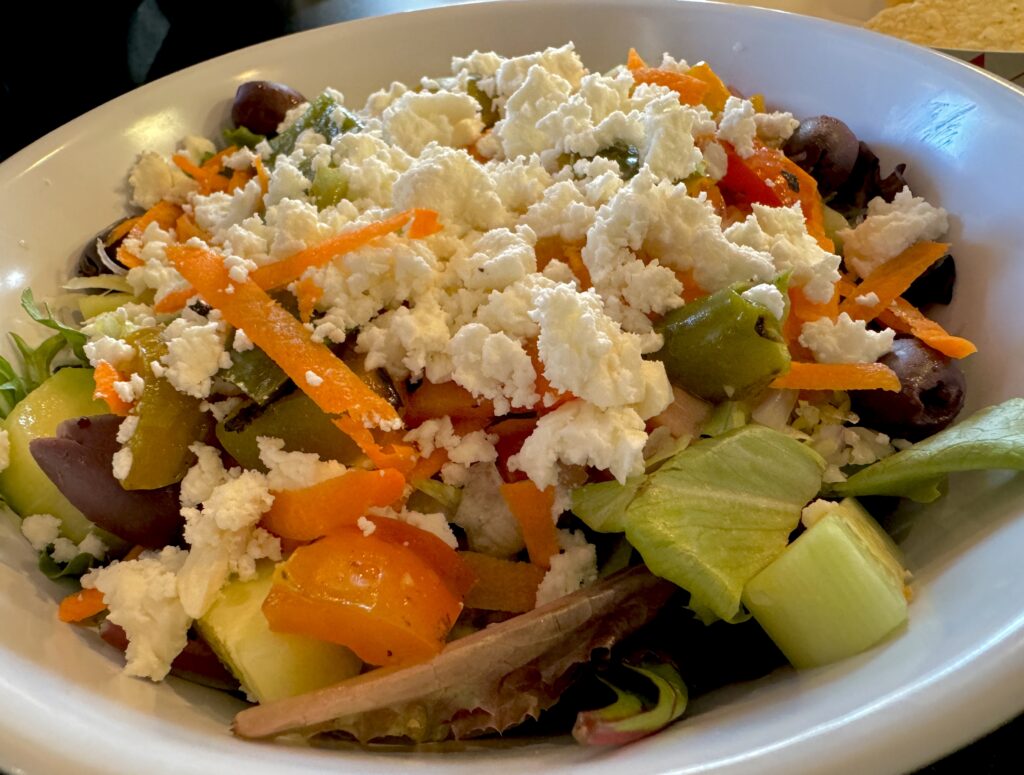 A simple order of French fries was as good as it looked!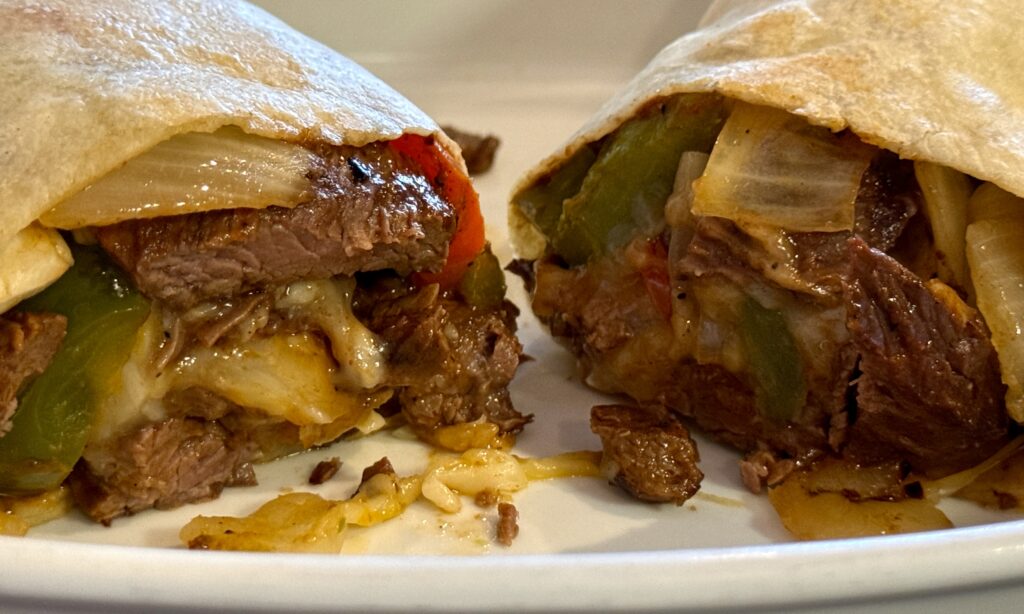 Chef Justo's Steak Burrito
Each one of these desserts that we all shared were as delicious as they looked!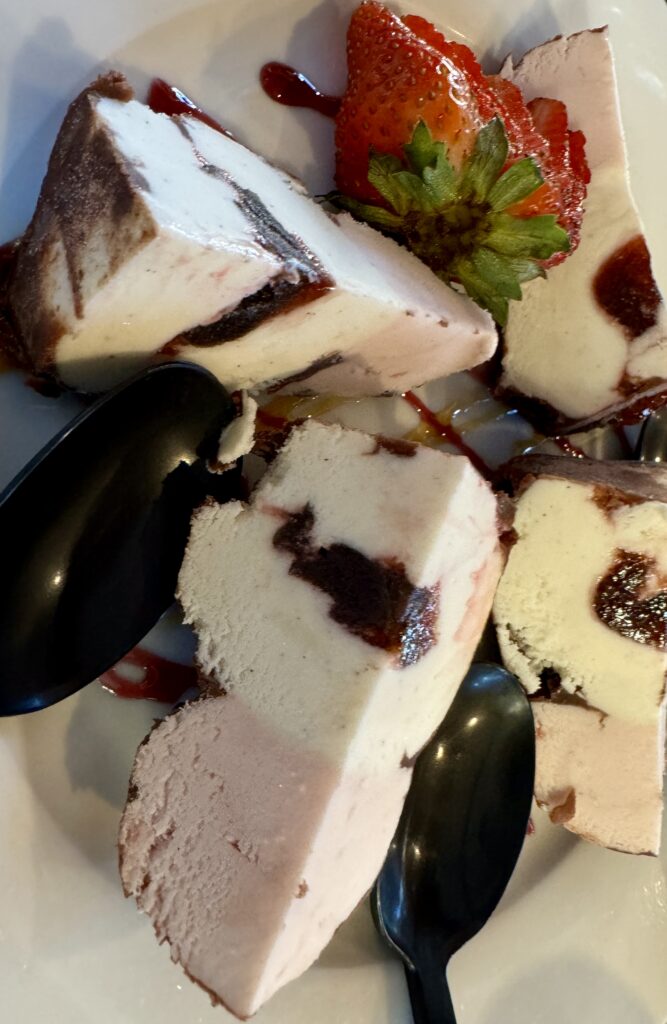 Lastly…Validation from Mr. GP Lane…The #1 accomplished food authority in the town of Southold and in his own words…at Latin Fuzion "The food is fresh and consistent. There is no pretense. Honest food fairly priced". In the event you have never heard of Mr. Lane…it's all right here from my post back in September, 2020. You'll have to scroll down through many farm, food and wine destinations here on the NOFO, but all you have to do is stop when you see "About Food" and Mr. GP Lane in his foodie museum shop smack dab in the middle of downtown Southold.! Oh yes…and don't miss the Catapano Dairy Farm visit with Karen Catapano during our annual North Fork Foodie Tour.
Trust me…Have I ever led you astray?
A Day In the Life Of Sandy & Bert And Those Who Wanted To Join Us On The North Fork Of Long Island, N.Y.!
Ohhh. I almost forgot to mention (because I forgot to take the picture) the endless bowls of tasty and colorful chips and salsa.
Now…Ladies, Gentlemen, Sons, Daughters and Grandkids…please meet the ROMEO  Harvest Pointe cast members 🙂 You know what they say about happy people…yes?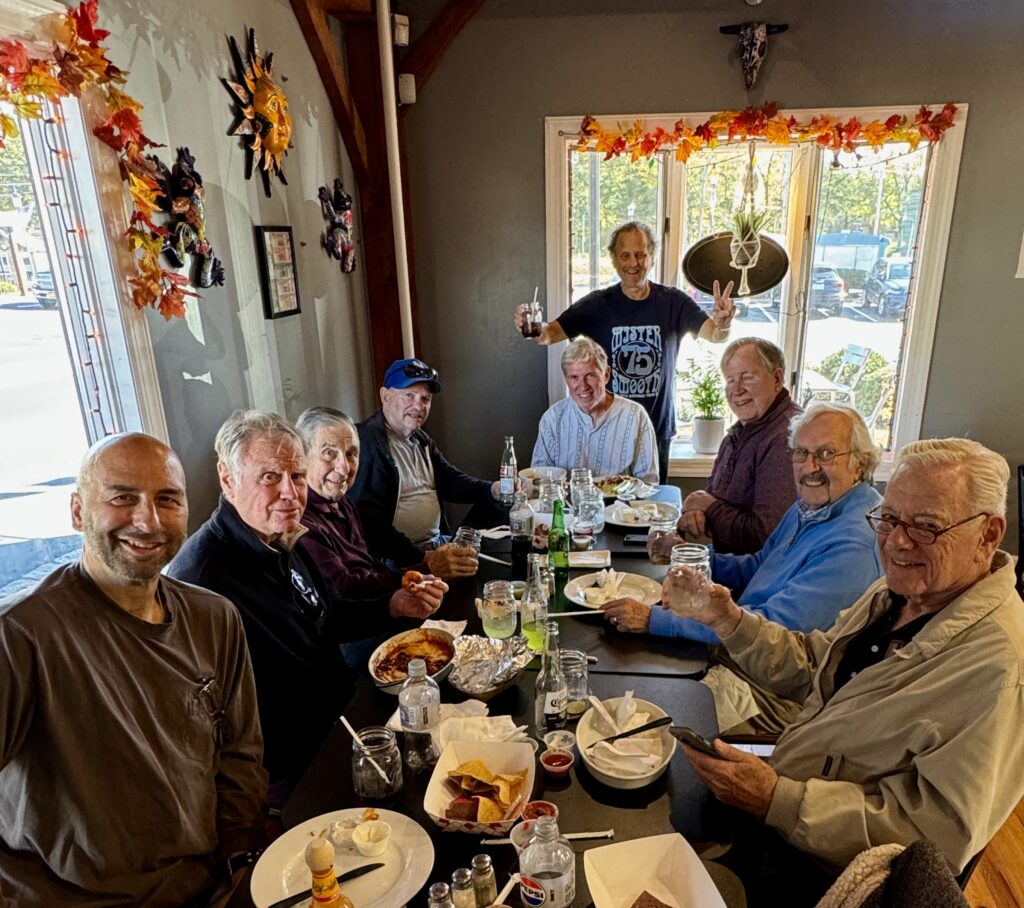 That's it for now folks! Get ready…more restaurant reviews to come assuming they live up to our great expectations.
Thank you fellas for inviting me. Looking forward to our next foodie adventure together!
Bert
Wanna know more? Check out Chef Justo's website!
https://www.latinfuzionrestaurant.com
As  always, feel free to comment in the Comment box below!