Sandy, Sharyn, Joel and I went to The Brooklyn Flea + 'Smorgasburg' Winter Market last weekend and we happened to have found what the food world touts as one of the 50 sandwiches to eat before you die.
Truly what impressed me the most as the incentive to try these sandwiches was the imported fresh weekly bread from Venice, Italy…ie…"00″ unbromated flour.
It's not easy to be a part of this food world at the Smorgasburg. Startups and seasoned chefs alike must all apply on line and go through a rigorous screening and tasting process in order to assure the high quality, healthy nature and flavor of the food and beverage are worthy of a spot at the Smorgasburg.
Check out these sandwiches we loved and the passion behind these Venetian chef brothers that added to this memorable food experience.
I'd be remiss if I didn't comment about the beautiful little orchids served with each sandwich.
Nice touch fellas!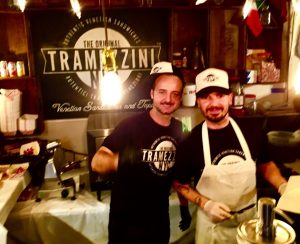 .                                                               Pork Me Up
Slow roasted pork with sage (an old recipe from Treviso, Italy), rosemary, sauteed organic sweet peppers, caramelized onions and aged Grana Padano 
Is this pride…or what?
Farmers market tomatoes, fresh basil, fresh mozzarella, oregano and fresh ground black pepper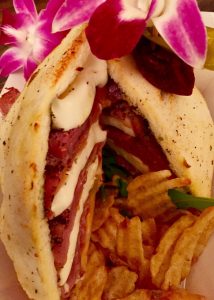 Veggie Love
Farmers market tomatoes, sauteed peppers, eggplant, mushrooms, caramelized onions and organic cream cheese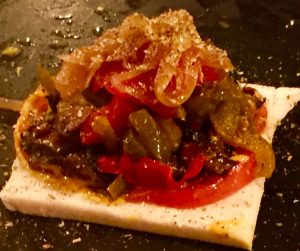 The bottom line here…
Between the unique food market, the prepared foods and the very interesting and not typical vintage and craft vendors…this is a day trip worth taking!
Mangia Baby…Really!


Brooklyn Flea and Smorgasburg are open all winter in their most memorable location at Skylight One Hanson, the majestic Fort Greene landmark in the Williamsburg Savings Bank Clocktower that hosted the market's indoor winter seasons through 2012. 

From November 5+6 through March 25+26, 2017, 100 vendors will sell every weekend at the landmarked interior, with 75 "Flea" vintage and craft vendors in the Main Hall and Mezzanine and 25 Smorgasburg food vendors on the lower level Vault. From the mosaic on Skylight One Hanson's 63-foot ceiling, to secret iconography hidden throughout the space, the story of New York's past can be discovered in this unparalleled environment for shopping, eating, and sightseeing. 
Location + Hours:
Brooklyn Flea + Smorgasburg Winter Market
Saturdays and Sundays, 10am-6pm
$1 entry, kids 16 and under free
Skylight One Hanson
1 Hanson Place (at Ashland Place), Brooklyn NY 11243
D/N/Q/R/2/3/4/5 to Atlantic Ave.-Barclays Center
C to Lafayette Ave.
G to Fulton St.
Holiday Hours:
Wednesday, December 21, thru Friday, December 23, noon-8pm
Open Christmas Eve Day, 10am-3pm
http://brooklynflea.com
www.tramezzininyc.com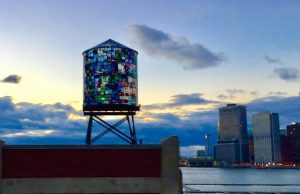 A view coming or going. Nice, huh?
As usual, please feel free to comment. If you have other destinations you wish to share, let's hear about them.
Happy Holiday Season to all…and the best in 2017!
Bert