Hi Folks…
I'm thinking to fully appreciate this entry, check out the Best of Arthur Avenue postings from April, 2017 and May 2017, as they are connected to what I am about to write.

So here we are up on Arthur Avenue after a day at the Botanical Gardens and seeking out another restaurant gem. I/we have tremendous faith in the Teitel Family suggestions for restaurants and we were guided  to Enzo's of Arthur Avenue, although Eddie (Teitel) felt we couldn't go wrong with virtually any of the restaurants in the area. After Enzo's and our very special samplings at MangiPasta, I'm beginning to agree based on the consistency and creativity we have experienced and are experiencing to date.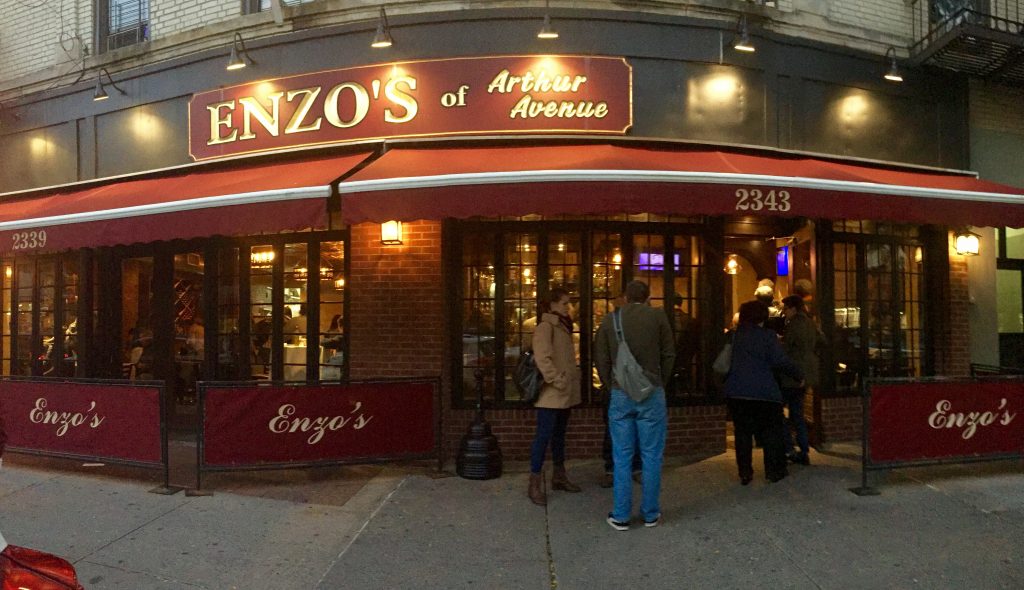 Again we were with our fellow foodies Helen & Noel and it was again…simply phabulous. This is, after all, Bronx's Little Italy and we are pretty much convinced there would be no way to survive if you weren't 'all' on the same phood level. As I've said before, successful restaurants need to offer delicious and simple fare. Waiters and waitresses with some personality are key (don't forget extra napkins). There also needs to be a certain level of creativity in the kitchen to stimulate and surprise patrons with recipes that manipulate and finesse ingredients to reach a level of individuality that sets them apart. I was almost at a point where I didn't feel I needed to look at a menu in an Italian restaurant because many of the dishes were pretty much the same…but not up here on Arthur Avenue, Here, we are seeing dishes that I've never seen before and dishes that I have seen before that have their own personality. Totally refreshing!
Starting off at Enzo's, we were greeted by a gracious Pino (that's Pino in the background with the white sweater). When I told him we were referred by the Teitel's, I knew he would make sure our restaurant experience was comfortable and gratifying.
       Guess what? Meet Violetta…you know what they say about happy people. It permeates!
Gracious is her middle name…and she must have had some sort of influence on the chef that made sure my linguine was cucinato come corde di chitarra…ie…very al dente'. Yes!
Thank you Violetta for your part in helping to create another social success!
So you know, I cannot remember the last time I/we ordered veal parmesan. The reality of this dish is that it's not even a recipe that originated in Italy and it was ordered to see how real Italians…yes real Italians…made this Italian-American invented dish. This dish happened to have been beautifully prepared. It was the perfect texture and the proper thickness for a fried veal cutlet. Best of all…no veins…that's right…no veins.
To Enzo we say 'Grazie per la vene'. The pasta…al dente without having to ask.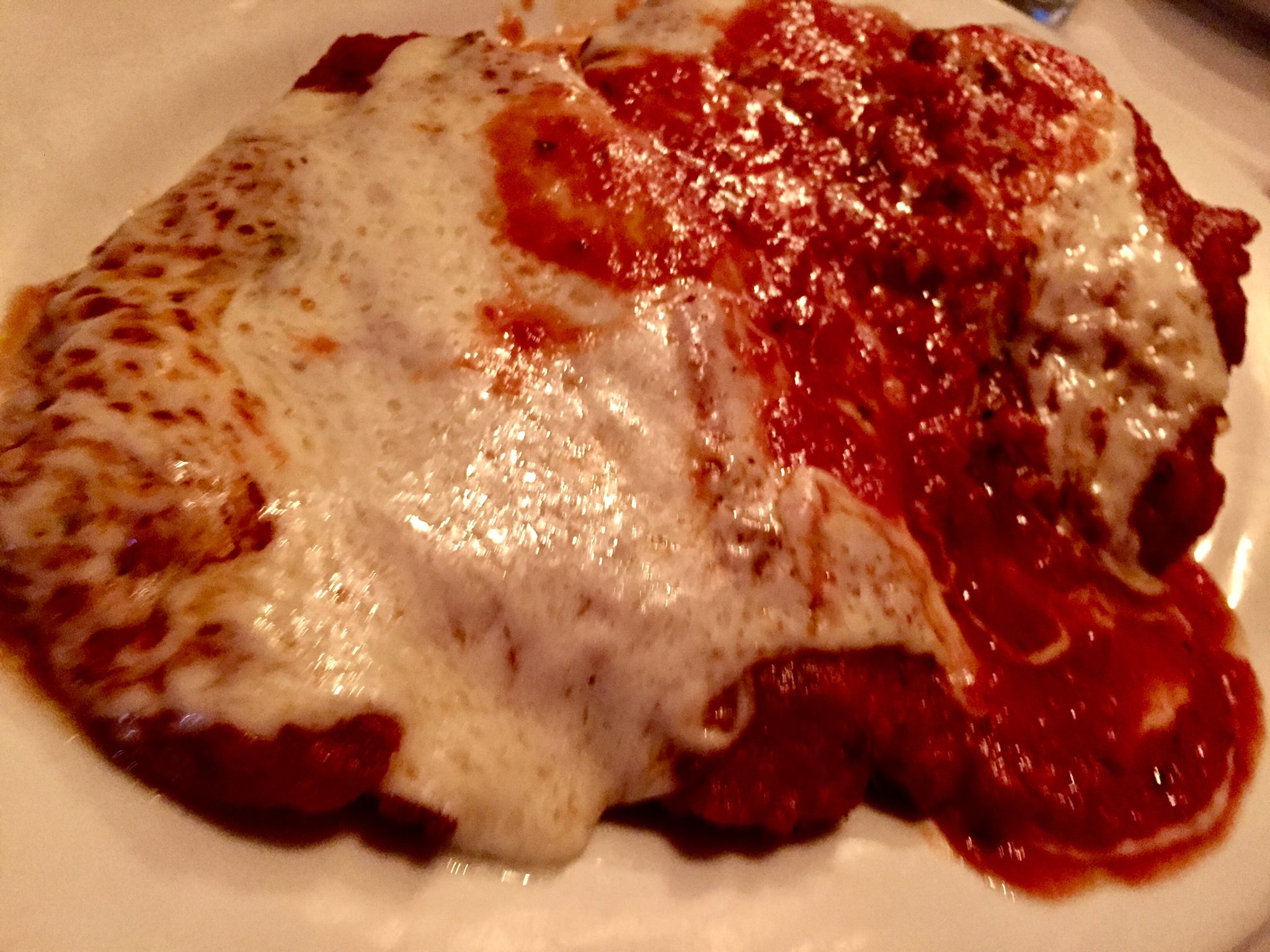 Next up…Shrimp Francese'…One word…Perfetto!
When I make my clam sauce. I like to add shrimp to the recipe and maybe, on occasion, with a sprinkle of some of my seasoned bread crumbs. On the menu, they offered chopped clams with chopped shrimp in a light tomato sauce. This type of dish is for sure one of my go to dish's since I like to see how others prepare it. I loved the particularly large chunks of shrimp and clams (sometimes they can be chopped too finely) and found myself immersed in Yum City! You can even SEE the pasta is my kind of al dente!
Confession: I stuck my head in the kitchen to say hello and took a shot of this appetizer about to come out to some lucky patron. Woah!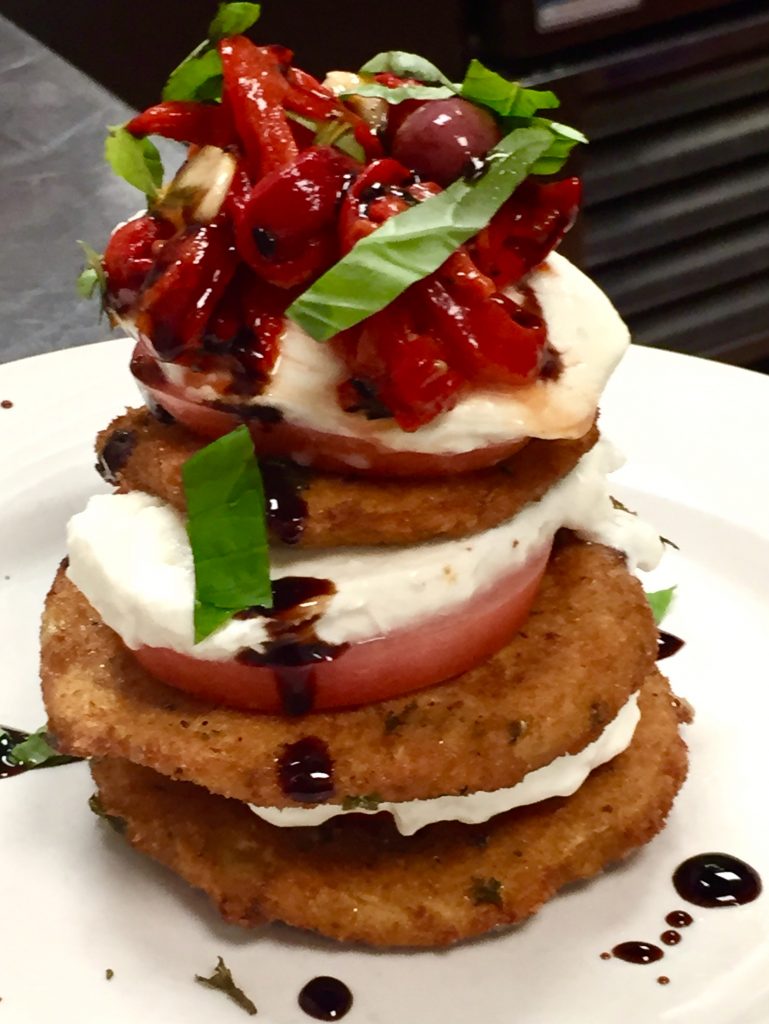 We now have another reason to get back to Enzo's. Oh yes…enjoyed the simple Podere Montepulciano D'Abruzzo too.
To Pino, the host with the most…thank you for your cordialita'. We shall see you again!
I'd like to close by saying if there is one word to describe this Belmont section of the Bronx known as the Bronx Little Italy, it is authentic. There is a certain way of life here as if everyone is working together to perpetuate the old world feeling started here generations ago. This authentic Italian culture, including the Jewish family owned and operated Teitels, simply does not exist elsewhere and, in my opinion, has taken over from Manhattan  the true title of "Little Italy" in New York. On top this mentality that permeates and the high quality and artisanal  phood shops, the phabulous restaurants and the creativity coming from some of the newcomers as you will see here coming right up, it almost makes me feel like I'm in Italy!
Mangia Baby!
…So get this…it's 6 PM (actually walked into Enzo's around 4:30 for an early dinner after leaving the Botanical Gardens) and after leaving Enzo's I bunk into Eddie Teitel closing up his #1 Italian 'Deli' of the World.
I told him dinner was a social success at Enzo's and the next thing he says is "If you really like pasta, just go around the corner to this place I ate at. It's called MangiPasta". As full as we were, I was not going to pass up this referral…so I thanked him and told him I'd check it out. I caught up with Noel standing on the corner waiting for me in front of Full Moon Pizza (See blog archive entry from December, 2013) and told him we need to check out this new pasta restaurant.
Funny in a way how MangiPasta is similar in name to my BetsaPasta and my departing words on each of my blog entry's end with the words "Mangia Baby". Hmmm…right away we had something in common. Walking up to the restaurant we looked in the window and we see Pastaio Nino at work making his 8 pasta shapes…not to mention truly astounding fresh ravioli…for you to choose from. There are even alternative pastas for those who want or need something different than semolina pasta.
Simply put…pick your pasta shape…pick your sauce…salad…side dish…and dessert and you are fulfilled at MangiPasta! 
Upon entry we are met by Aurora (co-owner and chef along with husband Estavan)…gracious and smiling. I proceeded to tell her we were referred by Eddie at Teitel's and why we wanted to come in…I write a phood blog and was curious.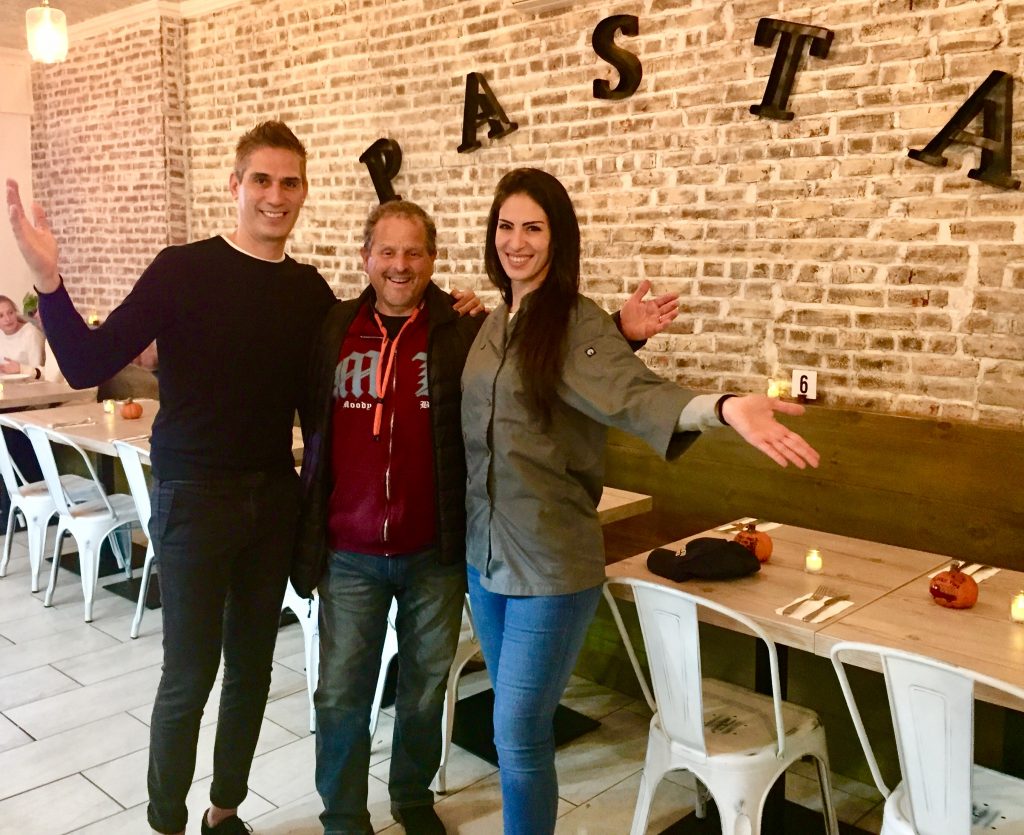 She proceeded to introduce me to her husband Estevan and then was gracious enough to ask us if we would like to taste some of their culinary delights. With that Noel and I were treated to their own 'house made' ravioli (made with Italian flour) and a smile from Chef Aurora and Cousin Ramona. There was truly something different about the flavors of their ravioli and the number 1 reason for sure to get back there. Squisito!
Number 2 reason came from a phenomenal Involtini roll made with prosciutto, mozzarella, arugula and a very special dressing prepared by Chef Hector. The preparation reminded me of our last trip to Italy where many dishes were combined with arugula in/and/or around them…and almost every pizza was sprinkled with fresh arugula on top of the hot pies.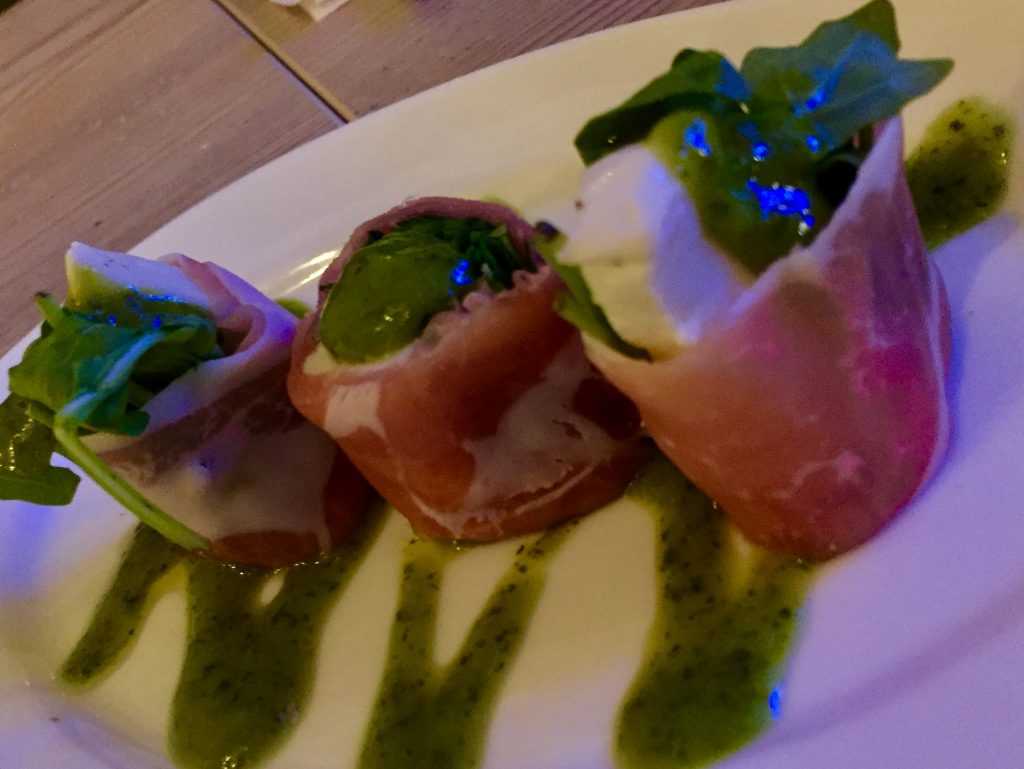 Dudes! I'm still tasting your Involtini and you are to be congratulated for producing such a flavor that I'm sure has everything to do with the entire combination of ingredients. No joke…my mouth is watering as I'm writing. Major YumCity!
Next up…a sampling of what I would consider Tiramusu tra i migliori che abbia mai assaggiato!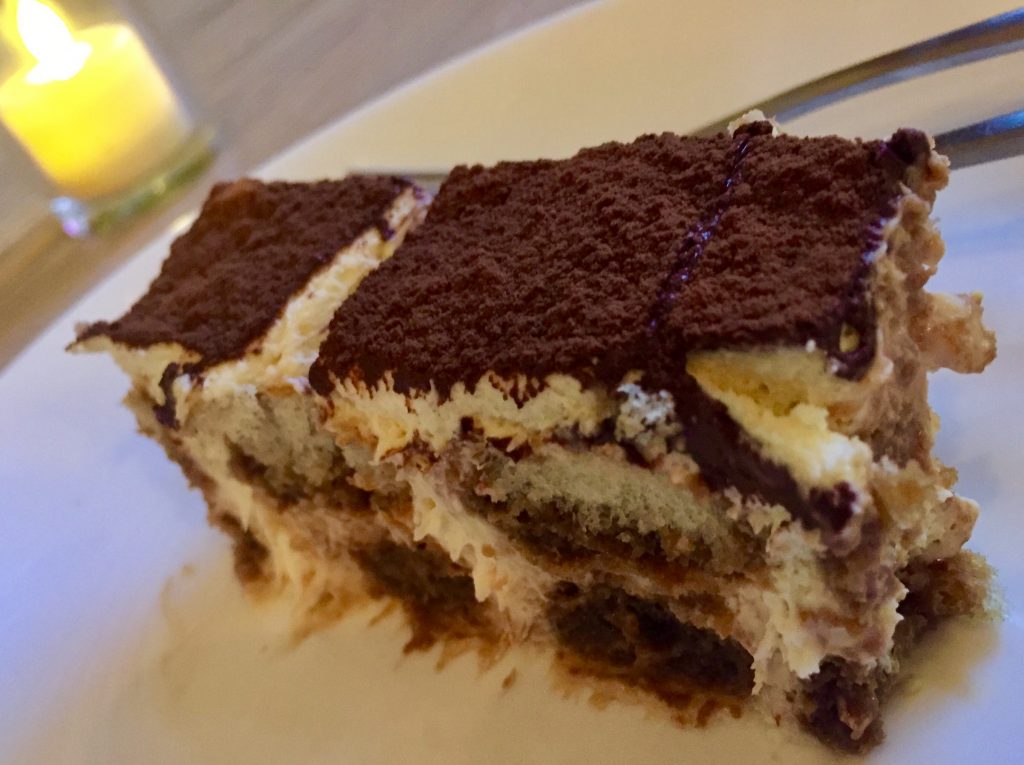 And now…introducing the band of chefs! Please meet Chef Aurora, Chef Hector and Pastaio Nino.
Bravo!

To Chef Aurora and Estevan. Thank you for letting me write about your hidden gem. You meet my criteria for success and I wish you all the best!
Mangia Baby at MangiPasta!
Chef Bert
As always, your comments, suggestions and input are welcome!
Thank you,
Bert