Hi Folks…and welcome to The Best of The 26th  International Restaurant Foodservice Show…according to me 🙂
Besides new and innovative food and beverage products, what I always look for when attending these huge shows with such a vast number of exhibitors is 'what is trending?'. What I discovered at this International Restaurant Show was a state of mind that is currently permeating the entire food industry. and with a monumental emphasis on sustainability, In addition, vegetables, plant-based proteins, fermented foods along with cannabis and hemp as ingredients were well represented. This most certainly was associated with the Healthy Food Expo New York as one of the 3 main events included in this show. This and the Coffee Fest made it feasible to attend all 3 shows at the same time. Just phab!
in a brief and clearly expressed manner, let me address one word you will be hearing wherever you live so there is clarity on the meaning of SUSTAINABILITY. You can certainly do more research, however here is the definition I felt best conveyed what is sustainability in easily understandable terms.
Sustainability: Meeting our present needs without compromising the ability of future generations to meet their own needs. (Brundtland Commission 1987,..formerly known as the World Commission on Environment and Development/WCED).
It has three components – environmental conservation, social responsibility, and economic development. While most people primarily associate sustainability with
environmental conservation, it is about people and the health of our communities.
Most importantly to me, it addresses OUR future generations. PLEASE think about that!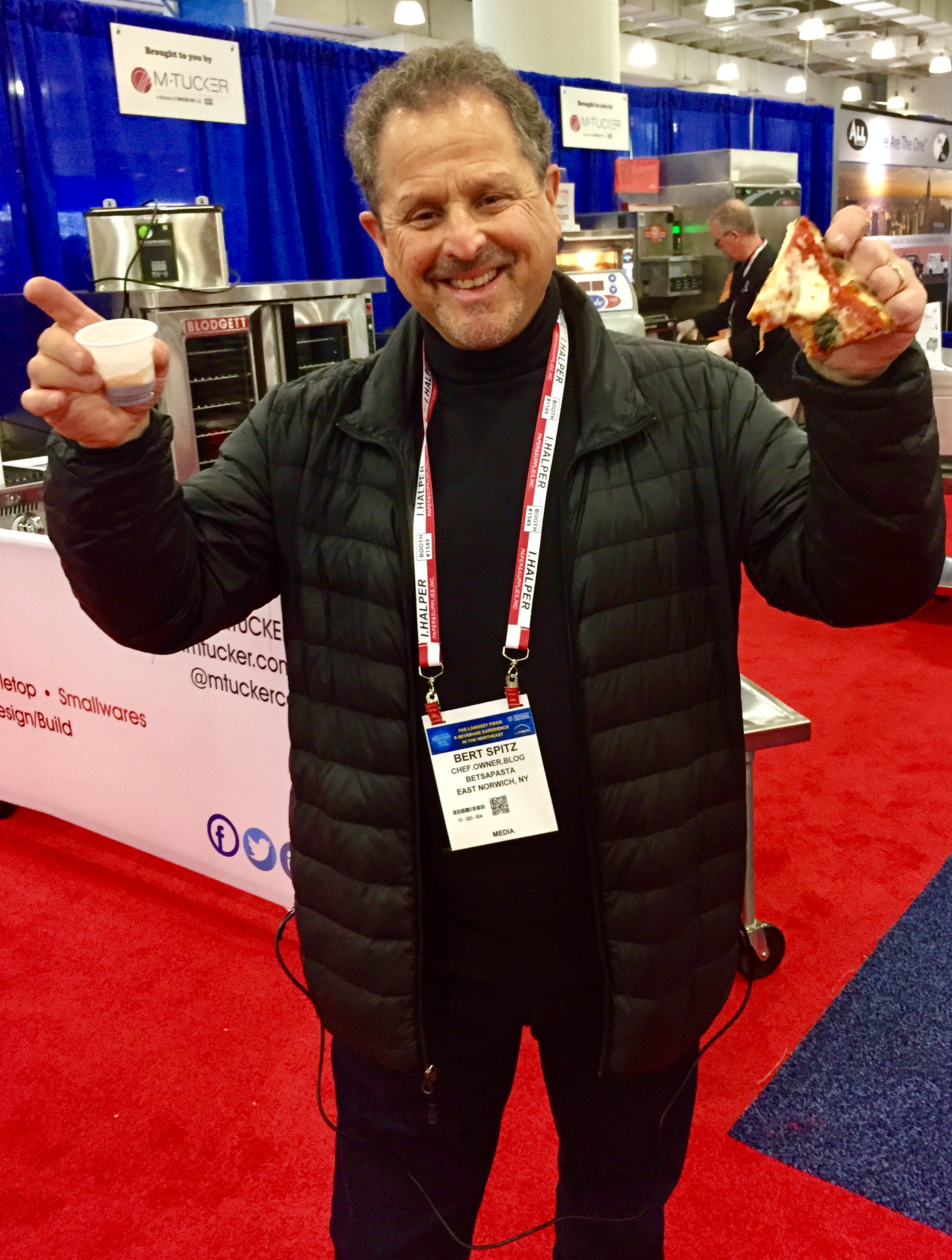 Espresso and Pizza 🙂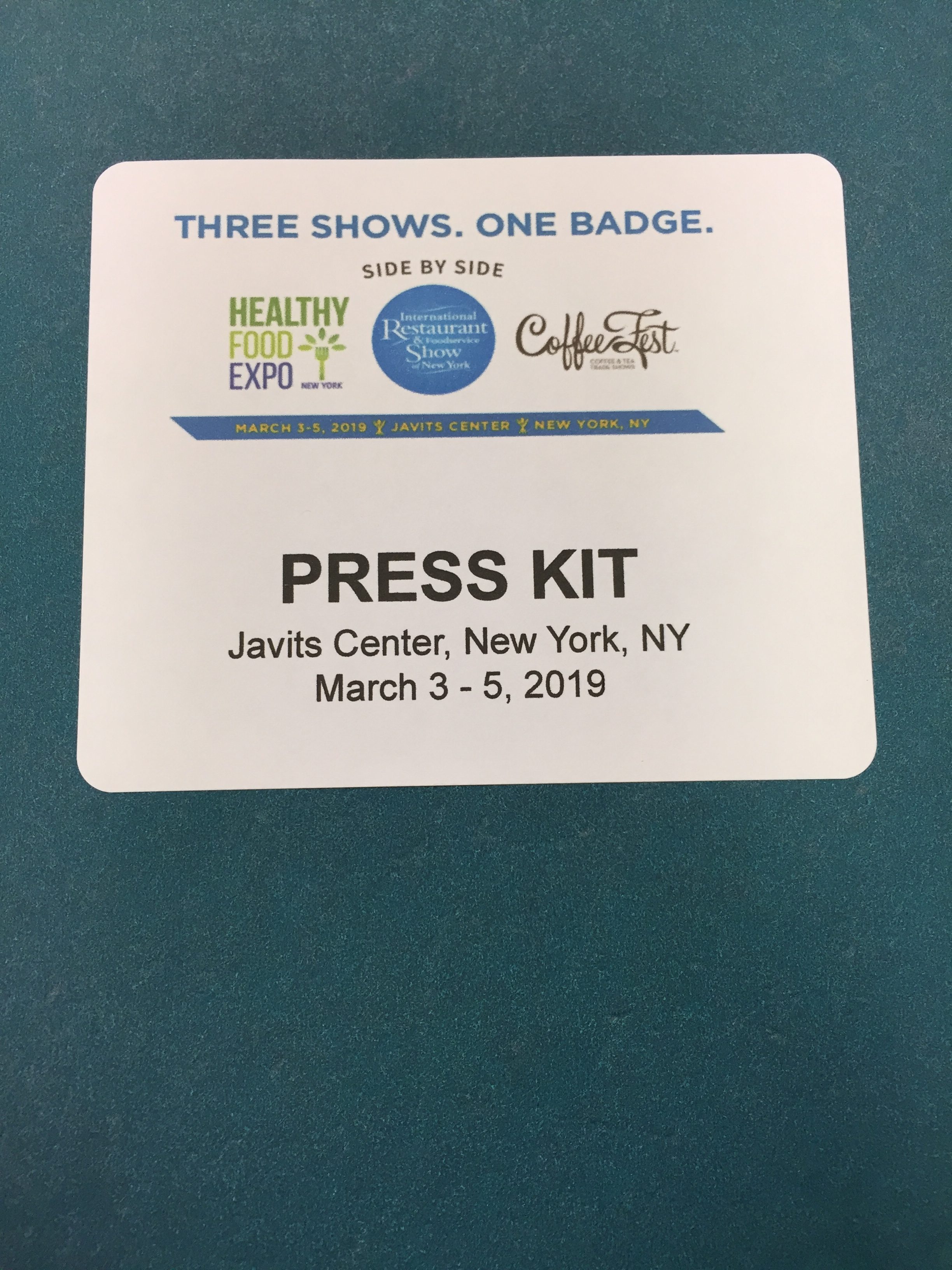 According to Tom Loughran, VP for the Clarion UX  Food & Beverage Group (the owners and management of this show) "There is so much excitement leading up to these 3 events, which will showcase thousands of new products for food industry buyers including everything from restaurant equipment to plant-based proteins and the newest specialty coffees and teas". Not only is there excitement here, there was so much new,  exhilarating and inspiring information that it just simply wasn't  possible to cover it all. I will however, as I always try to do, bring out as much as I can. So here goes…
First and foremost, you should  know that in 2017, The Huntington Post wrote
'Plant-Based' Will Be The Hottest Food Trend Of 2018: Report'
In 2018, The Washingtom Post wrote
The hottest food trend right now isn't 'vegan'. It's 'plant-based'
So now in 2019 it's really gained traction and one would be wise to be open up to any degree on this now well entrenched "Trend".
Although many people associate protein with animal sources like meat and eggs, and plant sources like beans, many vegetables also contain significant amounts of protein. Protein in vegetables was for a long time, and still is, a primary concern of mine.  I've always wondered where my protein was going to come from if I reduced my consumption of meat…ie…burgers, chicken. Logically, fish would be a healthy source of protein, however would fish all the time be enough…and would Iget tired of just fish as my main source of protein?
I've  discovered that with the level of proteins in veggies, one can lead a healthy life on a plant based, or even a partial plant based diet. Whether you are a vegetarian, vegan or otherwise, you should want to know which plant based foods are richest in protein. Take away the word vegetarian/vegan and you are taking the first step toward a healthier existence and you'll be helping to save the planet with each bite.
Read on: While experts consider a "plant-based diet" completely free of animal products, consumers have begun to see a subtle difference of meaning in a term that evokes vegetables and healthfulness but spares diners the label of "vegan" or "vegetarian". They see a gentle nudge to eat more vegetables, not an admonition to stop eating meat – leaving, for some, just enough wiggle room to sneak in a nice lobster, burger or that occasional steak. Not only  that, the costs will be much lower and most importantly, the health benefits are striking!.
Check this out for a happy medium…
Did you ever hear of a Flexitarian?  The Flexitarian Diet is a style of eating that encourages mostly plant-based foods while allowing meat and other animal products in moderation. It's more flexible than fully vegetarian or vegan diets. So…If you're looking to add more plant foods to your diet but don't want to completely cut out meat, going Flexitarian may be for you.
Just so you know…Chef Gordon Ramsey acknowledges this vegan trend is on the rise and the food industry must adapt. That also means more will be available for you and easier to find. Just keep an open mind.
So let's get to it for my picks of the best at The 26th International Restaurant & Food-service Show of New York. My top pick for one of the best and most innovative food product concepts at this show goes to Oumph!.
Oumph! is a '100% plant based product made from organic and Non-GMO soybeans that are made in a variety of shapes and consistencies. It is extremely rich in protein and fibers and a perfect source of folic acid and iron. It is also low on calories and almost fat free! 'The driving force behind it is renowned Swedish chef Anders "The Duck" Linden. He has been working in the kitchen since the 80's and is well known for his energetic and innovative style. Oumph! is his latest and most impactful project to date'.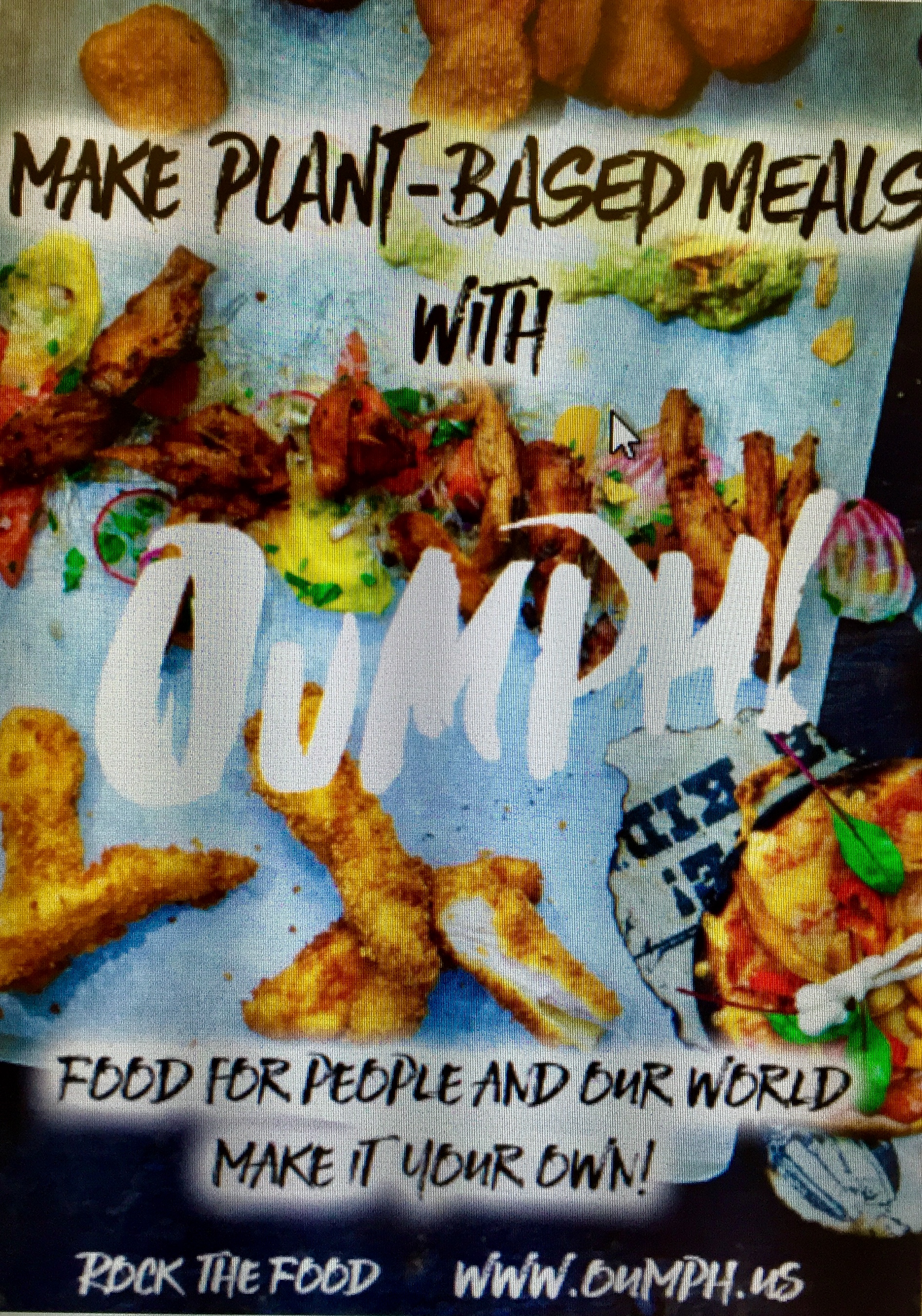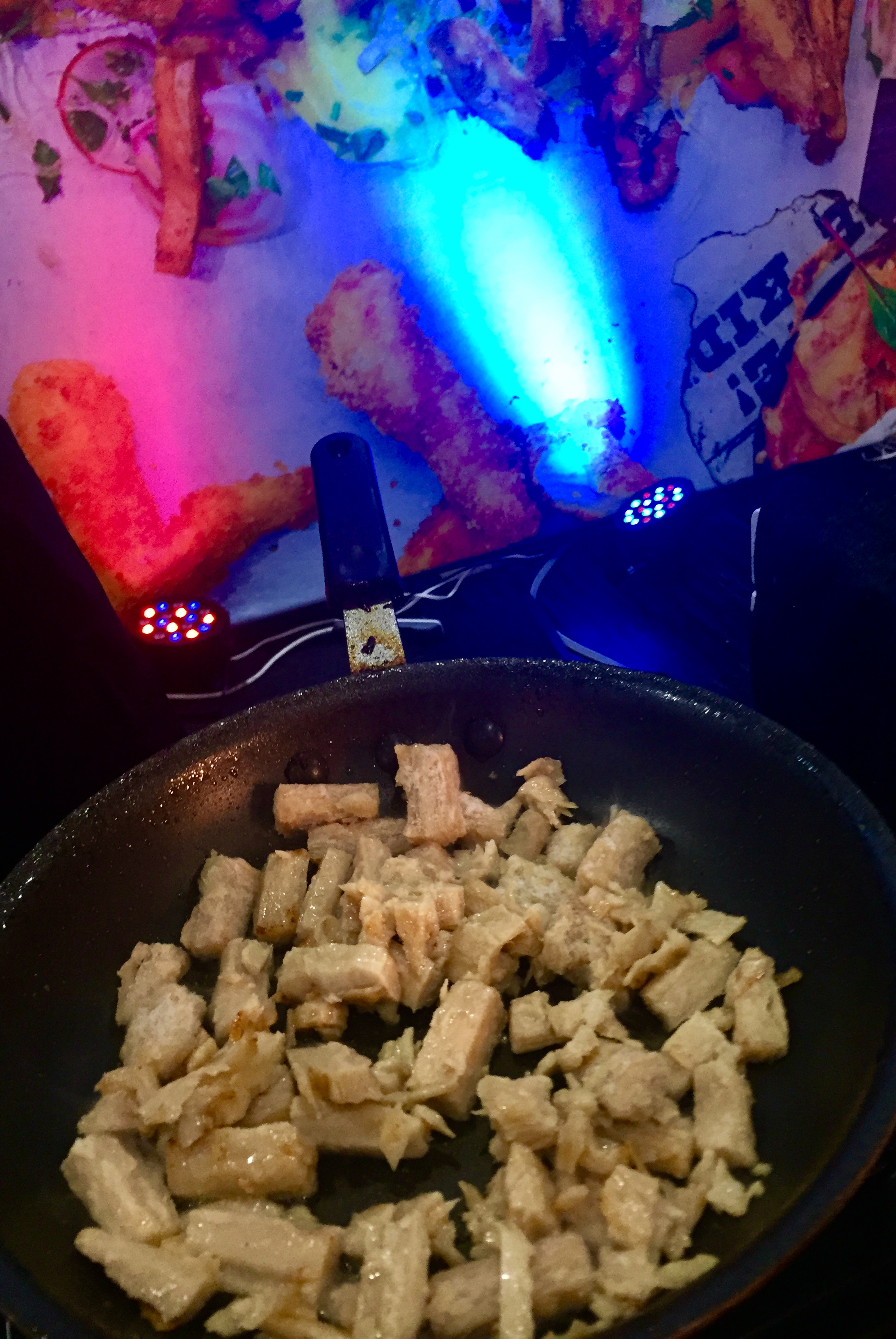 The fun starts when this Soy based based 'chicken' preparation can be seasoned or spiced up any way you like. It was delicious!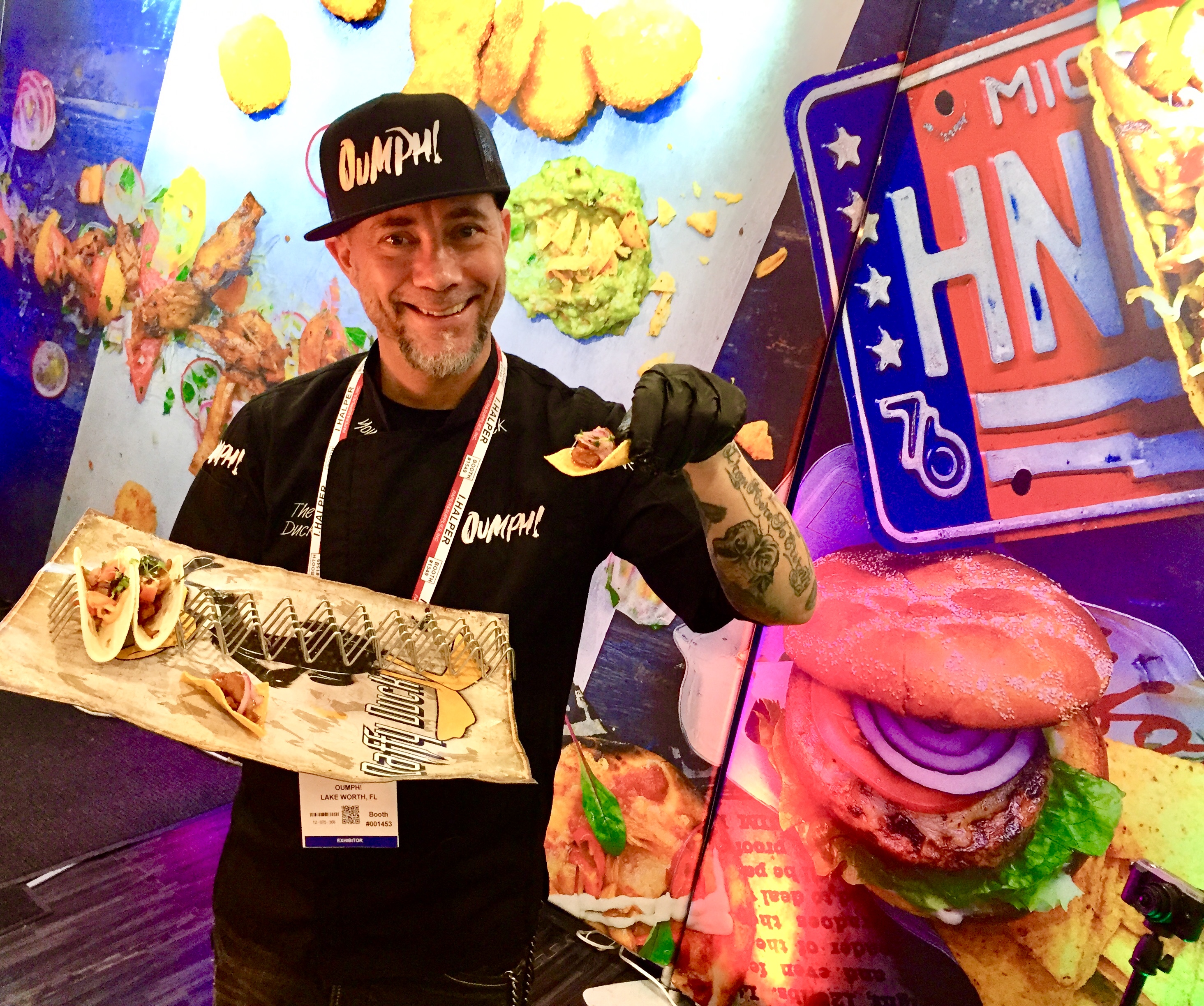 Meet a smiling Anders "The Duck" Linden
Thank you Anders for the tour. I enjoyed everything I tasted. Continued success!
I loved this next product! Summer is starting early with Smartfruits 11 Non-GMO Fruit and Vegetable mixes and concentrates boosted with highly functional super-foods that deliver all the essential nutrition that nature intended.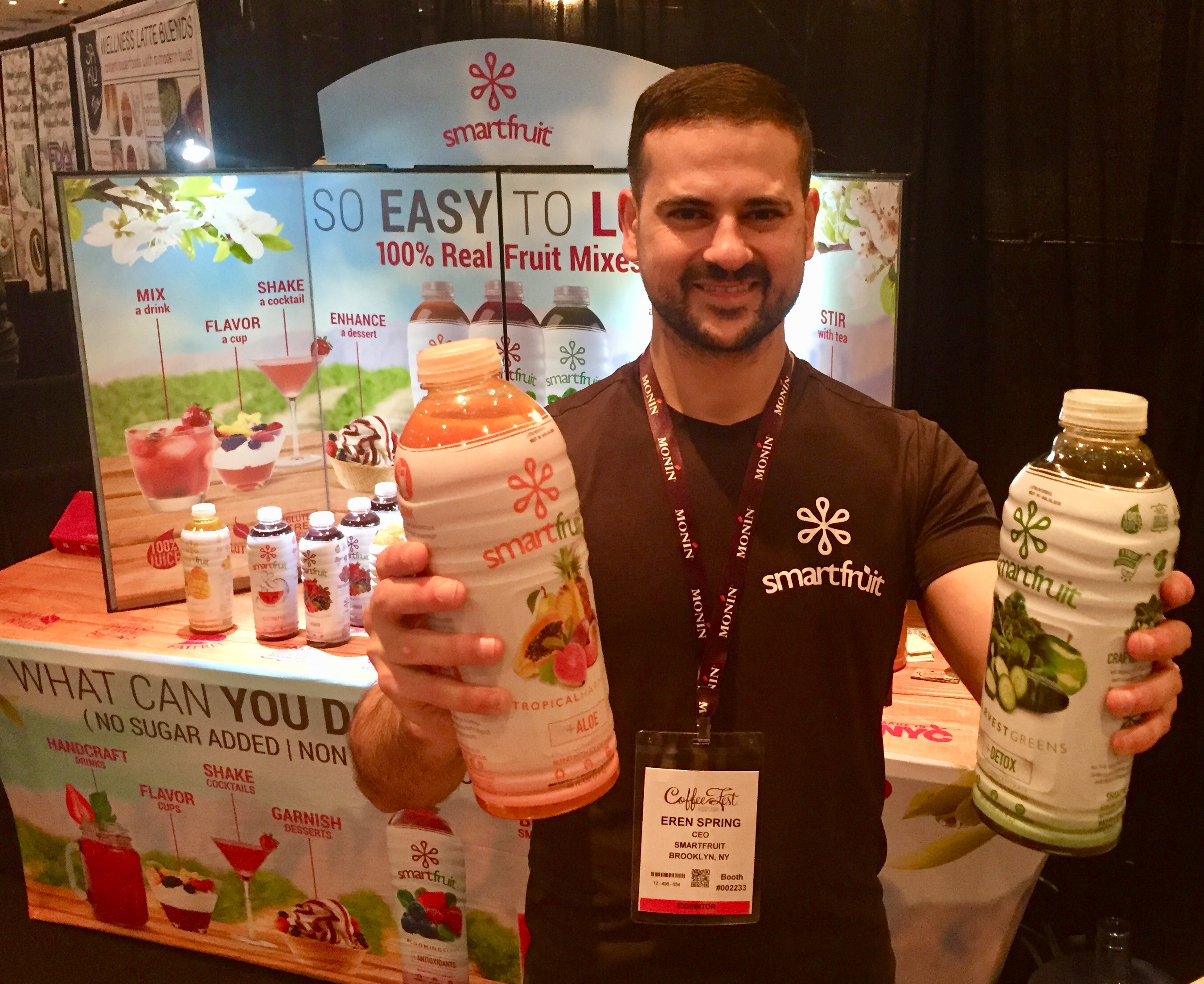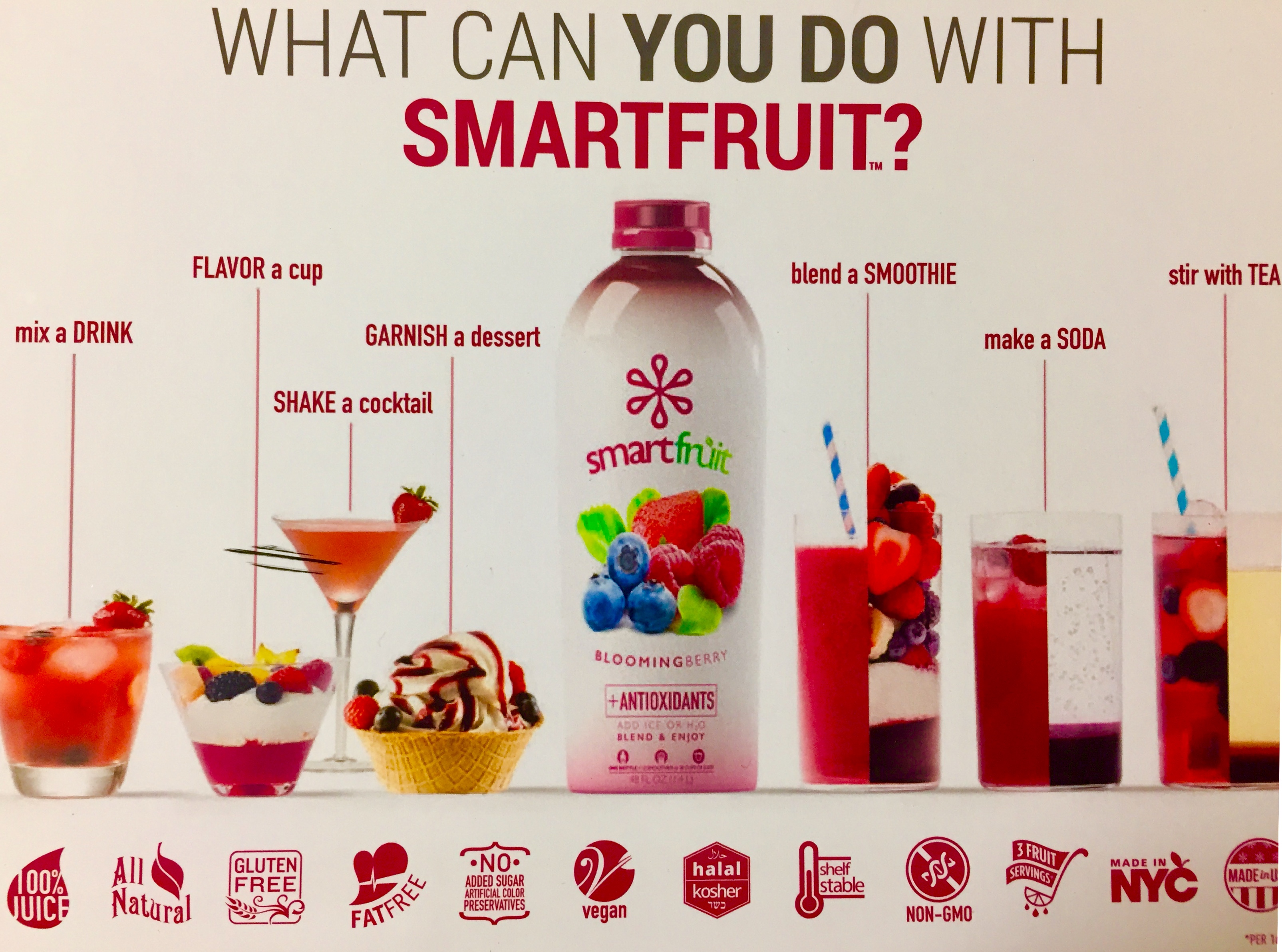 Folks…meet Kheedim Oh…The Chief Minister of Kimchi at Mama O's.
Make your own Kimchi? That's for me.  I'm really not so sure how many of my readers will react to this choice…however I've always like the mildly hot and sweet taste of kimchi and to find a product that will let me make my own was…are you ready…Captivating!. I was so impressed with the kimchi made right in front of me that it it deserves a place right here. Sincere thanks for understanding 🙂
"Using only the best ingredients, we take extra time to insure that your kimchi tastes great from the first bite to the last.  Our kimchi is full of probiotics and prebiotics which fuel the probiotics making it a perfect symbiotic food"!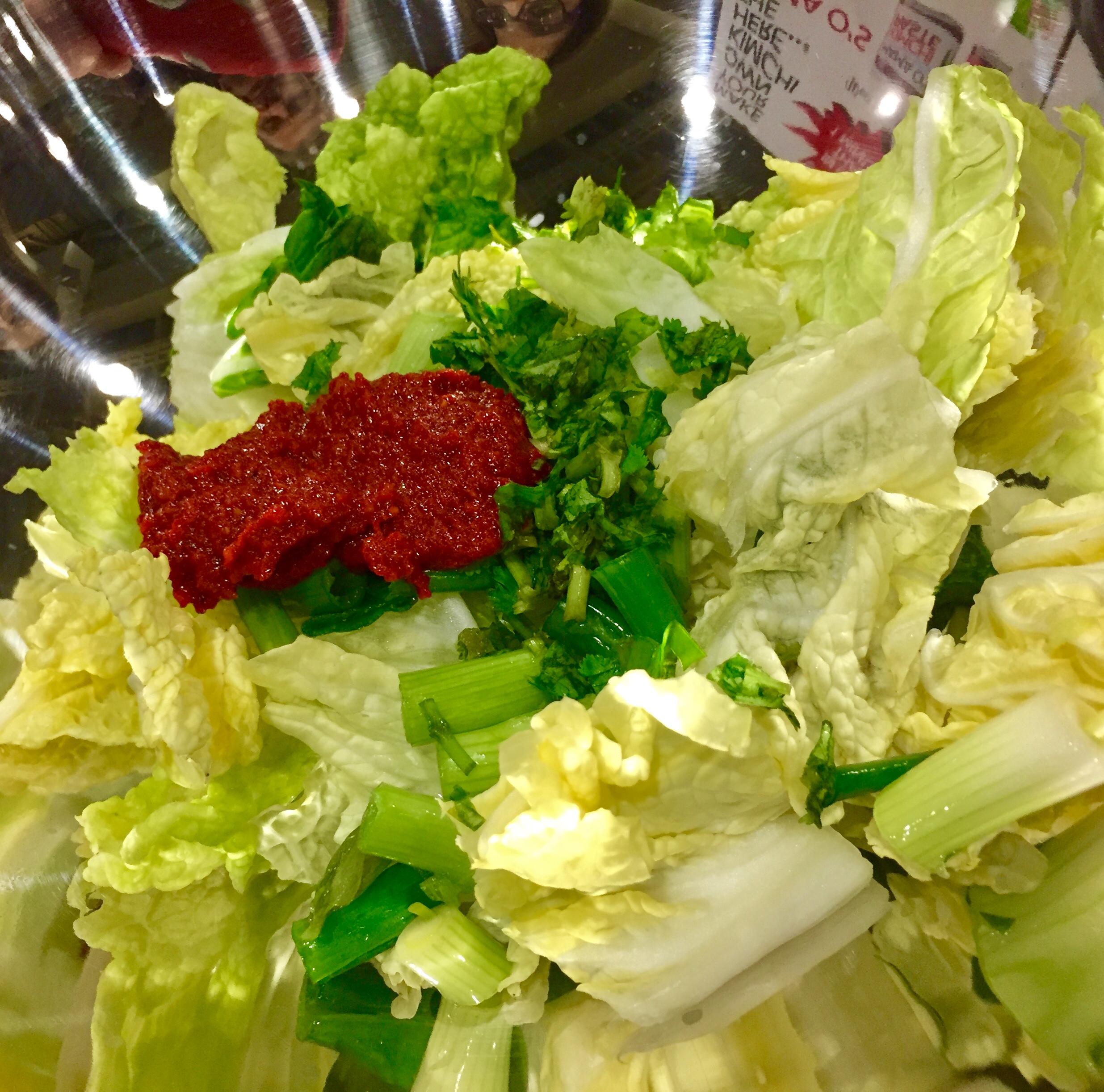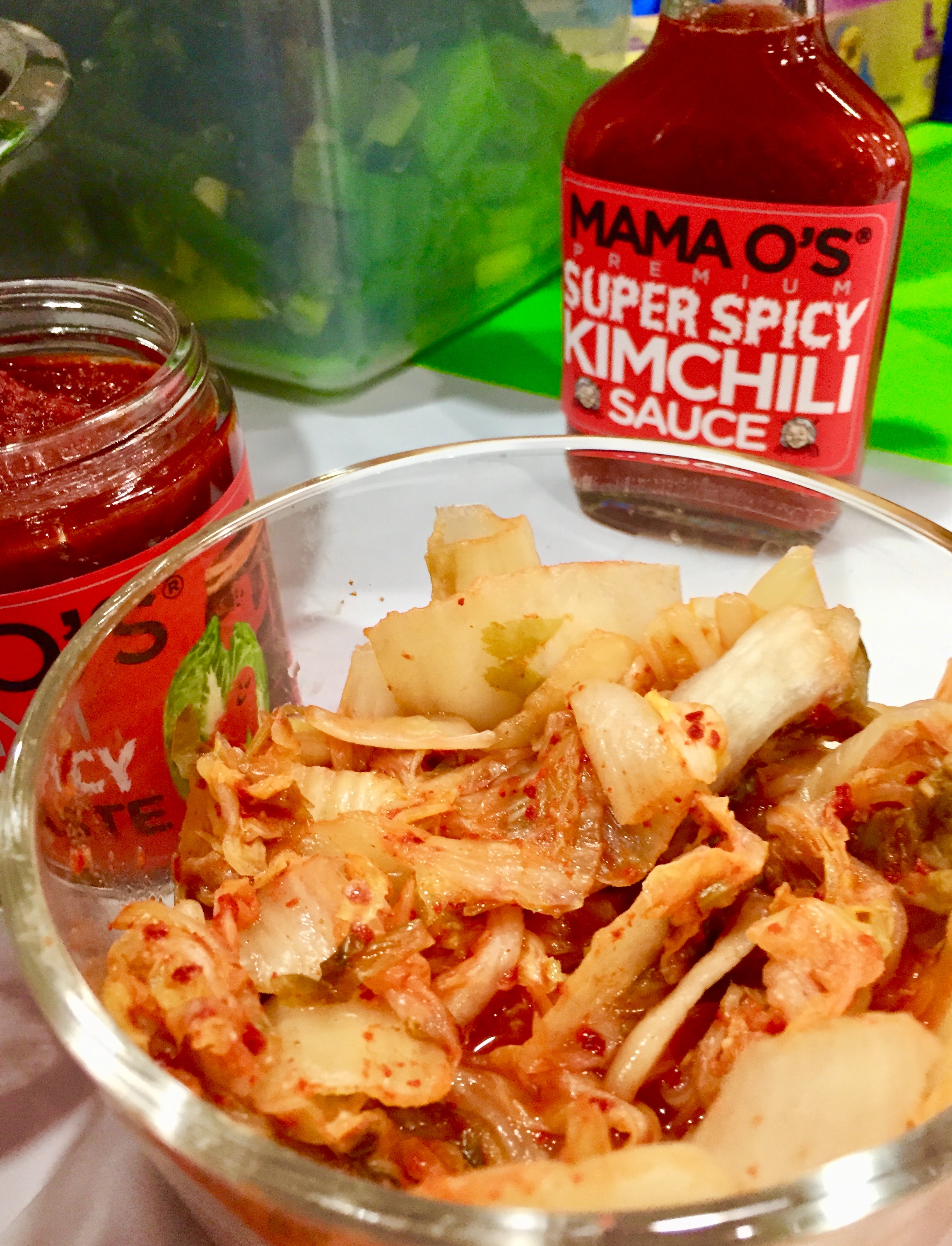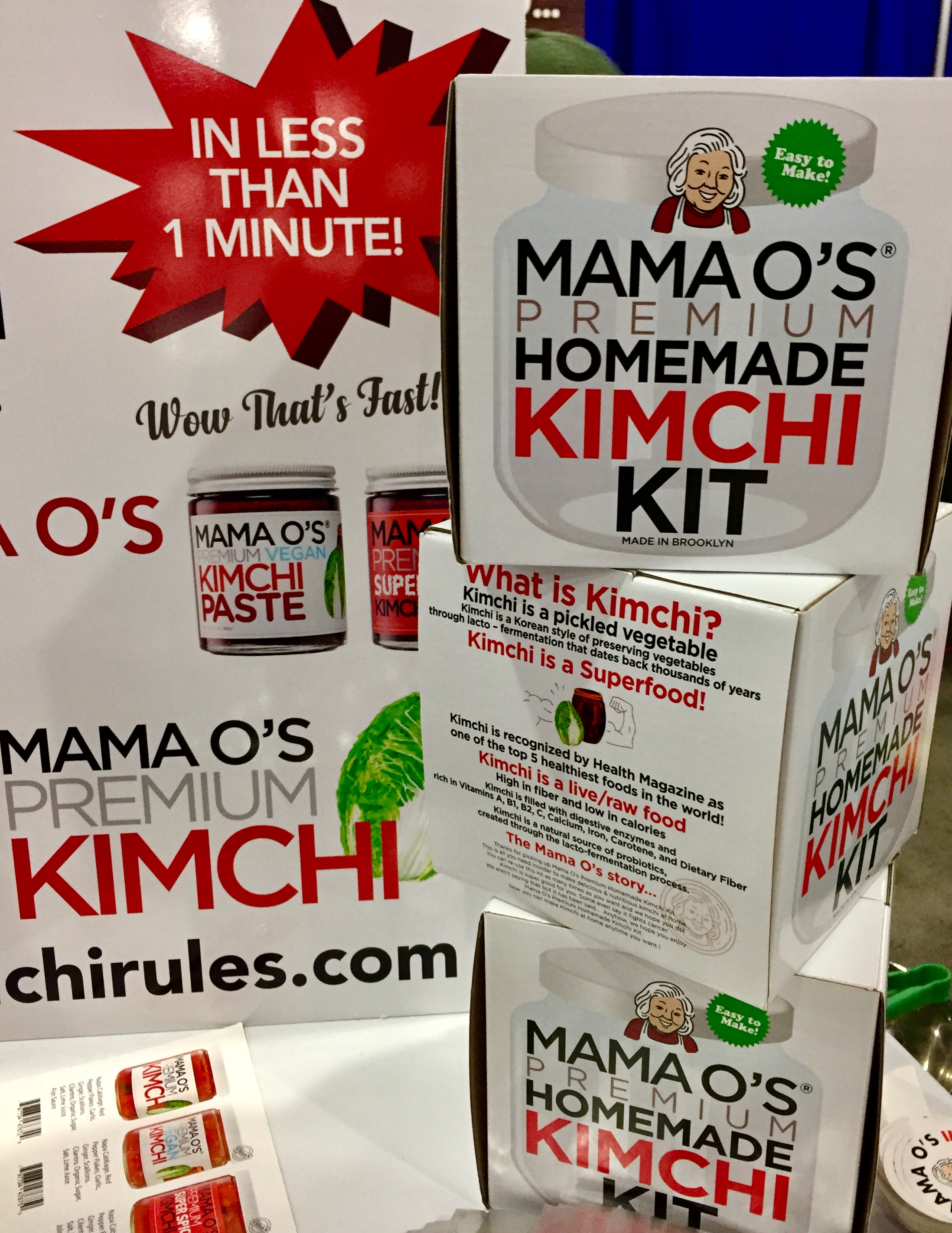 Mama O's is made right here in Brooklyn, New York. Cool, huh?
From Kheedim's Kimchi we go to Beth's Farm Kitchen for some of the best tasting jams I have ever tasted. I'm so lucky. Everyone I meet is smiling. Folks…meet Jodie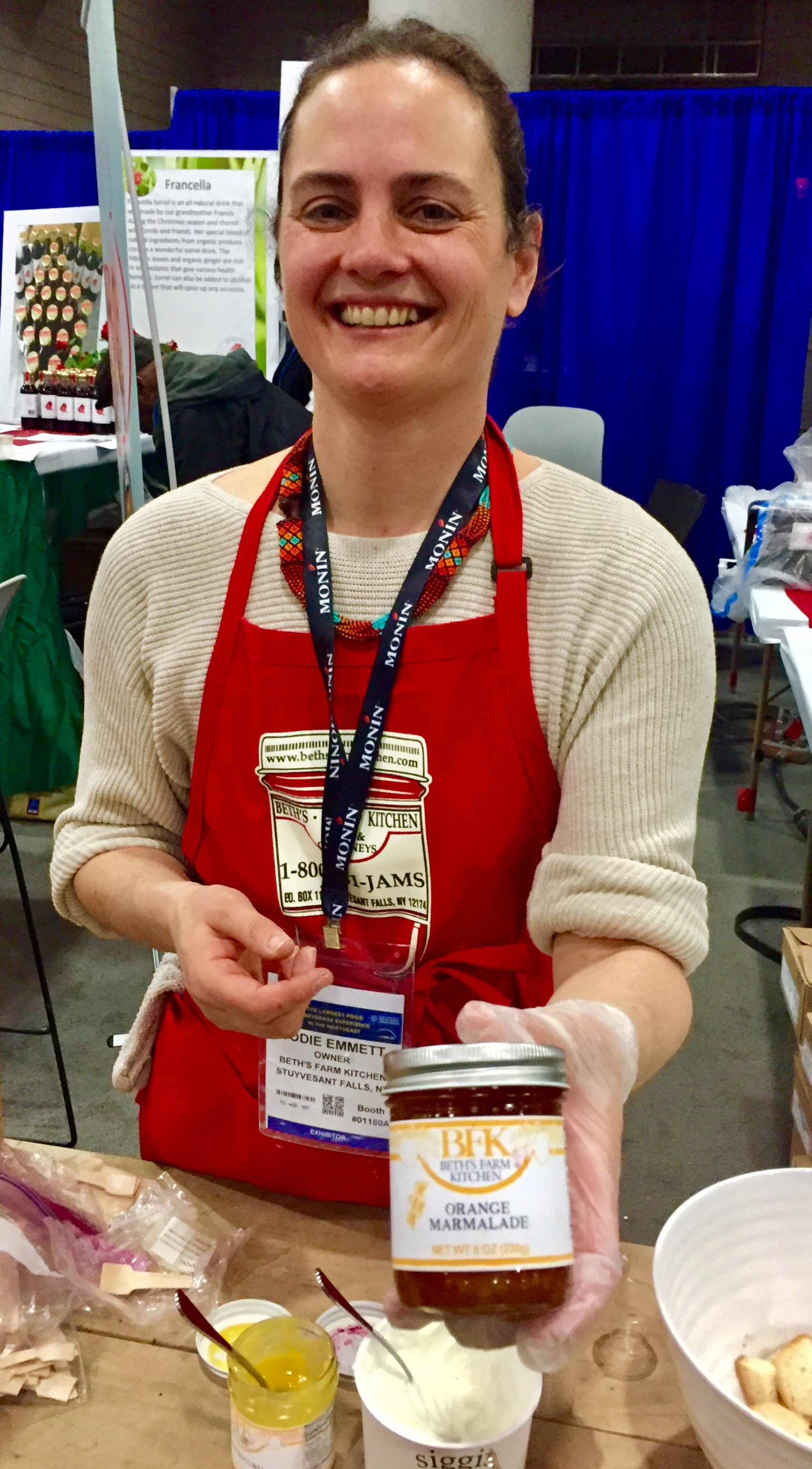 A brief history and direction:  Beth's Farm Kitchen has been making quality products since 1981. The business was started by Beth Linskey, the author of many of the recipes that continue to be their customers' favorites. In November of 2016, the company was purchased by Jodie Emmett & Guillermo Maciel.  Jodie & Guillermo chose BFK not only because the jam tastes fantastic, but also because they have a deep belief in the value of supporting local farmers, a company ethic from the start. They take daily joy and pride in connecting customers with the flavors and experiences of the Hudson Valley.  As farmers themselves, Jodie & Guillermo plan to grow the ingredients for their own products, as well as to introduce a line of dairy products from their flock of sheep along with the jams, chutneys, spicy sauces, relishes and and mustard's they currently produce.  For me, however, right now it was the jams and preserves that stopped me in my tracks.
Up next, a great new source for truly fabulous tomatoes in all shapes and sizes…the Neil Jones Food Company
Hey Mark…thanks for lunch! We're in each others future.
Excellent and my favorites! Folks…I have to say that there are certain products I find that sometimes even I am not able to buy because of the minimum purchase required…however there are those who read this blog and do have the capacity to be able to secure the products I have found. If this helps make folks aware of the best products around, then I've done my job. In the case of these tomatoes, I have approached Restaurant Depot and we'll see if they will possibly start carrying these Neil Jones products.
Why Bear's Breath Ketchup? Because they "make ketchup for people who don't like ketchup".
Folks meet Taylor Rausch on the left, CEO and Co-founder of Bear's Breath!
According to Taylor, Bear's Breath Ketchup was created as a daring answer to a simple question; "Does ketchup have to be boring!?". Along the way we answered other questions such as "Why is ketchup made with so much sugar and preservatives?". Before your eyes is a unique low-sugar ketchup alternative made with natural ingredients and a savory flavor profile featuring a subtle, spicy finish that will have you terrorizing breakfast, lunch and dinner. 
Bear's Breath ingredients: Fresh Tomatoes, Chicken Broth, Chipotle Peppers, Garlic, Jalapeños, Roasted Green Chiles and Bear Slobber. When I casually asked Taylor what was that last ingredient, he said it was the secret to the spicy taste of his ketchup. Yes. the ketchup  is spicy and if you like spice this one's for you. I, for one enjoyed the flavor, however the spice for some may be a bit…shall we say…robust. As I say, everything is relative and subjective, however it's still makes it into my best. 
Let's revisit Galvanina Italian Organic Sodas! See the full line here:
Did someone say Steelhead?
In my life I've never heard of this fish and obviously have never tasted it. So why am I writing about it? It's because I'm trying to learn as much as I can about sustainability in food, to try and make an impression on those who read what I am writing and inspire whoever I can do your part to help create a system which can be supported indefinitely in terms of human impact on the environment and social responsibility. Sustainable food isn't just about the food itself, it's a combination of factors including how it's produced, how it's distributed and how it's consumed. 
You know what they say about happy people…yes? John & Bert
In meeting the folks at Hudson Valley Fisheries for just a short time, I was impressed with their mission and want to share it with you. Hudson Valley Fish Farms (HVFF) is a new kind of fish farm. They are a land-based recirculating aquaculture system raising "egg-to-plate" steelhead trout for the regional market, hiring and training local workers while commercializing cutting-edge aquaculture industry knowledge, all to prove a model for sustainable fish farming in the Hudson Valley. Owner John Ng will tell you, "If you're looking for responsibly raised steelhead, we're the only game in town." But that's just the first of many good reasons to seek out HVFF steelhead.
If you aren't familiar with steelhead (Rainbow) trout  it has a very similar texture to salmon. I've read the flavor is 'vaguely reminiscent of salmon, though slightly milder, sweeter, and more delicate'.  It has been described as salmon at it's best,,,although any description of food is subjective and I'll take it at face value since I've not yet tasted it myself.  The folks at Hudson Valley Fisheries refer to it as salmon's tastier cousin!
Furthermore, steelhead trout has proven itself to be a very sustainable alternative to salmon. The Monterey Bay Aquarium's Seafood Watch program has given a big stamp of approval to steelhead trout, dubbing the fish as a green, "Best Choice" for consumers looking to eat and buy sustainably.
So…to the folks at Hudson…can't wait to get up there and get a taste of what everyone is talking about. Just look at these pics!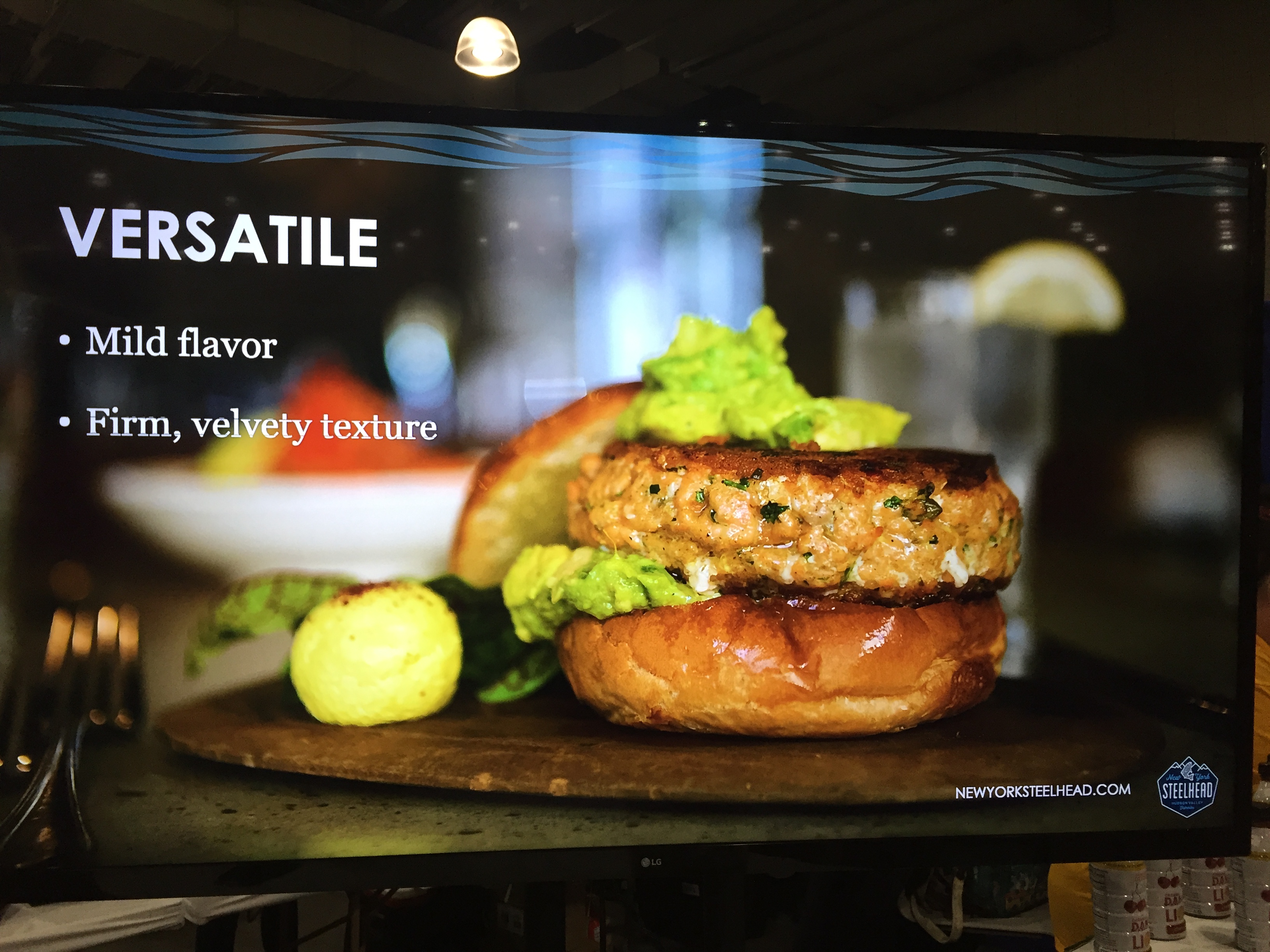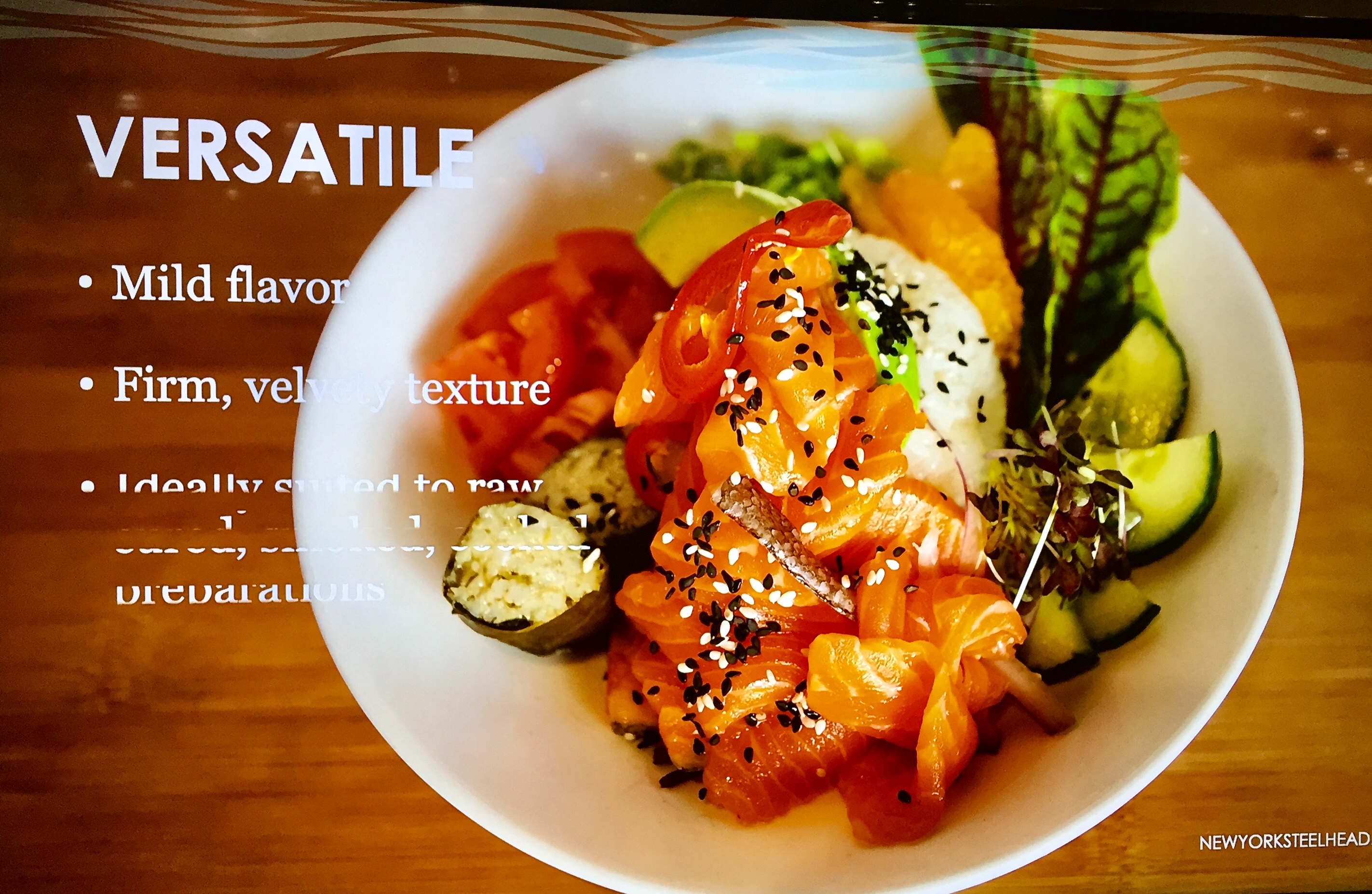 Not quite sure what happened to the missing word in this pic…but here they are anyway:
Sashimi grade steelhead, suitable for raw, cured, smoked, poached, grilled, sauteed, and roasted preparations:-)
Next up…
Teti Bakery pre-shaped flatbread pizza crusts. The best thing about this product was two-fold.
1.Taste was wonderful
2.Four is unbromated
Not sure how this happened again…but that espresso and pizza combination seemed to work:-)
What my readers will get out of this product is simply a nod from me that if you can find it, buy it. Like some of the products i find, there's simply no way for even me to secure it because of the large minimums to purchase. Oh well…Mangia bene'!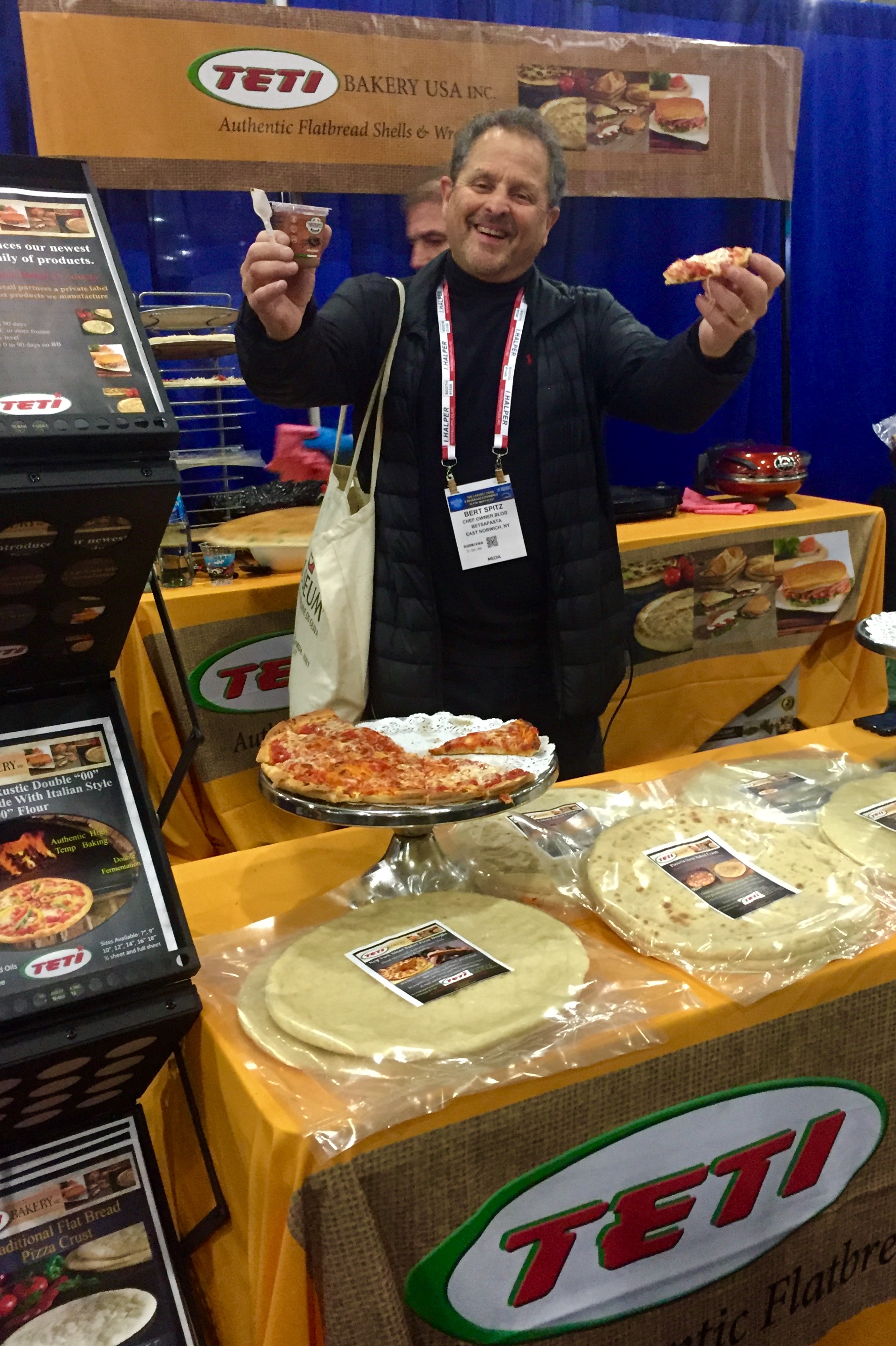 Ok…I really need to do some real fact finding for this next category. As much as I would love to see a natural product like this work, the research must be done. Every now and then I have symptoms that are quite similar to gout and the drugs on the market are simply too much for me to take. Too many side effects from these prescribed medicines make it important to me to find a natural cure to alleviate these symptoms described medically as a form of arthritis. As i attend these food shows, I have seen more and more companies offering water soluble Industrial hemp derived  CBD and CBD oils that claim to genuinely address such issues as joint pain, anxiety, stress, migraines, menstrual cramps and depression. Nowhere, however, do I see where it is approved by the FDA or any other medical body. As much as I don't see this, there are many who swear by the results and effectiveness of these products.
All you nice people…we are in each others future. More research and information to come…please stay tuned!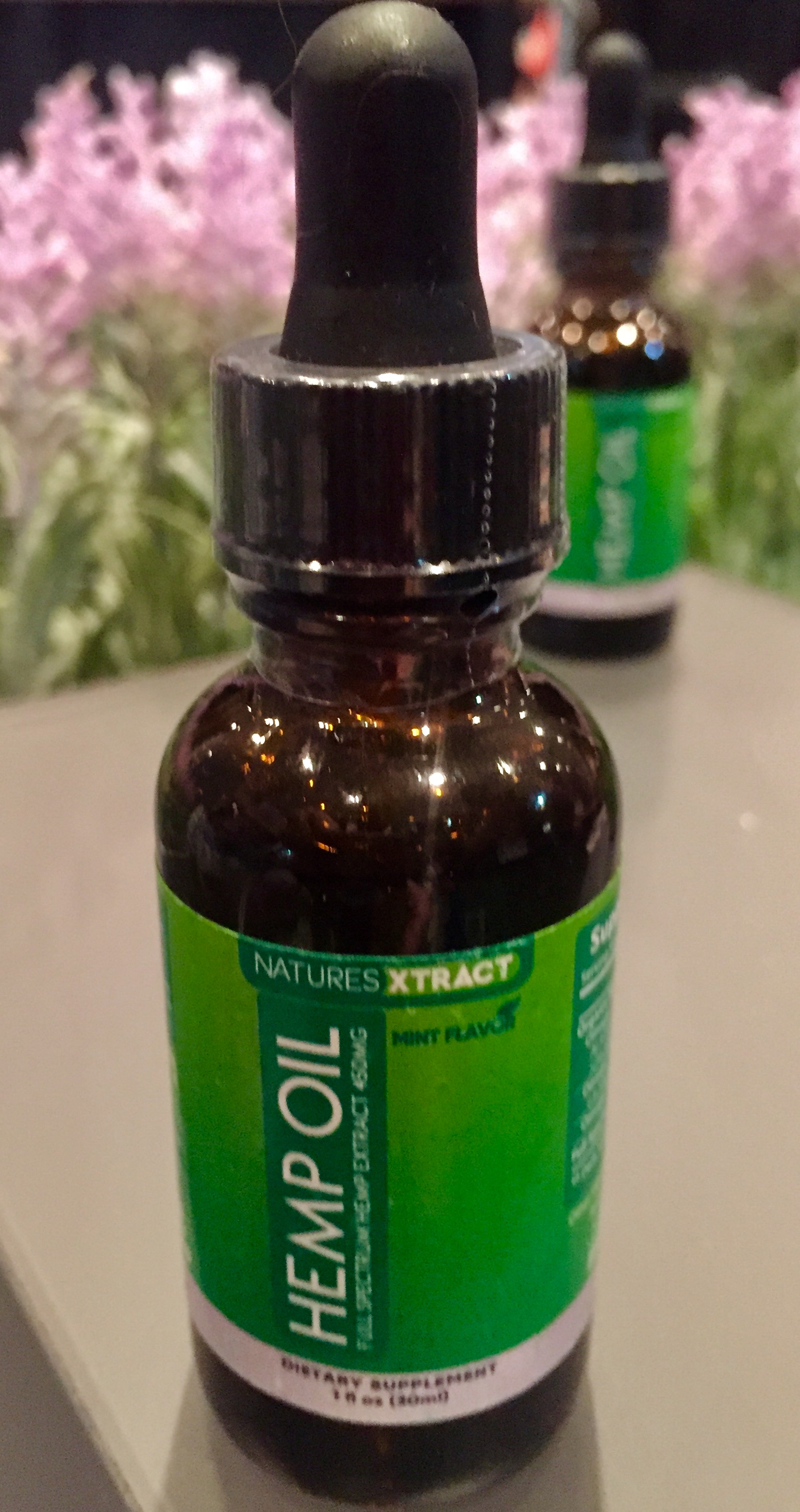 The Best Cappuccino I have ever had! Nuts..and look at that artwork!
All I can do is put these pix in front of you and maybe someone who wants a wonderful coffee, espresso or cappuccino experience can make use of these commercial style brewing machines.
It's better than saying nothing!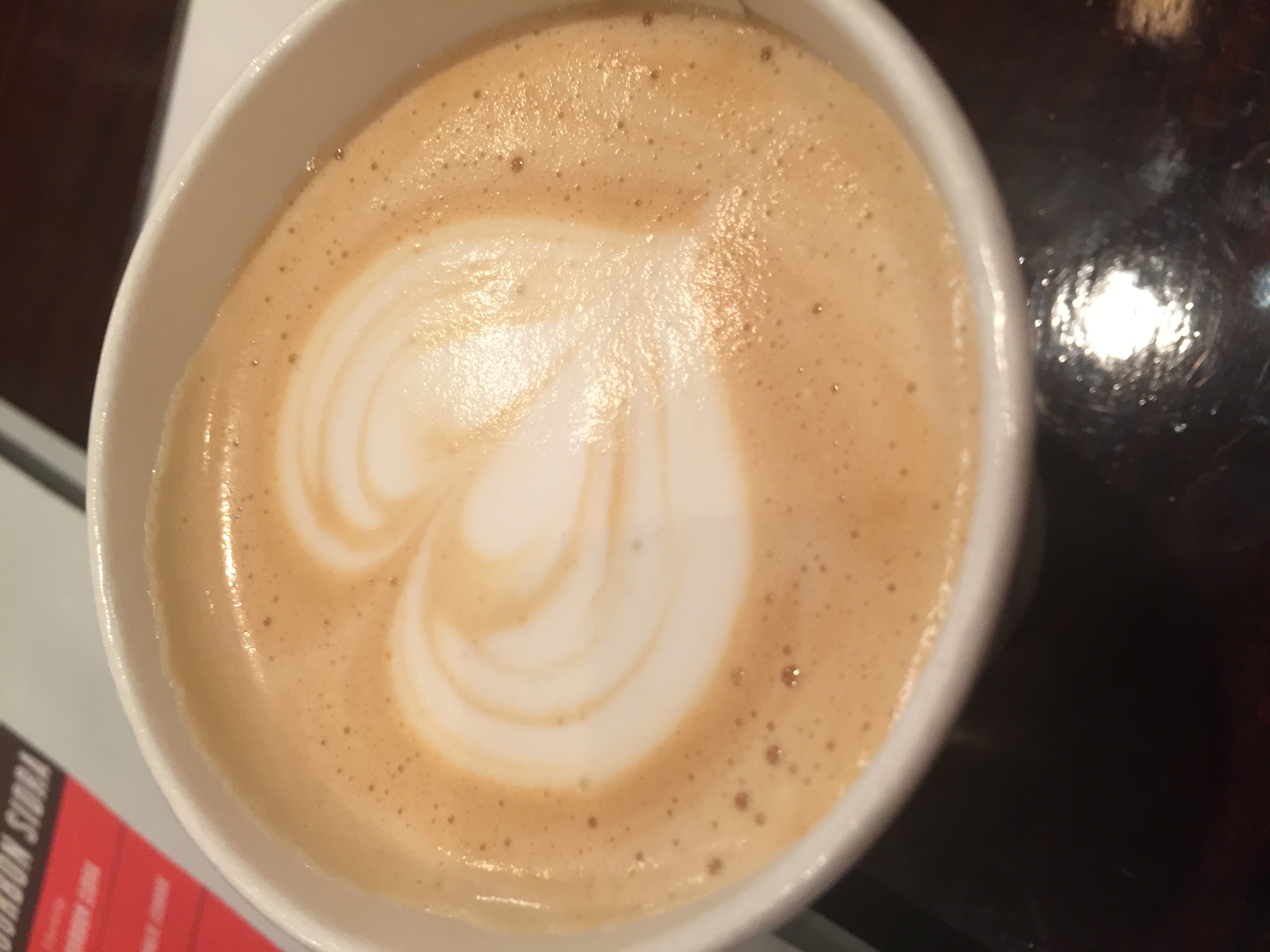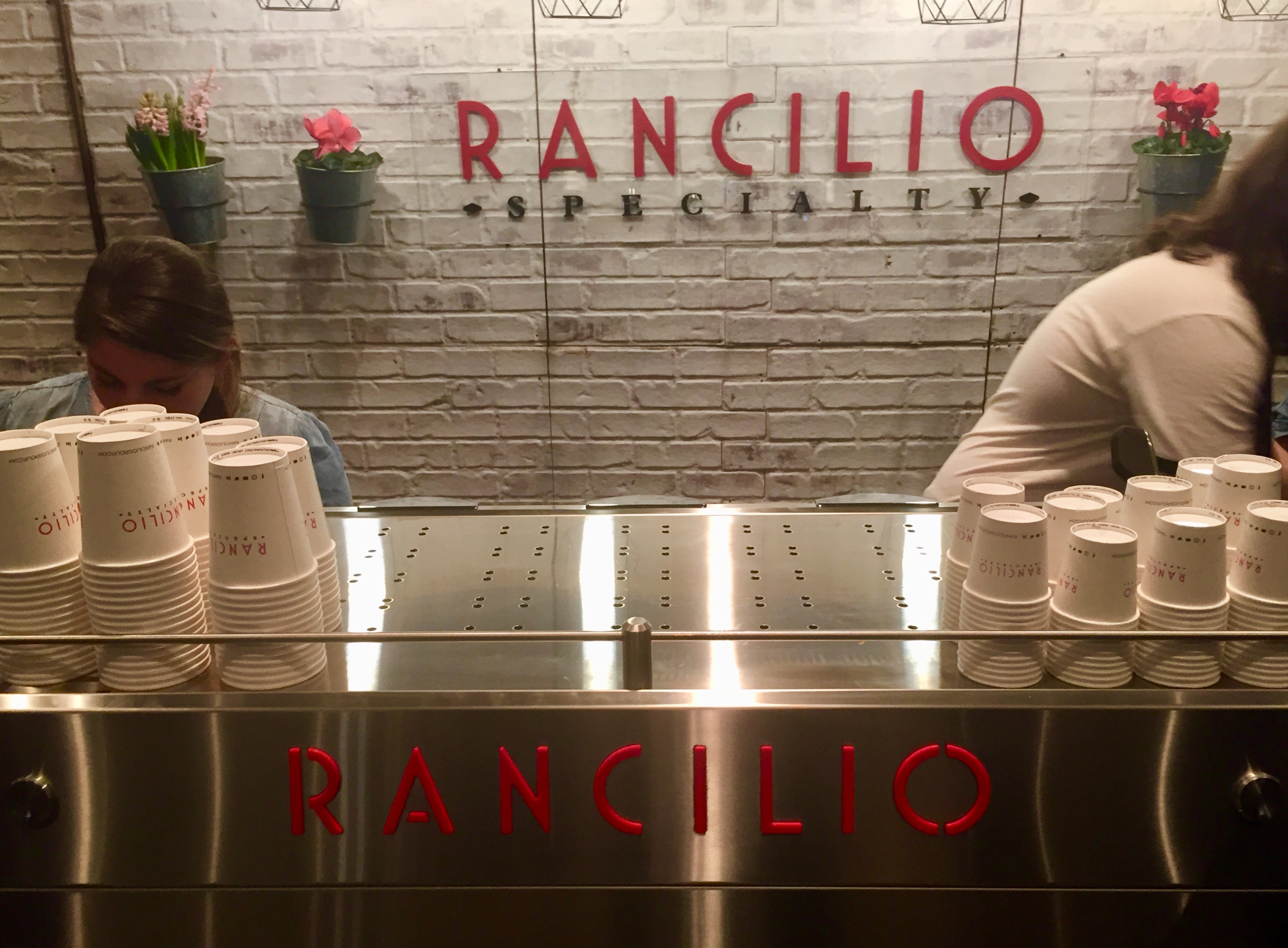 Slow roasted or Char-grilled Veggies from France…WOW! Story is coming…
Sparkling Water from Trees…Wha? Story coming…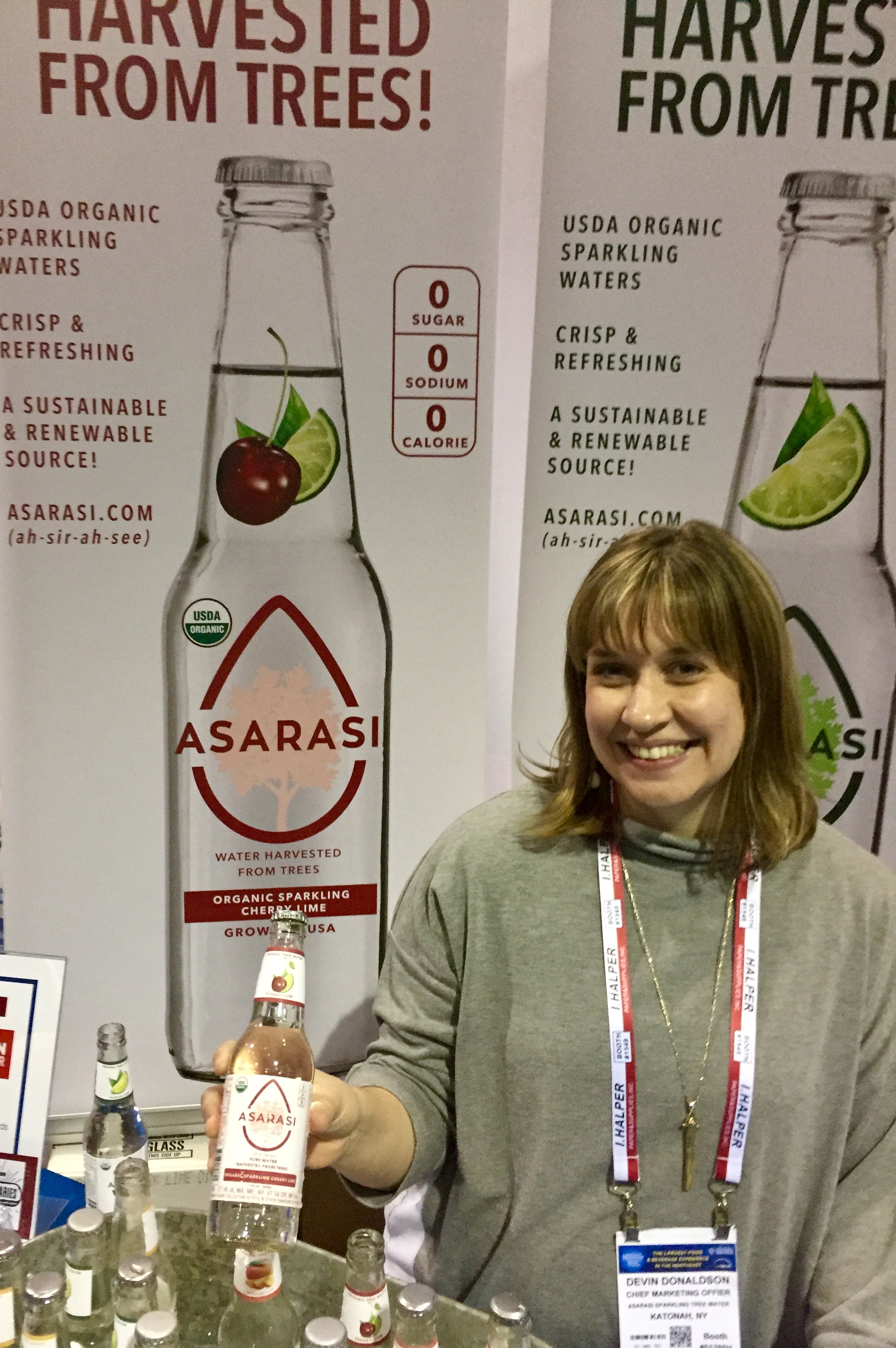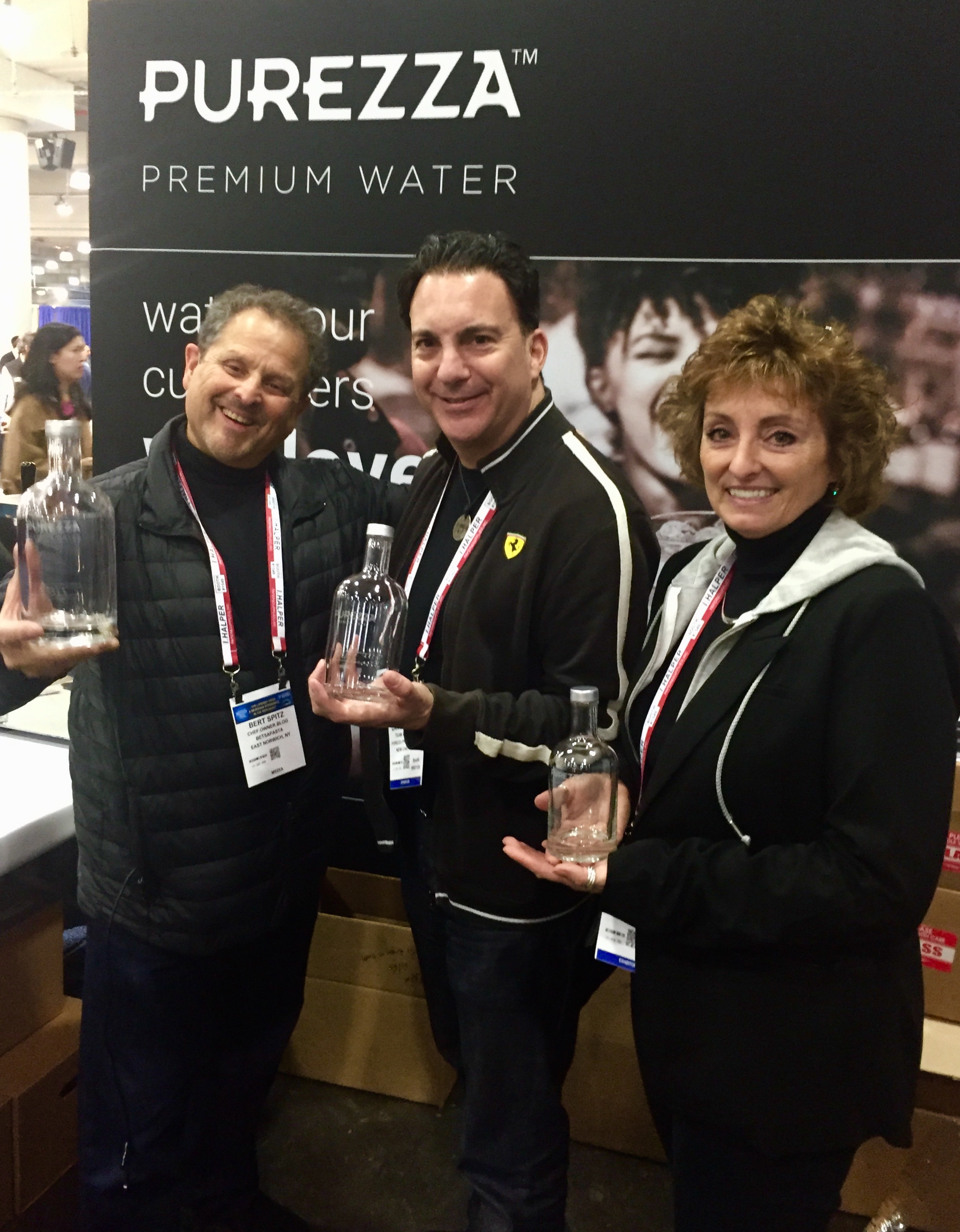 Bert with David & Stephanie…You know what they say about happy people!
The last stop I happened to have made at this show was at the Purezza Filtered Water booth. I have to tell you that I got a real kick out of having my frizzante' dispensed like beer and WOW…it tasted wonderful. I don't know about you, but if I saw water or sparkling water being dispensed in this manner in a restaurant setting, I'd certainly be asking about it…and that's assuming the waitstaff hadn't already explained it to me/us,
What I discovered was this Italian designed Purezza water system turns ordinary tap water into premium filtered still water or sparkling water, which is then served in Purezza customized and refillable water bottles. Just imagine, under ordinary circumstances, all the shipping fees, storage fees and freight charges one must pay for in order to get that single bottle of pre-bottled water imported or even domestic water or delivered to your table. Ultimately, the customer receives at a modest cost a limitless supply of perfectly chilled, beautifully balanced, high quality great tasting water. 
One last note: A lot of bottles of water like San Pelligrino, do have healthful minerals, however one must also watch out for the unusually high salt content in mineral water. Ultimately, I'm not writing about the choice here, I'm simply saying that serving Purezza's wonderful products will  help restaurateurs to reduce their carbon footprint by eliminating the transportation, storage and refrigeration costs associated with traditional prepackaged bottled water, and enabling them to minimize waste and their environmental footprint. That's also what this show is all about!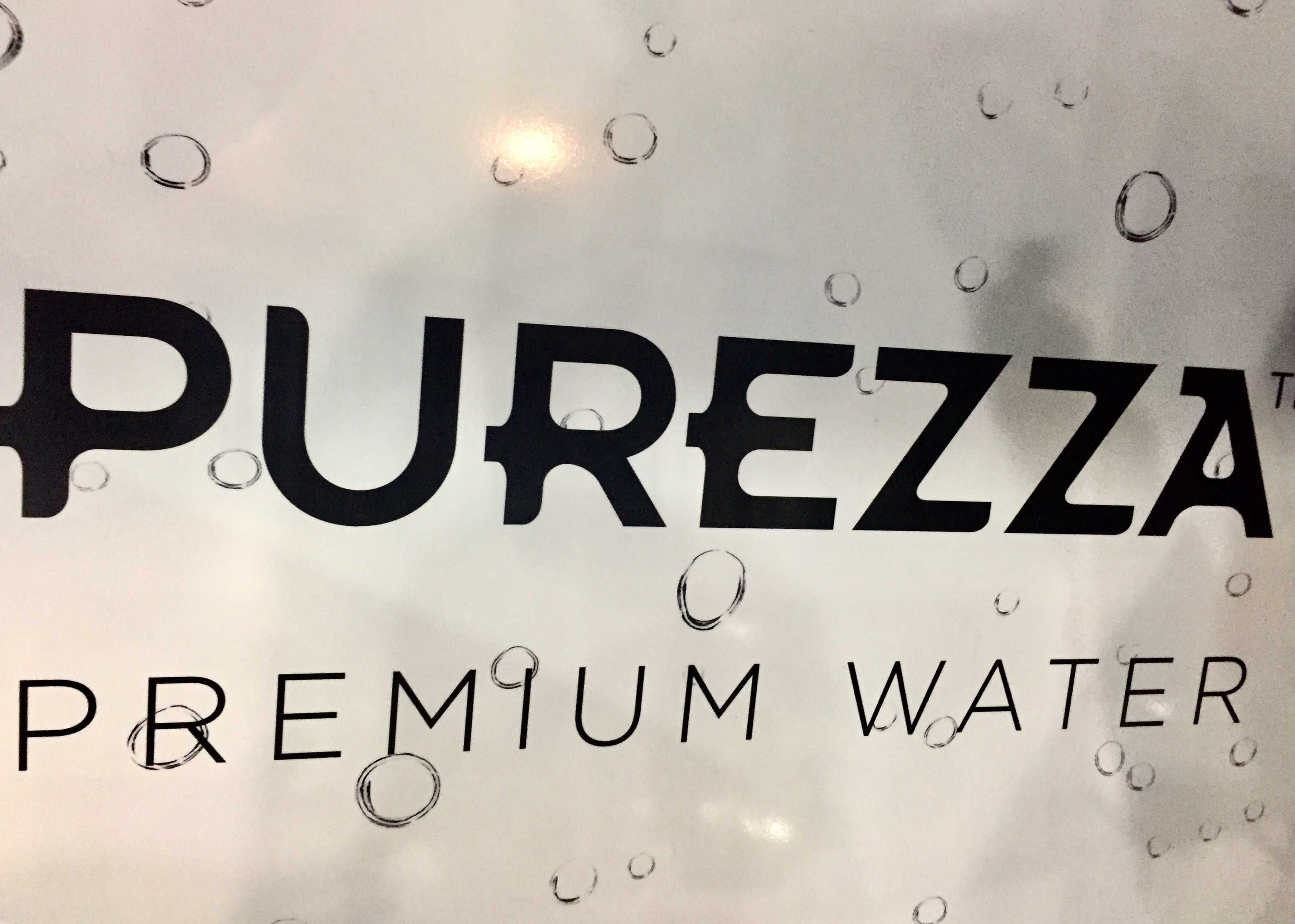 Fresh Origins/Gourmet Sweet Botannicals… MicroGreens…Edible Flowers Story coming!
As always, please feel free to comment in the "Comment" box below. Love hearing from you!
Mangia Bene,
Chef Bert