About My Blog for Foodies
Discover more about Phoodographs and Finds. For mouthwatering recipes, food photos, and restaurant recommendations, you've come to the right place. Read below about how this blog for foodies began.
Although I was born in Roslyn, NY, many of the foods that first impressed me were in Los Angeles in the mid-1950s. My grandparents lived in New York, and since my family owned a garment hanger business in New York City, we traveled back and forth between these two cities. Below, you'll find out more about Phoodographs and Finds, my food blog, as well as my history and love for food.
There was really something special going on in California's food world in the 1950's, and I was fortunate enough to be able to experience the restaurant scenes with my parents in both Los Angeles and in New York City. Memorable visits to New York restaurants included the original Lindy's of NY-Style Cheesecake fame,  their phenomenal Jelly Roll, and classic Wiener Schnitzel. This is where I was personally introduced to Jack Benny and Henny Youngman who always sat next to my grandparents at the "be seen" tables in front. I was also introduced to Patsy's famous authentic Italian food ("Frank Sinatra's favorite restaurant") and The Stage Deli for classic nova salmon, corned beef, pastrami, and owner Max Asnas.
In Los Angeles, restaurants included Romanoff's classic French cuisine and A-list tables with every famous movie star you could imagine, such as Jayne Mansfield. Also, there was Chasen's (with their memorable transparent red and cobalt blue glasses) with Ruth Chasen's in person food tips and prep techniques. For me, at age eight, it was probably the first restaurant that inspired me to ask myself if this was I wanted to do when I grew up.
Other restaurants  in Los Angeles included The Luau's Tiki Bar with their Teriyaki Steak on a stick, The Brown Derby and their famous Cobb Salad and The Milton F. Kreis Coffee Shop in the Beverly Wilshire Hotel where I just happened to meet Sonny West over a cheeseburger at the sit-down counter. Who the heck knew he was a bodyguard, and a member of Elvis's Presley's entourage,  and who then took me to meet to Elvis himself when we finished our burgers. Totally true & amazing story!
I also frequented the Piccadilly Restaurant on LA's famed Restaurant Row on La Cienega Blvd, where I learned the art of the Caesar salad from Bosso the maître d' and who's recipe is what I still serve today. http://phoodographsandfinds.blogspot.com/2013/05/betsapasta-caesar-salad-circa-1956.html
And of course the most indelible memory of all was at DuPars, HOME OF THE BEST PANCAKES YOU WILL HAVE ANYWHERE!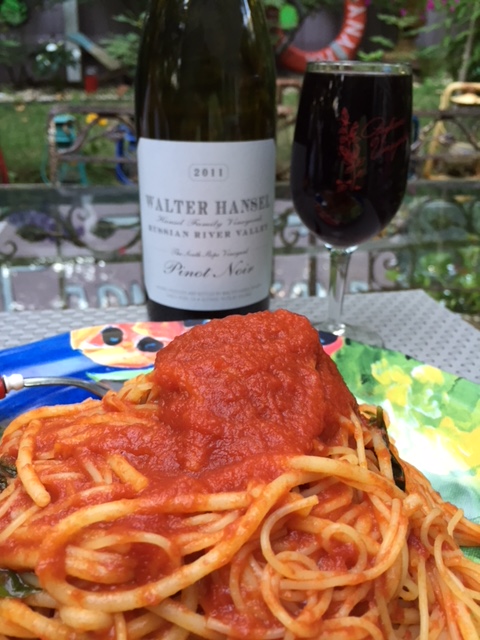 Food was always a hobby for me. Spaghetti became my favorite and in the most unconventional way. Jewish families back in the 50's prepared their pastas with different blends of tomato products such as tomato soup or ketchup. The olive oils, garlic, and tomatoes simply were not a part of the Jewish tradition. Thus, spaghetti with butter and ketchup became my go-to favorite dish prepared for me by Grandma Hazel and Aunt Sadie. I actually blogged about this, and some folks were shocked that I could use ketchup on spaghetti. http://phoodographsandfinds.blogspot.com/2012/10/sweet-butter-and-heinz-ketchup-circa.html
The more I opened up about it though, the more I found there were many like me. Eventually, this led to the more popular and acceptable versions of sauce…Italian style. Cooking classes helped me develop my cooking skills, and it all started to pull together in college, where I wound up cooking for everyone. I even made  spaghetti with butter and ketchup for my college crew and they loved it. Never say no until you've tried it!
Coming out of college in 1972, I went right to work in my family's New York City garment hanger business that was established in 1929 and over the years I was being groomed to carry it on. Besides making my  Caesar salads visually appealing and delicious at seven years old, I was also learning the art of visual display and how hot stamping hangers with logos can not only add to the look of a hanger, it would also help with the client's desire to brand their name in the world of retail and hospitality.
As I grew with the family business, my main function aside from any executive position was product development. Being out in the market daily gave me the opportunity to create in-person relationships and to also see what was needed in the world of visual display according to me. From there, I was able to create what was to be the next innovation in the world of garment hangers.
In 1993, I joined the USPCA (United States Personal Chef Association) and started my business under the name BetsaPasta PCS. As seen in the 2016 Long Island Press article, I found it more fulfilling and fun to meet many more people by preparing meals and giving cooking lessons to my clients for their intimate parties of 8-20 – and all while helping to run the most highly regarded garment hanger company in the USA!
In 2010, at the urging of my wife Sandy, I decided to try out for the Gordon Ramsay MasterChef competition with my new Flank Steak Ragu recipe. The experience there gave me the incentive to want to share all my experiences in the world of food, thus Phoodographs (photos of food) and Finds (destinations and restaurants off the beaten path) was born.
It's now nine years later and it's quite fulfilling and rewarding to know I've inspired many of my readers to seek out our finds off the beaten path, to play with my recipes, and to enjoy and experience the same foods we've enjoyed.
Contact me for more information about my original recipes. Whether you're located in the States or the other side of the world, you'll find something delicious here… or there…on my food blog.
Mangia Bene!
Chef Bert