Yesterday was Sandy's and my 41st wedding anniversary. We decided to head out east to wine country and enjoy a beautiful sunny 67 degree day.
First stop, Briermere Farm for PIE! Second stop…one of our favorite vineyards, Pugliese Vineyards, to pick up some of our favorite wines. While we were there, the always affable and hostess with the mostess, Mrs. Pugliese, offered us some cheese and wine as an anniversary gift.
Mrs. Pugleise
Since I had to drive, we decided to graciously accept the cheese platter and taste just a couple of the wines offered to us. We chose a wine you can count on being consistently wonderful on Long Island…ie… the Bordeaux style red blend known as Meritage. Another is the Pugliese selection of sparkling whites and a blush named Bella Maria. Thank you Mrs. P!
Cheese and Cracker Platter was YUM!
Sandy & Bert
 Next…Jeni's for a quick bite o lunch. Who knew election day was National Cappucci
no Day?
We stopped off  at an antique shop or two, a couple of farms for some fruits and veggies..and then onto Marissa' Drago's Main Road Biscuit Co. for biscuits. Only open for two weeks, they are already famous for their desserts and local farm to table fare for breakfast and lunch in Jamesport on the beautiful at this time of year north fork. BTW…NOFO = North Fork
A Main Road Biscuit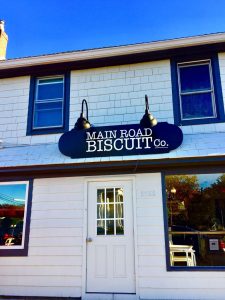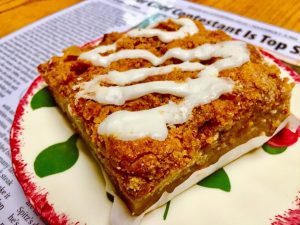 Apple Surprise
We barely made it and as the clock struck 3 PM the door sign came up saying closed. Marissa, however, was gracious enough to put together  for us a box to go with a couple of her famous biscuits with honey butter and an apple dessert which was fabulous. We'll actually have to find out what it was that we enjoyed next time we get out to the NOFO!
On our way back home, wanted to make a quick stop to see the famous Joanne Zilnicki of NOFO Zilnicki Farms fame.
Guess what?
She was closed. We weren't sure when we would see her again since they close Thanksgiving, so we knocked on her door to say Hi and Bye.
When she found out it was our anniversary, she went out back and presented Sandy with a beautiful bouquet of flowers. Awwwww!
Thank you, Joanne! See you again soon.
By this time at this time of year, the sun sets early and Sandy wanted to see the famous NOFO sunset. So off we went to the beach. Check this out!
Sunset in Baiting Hollow
Ok…the sun has set and now off to vote back home in in East Norwich!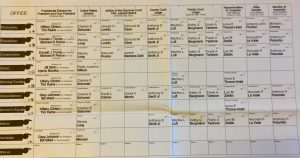 Voting Day for the next President of the USA
Ok…so now what's for dinner on this fine Happy Anniversary Day? I had bought some shrimp to make a shrimp cocktail and cocktail sauce made with some of NOFO's  'famous' Schmitt's horseradish…but Sandy had a better idea. "Lets have shrimp scampi"!
Okay!
Which leads me to my new recipe (with Patsy's NYC as my inspiration) for
Shrimp and Clams Scampi
Back in the late 1950s, my grandparents and parents used to eat at relatively new Patsy's restaurant in Manhattan. What I remember most was their tomato/marinara sauce on one pasta or another. To this day I believe that a tomato/marinara sauce is the base flavor of sooo many dishes in an Italian restaurant. IF that red sauce is good, the restaurant, for the most part, will be successful…plain and simple!
One of the dishes that stuck in my head was Patsy's shrimp scampi and it wasn't for many years a recipe I thought about duplicating. When I started going to the food shows some 15 years ago, I befriended Sal Scognamillo, the Patsy's chef and grandson of the original Patsy. I think it was at one of the trade shows where they had a booth introducing their Patsy's sauces in jars that I bought their cookbook and decided to master the shrimp scampi recipe I'd always enjoyed the most.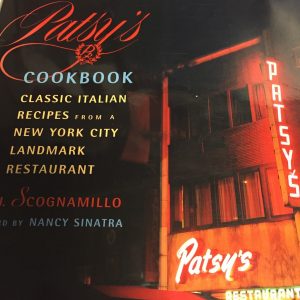 Patsy's Cookbook
There came a time, however, that my taste buds told me there was a need to adjust the recipe to my own taste and drastically cut back on the garlic. I also felt the need to add a bit more Worcestershire sauce and lemon. Believe me, I certainly didn't want to mess around with a classic recipe that has worked successfully for half a century,
I found, however, that 6 cloves of minced garlic was overpowering the flavors I wanted to bring out, namely the sweet and sour flavors of the shrimp and the lemon. A couple of other adjustments as I mentioned above and Bam!
BetsaPasta Anniversary Shrimp Scampi
Here's a pic of my  BetsaPasta Shrimp Scampi sans Clams…and…with clams coming up next 🙂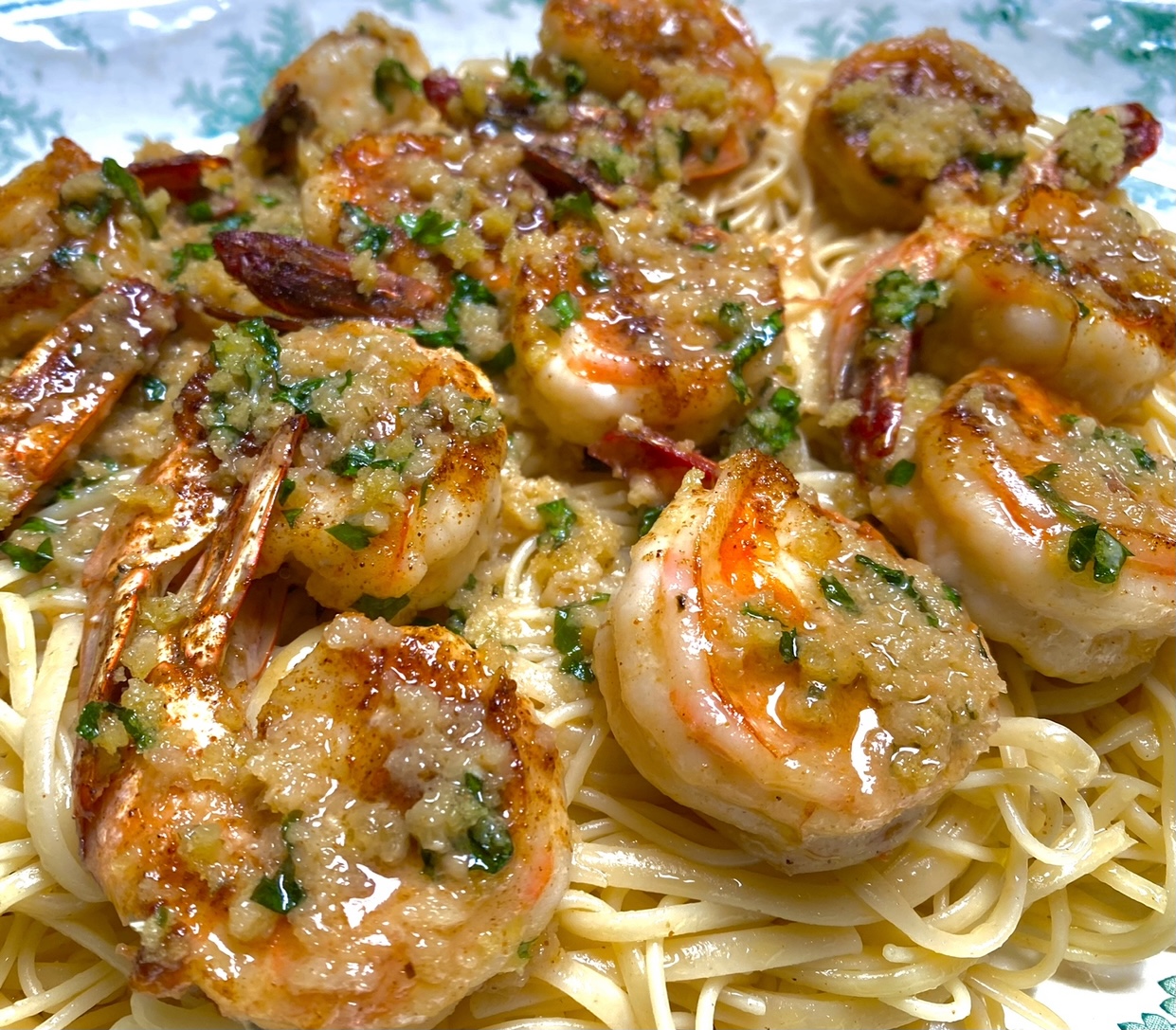 One ingredient to make this dish, and sooo many others, that I won't mess around with are the Patsy's "Seasoned Bread Crumbs" Just fantastic!
Sandy and I were visiting our friend Helen last week and when she scoops out her bread or even bagels, she toasts them and puts the scooped out pieces in a jar to use as bread crumbs. Can't wait to try that.
PATSY'S SEASONED BREADCRUMB RECIPE
IMPORTANT: I'm not one who uses cheese in any fish recipe, however when used with the seasoned bread crumbs, you'll know why when you taste it 🙂
-1/2 small loaf day-old Italian bread (about 1/2 pound), cut into large pieces…or 1 cup seasoned panko bread crumbs
4 tablespoons freshly grated Parmigiano-Reggiano cheese
1/4 cup chopped fresh flat-leaf parsley
Pinch of freshly chopped oregano preferred (or you can use dried oregano)
1 clove garlic, pressed
4 tablespoons EVOO (extra virgin olive oil)…or garlic infused EVOO 
2 pinch's of Kosher salt and freshly ground black pepper
Place bread in the bowl of a food processor; process until fine crumbs are formed or use the panko bread crumbs.
.Transfer crumbs to a large bowl along with cheese, parsley, oregano, and garlic (or garlic infused oil and save the garlic for the final prep) and bread crumbs have totally  absorbed the EVOO.  Season with salt and pepper. 
Getting back to the recipe…
In a restaurant, there is always fresh clam sauce. At home, the store bought bottle of clam juice or fresh clam juice from a seafood store usually sold with chopped fresh clams was what I always used…UNTIL last night!
I was passing by the seafood section, saw a tray of little neck clams and into my head popped an idea. Just use the  fresh clam juice from real live clams and add the clams to the shrimp scampi for a spin on the recipe. Brilliant!
So I bought 10 clams for 4.00 (the clam juice was 4.00) and Bam! Again!
Here's my BetsaPasta Anniversary Shrimp Scampi with Clams…and a glass of Pugliese Bella Maria Blush Wine!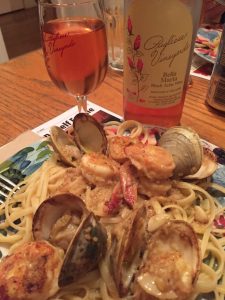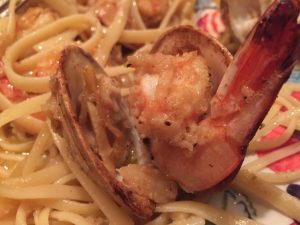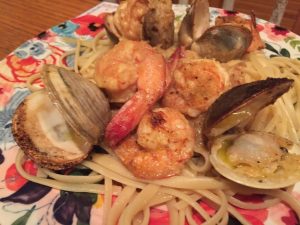 Here is simple service for 2-3:
8 MAIN INGREDIENTS
-6 ounces dried pasta like thin spaghetti or linguine prepared al dente (reserve 1/2 cup starched water the pasta cooked in)
-1 lb. fresh from the sea (not farmed) jumbo shrimp (peeled and deveined/tail on is your choice
– 1/2 stick of sweet unsalted butter
-1 large fresh garlic clove (thinly sliced)…or…the garlic that was used to infuse the oil used when making the seasoned bread crumbs
-The seasoned bread crumbs/ I have also used the seasoned (Patsy's way) panko bread crumbs
-Juice from 2 fresh (preferably thin skinned) lemons
-10 fresh little neck clams scrubbed clean with an additional 2 oz. clam juice …or…5 oz. store bought bottled clam juice…or…5 oz. clam juice bought in a seafood store (usually sold with chopped clams). As long as there is 5 oz. of clam juice from any of these blends, it will help provide the amount of liquid along with the lemon and starched pasta water needed for flavor and to be able to absorb properly the bread crumb mixture. 
-2 tsp Worcestershire 
-3 Tbsp EVOO
-1 tsp sweet paprika
-Kosher salt and fresh black or white mill pepper to taste
TECHNIQUE
-Preheat the oven to broil
-Cook pasta al dente and drain reserving 1/4 cup starched pasta water. 
-On the stove, use a 12″ round edged (for sliding shrimp out to plate in the last step) oven safe fryer and melt butter over medium heat.
 -Add sliced garlic and sauté 2-3 minutes until garlic is a light gold color…or…use garlic infused EVOO
-Add shrimp. Cook, turn and coat the shrimp with the garlic butter for about 1 minute.
-Add the lemon juice, Worcestershire, 1/4 cup of starched pasta water and clams…COVER and cook for another 2 minutes or until you peek under the cover and see clams open slightly.
IMPORTANT IN THIS STEP: IF MAKING SHRIMP WITHOUT CLAMS, REDUCE THE COOKING TIME APP 2 MINUTES (THE AMOUNT OF TIME IT WOULD TAKE FOR THE CLAMS TO PARTIALLY OPEN UP
-UNCOVER…sprinkle shrimp with paprika. Place fryer in the oven and broil for 3-4 minutes until you see the clams open at least halfway and/or the shrimp are golden if preparing without clams.
-Remove the fryer…shake the contents and then top with seasoned bread crumbs. Drizzle with more EVOO. Broil until you see the bread crumbs lightly browned (1.5-2 minutes).
-Remove from the oven and with a large spoon place 1/4 cup of the juices from the frying pan and the other reserved 1/4 cup of starched water into the pasta. Add Kosher salt and fresh pepper, mix quickly and thoroughly over high heat for 30 seconds and plate. Slide shrimp and clams out of the frying pan and on to the top of the plate of pasta.
Ahhhhh…Mangia bene gente!
Chef Bert
As always, please feel free to comment in the box below. Would love to hear from you!
HAPPY ANNIVERSARY SAND!