I know that many of my readers and folks who find us are looking forward to recipes, food destinations and restaurant pics…however keeping you informed of what is new and different in the world of food is very important. The major trend over the last few years is wellness (as seen in several of my past entries). I know you can see it as you shop…thus I sincerely hope you can appreciate where www.phoodographsandfinds.com  takes you.
Kudos and a huge thank you goes to the Specialty Food Association for organizing what I consider to be among the best  food shows in the world with exhibitors from all over the world!
First and foremost…Knowing how to pick the best at a show like this can only be based on what we tasted and what we liked. I'd like to thank Chef Richard and Chef Marcelle for attending with me as their input and perspective about the foods we tasted always helps in writing more objectively and open-mindedly.
Chef/Baker Richard
Chef Marcelle
So let's get to it! What better way to start off than pasta-aaah!
Within the first ten minutes at the show we discovered a totally unique concept in pasta.
Get this: Italian organic half whole wheat semolina pasta by IRIS. The key words here…Half Whole Wheat. 
So let's discuss this. First and foremost, I and most, if not all, of my readers have never heard of half whole wheat pasta. It's always been semolina or whole wheat semolina. We know whole wheat is a healthier way to go by virtue of fiber content and the natural benefits of whole wheat, however in most instances taste and texture are sacrificed and many of us simply stay with  regular semolina. Already, we've tried the IRIS whole wheat version from a few of the products given to us at the show and we can tell you that the whole wheat pasta (6.6 grams of fiber per serving) is the best we have ever had. The half whole wheat pasta with 4.2 grams of fiber per serving tasted just as good as the semolina pasta (2 grams per serving) we all know and love.
Manuela Massaro, Project Manager Carla Gambini and Alberto Rota.
So meet the happy Organic City folks who represent Iris pasta.They simply radiated passion and enthusiasm about their products and I couldn't wait to get home to get a whiff of the aroma they claimed steamed out of their cooked pastas. After pouring the pasta into the strainer I swear I could smell something that distinguished their pastas from others I've eaten. Power of suggestion? To some small degree maybe. Either way the taste was distinctive and I'm sold on these products.
Bottom line…this is what we come to these shows for. We look for new and innovative products and thanks to these folks we now know what is coming down the road. 
Although we now know the product is being manufactured in Italy, it is not yet available in the USA as they were seeking a distributor. if you want to be the beneficiaries of this new product, simply try to help to create a market for it by asking your gourmet grocer for IRIS pasta so we can all enjoy them! I know for sure I'm going to do my part.
Please read the material seen below in their product information sheets and keep this name and these different types pf pastas on your radar. Trust me…have I ever lead you astray?
Next up:
Feltman's Hot Dogs "Most likely the best hot dog you'll ever eat in your life"
-Gothamist
Feltman's of Coney Island…The Original Hot Dog 1867 is how it is marketed.
The history of the hot dog took me by surprise and for sure most of you will be just as surprised. The story is super long and if you want to know and understand all you really have to do is Google charles feltman worked for nathan's
Meet Michael Quinn…proud and passionate about the original Coney Island, New York staple that he has revived using the same hot dog recipe created by Charles Feltman, They are also producing (a testament to wellness by many food manufacturers at the food shows nowadays)  their new uncured beef hot dog. Their Feltman's Deli Style Mustard made with apple cider vinegar was perfect!
Meet Elliot Simhon…Feltman's "business man"! You know what they say about happy people…yes?
Way to go fellas. Effective today, we are fans!
Next up…Coco  Goods!
Meet Sales Manager Phong Ho,  and VP of Sales, Jim Downing
There are lots of reasons why one should consider coconut products to benefit health-wise and here are just a few that Coco Goods and we feel are important to emphasize. We just also happen to think their products were best coconut products at the show. Plain and simple…short and sweet we loved their organic coconut water and coconut milk. We've tasted their products several times over the last couple of years and we are happy to introduce their company to you.
Coconuts have emerged as a versatile food  because of the many surprising health benefits. Here are some of the ways a coconut can positively improve one's health.
Boosts Energy Levels
The reason why coconuts are able to improve one's energy level is that coconuts are rich nutrients, minerals, and vitamins. In addition, coconut water contains far less sodium and sugar when compared to other sports drink. At the same time, coconuts are also rich in a variety of electrolytes such as potassium, chloride, and calcium. This proves to be very effective when it comes to boosting energy levels and re-hydrating after a heated workout.
All of these ingredients essentially make coconut water an energy drink of sorts. With the combination of the rich assortment of vitamins and minerals as well as helpful electrolytes, coconut water is a rich source of energy.
Helps Digestive Problems
Another thing that makes coconuts unique is the fact that it contains lauric acid. This is important because lauric acid converts into a substance called monolaurin. This monolaurin is vital in helping the body's gastrointestinal system fight off parasites, viruses, and worms. It also serves as a deterrent to a variety of infections of the intestinal tract in adults and children. In the process, coconut water will also help re-hydrate the body in the process. This can prove to be useful for those who suffer from diarrhea or constipation.
Weight Loss
For those who happen to be at an unhealthy weight, coconuts can be a surprising source of assistance. This is because of all of the electrolytes that the coconut contains. With the rich amounts of calcium and potassium that is in a coconut, the body's metabolism will naturally increase. This means that whatever you eat may be converted to energy or nutrients much faster as opposed to being stored as fatty deposits and subcutaneous fat. Therefore, those who have weight issues may want to consider incorporating coconut water into their daily regiment.
Cardiovascular Health
People who tend to have blood pressure issues also suffer from hypokalemia, or low potassium levels. Having coconuts can replenish those levels to a degree and assist the body in retaining a healthy blood pressure reading. Also, there are other studies that have suggested that coconut water can increase HDL, or good cholesterol in the body. This makes coconut water a viable option to improve one's cardiovascular health.
It was the last day of the show and on the way out of the show, virtually all of the exhibitors are handing out tastes and samples of their products. One of those for me were 2  little 5.1 ounce cans of cold organic Italian espresso. Cans of Espresso? Organic? 100% Arabica Wha? Hmmmmm!
So I took them graciously and before I had the opportunity to open one up I was being handed a fresh made hot espresso with a small piece of chocolate from the next booth over. So into my bag went the 2 little 5.1 ounce cans of Italian espresso and I didn't see them again until I returned home and they went directly into the refrigerator.
Almost a week went by before I was home in the middle of my not peak hour and decided to try one. I popped it open, poured it into a glass over a few ice cubes and right there was my first ever iced espresso with one gram of sugar topped by a velvety thick  reddish-brown crema that would for sure be appreciated by connoisseurs.  Delizioso! I also woke up:)
Bottom line…after much research, Nuts…I can't find it…but I will! 
Next up…An Extraordinary French Confection!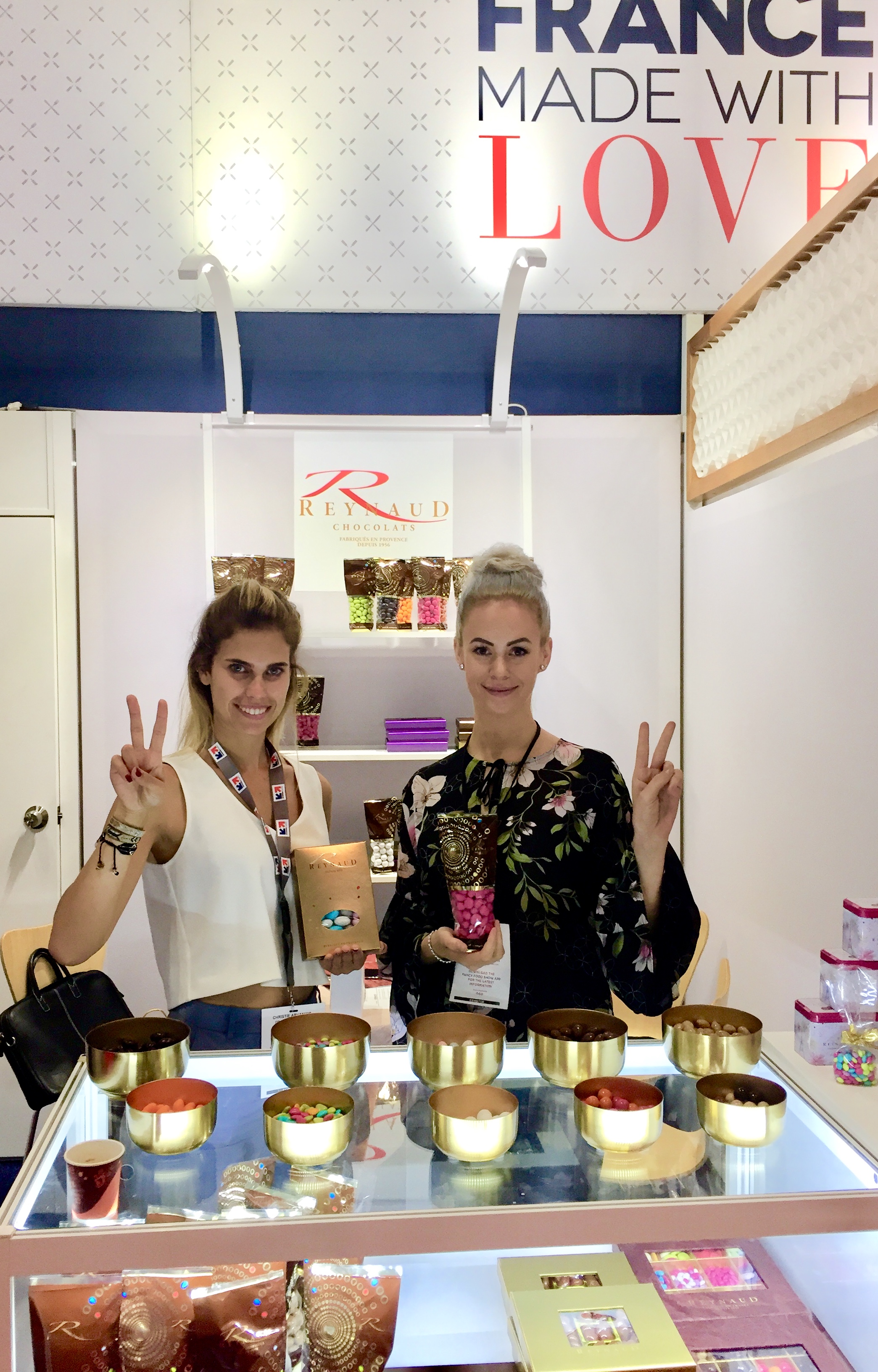 This segment will be written by Chef Marcelle. Since she conversed with these folks in French, she has a better understanding of the product.
OK Marcelle…It's all yours!
Dragees Reynaulds Is a manufacturer of sweets based out of Marseilles in Provence specializing in what the French call "Dragees" and "fourrages".
"Dragees" are Jordan almonds covered in a hard sugar coating available in different colors and often used as favors for weddings, baptisms and other celebrations. These delicious sweets are offered in beautiful packaging's from bulk for occasions to elegantly wrapped boxed gifts.
The fourrages" translated into "coverings" consist of chocolate and other candies or nuts covered in either hard flavored sugars, chocolate and other flavorings such as caramel, pistachio or raspberry with very distinct colors and defined flavors.
Of particular beauty in presentation are the chocolate fourrages that emulate the sugar-coated almonds or dragees available in different colors. One presentation that was particularly striking was a hard cellophane box with a third of the dragees in red, a third in white and a third in blue depicting the French flag; the chocolate was of good quality and the crunchiness of the coating  gave a mixture of textures to the treat.
Perusing and tasting these products immerse you for a moment in the French café experience.
https://www.google.com/search?tbm=isch&q=dragees,+fourrages+reynauld+emballage&chips=q:dragees+fourrages+reynauld+emballage,online_chips:jordan+almonds&usg=AI4_-kRW5_0tzQLdWwaxtfV4YU4Yw6CDxQ&sa=X&ved=0ahUKEwj0ibSExJ7jAhUsSN8KHYitDG0Q4lYIKSgA&biw=1440&bih=684&dpr=1
While we're on the subject and confections…here's one we found in Italy. I absolutely loved this soft nougat almond torrone covered with a divine dark and white chocolate too!
Seriously…you can SEE how phab they are!
Onward folks…
Introducing Amarena Fabbri Wild Cherries in an all natural syrup…
These luscious and intensely flavorful Amarena cherries from the province of Emilia-Romagna are one of the most sought after all over Europe. The Fabbri family has been producing these luxurious wild cherries in syrup since 1905 from the guarded original recipe of founder Gennaro Fabbri. The local wild cherries which are a dark red variety with a sweet and slightly bitter flavor are preserved in a rich syrup made from the juice of the same fruit. Heaven!
Why Pasta di Gragnano is Good For You…
If you're gonna eat Italian pasta…do it the Gragnano way.
Pasta di Gragnano is considered among the best pasta produced in Italy and here's why…
– Location makes the difference. Pasta di Gragnano is produced in the small town of Gragnano, on a plateau facing the Gulf of Naples, at an altitude that varies between 350 and 600 meters, near the Monti Lattari, where the water is less calcareous and the climate is mild and slightly damp throughout the year; these elements allows the pasta to dry in a gradual and natural manner (essicazione naturale). This slow process safeguards the proteins and nutritional qualities of wheat, which in turn give the cooked pasta a better taste and greater capacity to keep its texture.
– Equipment matters. The art of making Pasta di Gragnano has been handed down in this territory from generation to generation and some techniques are still crucial for obtaining a quality product: these include trafilatura in bronzo. The machines (trafile) used to work the dough, a mixture of durum wheat and calcium poor water, give Pasta di Gragnano its signature roughness; a rough, porous surface holds the sauce so much better.
– In praise of durum wheat flour. The type of wheat used influences the flavor of the pasta, the ability to stay al dente, and to absorb the sauce. The cultivation method also affects the quality of the wheat grain. Pasta di Gragnano is made using durum wheat of the highest quality, which has a high protein content. In fact, in order to be certified Pasta di Gragnano, it has to contain at least 13% protein, whereas regular pasta normally has 11,5%.
Now…
What caught our eyes here were some of the never before seen the shapes…
There is one exception at the Fancy Food Show that I include in every post.
It's because without their attendance and because I have a soft spot in my heart for their former USA Parmigiano Reggiano Queen Nancy Radke who retired from the company recently, this show for me  and many others would feel incomplete!
I guess this is my way of saying "Nancy, you are missed…and thanks for the memories!
So…for now…Bert & Fede say Arrivederci per ora…grazie per essere venuto…ci vediamo l'anno prossimo.
Buon appetito!
English Translation: Goodbye for now...thanks for coming...see you next year.
Good appetite!
…and as always…please feel free to comment in the Comment box below. Love hearin' from ya!
Bert 🙂