Hi Folks! Well we're back on the NOFO at Braun Seafood Co., a full-service seafood distributor that delivers THE freshest selection of fish, clams, oysters, and lobsters to restaurants and markets throughout Long Island and beyond. They're in business since 1928 and when you are in business that long your formula is working well.
Attached to this iconic retail seafood location is Braun's Grill, which Sandy and I first discovered about 6 years ago. We  just love looking forward to our day trips to the NOFO in summer and winter where, over the last almost 20 years, most of our favorite restaurants and new favorite restaurants exist. Peruse www.phoodographsandfinds.com and you will see many of those foodie heaven restaurant posts for our faves on the north fork of Long Island.
Today we bring to you another phood find with our winner for the best crab-cake on Long Island.
Braun's Grill Crab-cakes prepared by Chef Brandon
Of course everyone who enjoys crab cakes has their own favorite (please share with us if you are so inclined), however this one is ours…and that's just the beginning.
In the winter months, except for when they close in January, we just love coming out to Braun's to savor their soups and warm the soul. Yup, 120 miles round trip for soup…and, well, maybe a glass of Long Island wine at one of the 40+ north fork (NOFO) wine country vineyards.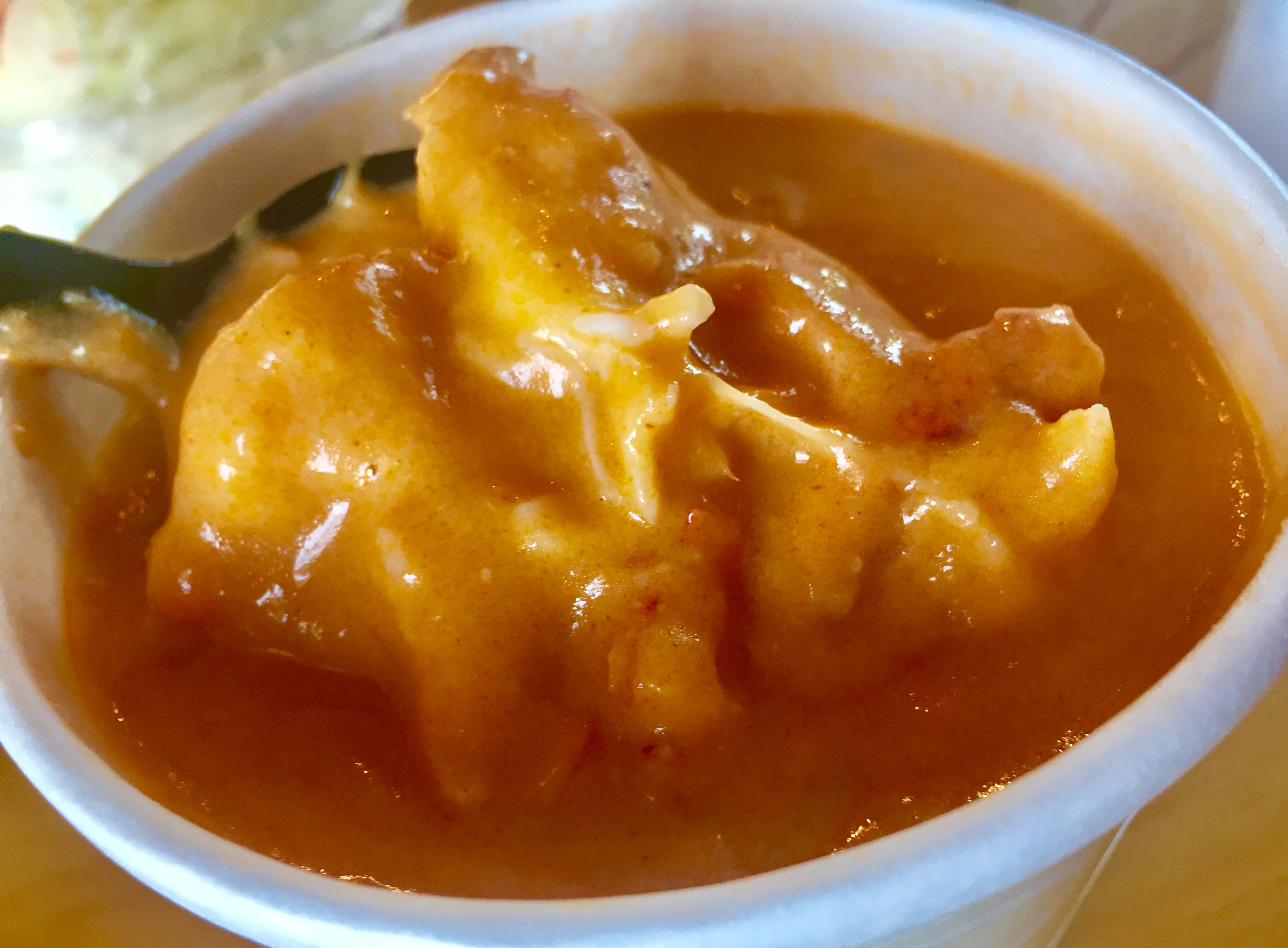 Lobster Bisque
Our friend Jude…lovin' her lobster bisque!
Yes, there are also posts right here on my blog for those of you who are curious to find some of our favorite NOFO vineyards, phood finds and restaurants too! Here are just a few we've visited along with Braun's 🙂
Just click and you can delight in them as well!
On the North Fork, the "Finds" keep coming at Croteaux Vineyard, Rafael Vineyard & Grana Trattoria Antica
New "Anniversary Shrimp & Clams Scampi" & Touring on The NOFO Election Day November 8, 2016
Just Say YES…and you get Clovis Point, Potato Leek Soup and Keith Luce
Lobster bisque, crab bisque or shrimp corn chowder are our favorite soups at Braun's and they also serve New England & Manhattan clam chowders…even though the list can vary from visit to visit.
Not quite finished…
OK…are you ready? Short and sweet…literally. There is no better coleslaw ANYWHERE! That's right, Coleslaw!! TRUST ME!!!
Now…here are a couple of especially important details that I feel compelled to mention, and that I cannot overlook, when I write about any restaurant. There 'needs'  to be a certain level of creativity in any restaurant's kitchen to stimulate and surprise patrons with recipes that manipulate and finesse ingredients to reach a level of individuality that sets them apart.  Consistency from one visit to the next is also key. If any restaurant cannot accomplish these unique functions and because I write nothing negative, they simply cannot be included in this blog.
That said…as you enter Braun's Grill, you will see on a large easel a list of daily specials and although I have not tasted everything I have seen, I have spoken to people who have ordered many of the specials on different occasions we have visited and each response is nothing short of…yes…special…ie…phab!
Daily Specials…Even the hand writing looks appetizing 🙂
Just today on the list of specials was a blackened striped bass taco with a fresh cantaloupe salsa.
My mouth is still watering from seeing this blackened stripe bass being prepared by Chef Brandon in the kitchen and then given to Cathy, Braun's food plating expert, manager and personality extraordinaire, to enhance it's presentation with a distinctive and savory coating of cantaloupe salsa.
Oh yes…and here's Brandon preparing our crab-cakes. You know what they say about happy people?
Brandon's Happy Crab-cakes
One more phab looking dish that I watched being prepared by Anne Marie just before we were leaving was Baked Chopped Clams with a secret bread crumb recipe topping. I've never actually ordered them before, but will next time.
Anne Marie's gloved hands preparing Braun's Baked Clams…chopped style. A little sweet butter on top and bake!
As busy as they were during the frenetic pace at lunchtime, the staff seemed to exude a certain level of pride in what they were doing as you can tell in thee pics I took.
Say Hey Sadie!
Happy people! Meet Maryann & John…two Braun's fans who popped in for lunch and commented how they enjoyed  that little dash of  Old Bay garlic & herb seasoning sprinkled on top of their phabulous crab cakes.
Saving the best for last…or should I say…The Last of the Best! Food Master Cathy,,,Me…and Special Guest Chef Cara.
Again…you know what they say about happy people…Yes? Ok…well…just so you do know…they make you happy with their food!
Well folks…Sure would love to hear from you in the comment box below. Suggestions…sharing…insight…ideas? Don't be shy…
Mangia Bene'
Chef Bert