It's really so unbelievable what surrounds us on the north fork (NOFO) of Long Island.
Pancakes with my BHAVANA Blueberries and topped with my fave DORSET Barrel Aged Maple Syrup blended with my fave McCutcheon seedless black raspberry preserves!
So many of the NOFO destinations I've written about over the years in phoodographsandfinds.com are filled with virtually everything to do with nature. Literally, the vineyards  of Long Island's wine country and the vines of all kinds of food products surround us and keep evolving. You don't even see the density of destinations like this in Europe that you see right here on the NOFO.
That said…short and sweet…I'd like to introduce you to another Phabulous FIND at Bhavana Berries in the first town settled on this Long Island…Southold. Bhavana Berries is a 30+acre organic  blueberry orchard and is open Thursday thru Sunday to the public…ie…UANDME…from  July to late  August.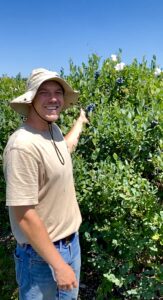 Meet James…one of the proprietors at Bhavana. You do know what they say about happy people…yes?
http://www.bhavanaberries.com/
To my friends…come visit and I'll take you out there for what will be a truly exciting experience. To anyone who reads this…trust me! Have I ever led you astray?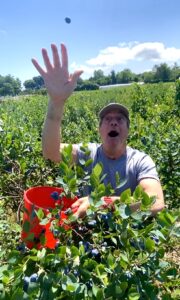 Enjoy!
Chef Bert

See the COMMENT box below with any input and hoping to see you soon! Of course we would like to hear from you 🙂