Ever since my days as Fire Commissioner for The East Norwich Fire Department in Muttontown, L.I. ended, I've tried to do my part to continue to support the volunteer fire departments on Long Island. A T-shirt here or a hat there went to a good cause. Spending $25.00 per person for the Cutchogue Fire Department B-B-Q was simply another way to support what the volunteer fire departments do all over Long Island.
Unless you have been to this annual event, you cannot imagine what you are in for.
Sandy & I are 5 year veterans of this local culinary feast (loved the 57th B-B-Q's Heinz Logo T-Shirt) and look forward to attending from year to year. This time, we actually sat with a couple of school teachers from the area…one of whom has attended all 60 years…Wow!… except one because she had to attend a wedding on that particular weekend.
From what I understand, approximately 3,400 dinners were served this year. Think about that and just imagine the amount of hard work and effort put forth by the firefighters and their family of volunteers to service all these people. Check this out: superb service  and with a smile too!
The Corn King
You know what they say about  happy chefs!
Need I say anymore?
T.H.E. Chicken Man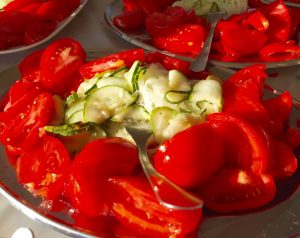 Absolutely…Positively…The Simplest and The Best
Hi Volunteers! Yummy…Yummy in my Tummy!
A special mention goes out to the ladies I met who help keep this show organized and for their accommodation in helping me to be able to put this story together.
Here are Kathy Nicole (right) Carolyn and Pat. Goodness…I'm missing a person! Uh-oh ladies…forgive me. A special special mention goes out to Kathy (center) for the extra cucumber and onions.
I'm thinking Carolyn, Kathy & Nicole. Look at those smiles!!!
And where would we be without special special special mention that goes out to Kathy's son Billy, the Cutchogue Fire Chief. Thank you to you all for what you do and for your fine reception!
Chief Billy with that Famous Billy Smile
Embedded on the north fork (NOFO) in summer is a concentration of farms and  vineyards like nowhere else I have ever been. There's lots of wonderful places in these United States with wine vineyards and many with farms and farm stands, however the plethora of farms AND wineries on the NOFO is like nowhere else.
Let me tell you about the menu that has remained consistent for the times we have been there.
Everyone gets a whole half (sounds like a jumbo shrimp, huh?) of a superbly B-B-Q' d 180 degree chicken, the freshest cut beefsteak tomatoes you will ever eat served with thinly sliced cucumbers and onions in a special vinegar dressing, the freshest and sweetest corn on the cob, and potato salad.
Makes my hungry just saying it.
Famous CFD BBQ'd Chicken
Truly the most unbelievable fresh tomato salad you will ever eat. Do I know tomatoes? Had to add this 2nd pic
One happy volunteer serving her ice cream and fresh peaches. Look at that smile!
For dessert, fresh sliced peaches and vanilla ice cream. To drink…bottled water, sodas and Coors beer.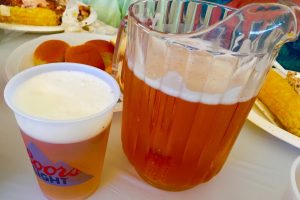 Cold Coors Beer
 Can't add or take away from this pic
One thing you need to know. This venue gets sold out in advance. So…for 2017 give the CFD a call at least a month in advance for ticket info. They can be reached @ 631.734.6907.
Look at this table waiting for YOU!
Oh yes…one more thing: This coming September 11th, 2016 is a day of remembrance and we need to stop for a moment to do just that: REMEMBER!
There is also something else occurring this upcoming September 11th. The annual North Fork Foodie Tour will be celebrating its 10th year.
This event is quite an adventure for those who want to enjoy a day of  artisan food, wine, beer and much much more on the north fork of Long Island, New York, USA!
Simply Google:
Come on out day-trippers and see what the summer bounty on the NOFO has to offer!
Ever been to a Lavender field like the ones you see in France?
As always, I would love to hear from you! Please feel free to comment.
Chef Bert
Mangia Baby!