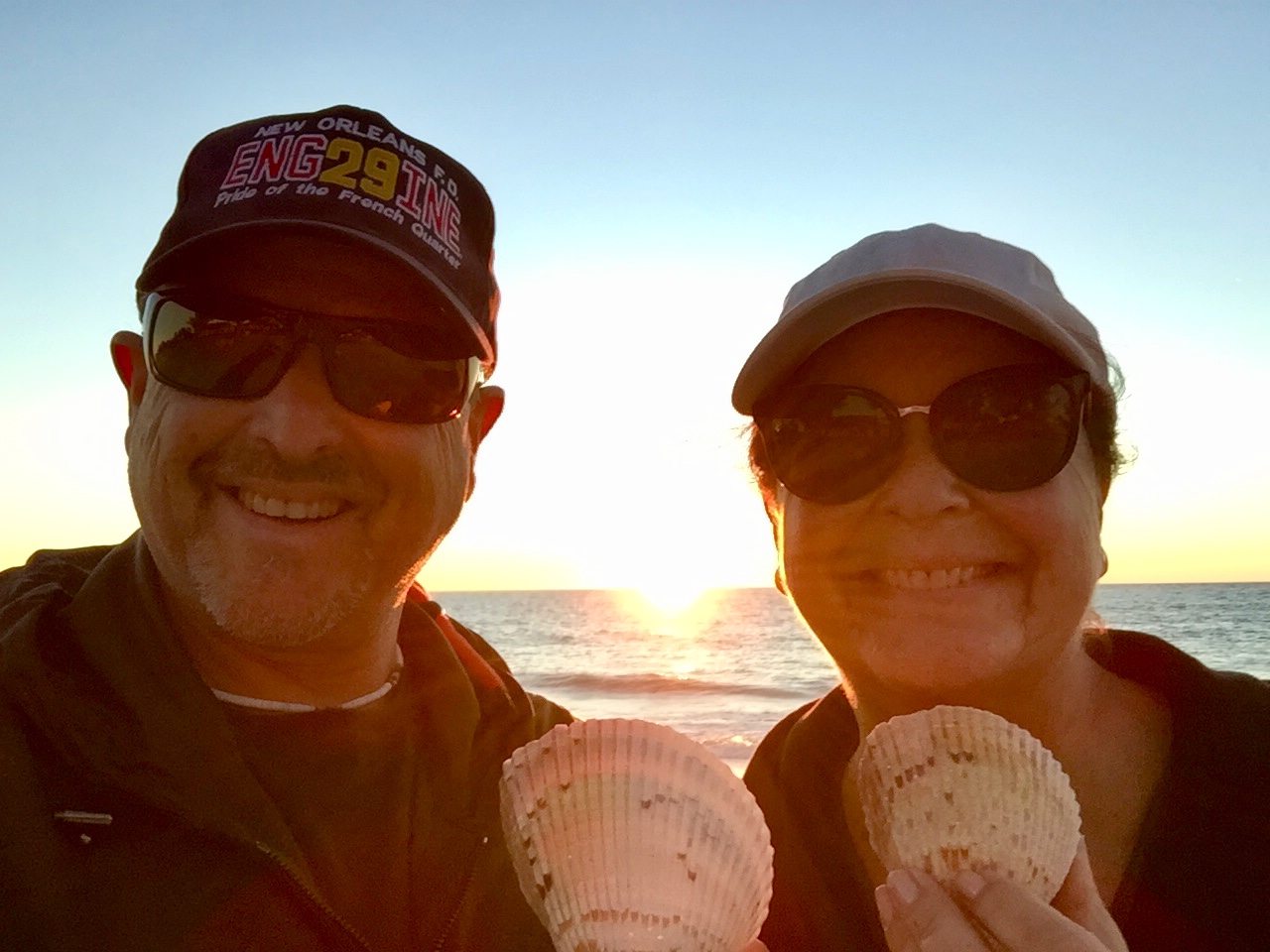 First and foremost. The Shellfie was the brainchild of Sandy Shair Spitz in Captiva, Florida in 2019.
Says Sandy…
"Trends are new but many are long lasting and become classics. Shellfies will become a classic…so get on board with YOUR  own Shellfie pic…coming soon to a beach near you!"
All Pics by Bert
Now…The peace and tranquility of The South Seas Resort on the island of Captiva, Florida.
But first…know this! Two of Florida's most beloved beach destinations, the islands of Sanibel and Captiva offer visitors a combination of outdoor adventures and natural attractions. Boasting an alluring small-town charm, this Gulf Coast barrier island's laid-back ambiance lets visitors escape from the daily stresses of life. Known as the "Shelling Capital of the World," people travel from all over the world to scour the beaches each every morning for the array of unique pieces that have washed up ashore.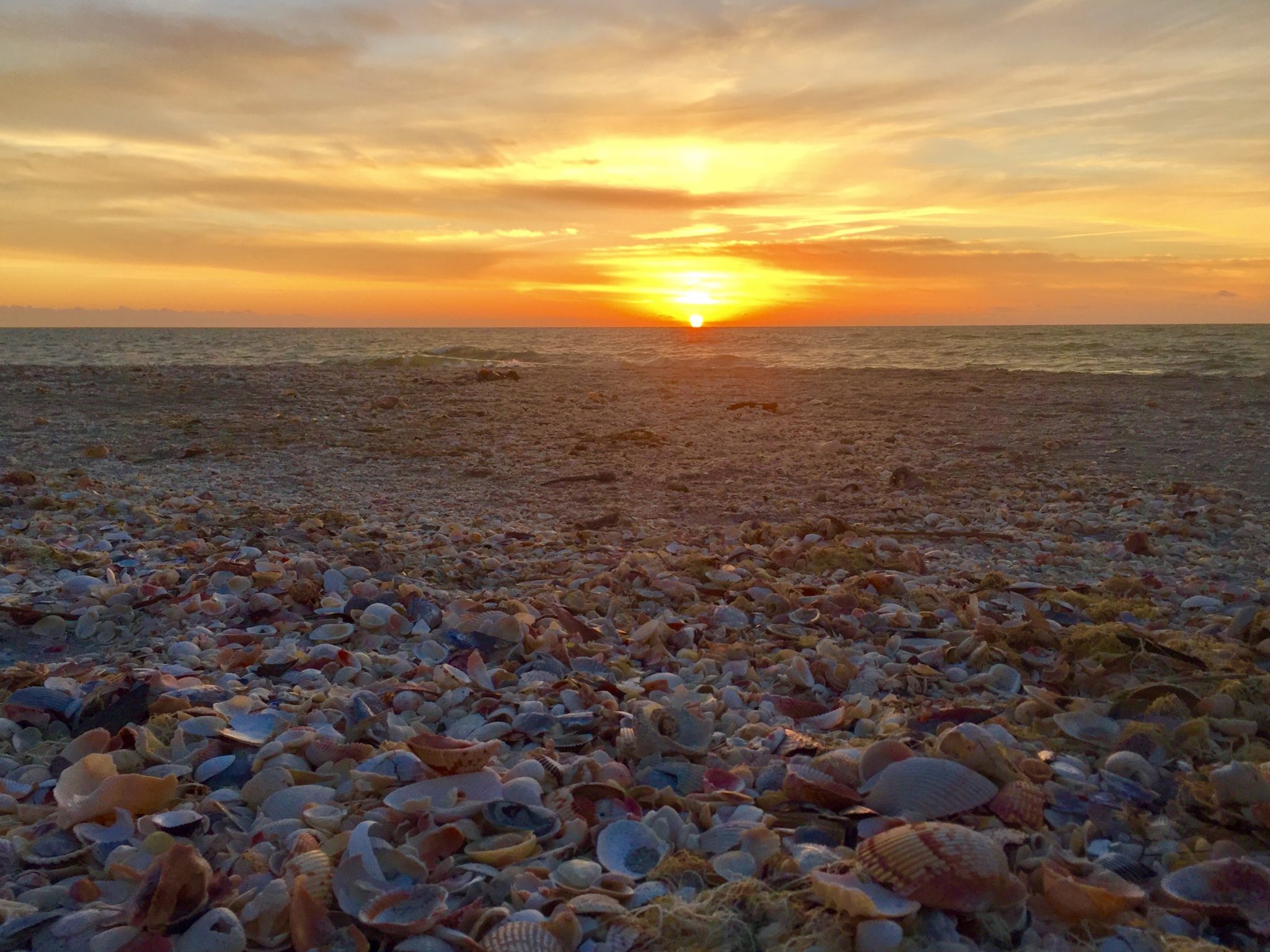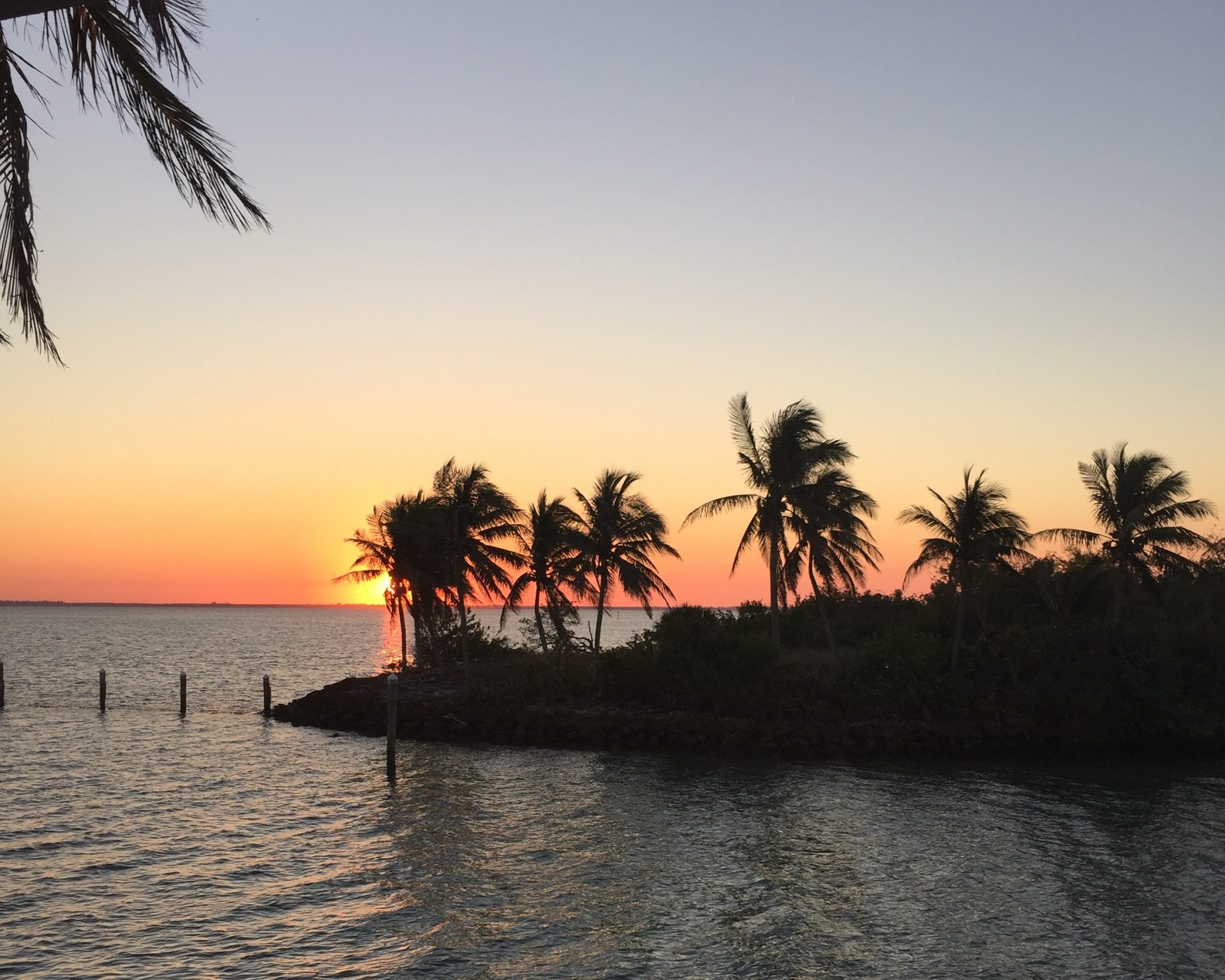 We all have our favorite destinations and for Sandy and me, this is therapy! Being surrounded by water at every turn, palm trees and Australian pines, most assuredly plenty of sunshine, beautiful natural wildlife and tropical birds. most of the time uncrowded beaches full of the most beautiful seashells one has ever seen, sighting dolphins swimming 50 feet off-shore, casual and fun restaurants and no traffic lights is our Def O Heaven! When one chooses Sanibel and/or Captiva, you'll slow down and you can then set your mind not be in a rush to go anywhere.
Hey Look!…There's Everton in the red shirt. A genuine sense O humor…Just check out his Shellfie!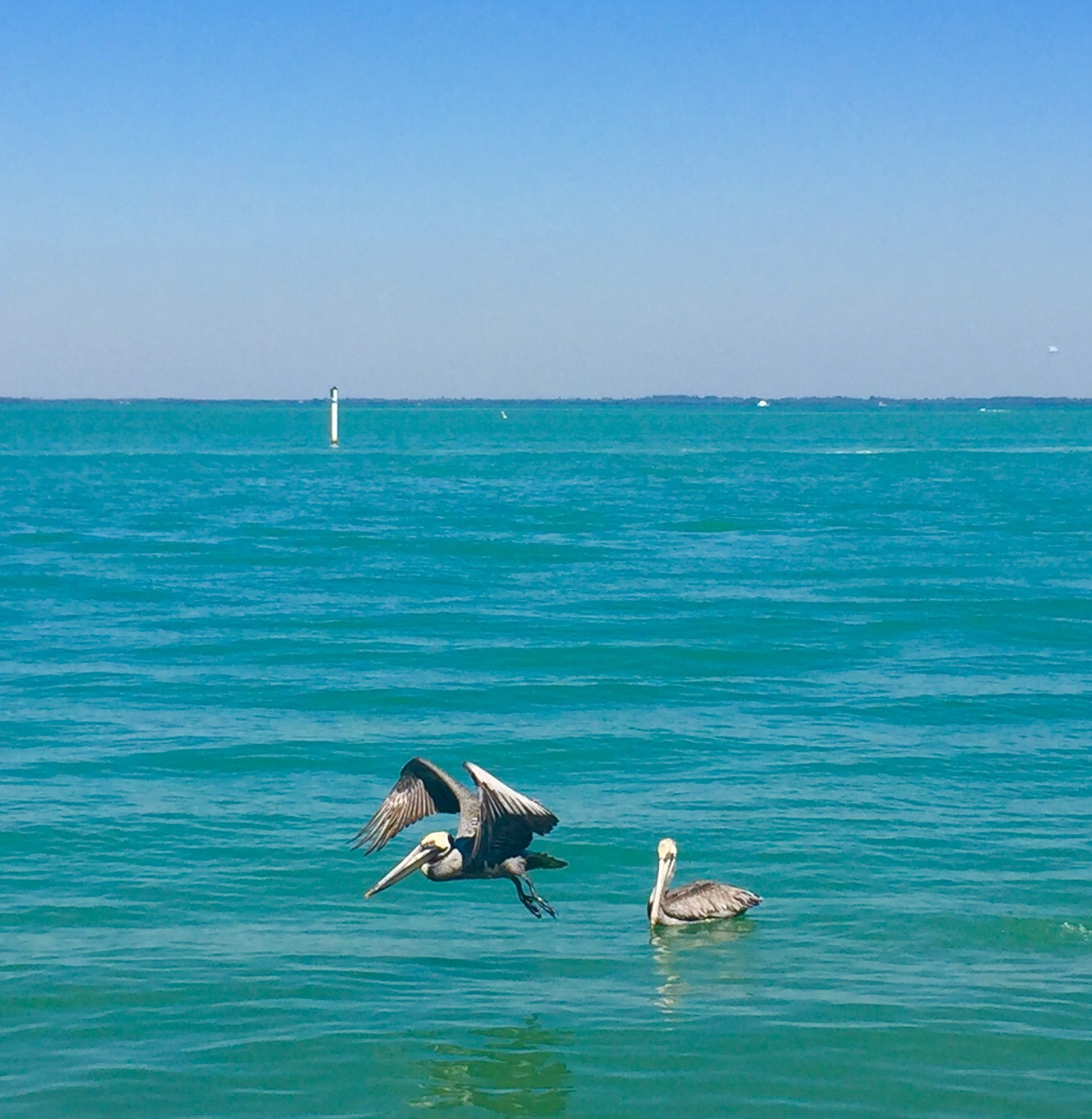 Sunrise and Moon-set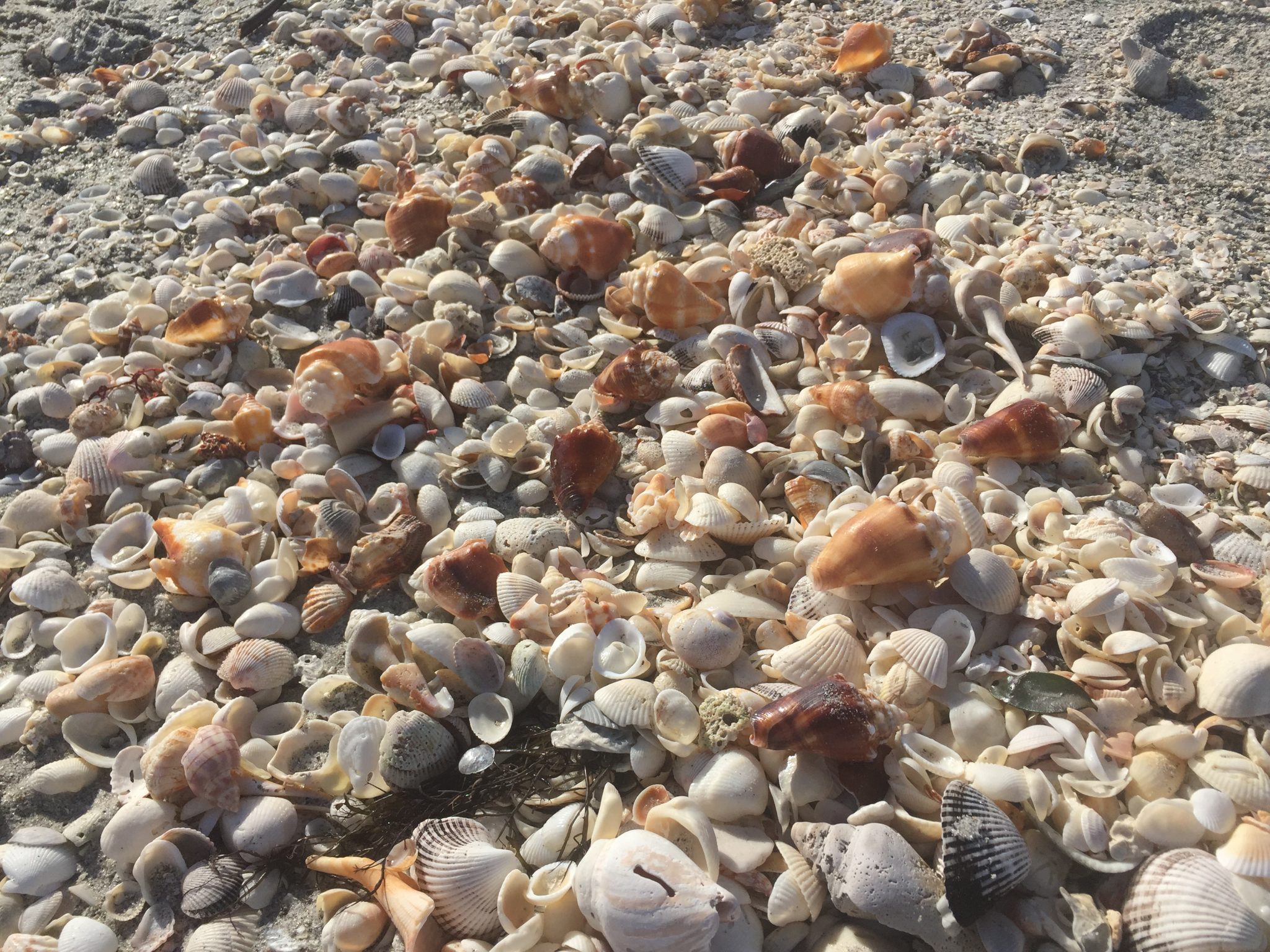 Beautiful air plants and enchanting scented candles from Lizzie's Lights at the Sanibel Farmers Market with our discovered Captiva shells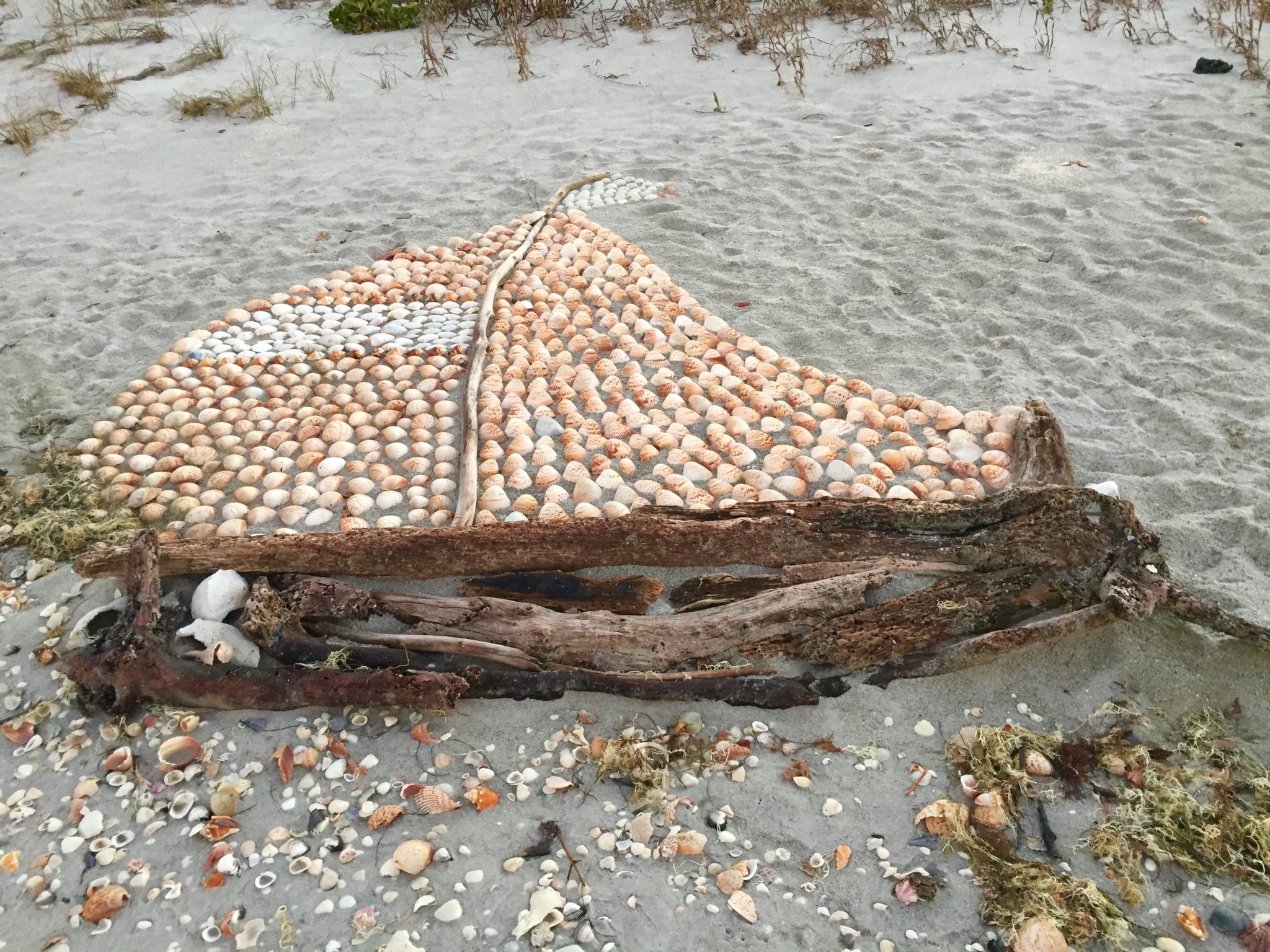 Shell art on our beach!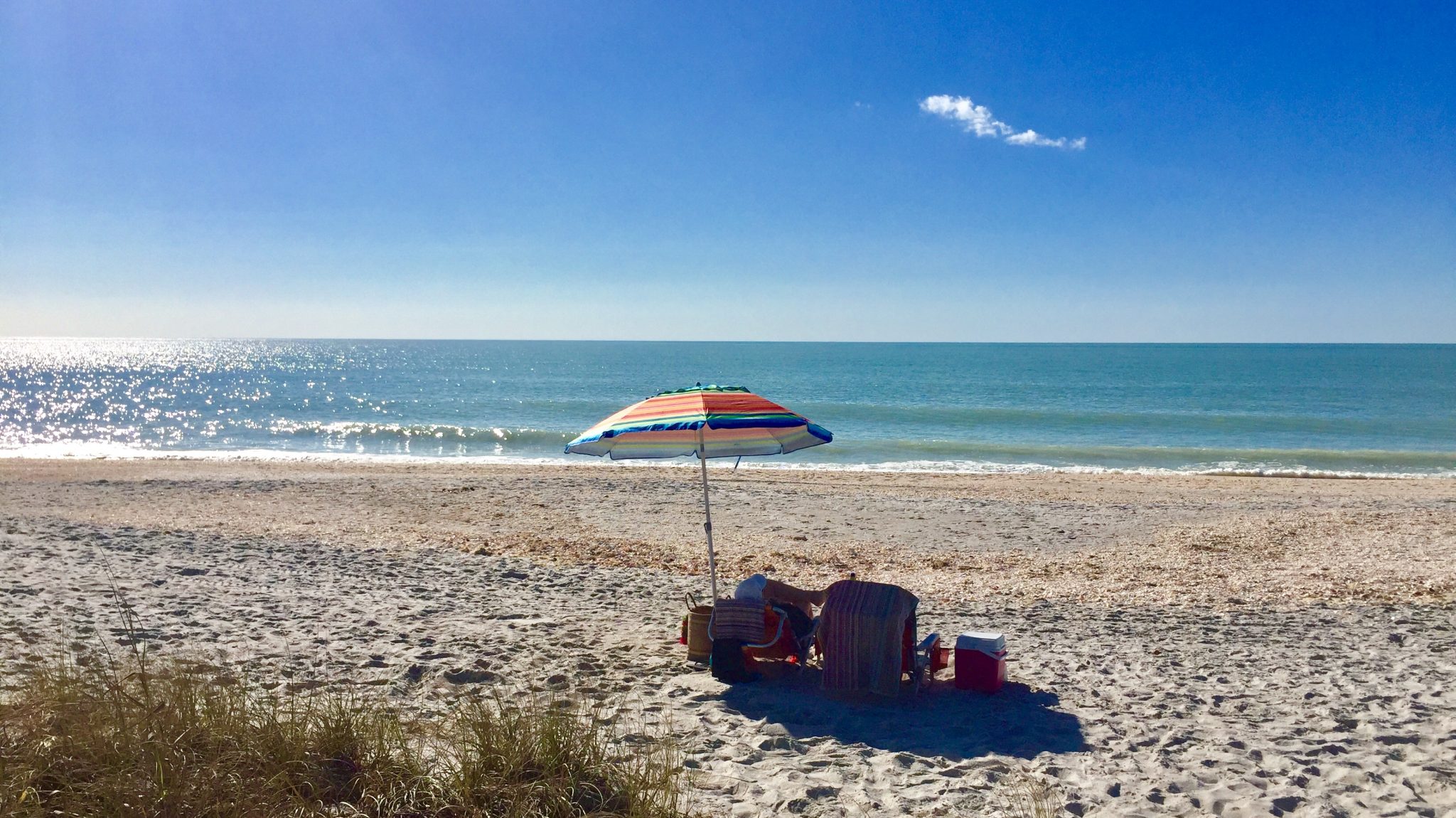 Can you imagine?
Did I mention extremely exquisite sunsets?
Of course, if you are a foodie like me, you'll absolutely love the Sanibel and Captiva farmer's markets that take place weekly. In my humble foodie opinion, there is not a more enjoyable and satisfying farmer's market than Sanibel…anywhere! Cap that off with a similar, albeit smaller, version of this market in Captiva and you are in peace and tranquility foodie heaven!
That said, let me introduce you to one of the two most famous foodie's on these islands and the organizer of these two phabulous phood shows…Jean Baer…seen with me in the photo below. She and her business partner Betsy Ventura own Local Roots, LLC. and operate 8 of the largest Farmers Markets in Lee County Florida.  It goes without saying that when you buy from local vendors at a Farmers Market that money stays in the community and gets reinvested!  Much of the produce that is found in the big box grocery stores has been trucked in from as far as 1500 miles and may have been picked over a week ago.
Each of the Local Roots Farmers Markets offer a unique opportunity for vendors to sell seasonal local fruits, vegetables, cheeses, meats, breads, nursery stock and other commodities. Some of the markets also create an opportunity for local crafters to showcase their products. Attendees have the opportunity to buy locally and to gather with friends and neighbors in a relaxed outdoor setting.  Stop by one of the Local Roots Farmers Markets…….It's the Best Thing Growing!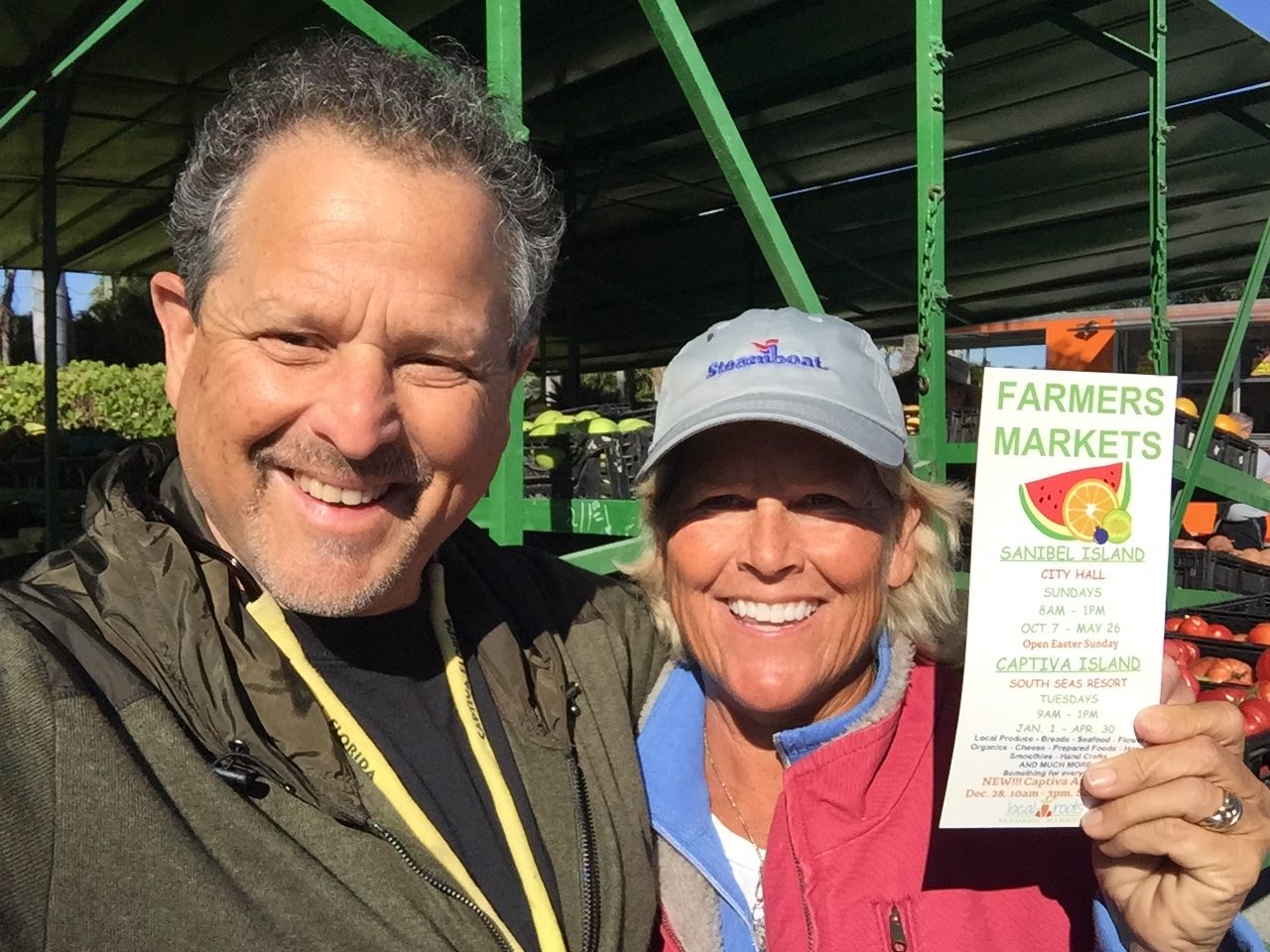 There was such an abundant selection of wonderful foods, not to mention one of our favorite finds…Lizzie's Lights for phab candles.   Local produce selections at both venues were vast and included for us a phab selection of citrus and exotic fruits, organic lettuces and absolutely some of the best heirloom cherry tomatoes I've ever tasted from Farmer Mike U-Pick.
WHAT ARE FARMER MIKE U-PICK'S FARMING PRACTICES?
They are a Non-GMO Sustainable Farm based in Bonita Springs and their decisions are based upon protecting the environment, protecting our resources (soil and water), and protecting our workers. With that, let me introduce you to Jessica…a very happy protected worker. You can tell by that smile and you know what they say about happy people….yes?
Jessica, please bring the word back to your folks that we appreciate their practices and tell them we love the product!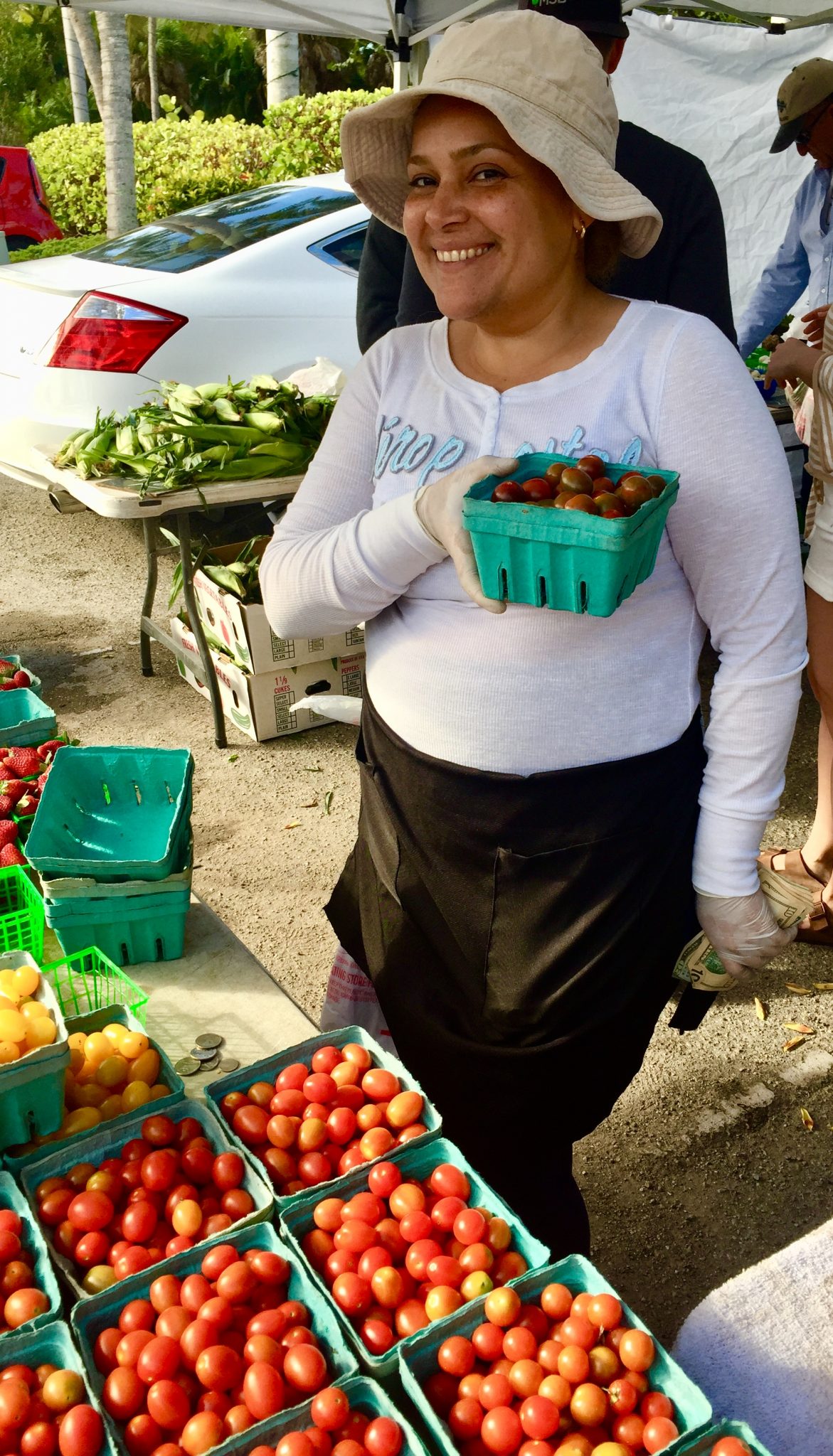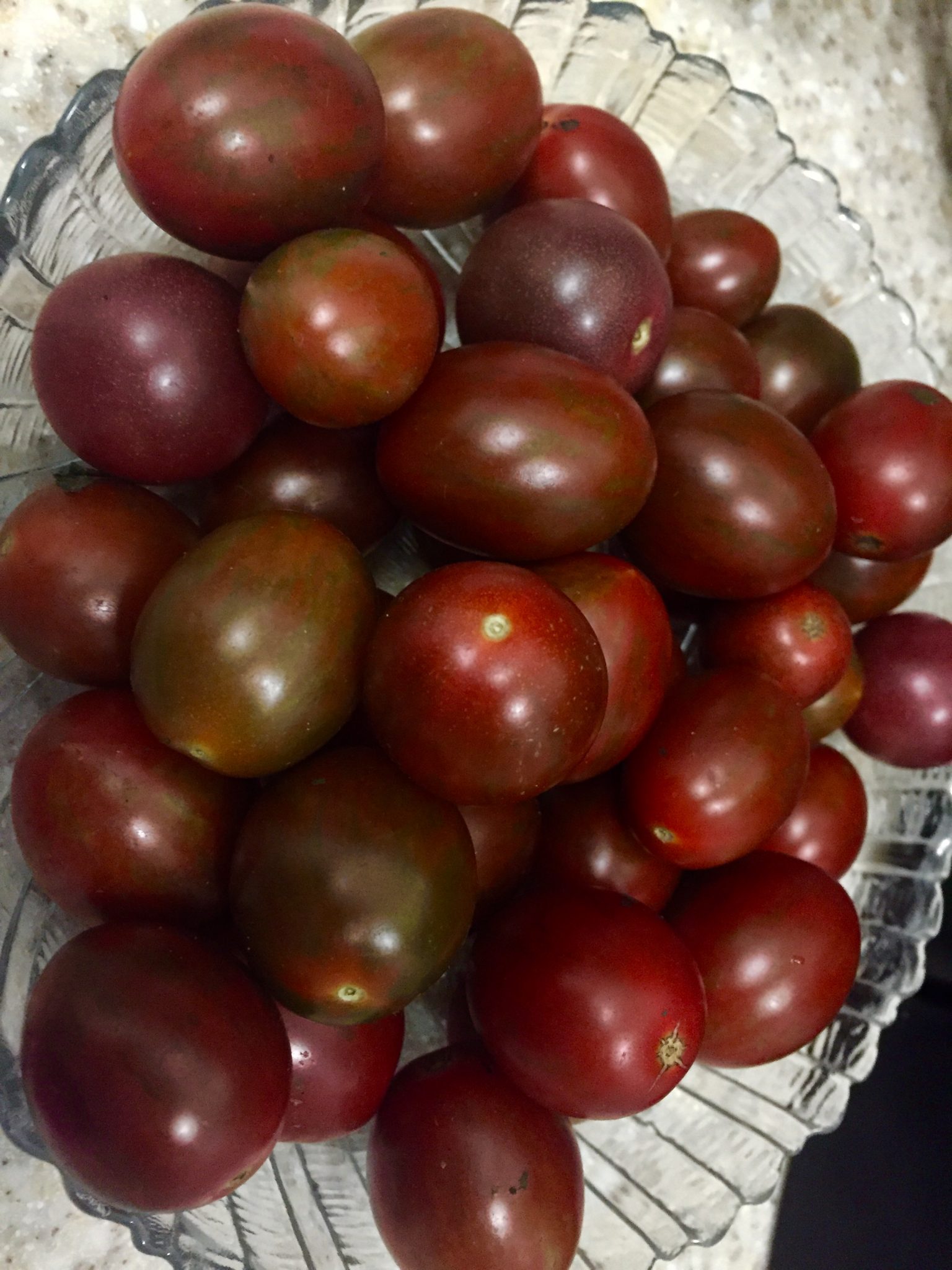 Sandy shopping and a couple of dishes we made from what we bought at the Farmer's Market's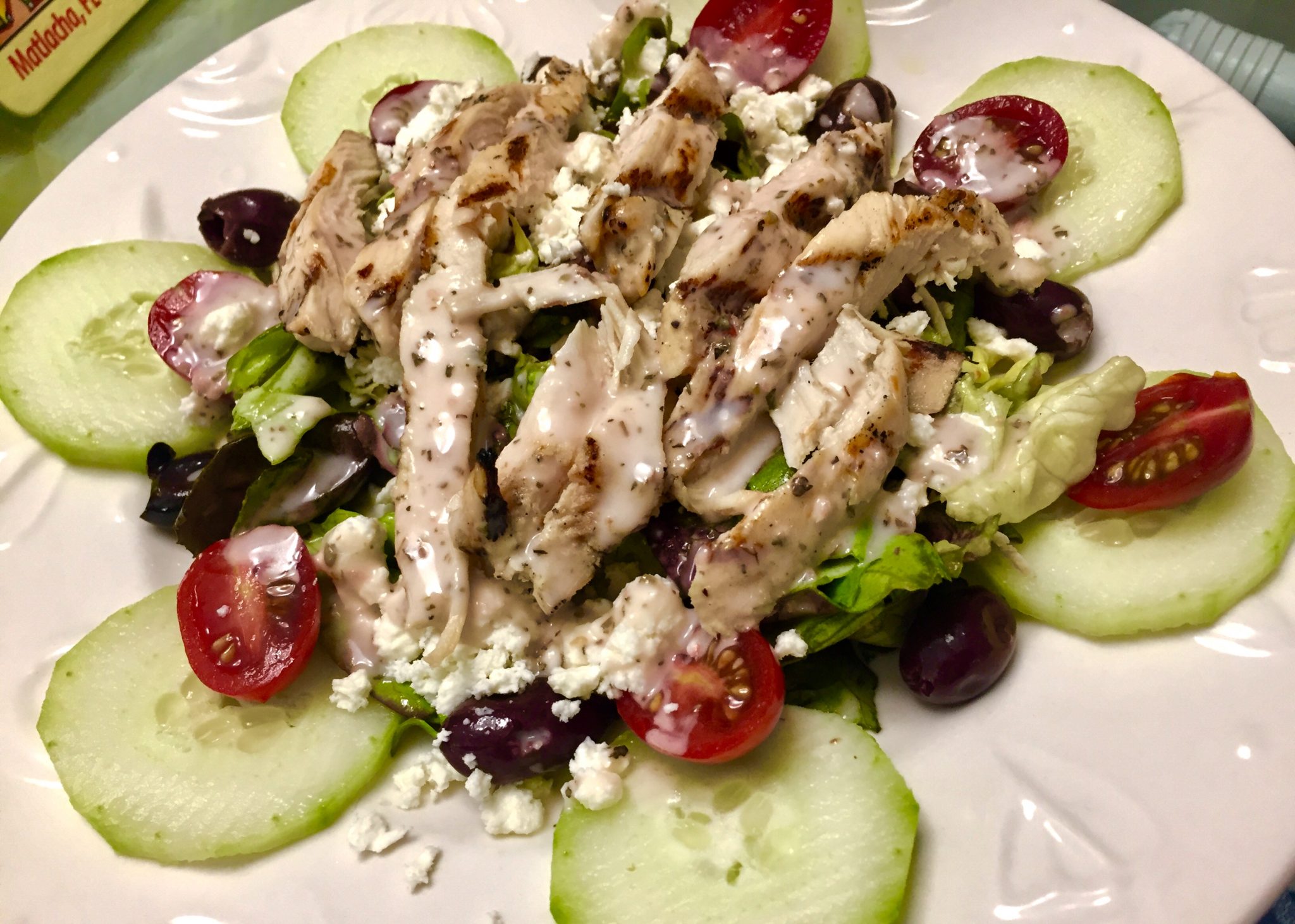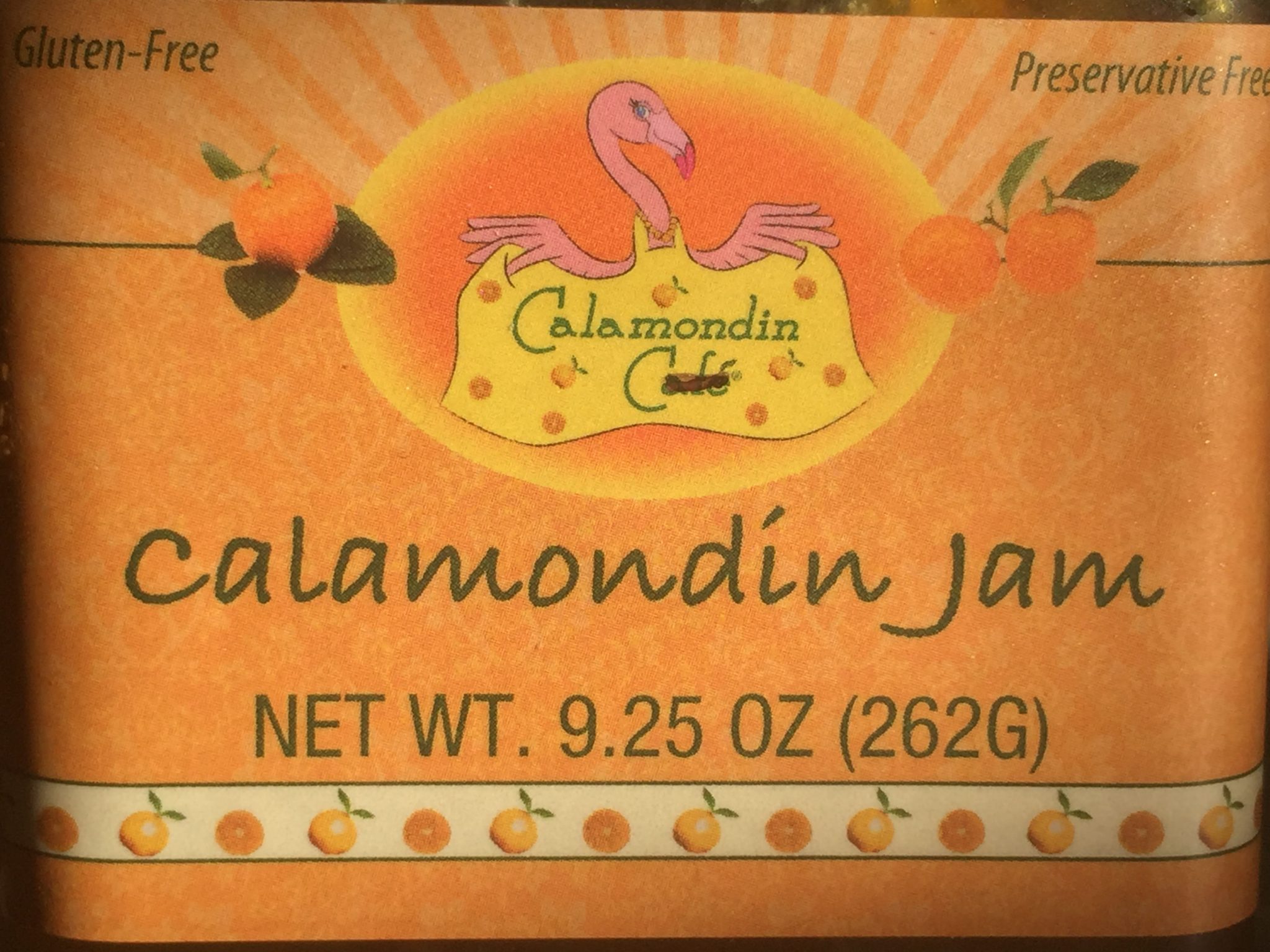 Ever hear of Calamondin Oranges? Me neither…but a winner!
Other favorites included unbromated flour breads and  Gallberry honey from Heritage Point.
Hey Mary…thanks for your fine reception and fun personality, It made the experience that much sweeter. Loving the Gallberry honey! Tell Mr. Don Murray we'll be back for more.   
Fresh local seafood, meats, flowers, really nice bagels and cream cheese flavors, fresh mozzarella cheese selections, Greek cheeses,  and beautiful tropically scented candles were all an integral part of these shows…BUT the real show stopper was THE BEST Guacamole we have ever tasted.  This superior product by Dynasty Guacamole was prepared fresh in large batches by the happiest bunch of fellas…and on the spot. You know what they say about happy people…yes?
So happy, they gave me their recipe to share with my readers. Can you imagine?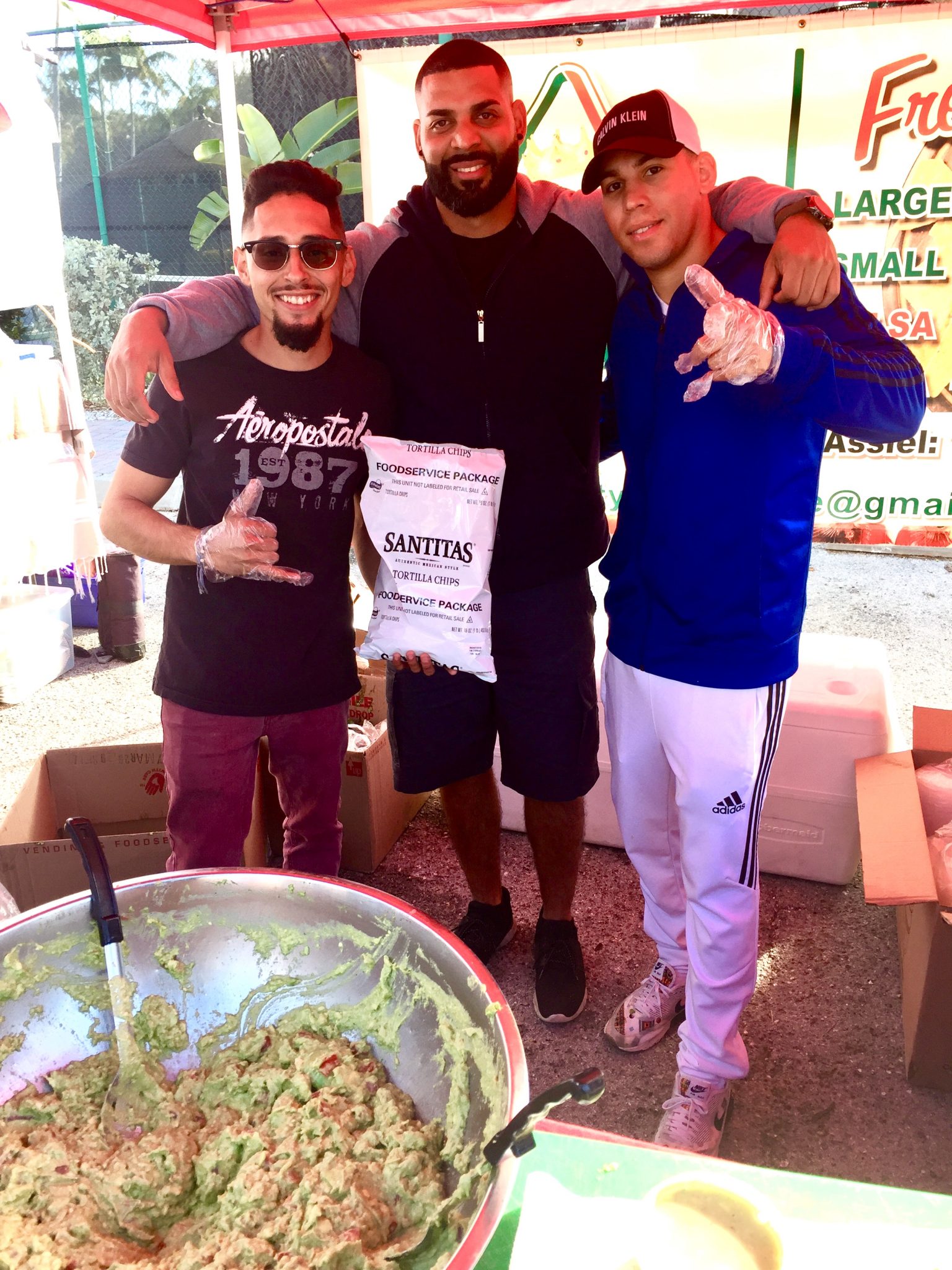 Meet Winston, Izzy and Pedro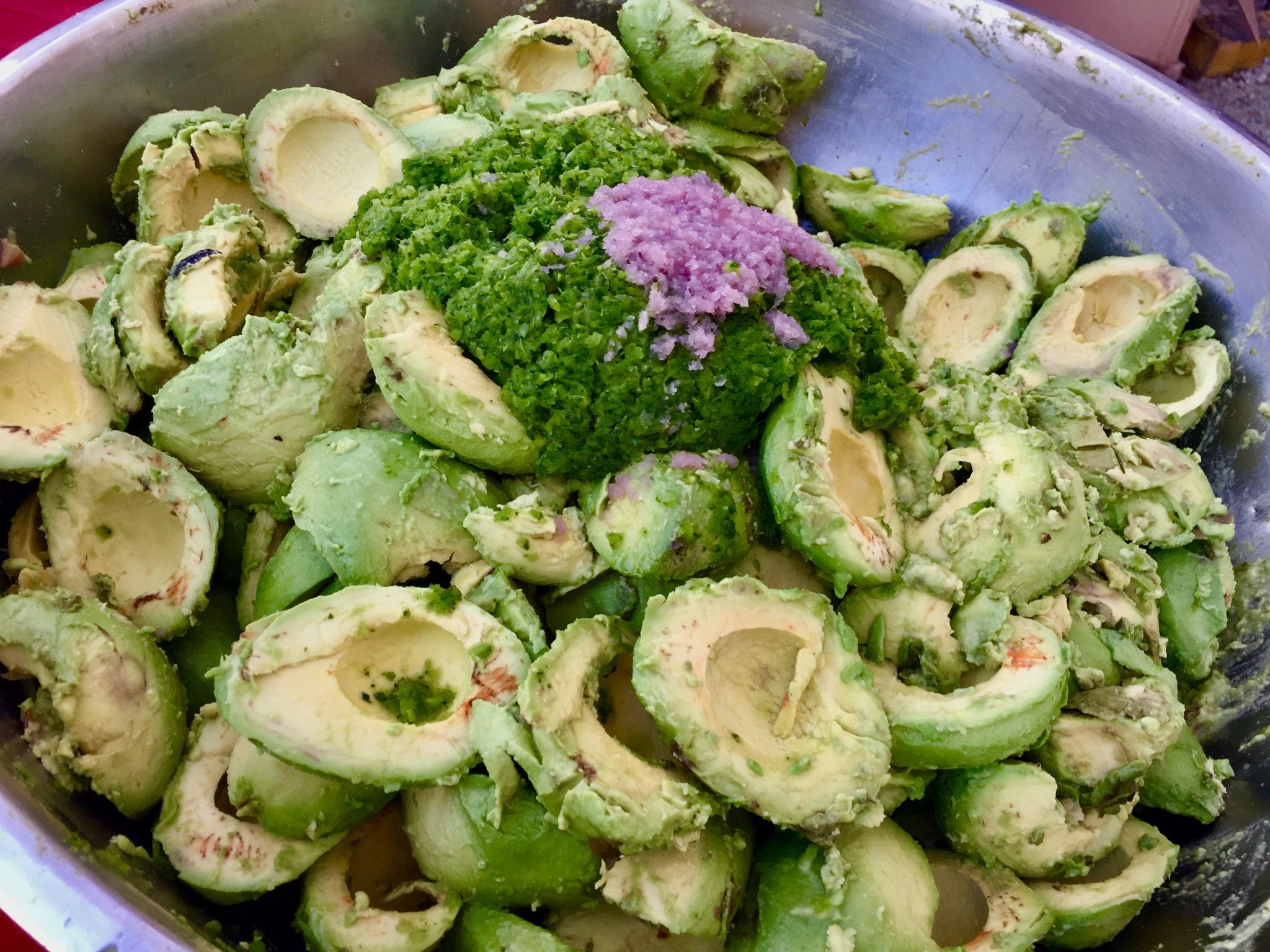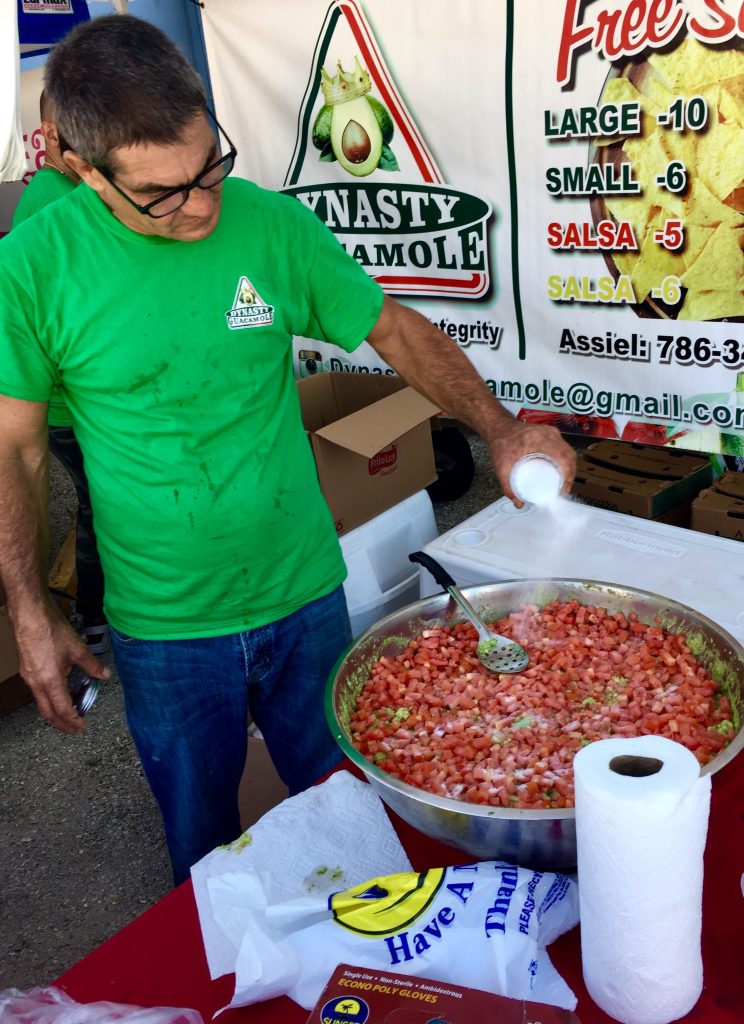 So…here goes…Avocados, sea salt, lime juice, tomatoes, red onion and extra virgin olive oil. Simple…right? The only thing you need to figure out is the proportions. It's better that way anyway so you can make it to your taste…yes? They also sell on the spot their famous tomatillo green salsa, pineapple salsa and Mediterranean mango salsa.
Let's move on to some wonderful Italian products prepared by  Chef Luigi of Ernesto and Luigi's Sauces.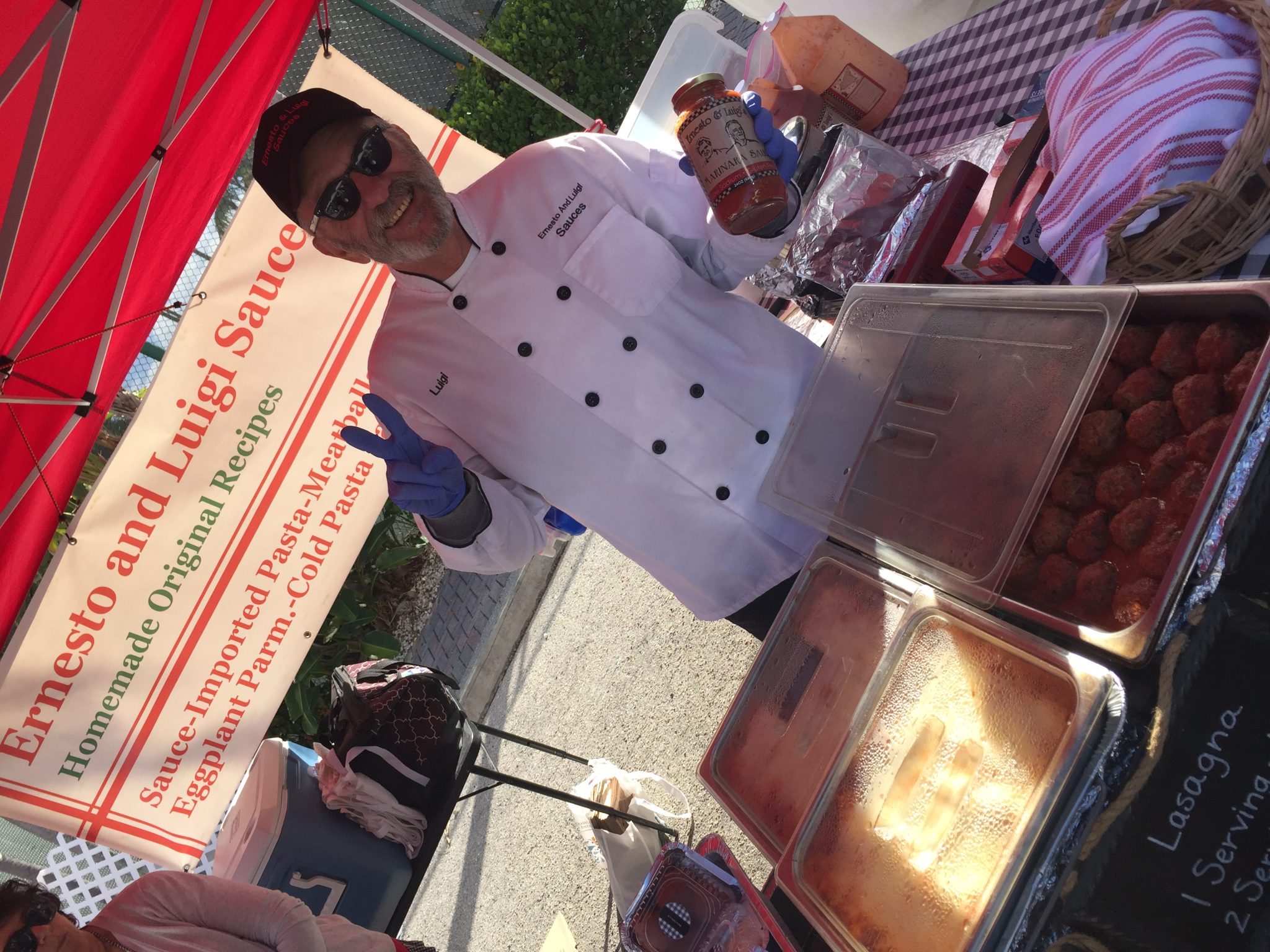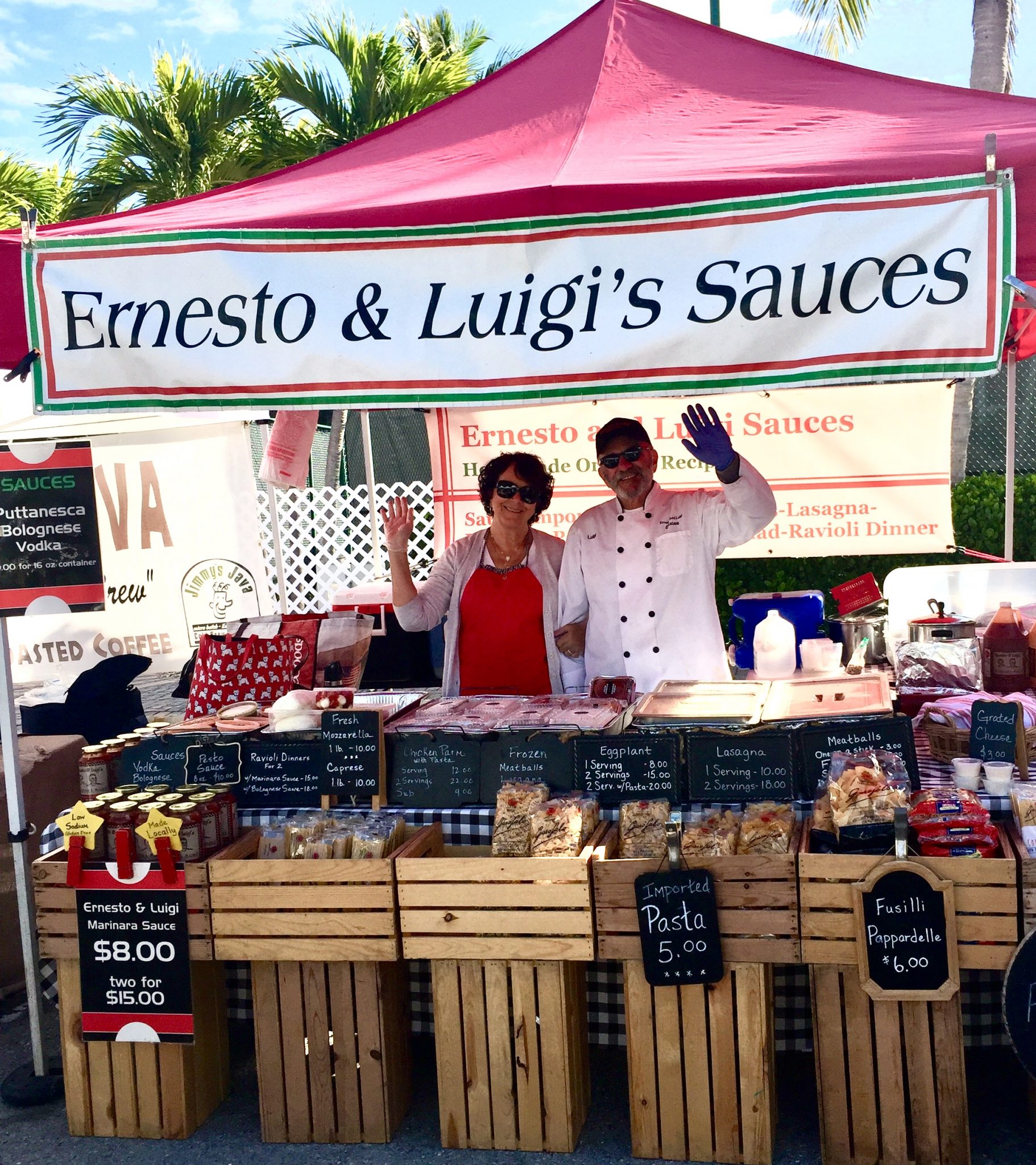 Bottom line…we couldn't taste everything, but whatever we did eat brought us back to the flavors of Arthur Avenue in The Beautiful Bronx. Thank you chef and thanks to your lovely daughter in her NY Yankee hat for her phab ravioli.
Well, that's about it for our favorites and Jean's famous Sanibel and Captiva Farmer's Markets.
Thank you Jean…See ya next time!
As much as I could be satisfied getting up and going to the South Seas beach or pool for the day, Sandy like to take us on adventures on some mornings (Sunday and Tuesday it's the Sanibel or Captiva farmer's markets) and then the beaches or pool in the afternoon. On one of those adventures, our friends Judy and Eddy along with Helen and Joe  in nearby Fort Myers took us on a day trip to the art colony of Matlacha on Pine Island…for sure one of the most colorful and inspirational art destinations we have ever seen, I have to confess, however, I was shellfishly  bowled over by not only the colorful art…but by  BERT'S Bar & Grill.
Are you ready?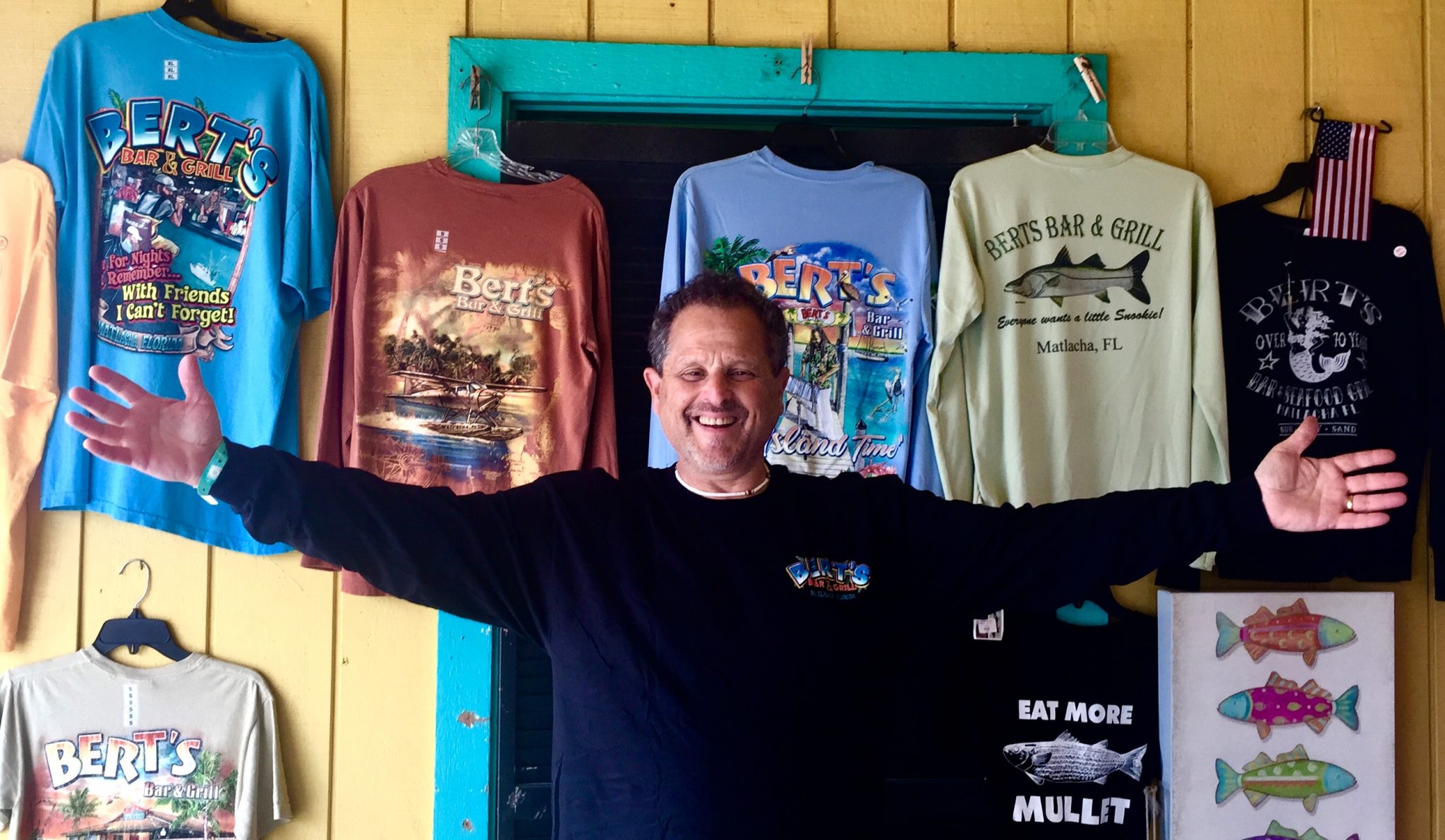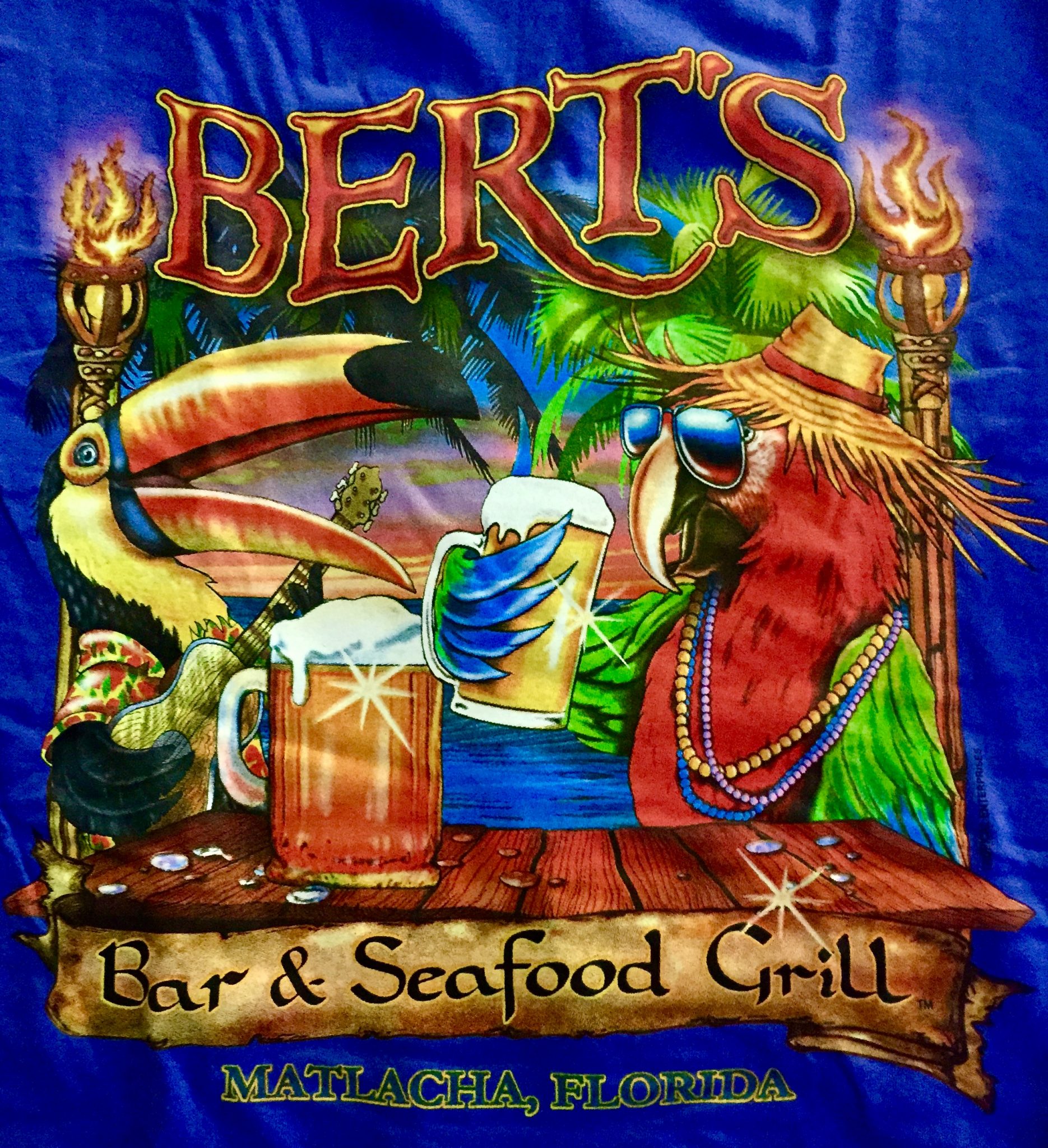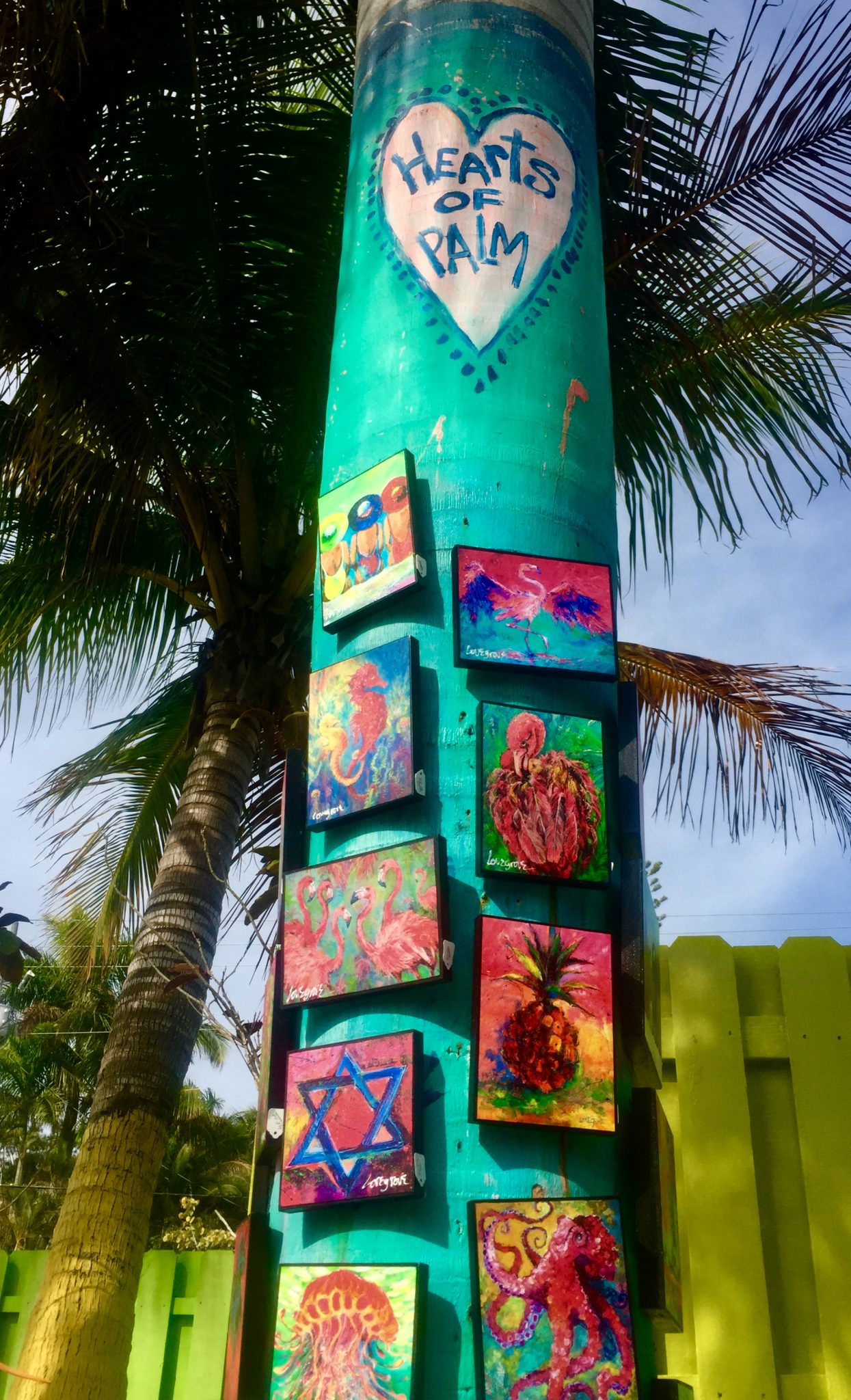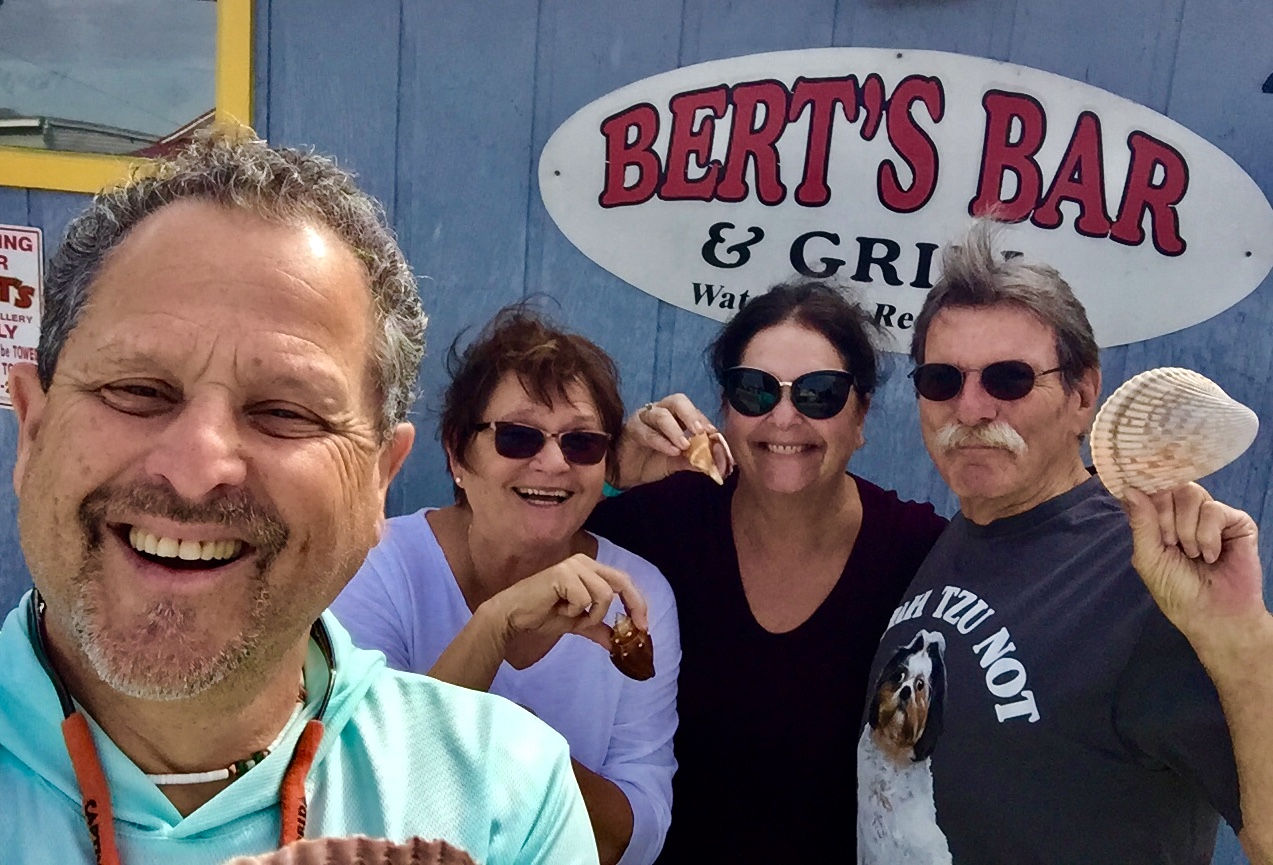 Me, Judy, Sandy and Eddy takin' a Shellfie!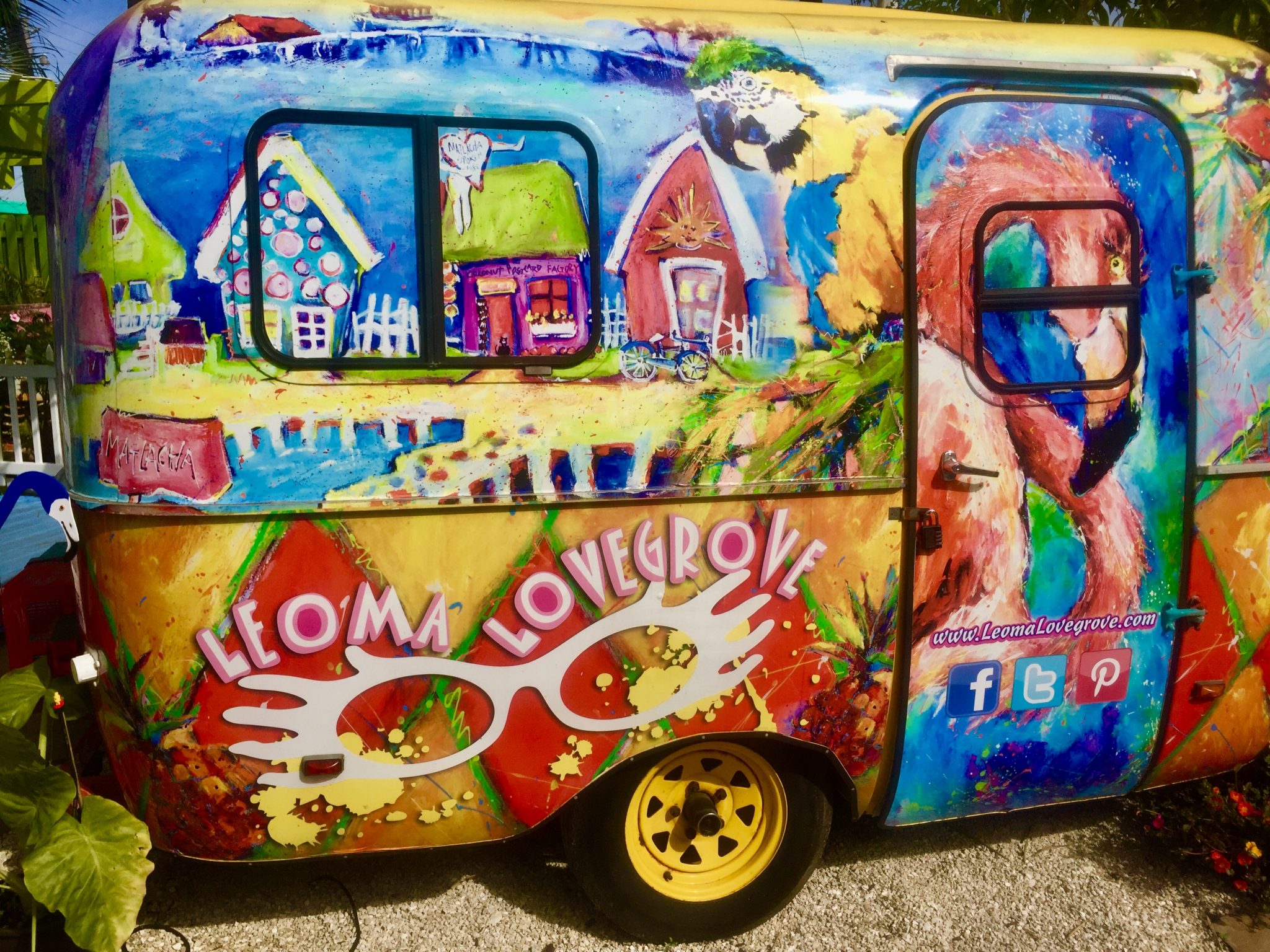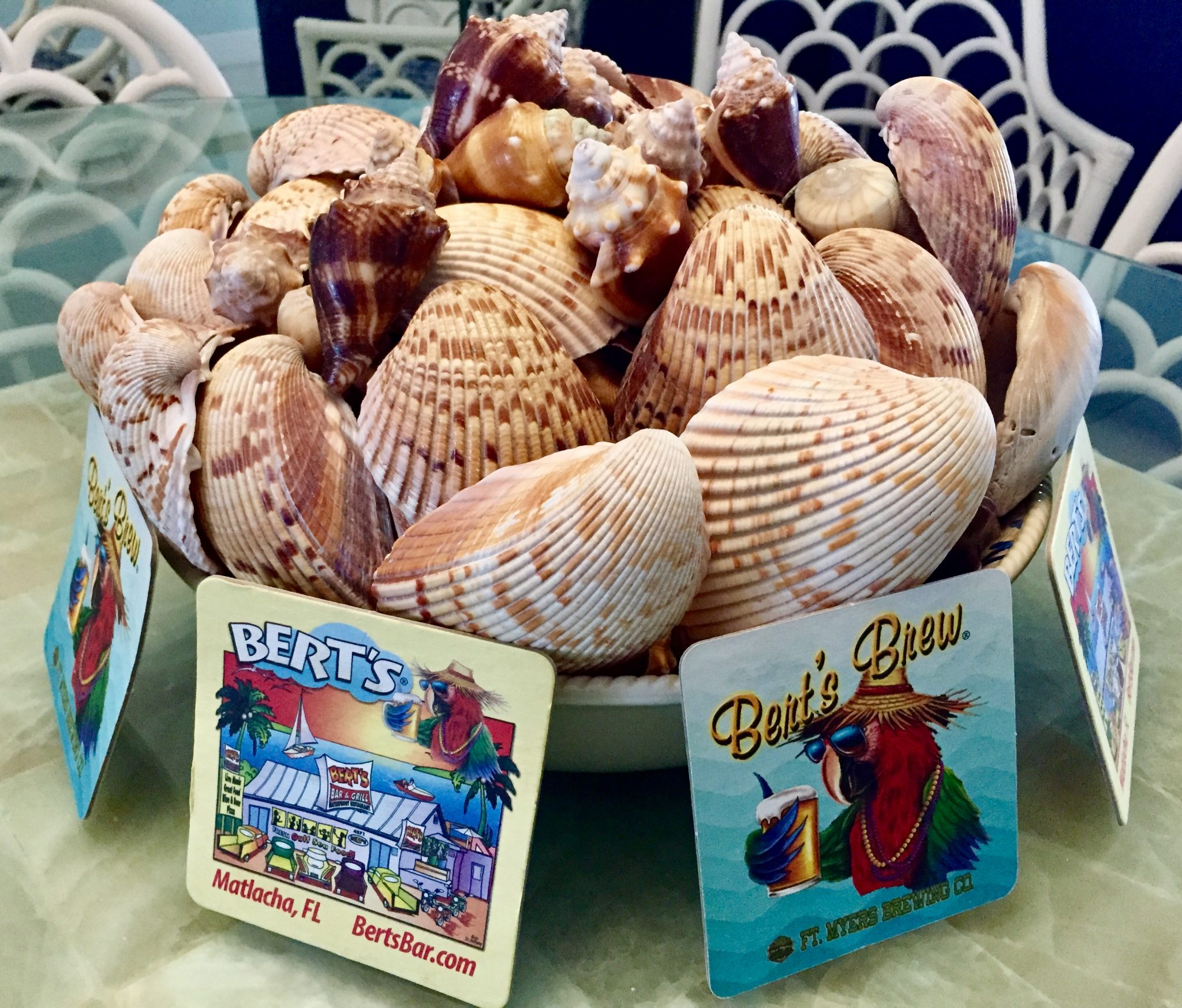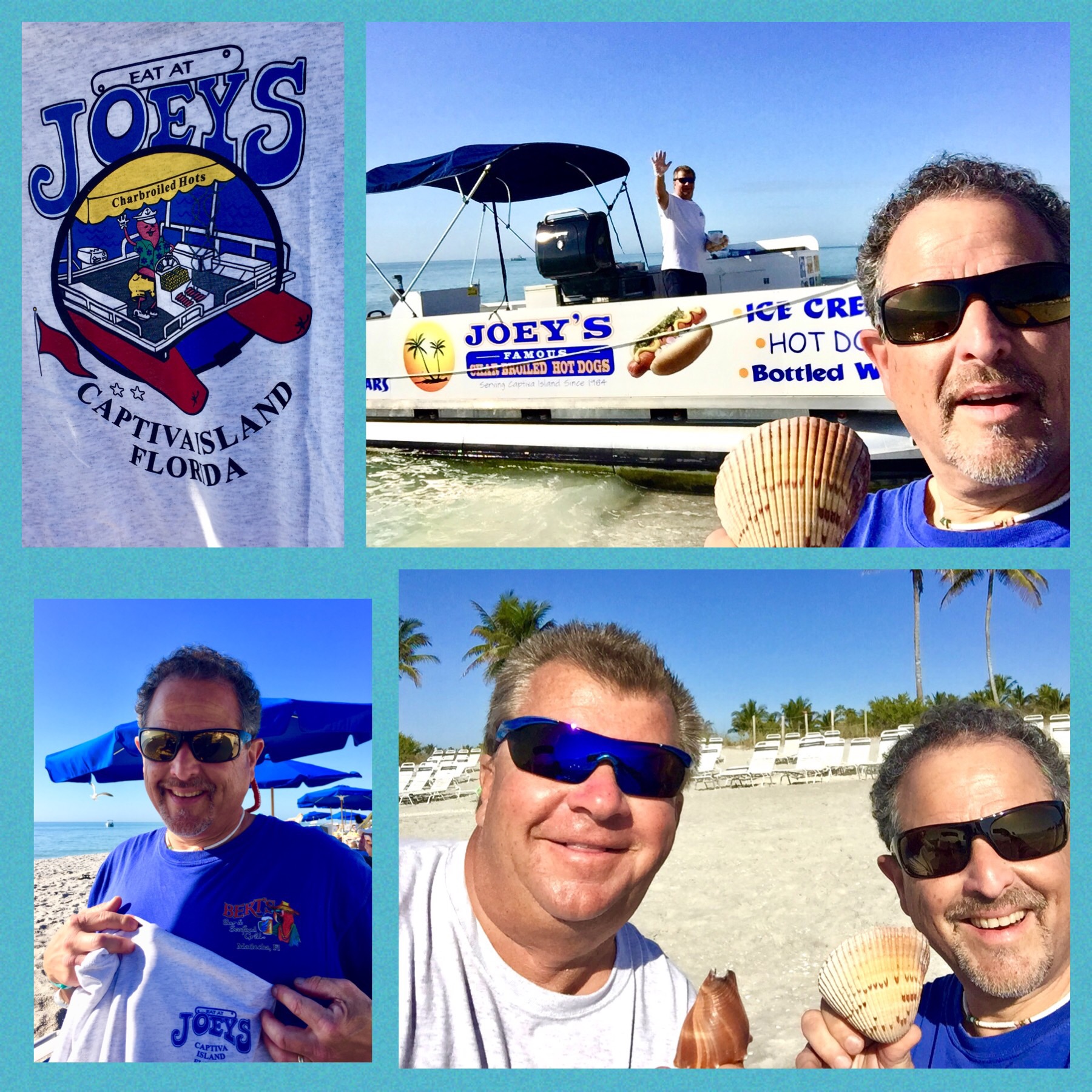 A special shout out to Joey…Keep those Hot Dogs and your personality coming Joey…See ya next time!
BTW…Just so you folks know how to get Joey and his boat to come into where you are…
Don't wave! You need to motion him in by moving in unison both of your arms toward you on the beach. This is how he will know you want him and his phabulous floating hot dogs!
All the best,
Sandy & Bert
No worries …Schnapper's…and more…coming soon!