Desperate times call for…heroic measures. When the corona-virus pandemic really hit the United States in March, 2020 forcing shutdowns, curtailments and general upheavals across all onsite dining segments, the industry responded not by folding its tents but by stepping up and fulfilling the mission of making sure customers—at least the ones still around—were served.
There are so many to mention and I'm sure I will be adding to this entry as the many months go by.
The first in the world of food that I continue to marvel at is one local restaurant right here in Oyster Bay…namely Pietro's Brick Oven Pizza.
Fresh Out of Brooklyn is Pietro's Brick Oven Pizza in Oyster Bay! Yaaaaay!
The owner Peter…ie…Pietro was and is a non-stop food-prep machine who felt he had an obligation to meet the demand of those who needed his food service in this time of Covid where nobody really knew what was going to happen next.
Say Hellooo to Pietro 🙂
To this day, he and so many others in the food world are doing what they can not only to survive, but to help others…like us…to survive.
As Sandy and I cautiously travel about, we can't help but notice other restaurants and those in the world of food service like Pietro's who are there to serve their community at virtually any cost.
There are too many to mention, however the individually owned and operated restaurants should be your focus. Why?… because whenever you buy local, you're putting money back into your community and neighborhood. Every dollar spent locally circulates within the community through profits, jobs, and charities.
Also keep in mind that while chains or franchise restaurant owners have the entire corporation to fall back on in a pinch like what we are all going through now, an independent owner has no one. A chain restaurant's primary responsibility is to drive profits for its shareholders, who are most likely not locals…ie…you!
So with that I would like to give credit to some of the individually owned and operated Long Island restaurants and others in the food service that  I/ we have gotten to know and ask you to support these heroes as we do.
Besides Pietro's, let's give recognition to some other Long Island locations like Sip n' Soda in Southampton, the North Fork Shack in Southold, La Piccolo Cantina in Bayville. and a couple of fabulous new NOFO phinds for us…ie…The Wayside Market in Southold and The Watershed Kitchen & Bar in South Jamesport!
Just Lovin' the Traditional Burger, Ice Cream & Personality at Sip 'n Soda in Southampton, L.I. New York
Bert with Mark. Yes….there is a smile underneath that mask 🙂
Outstanding Burger & Shallot-Dusted Fries at The North Fork Shack in Southold, L.I. N,Y., USA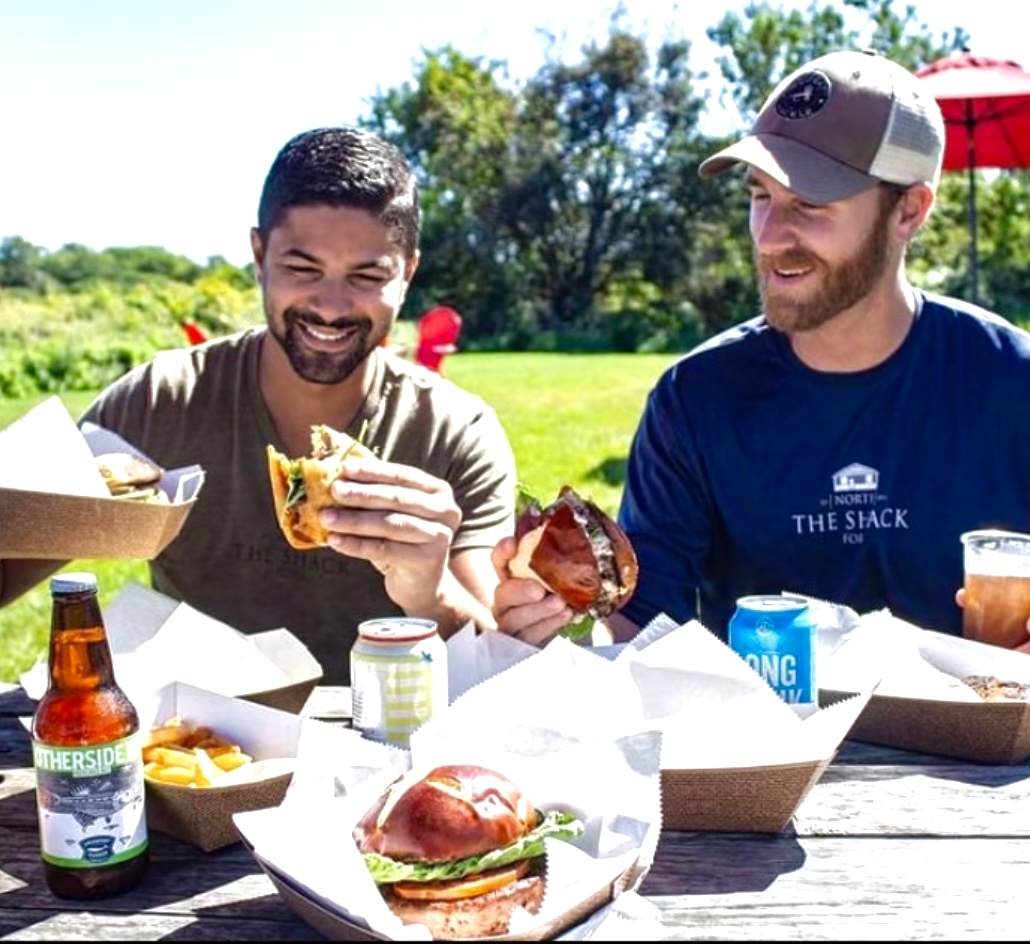 Say Hellooo to Samy & Ryan. You know what they say about happy people 🙂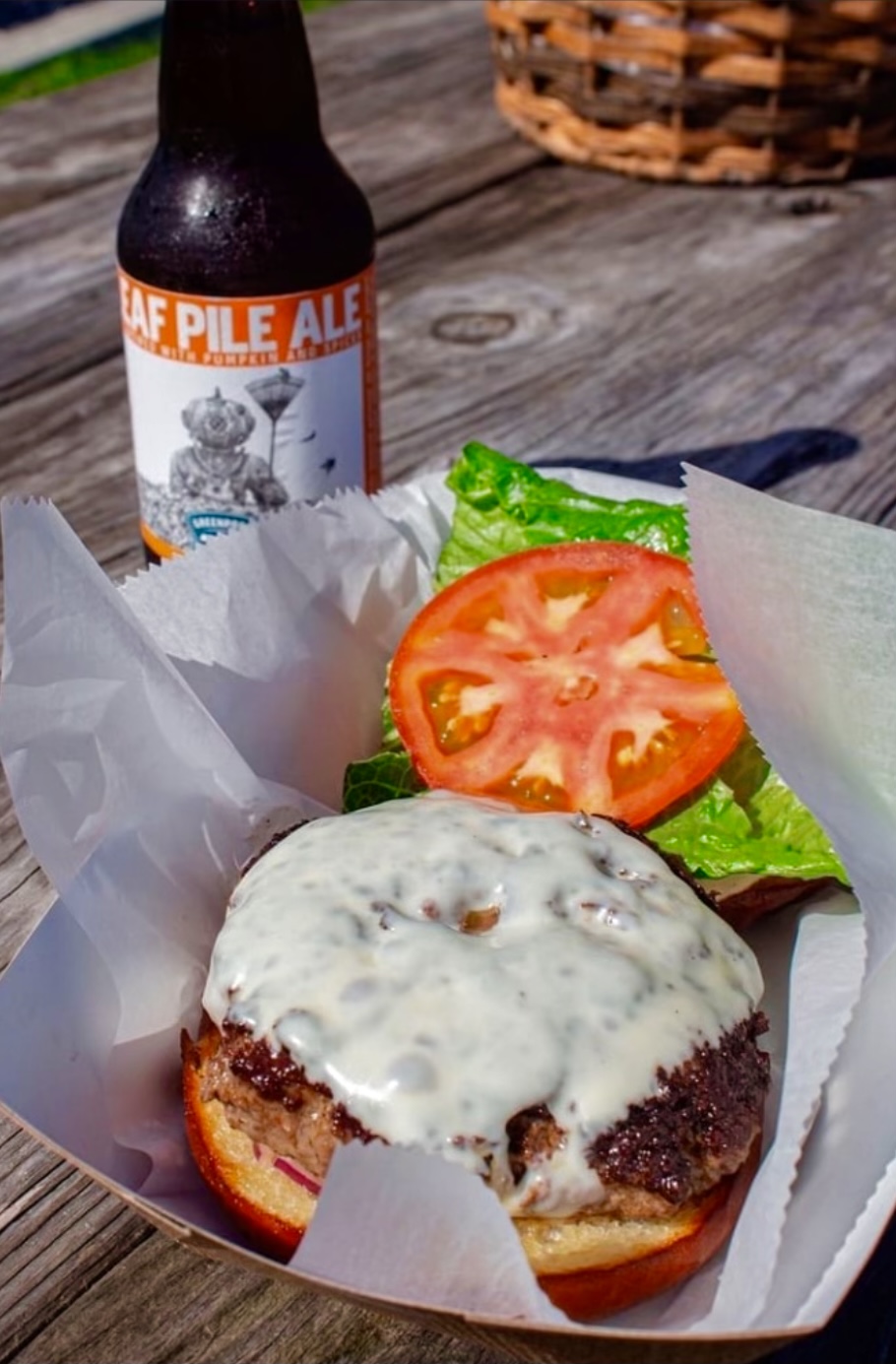 Up next…
Piccolo Cantina Bay…formally La Cantina in Bayville, Long Island, New York is another individually owned restaurant that specializes in wonderful Mexican AND Italian specialties and who deserves a spot in this entry for their tireless efforts in feeding us all during this Covid crises the whole world is experiencing.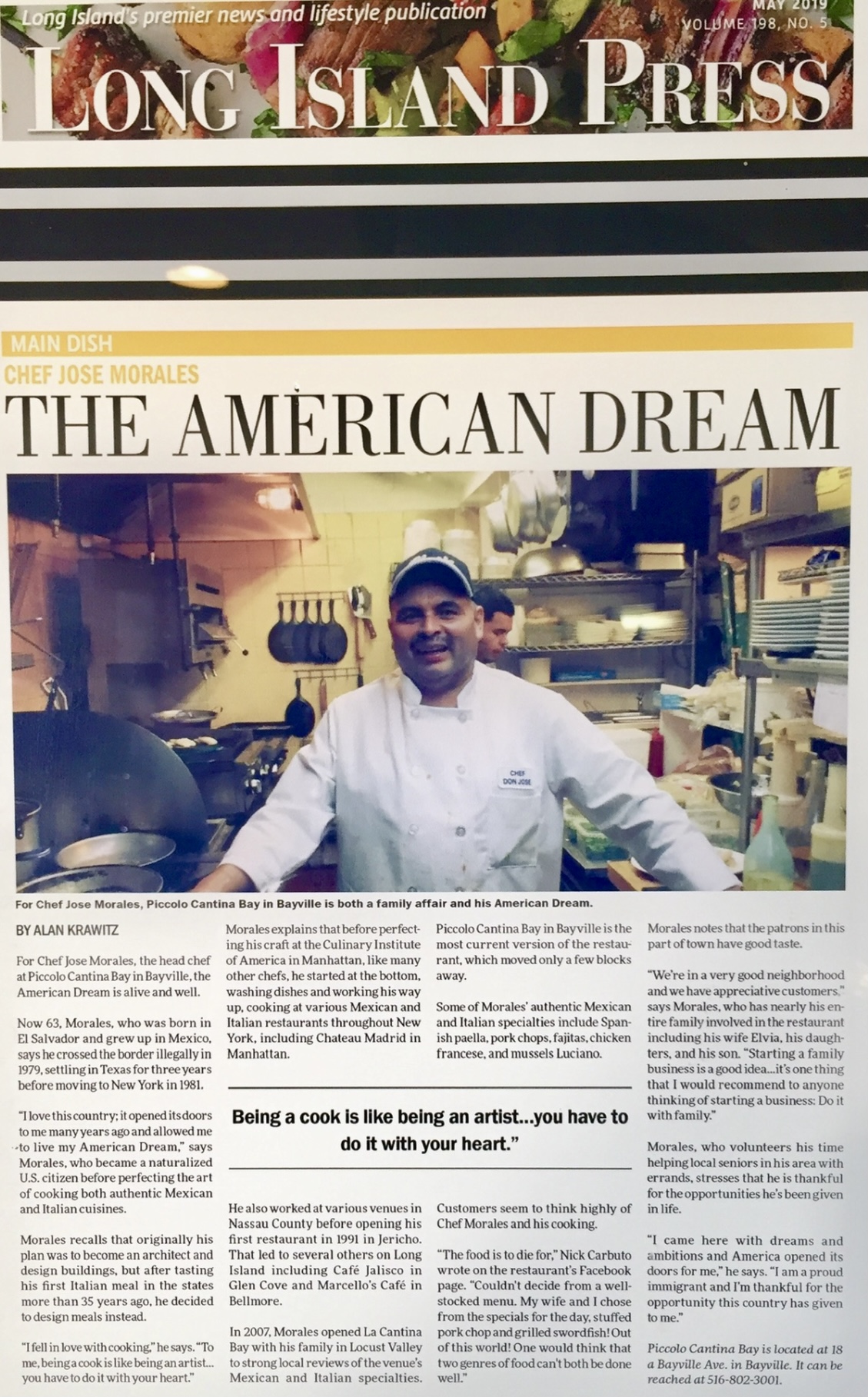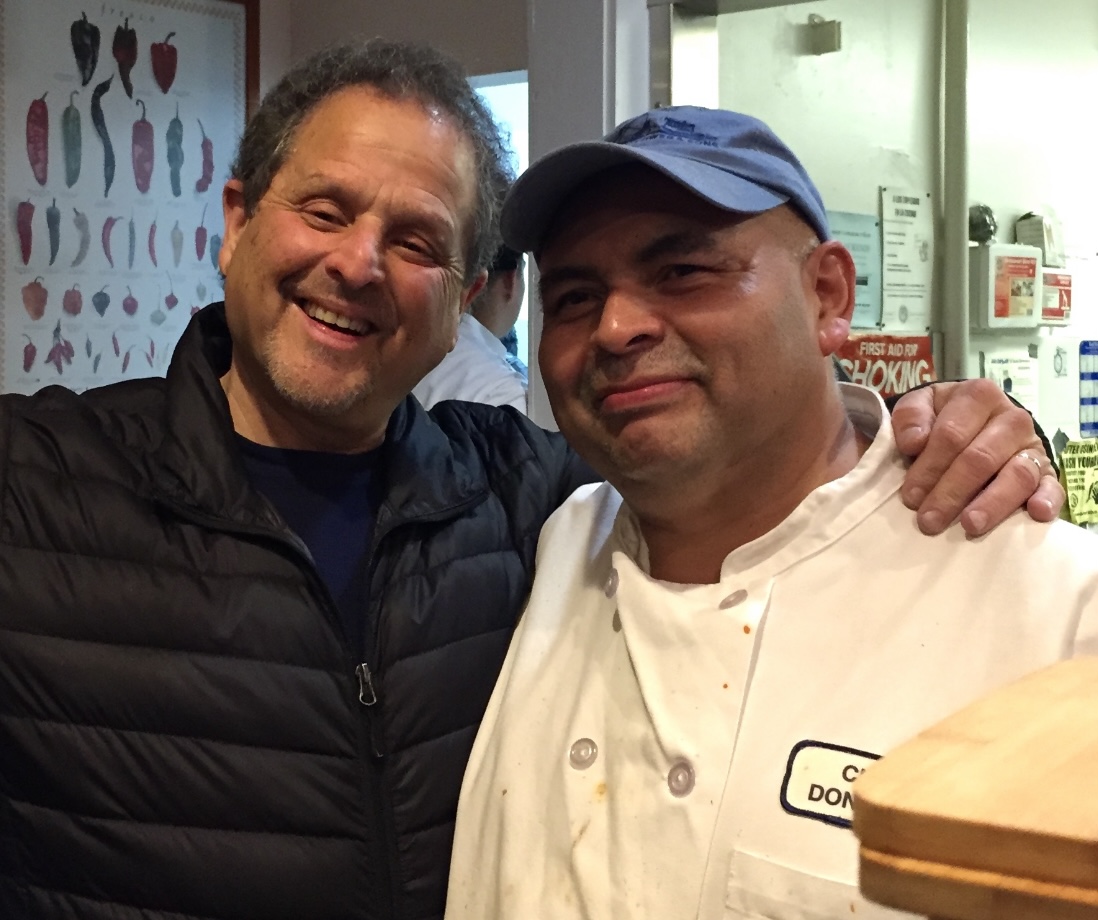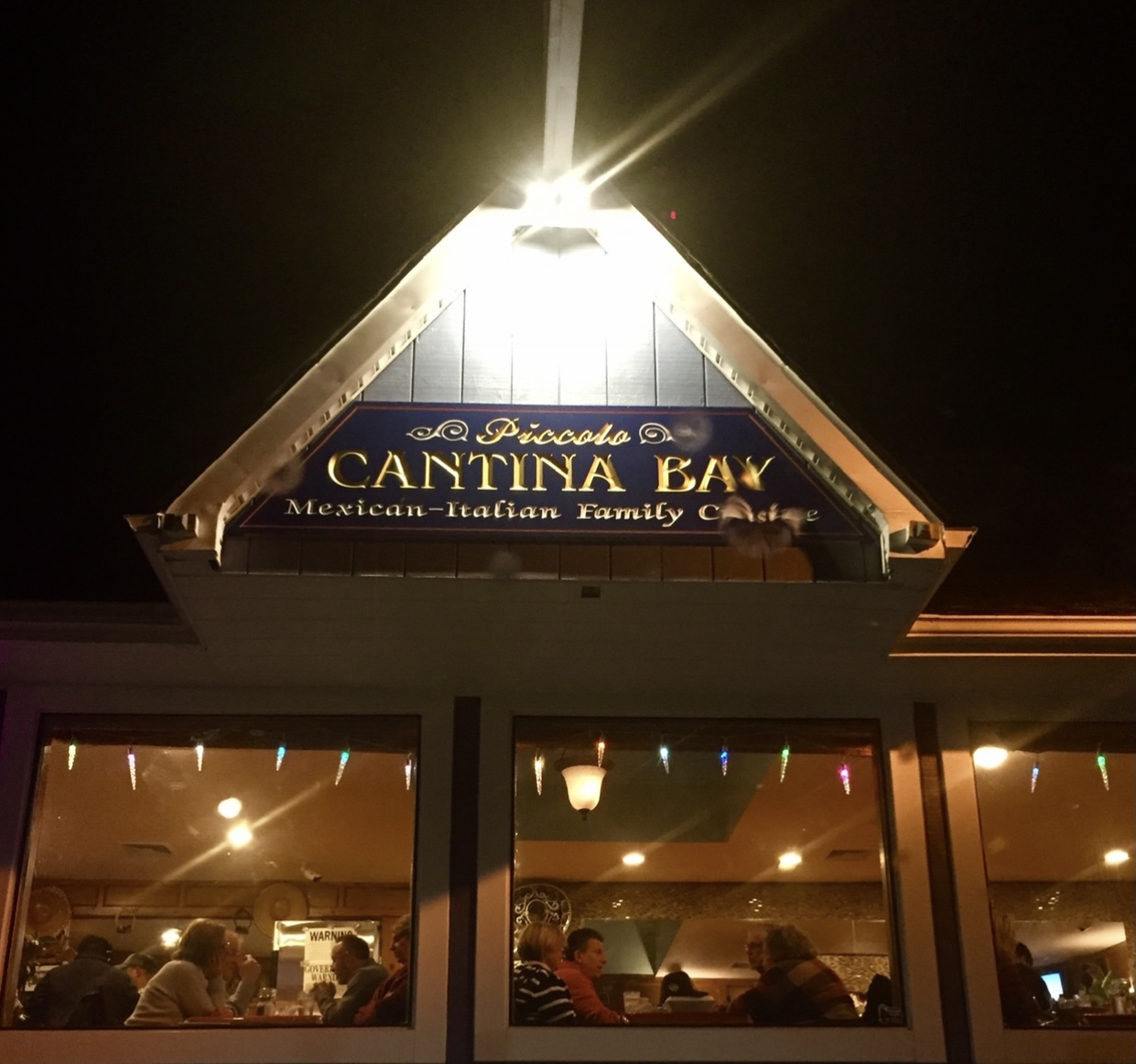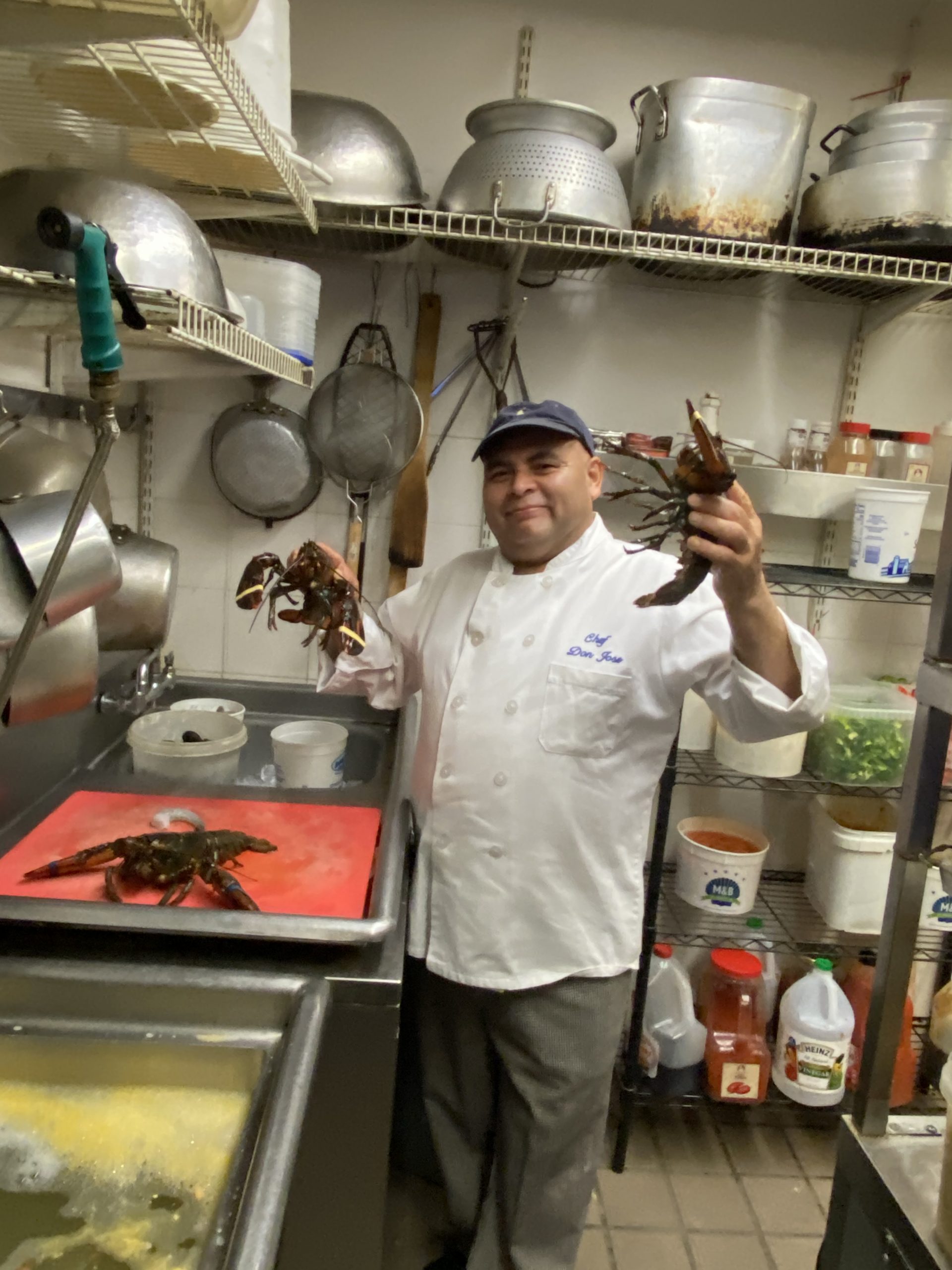 Say Hello to Chef Jose Morales!
Pics were taken pre-Covid
Here's a few of our favorites!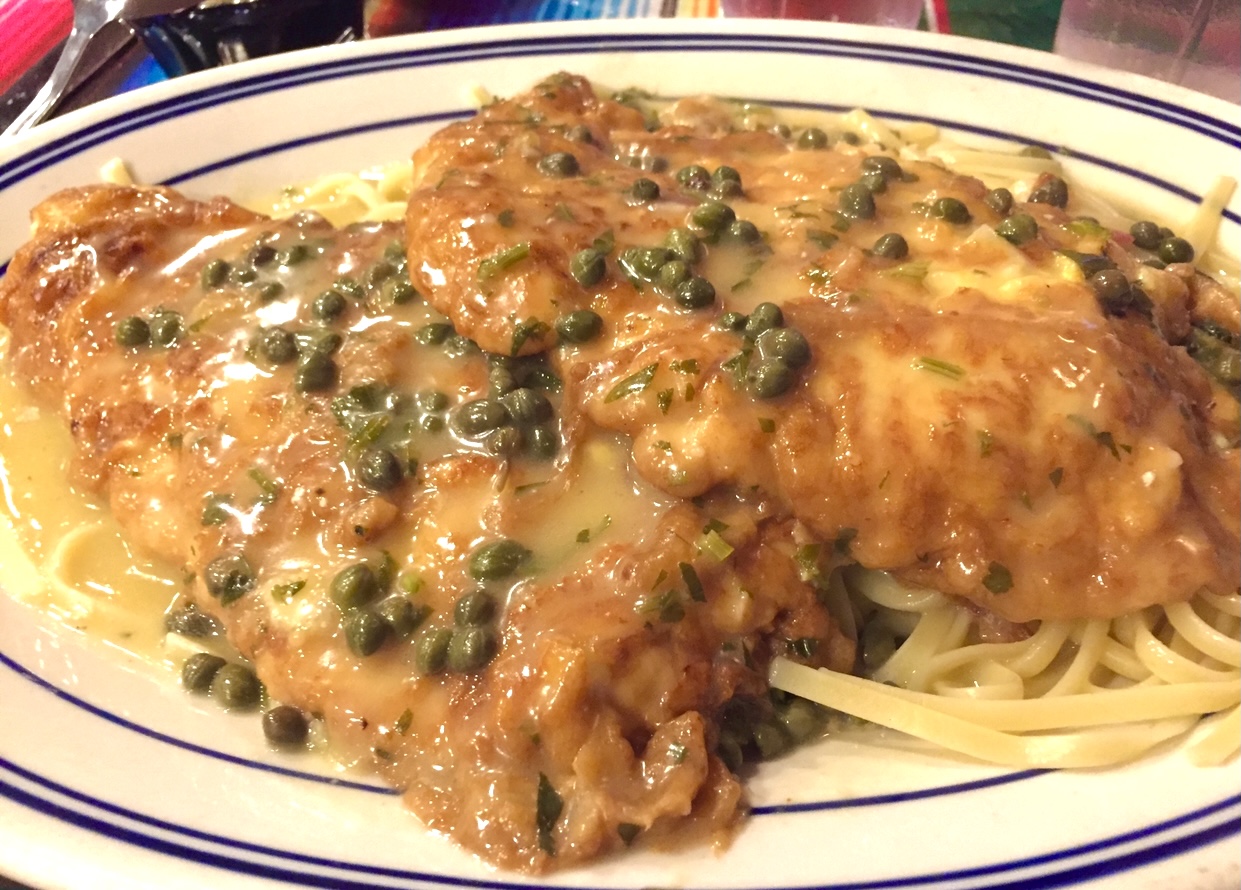 Chicken Francese with Capers (or no capers) over Linguine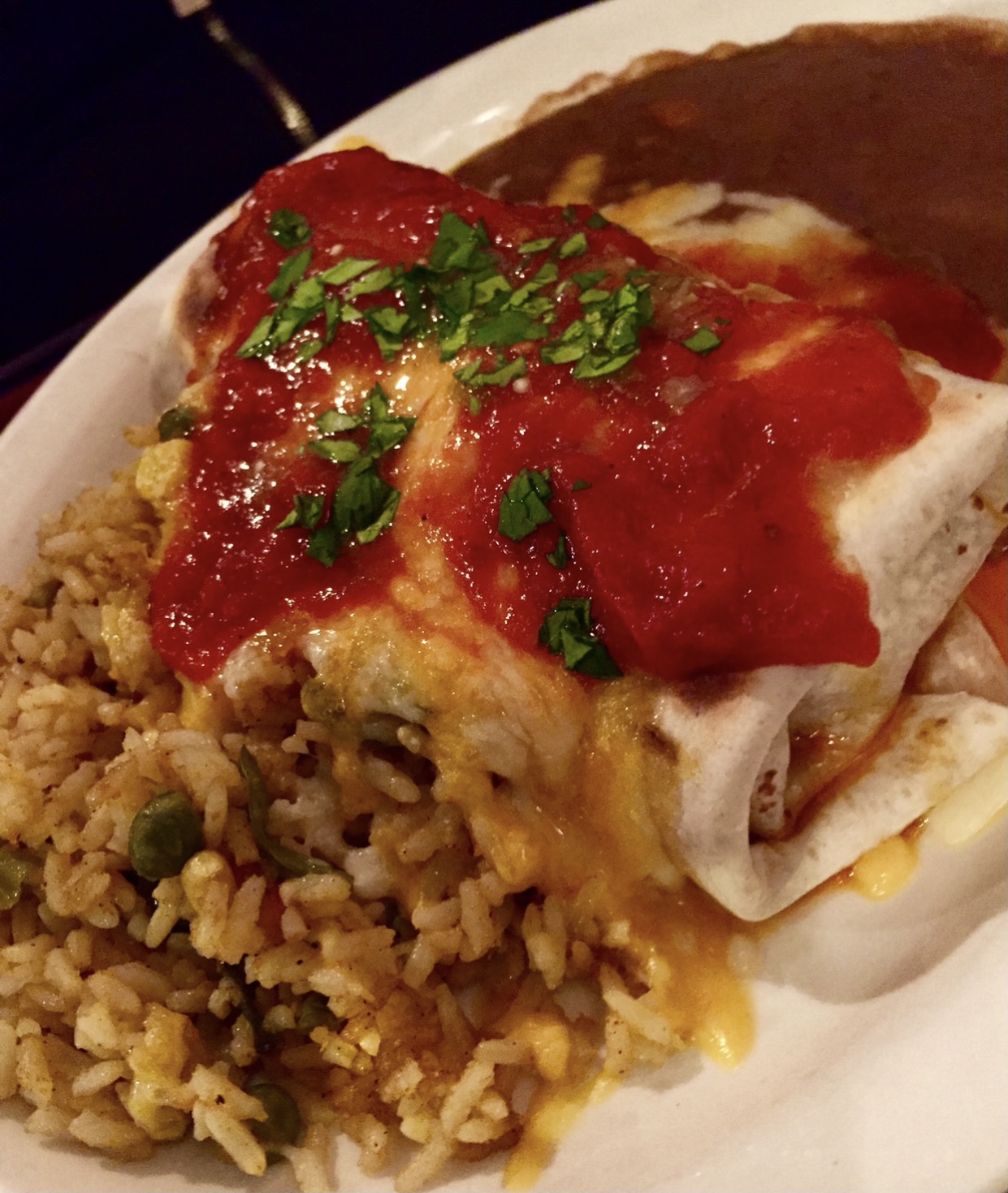 Burrito Supreme
Penne' Bolognese
Say hellooo Pasquale & Isabella…a father/daughter team with passion, humor and genuine good taste!
Can you imagine? After travelling out to the NOFO for the last 20+ years, we only recently discovered the Wayside Market this last summer (2020) and have visited just a few times since then. Enough times, however, to sense that what comes out of here is among the best…if not THE best… anywhere!
On our last trip, we were greeted by Pasquale's in his own inimitable way. A big fat smile! We were looking for a special blend of beef and/or brisket and/or short ribs and struck gold!
Enuf said. Trust me. Just get out there …and besides supporting another individually owned food business that deserves your support…you will strike gold too!
After all, you know what they say about happy people…YES?
Long Island Press article October, 2020
From one who can appreciate the Long Island Press 🙂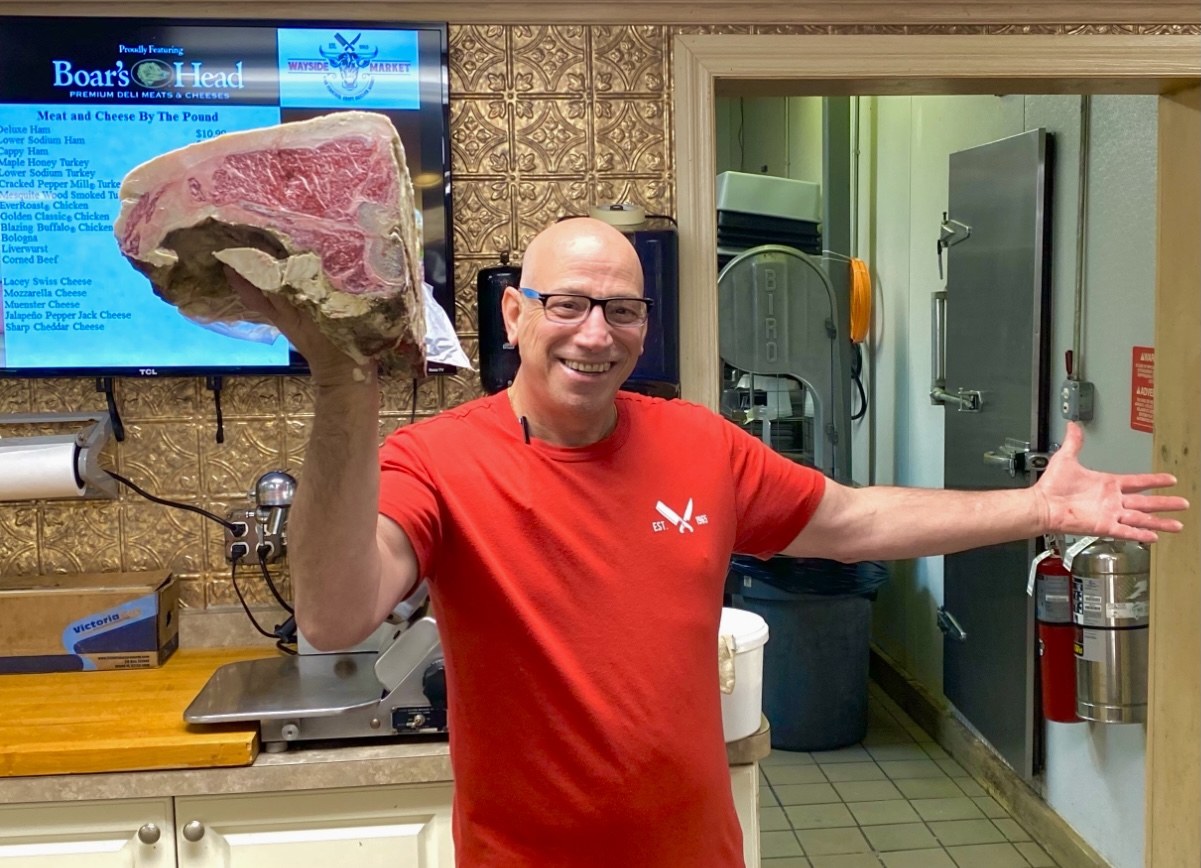 Take care Pasquale…See you again soon!
Jamesport on the NOFO of Long Island is home to many restaurants that I/we have reviewed. In this blog you will find the foods we enjoyed at Jedediah (at the time Luce Hawkins, named after Jamesport's "Native Son" Chef Keith Luce) Hawkins, Grana Trattoria Antica, Mainroad Biscuit, and The Jamesport Manor Inn.
They are all among the independently owned establishments who serve their community and deserve your support. To this list, I would like to include the folks at The Watershed Kitchen & Bar in South Jamesport as our latest find!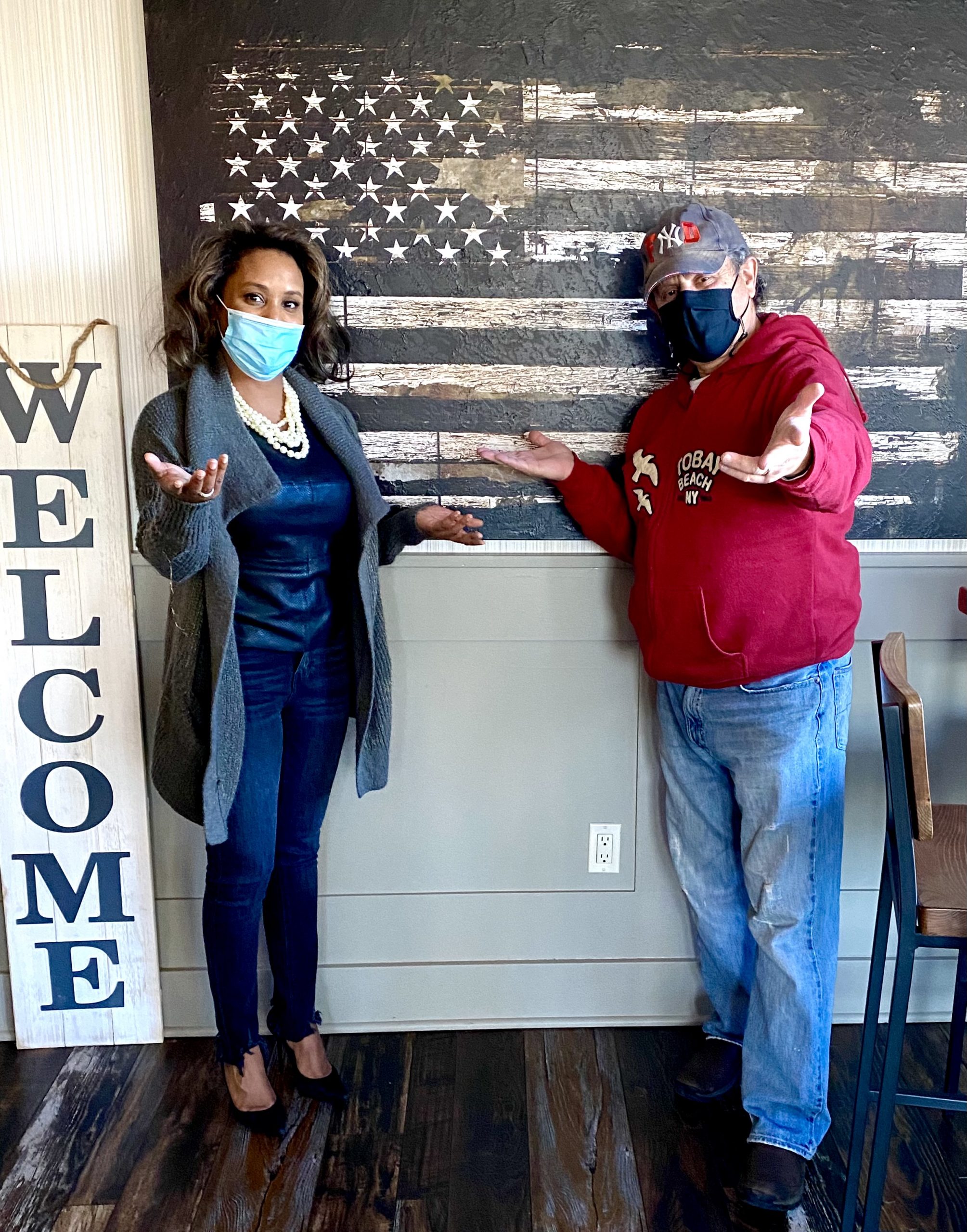 Says Patricia with 🙂 Welcome to the Watershed in The BayBreeze Inn!
Sandy discovered The Watershed in The BayBreeze Inn by chance and we decided to give it a shot and celebrate Joel's (of Sharyn & Joel fame) birthday with a Watershed lunch.
We simply don't eat at restaurants much anymore because of Covid and our plan was to take it out and eat it on the beach. When we arrived, the wind was blowing at the beach and there was (not surprisingly) a chill in the air that provided us the incentive to perhaps sit at Watershed outdoor table in the sun. As we are pondering, out walks Carlo.
Let me tell you about this gracious Italian dude! After about just a minute or two, Carlo set us at ease with our safety concerns and we felt quite comfortable enough to be served outdoors.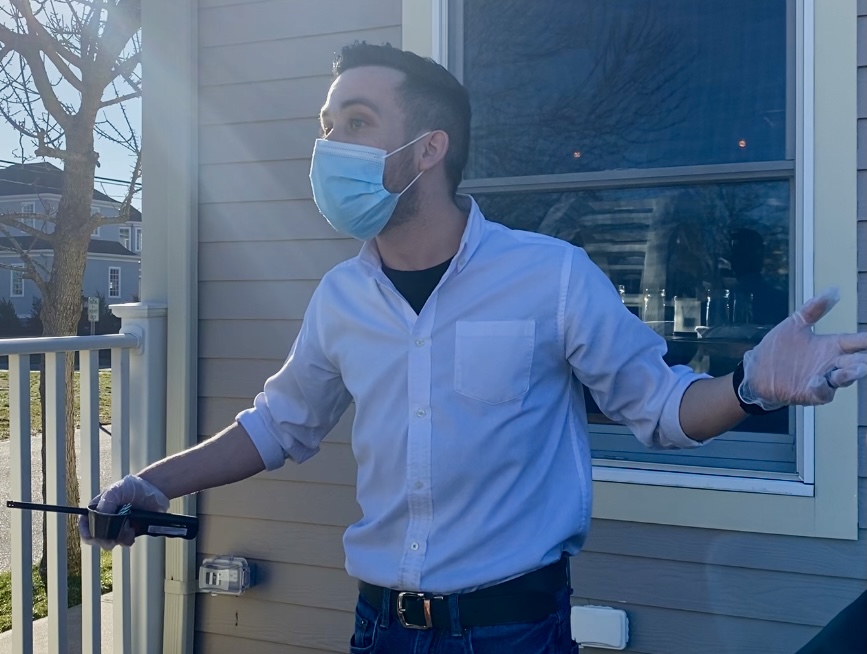 Carlo singing Buon Compleanno in Italian 🙂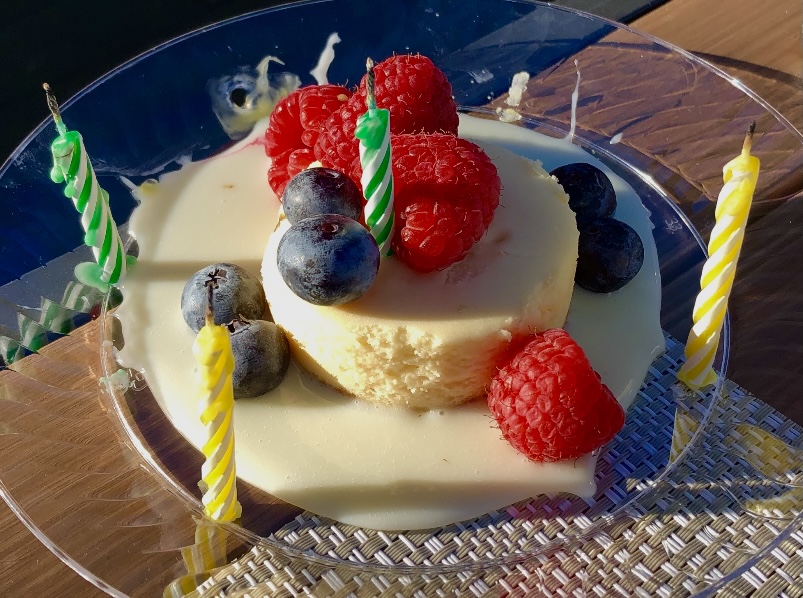 Our lunch turned into a real celebration of Joel's birthday because of Carlo and his grazioso comportamento Italiano! So much so that when we were ready to leave, we all started looking around for a gondola to transport us through the NOFO waterways.
Say Hey To Chef Nick!
Simply put, and thanks to Chef Nick, we enjoyed everything we ordered and the afternoon turned into a major social success. So much of a success that Sandy & I had to go back just a couple of weeks later to validate our taste buds. Confirmed!
Here's a few shots to tantalize your taste buds. Ready?
Grilled Chicken Sandwich with Roasted Carrots and Phriggin' Phab Brussel Sprouts
Plain & Simple…Grilled Salmon
Before I left, I had to seek out management and talk to the fellow team members in order to express our appreciation for what they do, to let them know how much we enjoyed our visits and to ask if it was okay to tell others about our experience at www.phoodographsandfinds.com
The response was a gracious yes!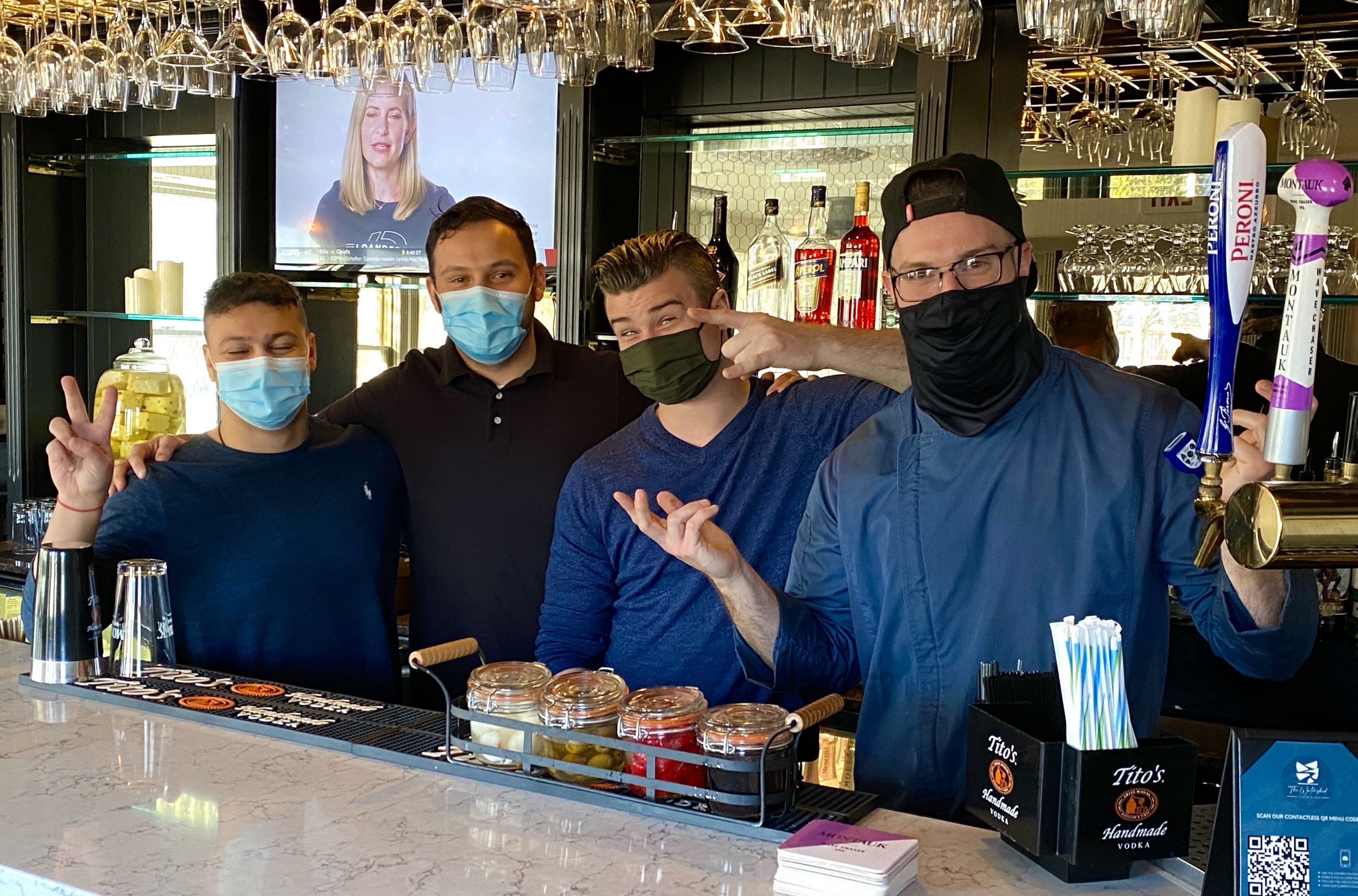 More Invisible Smiles with Mo, Janeiro, Charlie and Chef Nick! 🙂
In closing this chapter and with more to come…remember what I said above…
Individually owned and operated restaurants should be your focus. Why?… because whenever you buy local, you're putting money back into your community and neighborhood. Every dollar spent locally circulates within the community through profits, jobs, and charities.
Want more information…just click here:
https://www.thewatershedli.com/
For us, there's something very special about my/our next hero. All of those I've entered so far have been from Long Island. The reason: we simply didn't feel comfortable traveling into environments where the larger volume of people lived. Since we live on Long Island we were familiar enough with the local (and relatively local) destinations that it created for us a more comfortable ability to travel more safely. As a result, the 5 city boroughs would have to wait.
It seems so unreal that it's been a year since we have been able to enjoy a visit to our indisputable favorite food destinations on Arthur Avenue, however we felt for us that now (February, 2021) was time to go back. Remember…this entry dedicated to those food destinations who not only needed to support themselves, but those who felt a need to stay open in order to support their community.
So…to our list of "Local Heroes In The World Of Food That Deserve OUR Support"…we proudly add Ivana's Pizzeria on Arthur Avenue's famous (according to me) restaurant row.
We first discovered Ivana's back in September of 2013 and whenever we went over to the Botanical Garden's with the kids and grandkids, it was Ivana's that made the day's visit to the 'The Beautiful Bronx' complete. Besides loving the pizza, we were all able to reap the benefits of a most welcome environment which came right from the top.
Folks, let me introduce you to Frank, the proprietor of Ivana's, seen here with brother Corrado.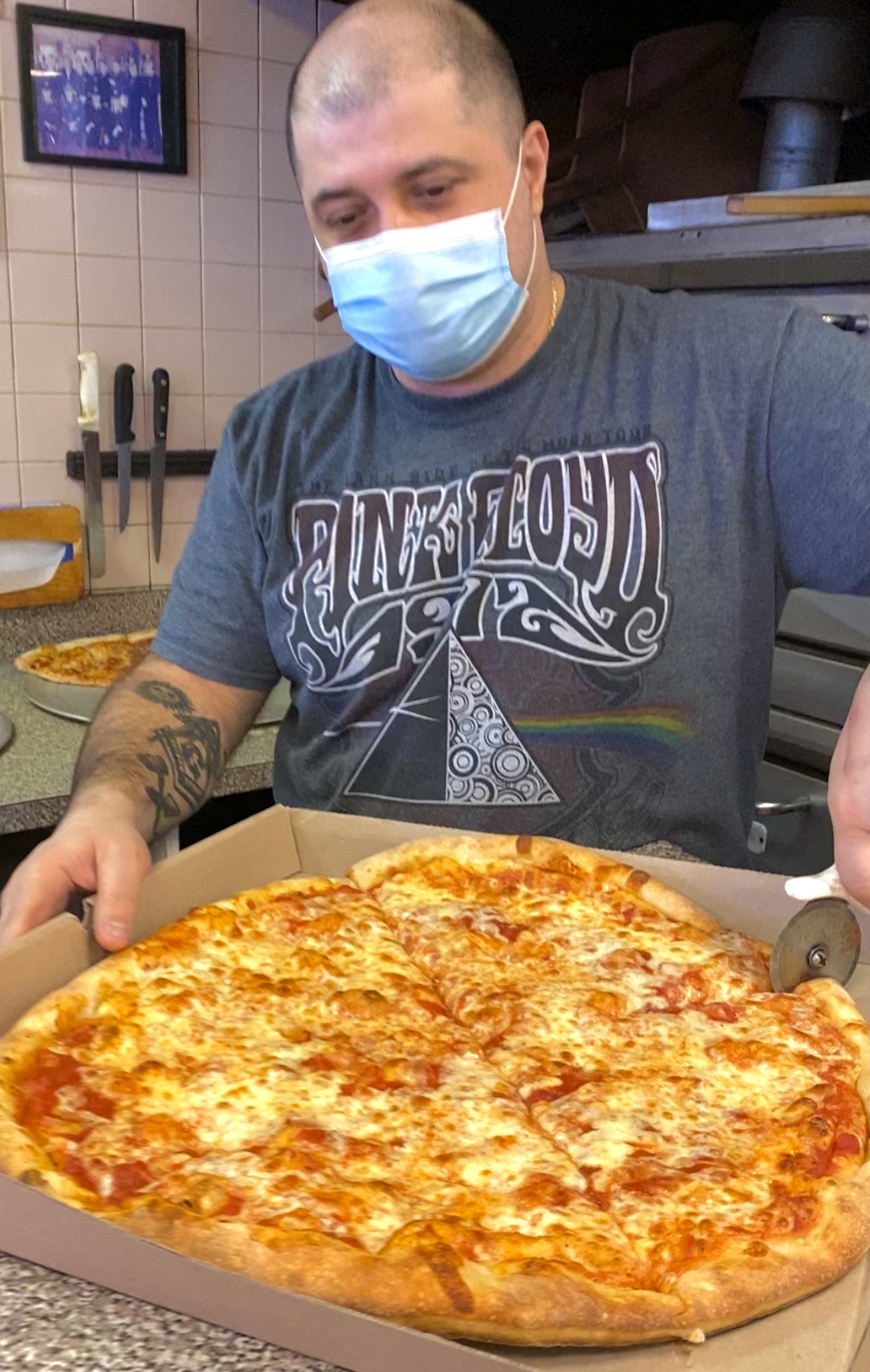 This pizza was prepared by brother Corrado for a flight to California…yup…to Alan in Los Angeles!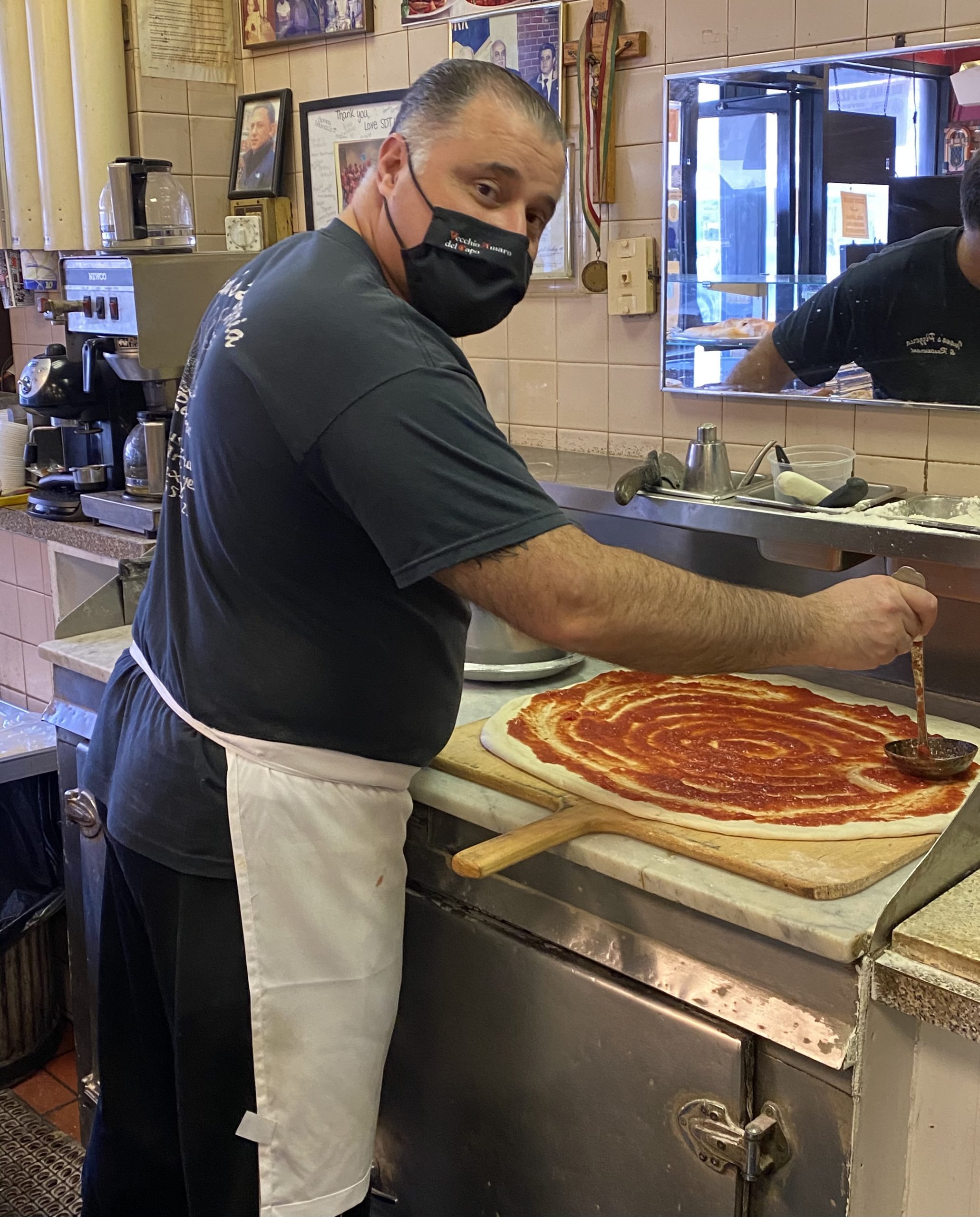 Say Ciao to Corrado…pizza master extraordinaire 🙂
Thank you to Robert for helping to keep Ivana's moving smoothly
Oops…I musta blinked 🙂 Either way…Grazie mille Frank for the usual fine reception. We'll see you again soon.
Phood Phind at Ivana's Pizzeria…ie Pizza Heaven on Arthur Avenue in "The Beautiful Bronx"
Thank you Peter, Mark, Samy & Ryan, Jose & Family, Pasquale & Isabella and Patricia, Chef Nick, Carlo, Mo, Janeiro, Charlie, Frank, Corrado and Robert along with all your cast & crew for your and their tireless efforts in taking care of our/your local community. If this state of mind permeates within your own local community, we have all won!
NOTE…The pics of Pietro, Sami & Ryan, Jose & Co were taken pre-covid.  
As always, we would love to hear from you with any comments. Simply see the COMMENTS box below 🙂
Thank you…and PLEASE Stay SAFE!!!
Chef Bert