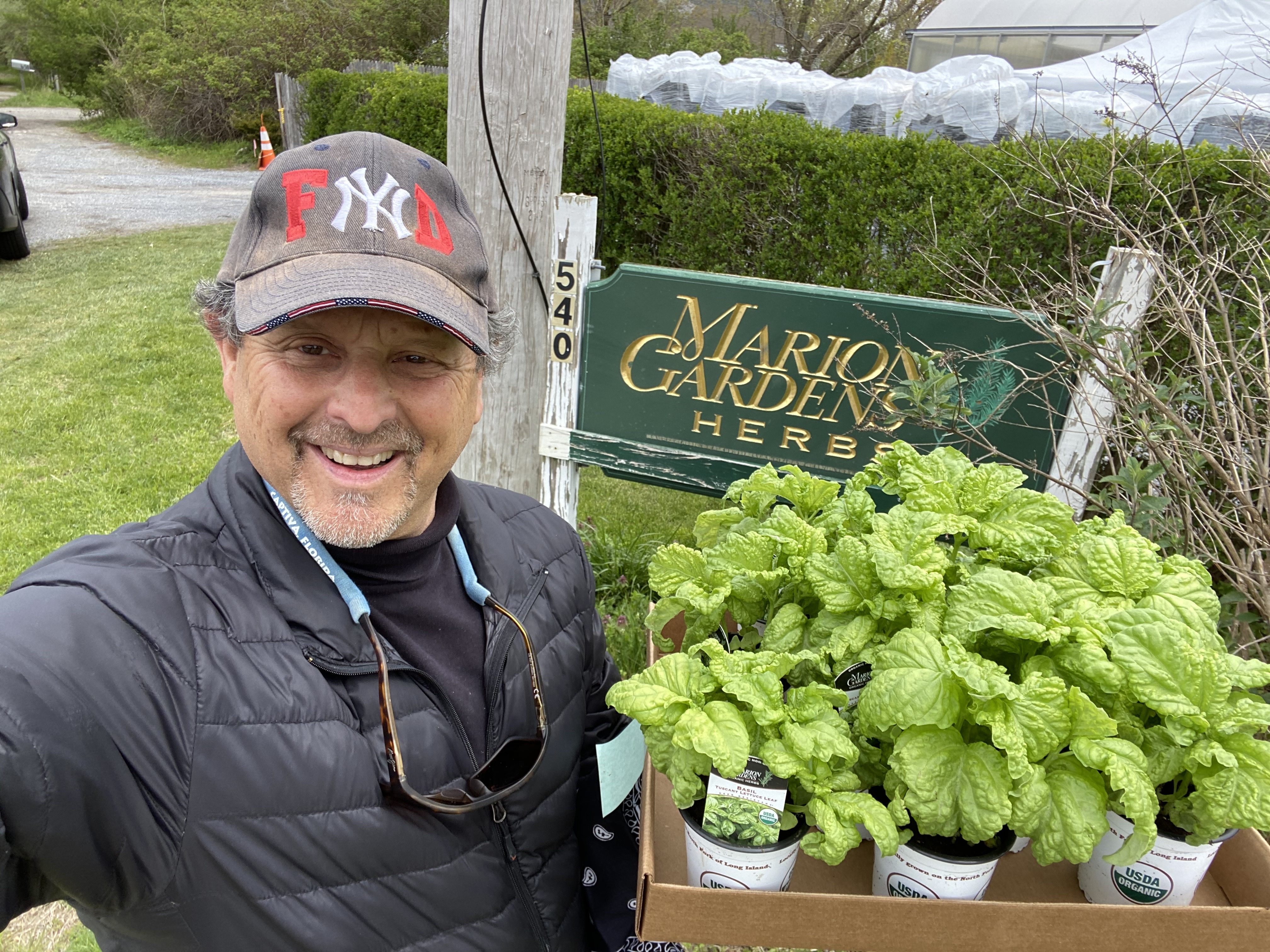 Lettuce leaf basil is, in my opinion, the best for making pesto. It's a popular Italian large leaf variety of sweet basil and one of the most productive. Also known as Large Leaf Italian, Large Leaf or Crispum Basil, these large large crumpled looking leaves can grow up to about 5″ long and produce, for me, the flavor I want in a pesto.
Oops! An example of what not to do! I certainly should not have let this flower so much, however it was a branch that was missed by me with all the basil growing so close together as seen in the pic below. But still…look at those leaves!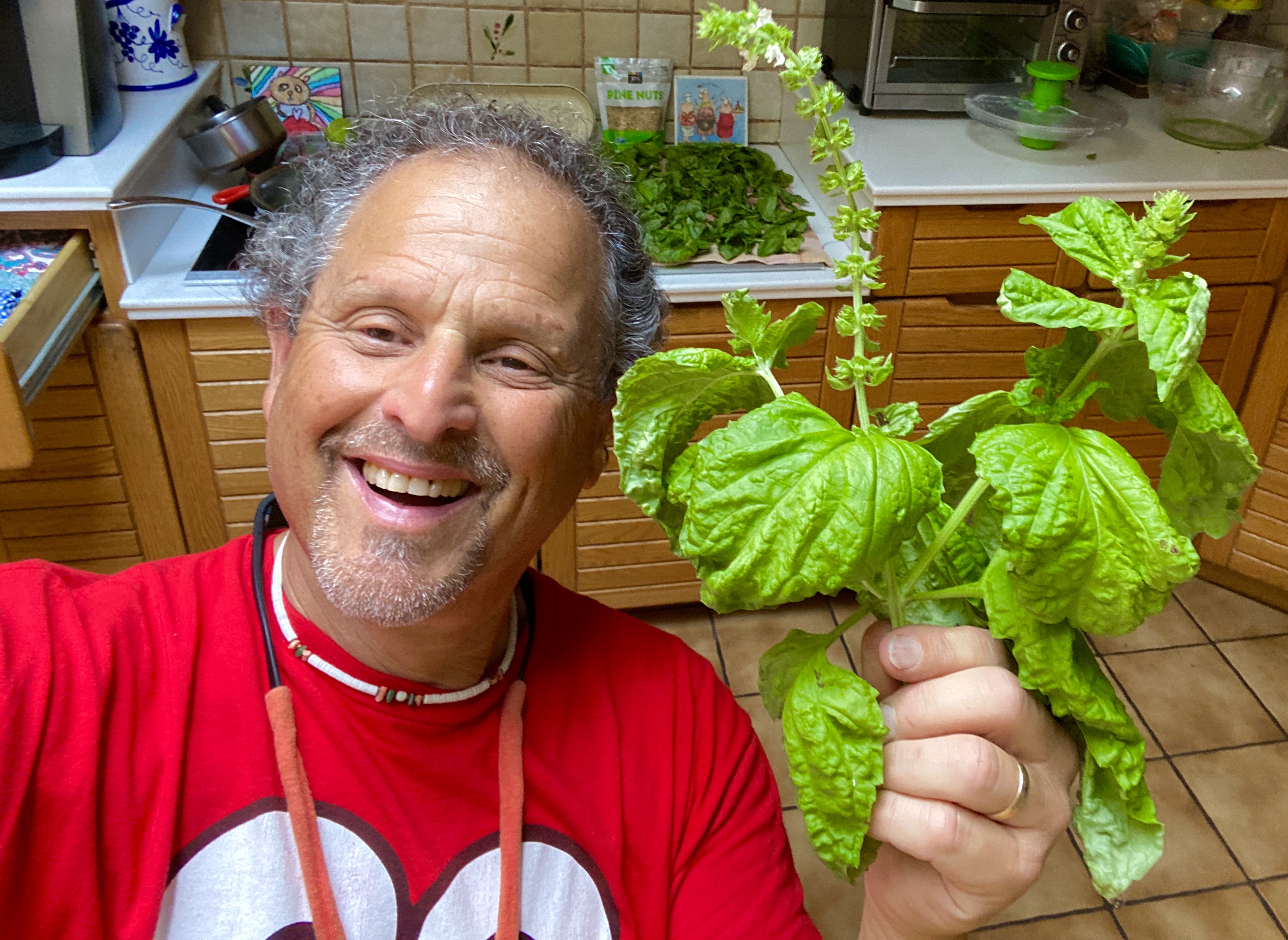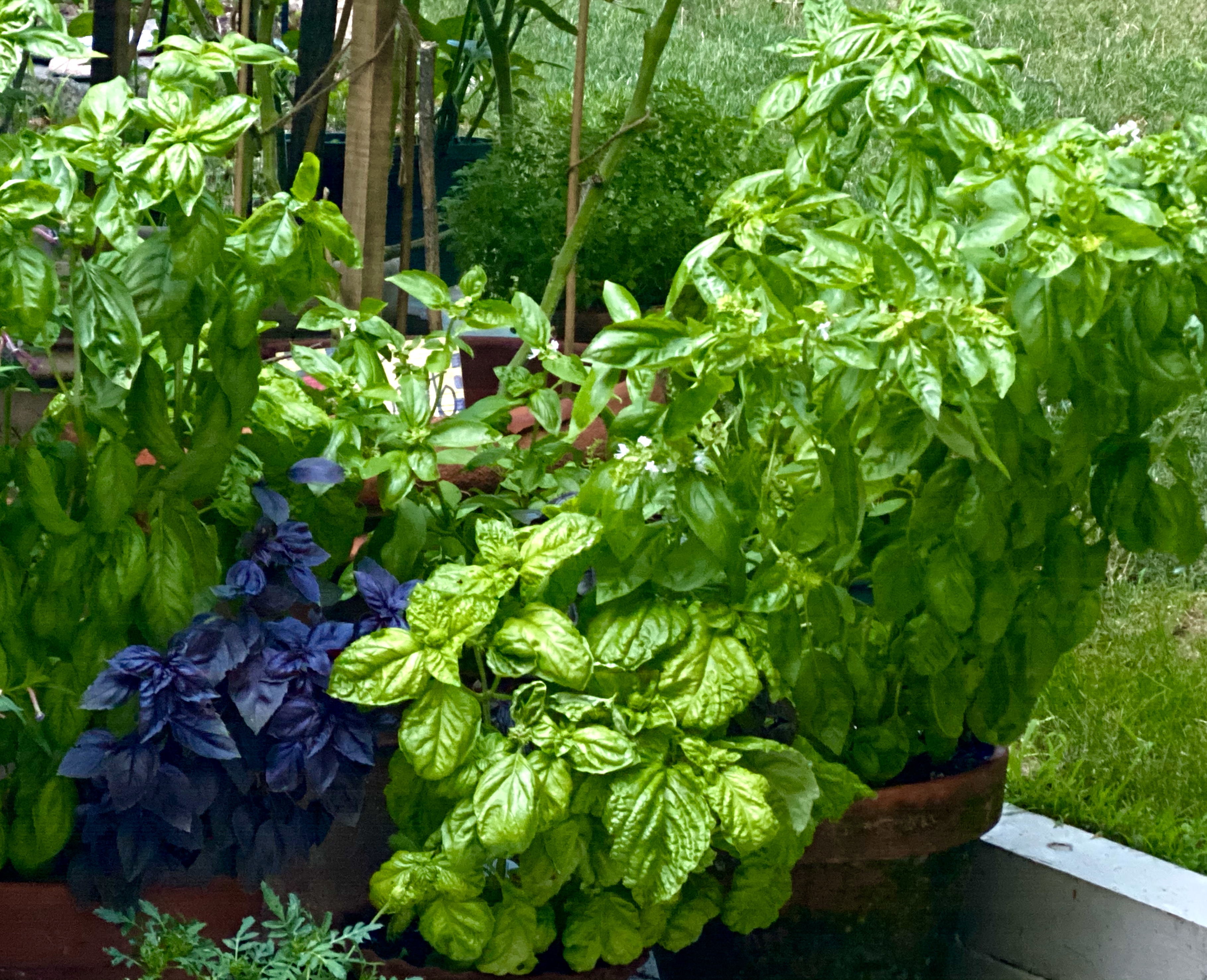 This year I blended about 30% sweet basil  and 10% purple basil (love the scent of purple basil) to my lettuce leaf basil and the result was, of course, phabulous! Don't you worry about blending as it's all a matter of taste and experimentation that I put myself through every year. That's simply what chefs do..
Basically…and as I've said before…it's creativity in the kitchen to stimulate and surprise patrons (and sometimes myself) with recipes that manipulate and finesse ingredients to reach a level of individuality that sets them apart from other recipes and even recipes for the same dish.
A quick tip: Basil once it flowers tends to produce a more bitter taste in the leaves. Pinching off the flowers is recommended to reduce bitterness unless you are specifically looking to harvest the seeds.
Ok…so here goes….
This recipe will prepare enough for 6-8 people as a main course. Since I usually freeze my pesto,  I do not use any cheese in the initial blending stage as cheese does not freeze well in pesto.  I will add the cheese to the pesto blend after thawing and just prior to serving.
If you are serving the entire recipe and not freezing, you can add the cheese while blending these ingredients.
Ingredients :
-2 cups packed tight basil leaves
-2 large cloves of fresh garlic (I prefer the use of a garlic press)
Why?…click this link and see "What are the differences between pressed, chopped, and sliced garlic"
https://www.newsday.com/long-island/who-s-cooking-bert-spitz-of-east-norwich-1.11839858
-Heavy 1/3 cup toasted pine nuts
As with most nuts, 'toasting'  brings out more flavor. Heating nuts (I use a frying pan) will intensify the flavor of the nut  by warming the naturally occurring nut oils.
Place pine nuts in a dry (don't add oil) frying pan large enough to hold them in a single layer.
Turn heat to medium-low and cook until fragrant and golden brown, keeping them moving (stir frequently or constantly).
When they're golden brown, immediately transfer them to a plate to stop the cooking and prevent burning.
Yup…these are my nuts being flipped by me:-)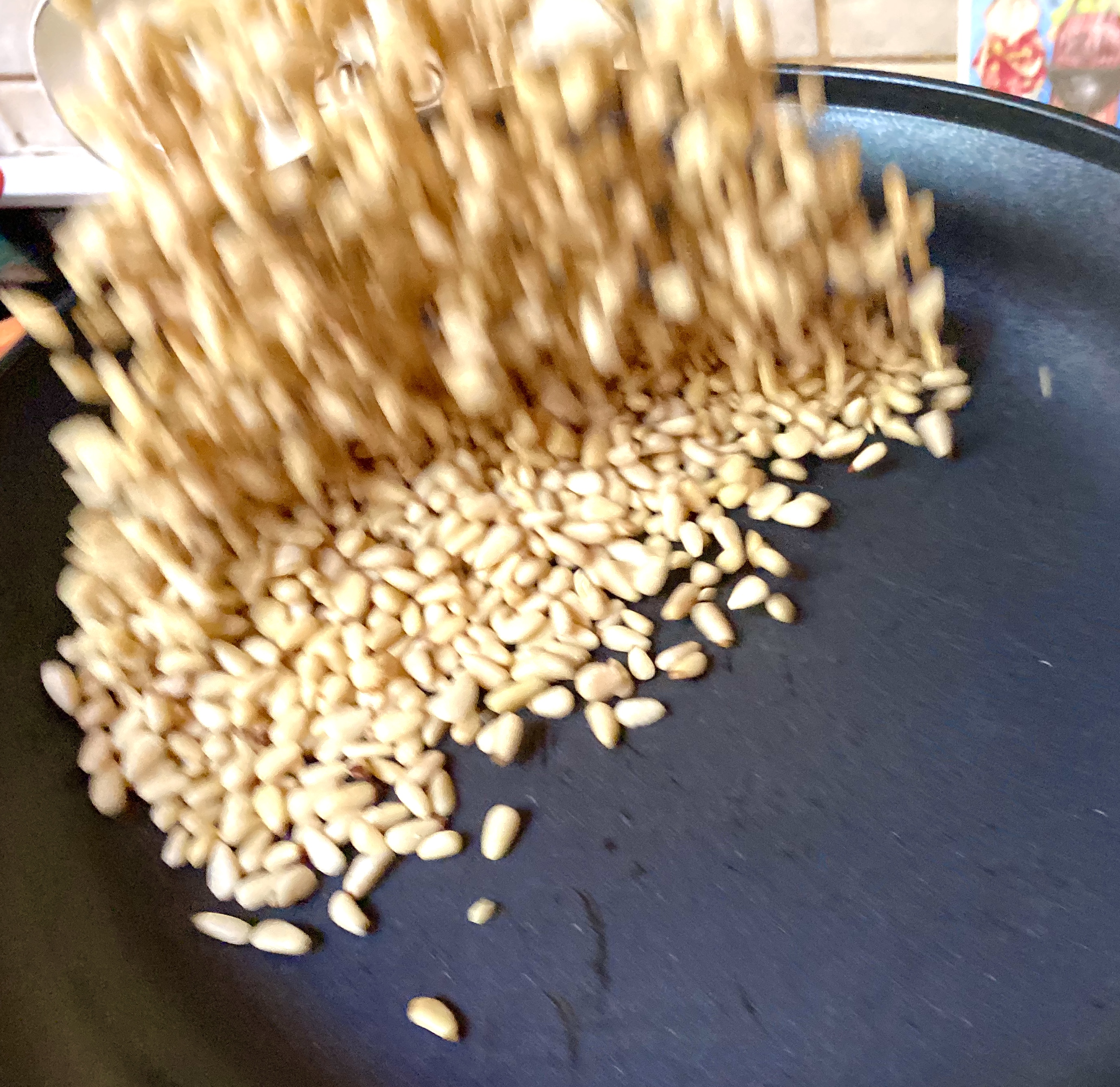 -1/3 cup garlic infused EVOO***.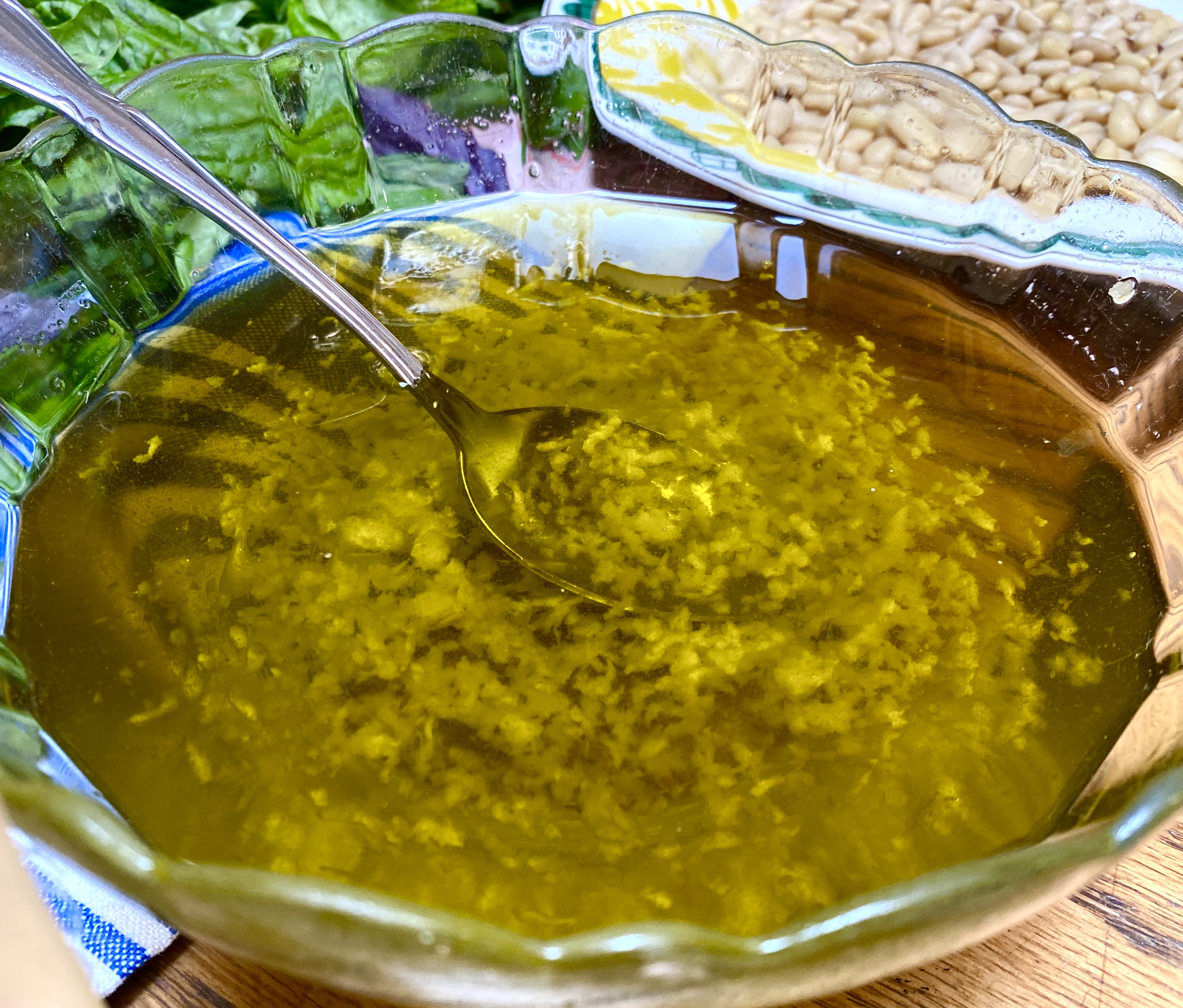 ***Infused EVOO offers a subtle garlic flavor. It's a simple process by which you let the garlic sit in the olive oil for about one hour, stirring frequently to flavor the oil. You then separate the garlic from the oil prior to blending the pesto ingredients.. If you prefer a more substantial garlic flavor, you can simply add some of the garlic to the pesto ingredients that was used in the infusion process.
-Large half of a fresh squeezed lemon through a strainer to catch seeds
-2 pinches kosher salt
-4 turns from a pepper mill
-3/4 to 1 cup Parmigiano Reggiano cheese.  1/2  to 3/4 cup gets used when blending and the rest is served on the side to add at the table)
Pesto is usually made with Parmigiano-Reggiano cheese or some like Grana Padano (it's also half the cost of Parmigiano-Reggiano) Either one works although I prefer Parmigiano-Reggiano.
Ready?
Process:
-In a blender place EVOO, lemon juice and toasted pine nuts, salt and pepper and blend about 10-15 seconds.
-Add 1 cup basil and blend about 20-25 seconds Remove top and scrape sides with a spatula,
-Add second cup and blend another 20-25 seconds. Remove top and scrape again, then blend for another 10 seconds
-Taste and add more salt and/or pepper if you choose. Store by placing plastic wrap directly on top of pesto. This will keep the pesto a nice green as air will discolor and darken the finished product.The lemon I use in this recipe also serves two purposes: I love the flavor lemon adds to pesto and it also quite conveniently will help keep your pesto a nice green color.  
If freezing, use very small containers or an ice cube tray to make ice cube size chunks of pesto for the now and then individual size servings.
A quick appy just for the heck of it 🙂
Oh yes…a couple of more things! The pics you see represent a recipe that I tripled 🙂
…and…
Note that when made without cheese, it remains a vegan dish.
Hope you enjoy…and please…love your comments below!
Mangia Bene
Chef Bert