There is something very special…No! Let me re-phrase that. There are so many things very special about the tradition that surrounds Arthur Avenue in The Beautiful Bronx and to me, it all starts…and ends… at Teitel's Brothers Grocery on the corner of  Arthur Avenue and E. 186th St.
There is not another grocer specializing in Italian products anywhere else like this…and I'd like to think I've seen them all, even in Manhattan! It's not big in size, however, it's huge in selection with unsurpassed quality and it's fair prices. Not to mention personality!
Parmigiano Reggiano @ $11.99 lb. Proscuitto de Parma @ 14.99 lb. A fair barometer…right?
What really makes Teitel's a truly fun shopping experience is the staff. They know exactly what they are doing and know how to treat their customers. Want a taste? No worries…you've got it and with a smile!
This all comes from the top. Meet Gil, proprietor extraordinaire and his sons Eddie and Mike. (I'll have to get the name of that photo bomber I just noticed in the background) You see? Personality!
Their way filters down to the entire staff and they make it fun to spend your hard earned bucks at Teitel Brothers since 1915.
Gil and son Michael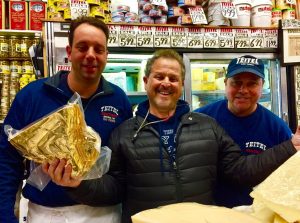 Eddy, Bert and Michael
Michael Teitel. Now that's a smile!
Eddie with friends Kathleen and Larry
How about a little history? The Teitel's are a Jewish family originally from Austria and have operated their store selling Italian groceries on Arthur Avenue since their inception in 1915.
"Although the store seems to follow primarily in Italian footsteps, the Teitel's still keep some of their Jewish traditions". According to Gilbert, they were raised in a kosher tradition and they close on Rosh Hashanah and Yom Kippur"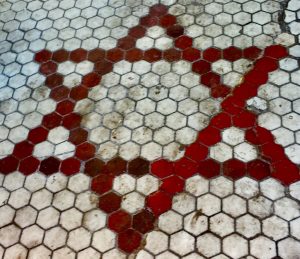 Star of David greets you on the entryway floor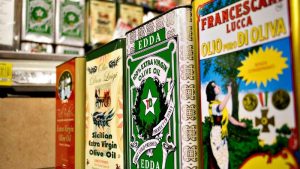 How about olive oils named after family members. My personal favorite is Edda EVOO, named after Michael's brother Eddie. Don Luigi Sicilian EVOO, my friend Freddy's favorite, was named after their uncle.
Out in front of Teitel's I stand with pastas, large cans of extra virgin olive oil and tomatoes. A pretty effective visual merchandising tool…ya think?  Hey fellas, my 3 lb. piece of Parmigiano Reggiano is almost gone. Needed it to make a Caesar Salad for 28 this week. B back soon.
Next up…Peter's Meat Market…Arthur Avenue's Favorite "Meating" Place in the huge Arthur Avenue Retail Market. Inside you will find a fresh fruit and vegetable market, tableware, more Italian deli's with tables to sit and enjoy, fresh coffees, Liberatore's Garden with a professional flower and non-GMO seed grower with seeds from many places including Italy and a fresh rolled cigar stand.
For me, this is the best meat market I have ever experienced. This is my prefered choice for any meat product from veal chop osso bucco to chopped beef, veal or pork. Nine types of sausages are made fresh daily, hamburger meat is ground on the spot. Their veal cutlets, our favorite anywhere, comes from the hind shank and not the shoulder. This is important as the shoulder can contain too much sinew and connective tissue. I simply won't buy sliced veal anywhere else. Kudos to Peter and Michael!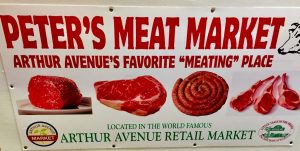 Peter, Bert & Michael
BetsaPasta Veal Francese'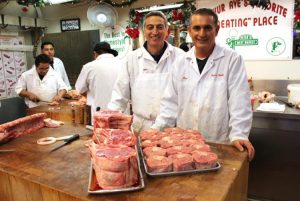 Rich @ Liberatore's Garden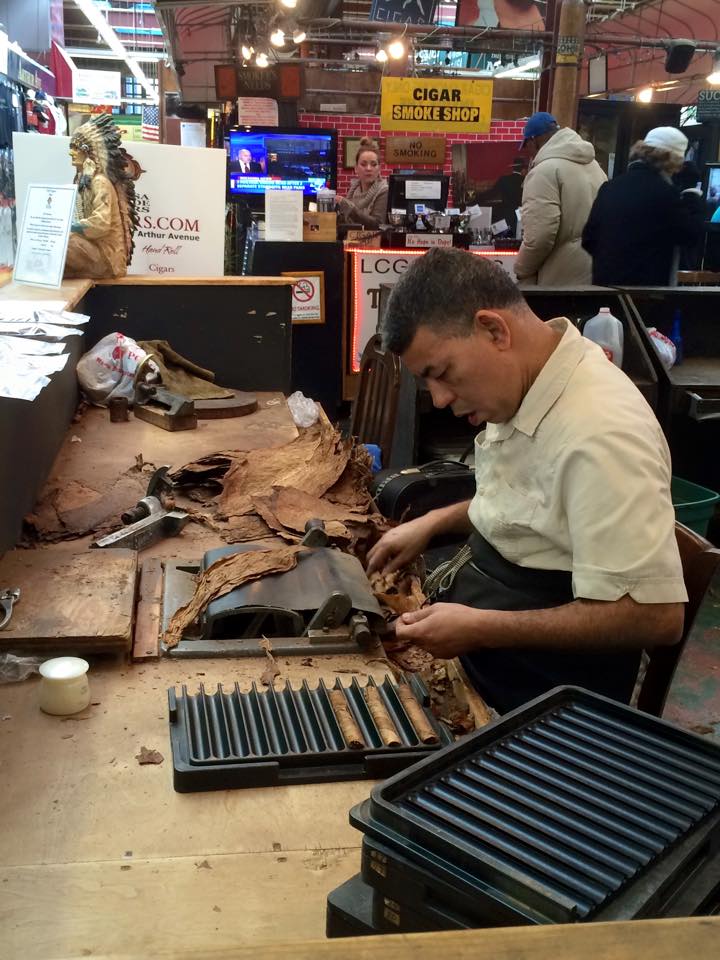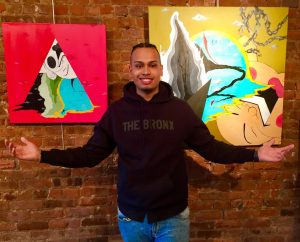 Smack dab in the middle of the Arthur Avenue Retail Market is none other than our favorite beer expert pouring craft beer at the Bronx Beer Hall …and.. .already famous graffiti artist who travels the world showing off his art.
Folks…Meet Branden Rodriquez!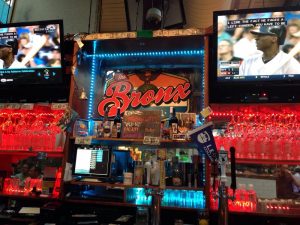 The Bronx Beer Hall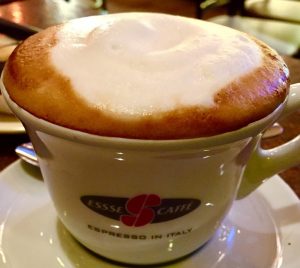 Did I say speaking of coffee?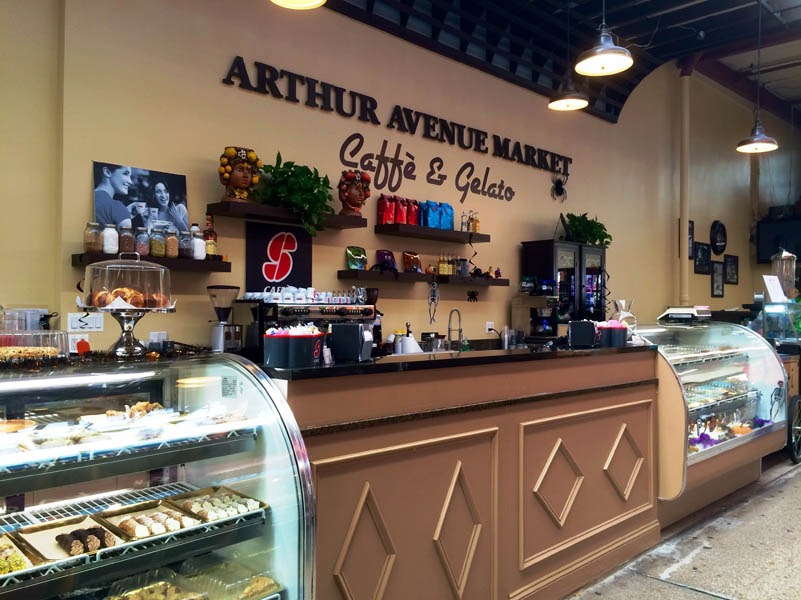 Coffee at The Arthur Avenue Market
Meet barista Josephine at our pick for Arthur Avenue's best bakery. It's really sooo hard to pick a favorite pastry shoppe, however at Delillo's there happens to be dessert in particular that simply "wow's" me.
Artuso's Pastry Shop is another winner!
 This is a vanilla coated lady finger with a custard middle…my favorite pastry in the Arthur Avenue domain
These are all delicious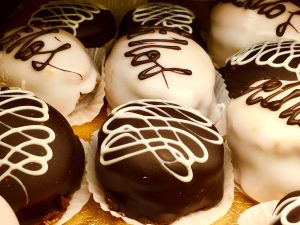 Wow!
Italian Babka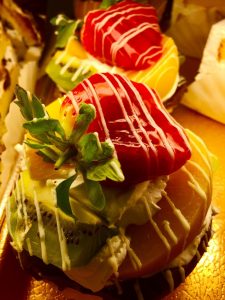 This entry wouldn't be complete without mentioning our favorite bread bakery.
Sure, there is biscotti and cookies…however from a standpoint of BREAD, it's a tie between
Madonia and Addeo. I'm still wondering if they are related. More to come!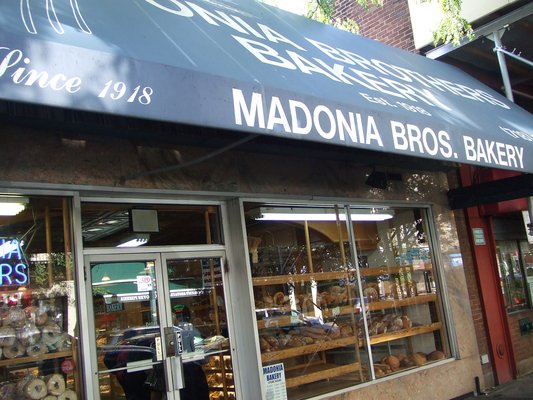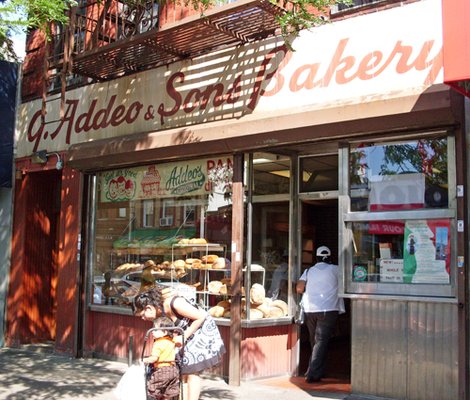 Some of my favorites!
Let me sum up.
There are pizzerias, restaurants, cafes and bars, seafood shops, cheese shops and restaurants galore.
In my blog over the years I have written about pizzerias (Full Moon and Egidio Pastry Shop on 12-14-13 and Ivana's on 9-30-13 in the blog archive). What I like may not be what everyone likes, however you can trust my taste for the most part and use this as a guide for your first day trip to Bronx's Little Italy. You may want to combine your visit with a stop to the Botanical Gardens as we do or The Bronx Zoo, both of which are within walking distance just a few blocks away from each other.
And now…the last of the best, or perhaps just saving the best for last!
Borgatti's Ravioli & Egg Noodles!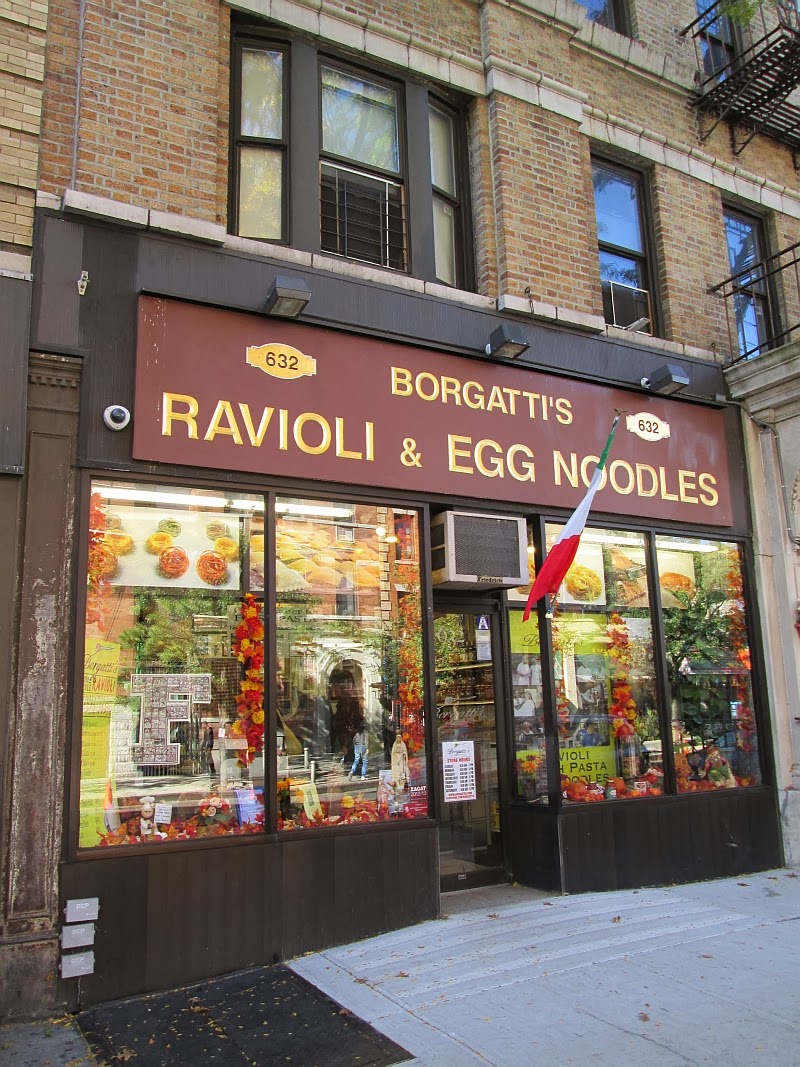 Do not miss this stop.
Borgatti's is to Ravioli and fresh made pasta in the Arthur Avenue domain as Teitel's is to the world of Italian delicatessen's! Trust me and make it your business to get in there to experience
T.H.E. BEST!!
Here's one of my recipe's from 2012 using Borgatti's Ravioli. Mangia bene' Dudes!