I stopped eating pizza a couple of years ago. The reason: Let's just say the less bread the better.
That, however, doesn't stop me from going to pizza restaurants when Sandy or family members and friends want a slice. While everyone is dining on their slices of choice, I simply order the slices I like and make a meal out my favorite toppings on my choices.
Not too long ago, Sandy and I found our way to a relatively new pizza destination right here in Oyster Bay by the name of Pietro's Brick Oven Pizza. That name Pietro's struck a chord with me since my father used to take me to Pietro's Italian Steakhouse in NYC back in the 60's and 70's. Ahhhhh…memories.
As soon as we walked through the door on our first visit, we were struck by the amazing presentation and selection of pizza pies and the friendly staff eager to serve. There were at least 15 to 20 different selections of delicious looking pizza to choose from and right away Sandy and I were attracted to, what turned out to be, lasagna pizza. Yes…lasagna pizza!
Sandy loves this lasagna pizza
Who else but? Meet Pietro
The amiable fellow behind the counter with the big smile (you know what they say about happy people) just happened to have been Pietro in person and I had to relate to him our first ever lasagna pizza experience that we had just a few months earlier in Brooklyn.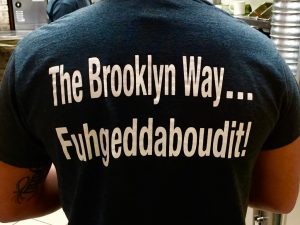 As it turned out, Pietro owned and operated a pizza restaurant right down the street from our first lasagna pizza experience at Italy Pizza in…where else…Brooklyn…home of the best ah.beetz in New York (taking nothing away from what was once the real original Ray's in NYC).
Rumor has it that Pietro was also the inspiration for this wonderful idea for a slice O pizza.
So…I say…Trust me! This slice alone is a darn good reason to get yourself over to Pietro's.
Next up…for me…the best chicken francese slice anywhere and many more to try.
Pietro's Chicken Francese A-Beetz!
Sarai with her favorite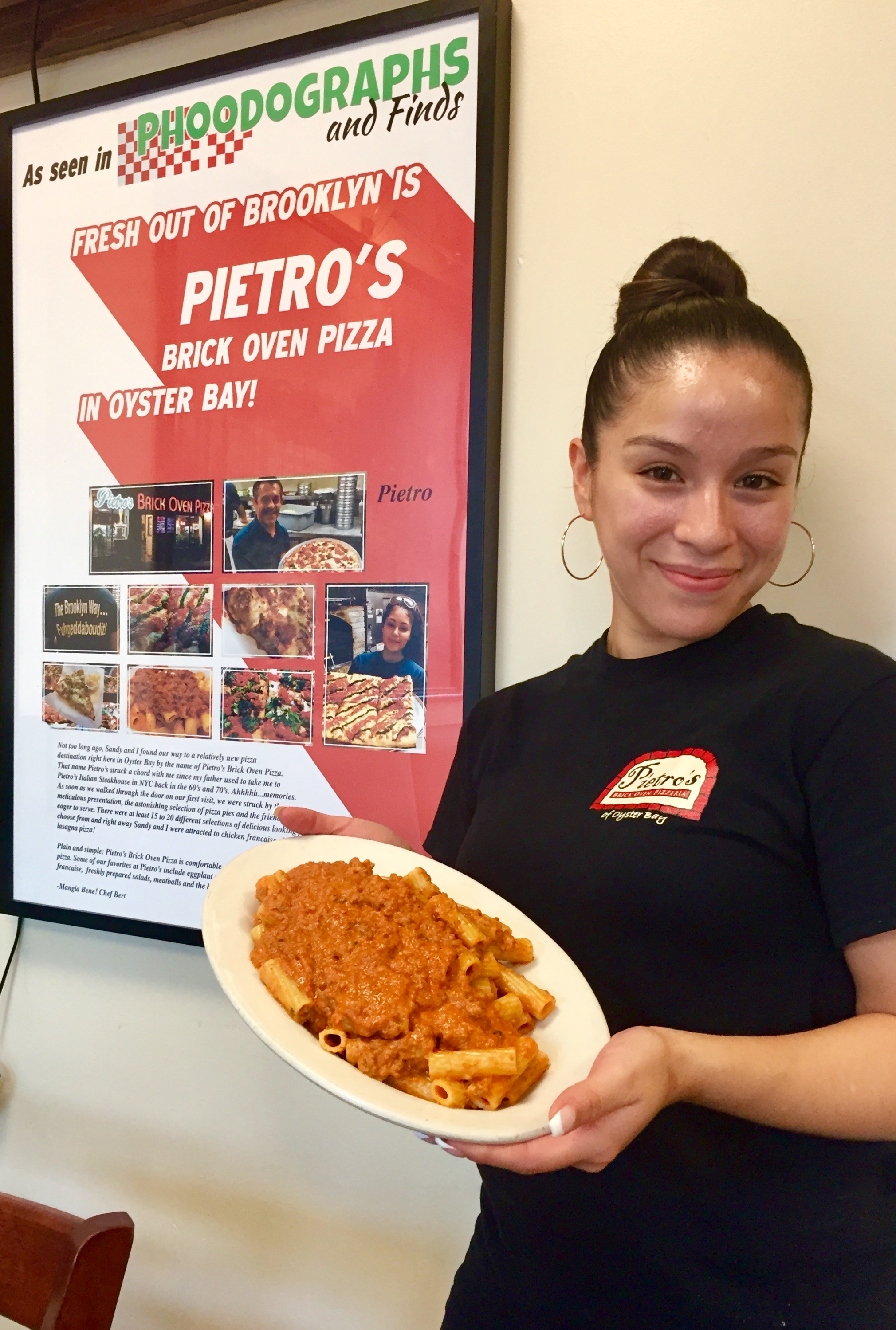 Sarah with Pietro's already famous Rigatoni Bolognese
                                                                  Check these out!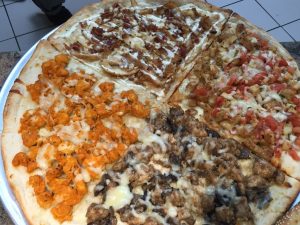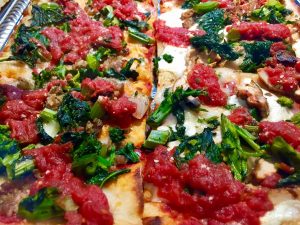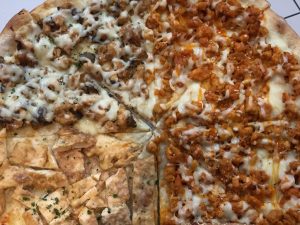 Coming soon…Pietro & Co. are opening their new Italian Brick Oven Pizza restaurant at a yet…hmmmm….undisclosed location.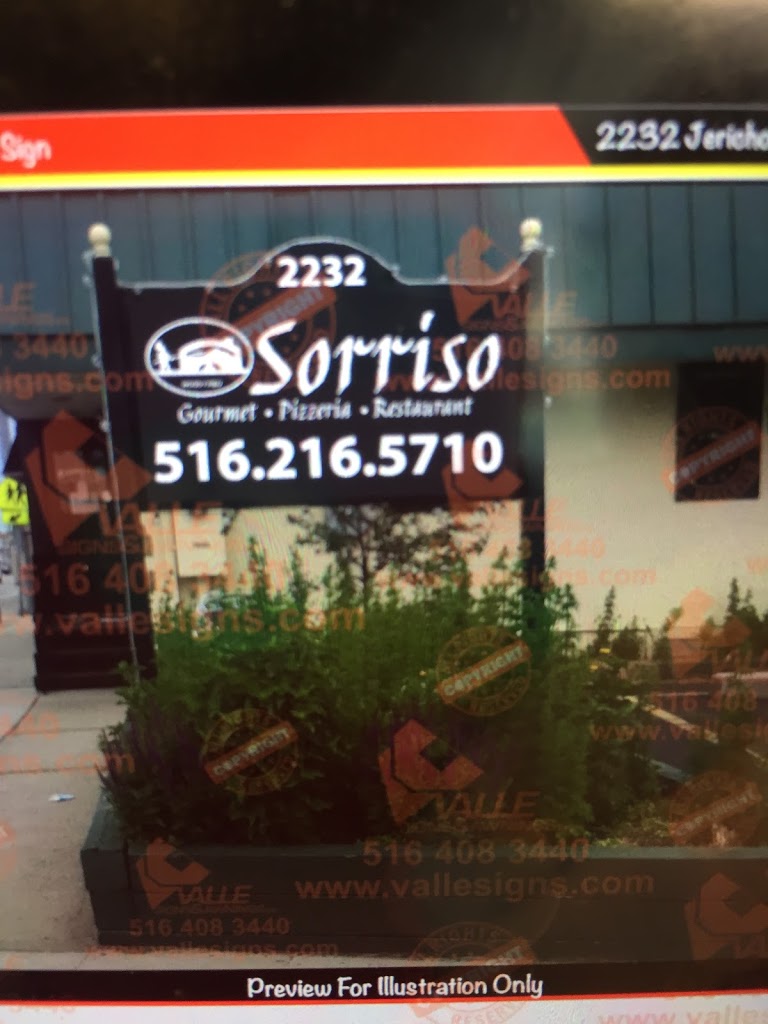 Plain and simple: Pietro's Brick Oven Pizza is comfortable, quite affordable, and serves excellent pizza. We've also truly enjoyed the food we've eaten there. Namely…eggplant parmesan, rigatoni bolognese and the best Italian wedding soup around!
What can I say? Love my spices and herbs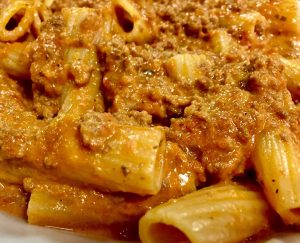 Pietro's Rigatoni Bolognese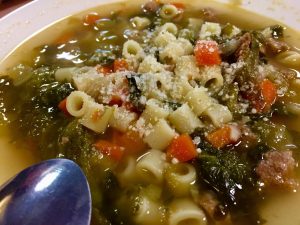 Italian Wedding Soup…Yum!
Pietro's is now totally visible from the street since the fence that blocked your view from seeing them has been removed. They are diagonally across from the Teddy Roosevelt statue on Oyster Bay Road (Rt. 106) and right behind Speedway service station at 342 Lexington Avenue in Oyster Bay, New York, USA!
As always, your comments are appreciated
Mangia Baby!