BetsaPasta Flank Steak Ragu Recipe (As seen in Parmesan.com**)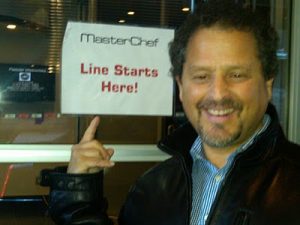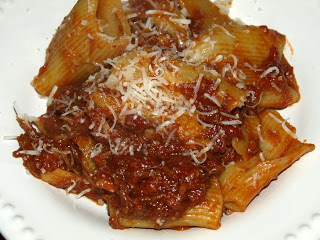 Since I'm a little kid, I always liked braised meats. Brisket during the holidays & pulled pork, or pulled anything for that matter, are among my favorites.
For many years, our friends Neil and Barbara would invite us over to sit with their family for dinner. Christmas was special with them, however it was on other occasions Neil would make his Beef Braciole with flank steak. The end result was always a wonderfully textured, tasty piece of steak, Oh yeah…the raisins he stuck in the braciole for the sweetness he liked suited me just fine.
Then it struck! A meat sauce with braised beef instead of chopped.
This is how Flank Steak Ragu evolved. We loved it so much that when Sandy saw there was a Gordon Ramsey Master Chef Competition coming to NYC, she insisted we enter the recipe in the contest. Success! I made it through the first round of the competition….the tasting.
The second round? Let's just say you needed a certain type of personality to move forward.
The rest is history for the most requested dish in the BetsaPasta arsenal.
Serves 12
Ingredients…
3 28 oz. cans Italian plum tomatoes (broken up by hand and tomato cores removed by hand).
Real DOP San Marzano tomatoes are always preferred. Don't be fooled by a brand called "San Marzano". I'm not quite sure how they were able to get away with using the San Marzano name. If you are able to get into Restaurant Depot, seek out Alta Cucina brand plum tomatoes in the restaurant size #10 can from Stanislaus in California. This size can is somewhere between 3 and 4 28 oz cans. Wonderful!
2.5 lbs. flank steak cut diagonally in approx.1.5″ thick strips and lightly salted
2+ cups Chianti red wine or similar (that you would drink). Some traditional ragu recipes use a dry white wine like a pinot Grigio. Up to you after a little research.
3+ cups veal or beef stock (I like 3 Tbsp of More Than Gourmet of "Demi Glace Gold" added to 3 cups of water) or Demi Glace/beef stock can be bought in specialty stores and use straight out of the container
2 medium onions…coarse chop
2 large carrots…coarse chop
3-4 center cut stalks celery…coarse chop
2 Bay Leaves
6-7 tbsp. extra virgin olive oil
1/4 lb. sweet butter (1 bar)
1 cup whole milk
3-4 tsp kosher salt
1 cup Parmigiano Reggiano grated plus extra for serving
App. 10-12 turns from a pepper mill…white or black pepper (I like white)
Directions…
*Sear lightly salted flank steak strips in 1 tbsp olive oil on medium high heat in stock pot until browned on all sides (this size pot prevents grease from spattering all over the place)
*Remove meat from pot and set aside…
*Immediately deglaze with onions and 1/2 bar of butter…cook for a few minutes until water from onions has started to deglaze the bottom of the pot and onions are translucent…add celery and carrots…cook for a few more minutes stirring often.
*Add wine…cook for a about 15 minutes
*Add  tomatoes, then stock & bay leaves and the the rest of the kosher salt
*Add steak, it's juices and cup of milk… bring to a boil and then reduce heat to low…cook for 3.5-4 hrs.or until steak is broken down and soft… and the sauce has absorbed all liquids. If necessary, pick out larger chunks of steak after 2.5-3 hrs… break apart with a knife & fork and place back in the pot
*Add other half of the bar of butter… fresh pepper at this point. Stir, then add the 1 cup of grated Parmigiano,
Stir again and let sit for 30 minutes covered. Turn off heat
Coat (don't drown) al dente pasta with sauce and add just a bit more more sauce on top of each portion, or place on platter and serve family style
Goodness…Don't forget to top with plenty of Parmigiano Reggiano!
This "ragu" is made with more tomatoes than most would use in a traditional ragu recipe and there is no garlic. The more traditional ragu recipes contain much less tomato
I would serve this with made in Italy I Sapore Del Vallo Egg Pasta…a pasta available at Fairway or other specialty markets. If not available, any pasta you choose made in Italy works.
IMPORTANT: Make sure to use a pasta that doesn't say "Enriched Macaroni Product" as seen on packages of most commercial brands made in the USA and those made in Italy and 'enriched' for the American consumer. Reason: Too many vitamins. Too many other food products are enriched like this, thus the constant barrage of ribiflavin, folic acid, niacin, iron, vitamins B1 & B2 etc are overkill and not necessary.
There are wonderful Italian pastas such as Di Martino, Organic Mantova and a new Sicilian organic pasta by Biogaia just discovered at the 2015 Fancy Food Show in NYC that are made with semolina and water only…and those are the ones you should seek out. Any organic pasta is perfetto!
A mention of this recipe to Chef Lidia raised a brow at a recent wine tasting at Eataly, NYC…and it's that good!
Note: Stir app every 15-20 minutes and more often as the sauce nears the end of its cooking time.
Bottom line: make sure there all liquids are cooked off…even if you must cook for a longer period of time.
Mangia Baby!
Chef Bert
**Parmesan.com "The newest and most complete source for recipes, cooking inspiration, and information about Parmigiano Reggiano (Registered Trademark) cheese, the only Parmesan".
Nancy Radke, Director U.S. Information Office Consorzio Del Formaggio Parmigiano-Reggiano